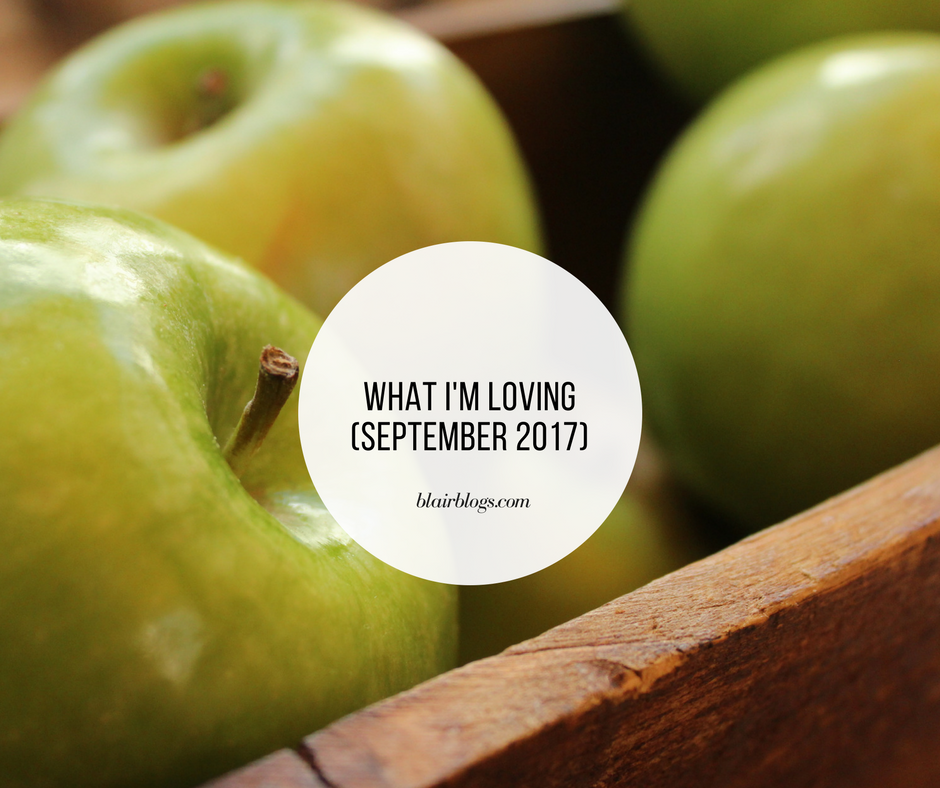 Today is the 16th installment of an ongoing post series, What I'm Loving, where I share what I've been loving lately in the following categories: Food and Drink, Makeup and Beauty, Home Décor and Products, Entertainment (TV, Music, Books, Internet), Clothing and Accessories, and Priceless. Let's get started!
Past installments:
As always, any Amazon links I share are affiliate links. This means that the price of the item won't change for you, but I receive a small commission of the sale which helps me keep my content free and my site up and running. Thanks!
Food and Drink
Bai Antioxidant Infusion drink– I'd seen this drink at the grocery store and wondered about it, but it was hearing Sherry rave about it on Young House Love Has a Podcast that made me pull the trigger and buy some. We picked up a case of it and have really enjoyed it! I like the Kula Watermelon flavor best. It doesn't have any artificial sweeteners and has the same amount of caffeine as a cup of green tea. We've been enjoying drinking Bais in the afternoon as a refreshing treat and caffeine boost!
Diet Coke with Coconut Cream- I follow Shelley from @HouseOfSmiths on Instagram, and she talks about Diet Coke with coconut cream all the time (she's so much fun; go follow her!). Apparently, there's a soda shop chain where she lives in Utah (called "Swig") that serves a variety of soda concoctions, and this one is her favorite. Riley and I were curious, so we bought some Diet Coke and coconut creamer (like the kind you'd put in coffee, which is what Shelley uses) and mixed the two…y'all, I know this sounds strange, but it is absolutely delicious! This drink (which is apparently called "Dirty Diet Coke" and is sometimes served with lime) is full of weird chemicals and fake sweeteners, so it's a once-in-a-while treat, but it is awesome. We have wanted to visit Utah for a while (it looks gorgeous!), and now we want to go even more so we can try this drink from Swig itself! Utah readers…have you been to Swig (or somewhere similar)? What do you order there?
Lemon LUNA Bars– I've been eating LUNA bars for as long as I can remember! I ate them before sports practice as a kid, for breakfast throughout high school, and as a snack in my cubical drawer in Austin. I've tried every flavor and my favorite is the lemon. I always keep a box of these bars on hand for mornings when I don't have time to eat a "real" breakfast or for afternoons when I need a quick snack! My Etsy shop has been bustling lately, so I've been eating LUNA bars for breakfast most days in order to jump right into work. Easy, filling, and delicious!
Makeup and Beauty
NYX Cosmetics Make Up Setting Spray– I've been using this spray when I'm filming for my YouTube channel or want my makeup to last all day (like if I have a morning meeting and an evening commitment), and it works great! I can tell a huge difference on days when I use this versus days when I don't. It works!
LED Lighted Makeup Mirror– Ever since we re-decorated our master bedroom and I got a vanity, I've been looking for a lighted makeup mirror. Many that I've found are more expensive (like $50-100) than I want to spend on a mirror, so when I saw this option for under $20 with good reviews, I decided to order one and give it a try. It's been perfect! I ordered the white one, and it looks sleek on my vanity while providing the functionality I've been looking for.
DIY Hot Oil Scalp Treatment– This weekend, I combined about a 1/4 C of melted coconut oil with six drops each of lavender, rosemary, and tea tree essential oils. I massaged the warm oil onto my scalp, combed it through, and twisted my hair up for about 30 minutes while it set. Afterwords, I took a shower and washed the oil out (it took three washes), and both my hair and scalp feel great! My scalp is very sensitive and gets dry and flaky when the seasons change, but this really helped soothe it. And my hair feels so soft and nourished! I will be doing this treatment all fall and winter.
Home Décor and Products
Memory Foam Keyboard Wrist Rest Pad & Mouse Wrist Rest– After a few weeks of pesky hand pain and lots of suggestions for wrist support pads, I purchased this set. Though my hand pain isn't gone completely, I've noticed a marked difference since I got these. My fingers and hands feel less strained and my pain is duller than it was before after typing long emails or blog posts. A step in the right direction!
Entertainment (TV, Music, Books, Internet)
Daring Greatly by Brené Brown– I'm only halfway through this book, but I have absolutely loved it so far! I rarely highlight or take notes in books (for no good reason other than I like books to stay "perfect"), but I have been highlighting this book like crazy! I've enjoyed Brené Brown's work for years, and this book is no exception. I highly recommend it!
The Office– If you've been reading my blog for any amount of time, you probably know that my favorite TV show is by far The Office. I've seen every episode fifty times and I am obsessed with the characters and storylines! (Jim and Pam forever!) Though this isn't a new favorite, I've recently entered another period of wanting to re-watch the series, which happens about once a year. I just got to Season 4, which is one of my top faves! 😉
Clothing and Accessories
My ThirdLove bra– I won't go into detail here because I just published this post: Honest, Unsponsored ThirdLove Bra Review. If you've seen ThirdLove advertised and have been curious, go check out my post. I've been so happy with my new bra! It's easily the most comfortable one I've ever owned.
My Etsy fall line– I launched my Etsy fall line on September 1st! There are all kinds of fun designs, and I have loved both wearing them and selling them. Here's a sneaky coupon code for you: use SNEAKYSHIPPING for free domestic shipping through Friday, October 6th at midnight. Enjoy! Thanks for following along!
Priceless
Cooler weather, overcast days, and rain- Y'all know I love summer, its heat, and the bright sunshine, but after almost five straight months of it, I am loving this cooler fall weather that's been rolling in. The overcast and rainy days are so cozy! What's the weather like in your neck of the woods?
Weekly vlogging– I was weekly vlogging (playlist on YouTube here) last fall but tapered off after our Disney trip in January. With my recent hand pain, I started weekly vlogging again a couple of weeks ago so I wouldn't go radio silent online! I am loving it! It doesn't take much extra time to "check in" throughout the week (editing is another story, hah!), and I have loved connecting with my subscribers over the little mundane parts of life. YouTube is so much fun!
Meal planning and nightly cooking again- As I shared in my 5 Things I'm Not Doing This Summer post, I really pulled back from meal planning over the past few months. Our spontaneous and random dinners have been great! (This is probably a whole separate blog post, but I'm increasingly realizing how much I value novelty, spontaneity, and change in my day-to-day. It's been an interesting realization given my Type-A, organized personality.) ANYWAY, I have gotten back to meal planning with Plan To Eat (more information here). It's nice to get back in a dinnertime routine! Here are five of our favorite weeknight meals.
// That's what I've been loving lately! What about you?
Thank you for reading! You can find me online on Facebook, Instagram, Pinterest, Twitter, and YouTube. If you'd like to be alerted whenever I publish a new post, you can follow me on Bloglovin' or subscribe via email. Take a look at my Etsy shop where I sell tees, totes, sweatshirts, and pillow covers! Are you a blogger too? Check out my Blogger Mentorship Program.
Past installments: