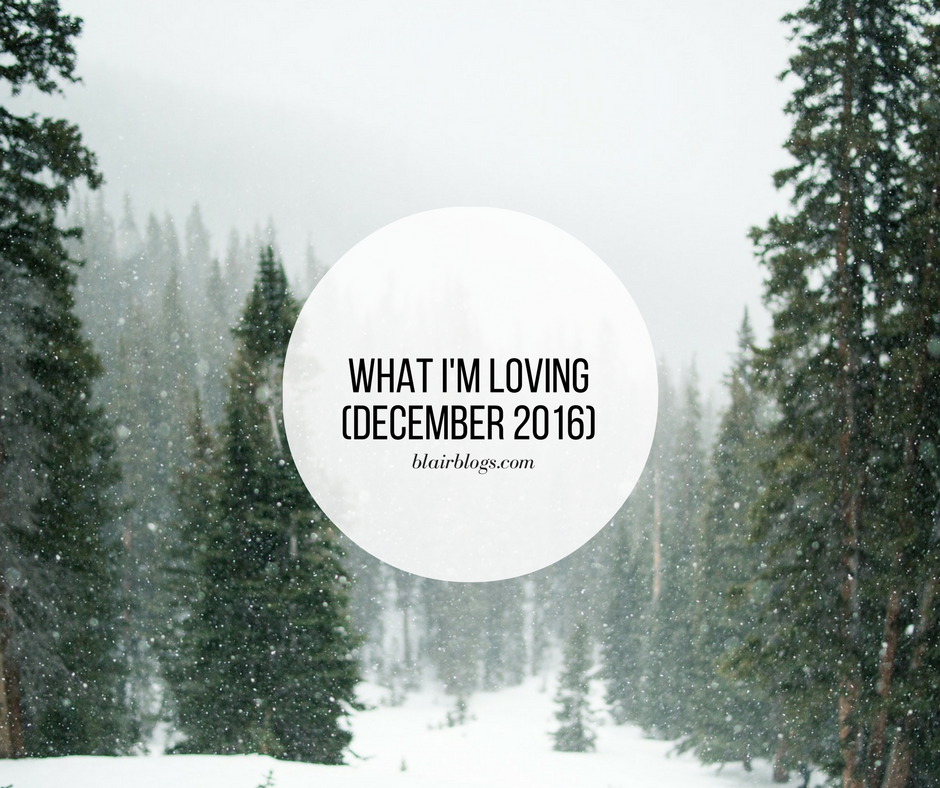 Today is the seventh installment of an ongoing post series, What I'm Loving (June edition, July edition, August edition, September edition, October edition, November edition), where I share what I've been loving lately in the following categories: Food and Drink, Makeup and Beauty, Home Décor and Products, Entertainment (TV, Music, Books, Internet), Clothing and Accessories, and Priceless. Let's get started!
As I shared in this post, I'm going to try publishing these What I'm Loving posts at the end of the month or the beginning of the next (instead of in the middle of the month like I did last year). I would've liked to publish this installment sooner, but getting back into "the swing of things" after the holidays has proved more challenging than anticipated!
As always, any Amazon links I share are affiliate links. This means that the price of the item won't change for you, but I receive a small commission of the sale which helps me keep my content free and my site up and running. Thanks!
Food and Drink
Bantam Bagels from Starbucks– I didn't even know these existed until a couple of weeks ago, and it's a real shame because I love bagels–and these are totally delicious. Click through the link above for a visual, but they're basically little bagel buns stuffed with cream cheese. Absolutely delicious! I can't get enough.
Strawberries- There's not much to say here, and strawberries aren't even in season, but they've been on sale, I've been buying them, and they've been super yummy.
Toblerone Chocolate– I always forget about Toblerone Chocolate, which is probably a good thing. It's delicious! Riley put a bar (is it still called a bar if it's in a triangular shape?) in my stocking, and I've been eating a piece or two every night for dessert. Yum!
Makeup and Beauty
Batiste Dry Shampoo– I've been "training" my hair to go longer in between washes, and I'm up to four days grease-free! Yes! On the third and fourth day, I usually add some bounce and life to my hair by using Batiste dry shampoo. It totally lives up to the hype–it's by far the best!
Juice Beauty Blemish Stick– Every product in my skincare routine used to hit a 9 or a 10 on the Think Dirty app, but once I started making my own products, my products have all dropped to a 0! I wanted a more natural spot treatment to go with my natural regime, so I ordered this stick. I like it a lot so far! (I've used tea tree oil and Purification neat as spot treatments before too.)
Lush Snowcastle Soap– I basically love anything from Lush, and especially their bath bombs and bubble bars. Riley gave me a gift set for Christmas, and this Snowcastle Soap bar was a part of it–it's heavenly. I generally steer away from bar soap because it's too drying, but this bar is super moisturizing with coconut and almond oils. Plus, it smells gorgeous!
 Home Décor and Products
Erin Condren Planner– (This is a referral link–if you use it, you get $10 off!) Y'all know I'm a Planner Girl, and I always will be. I recently shared about the planner I created for myself, and I'm still using that! Don't fret! I was using it along with a notepad for daily to-do lists, which wasn't totally working for me, so I started looking into planners that had space for lists. My EC planner suits my needs perfectly, plus I like that I can calendar the months ahead on paper (unlike the one I created). I'm sure I'll get some requests for a planner post, which I'm happy to create in a few months. I want to get the hang of using this particular planner first.
2017 Powersheets– Powersheets are intentional goal planning worksheets for 6 or 12 months (I have the 12 month version), and they have already been incredibly helping me shape my priorities and goals for 2017. (The shop that sells Powersheets was sold out, but is actually taking preorders today for a small batch of 6 month sheets that will ship out in May. If you're interested–jump on that!)
Release Essential Oil from Young Living– Young Living has an oil called Stress Away that has a devoted following, and though I do like it, I like Release 10x better. When I diffuse Release or apply it to the back of my neck, I instantly feel less anxious and more relaxed. I diffuse it before bed for an hour on most nights, and I've had a much easier time falling asleep, which is something I've been struggling with lately (more on that here).
Entertainment (TV, Music, Books, Internet)
Bits of Paradis on YouTube– I'm an avid YouTube watcher (one of the main reasons why I'm working on expanding my own channel this year), and I have recently fallen in love with Brittany at Bits of Paradis. She's a new mom and shares about her life's ups and downs in Colorado. I've back-watched nearly all of her videos–you'll love her! She's so charming and sweet, and very honest about life's challenges and struggles.
Moana + Moana Soundtrack– I just love Moana so much and have loved belting out the soundtrack while I do household chores! If you haven't seen the movie, and you're a Disney lover, I think you'll really enjoy it.
Clothing and Accessories
Nike Free 5.0+ Women's Running Shoes– My old tennis shoes were three years old and worn out, so they were causing me some discomfort and back pain. I wanted to grab a new pair before our Disney trip because of how much walking we'll do, so I ordered these off Amazon, knowing I could return them for free if they didn't work out. They're great! Cute, comfortable, and lightweight.
Tiny Heart Choker Necklace– I received an Etsy gift card for my birthday, and I wanted to find a dainty silver necklace to spend part of it on. I found this necklace and fell in love! It's cute, subtle, and goes with everything. I've worn it so much!
Baleaf Leggings– My favorite leggings are literally six years old (can you tell I don't like spending money on clothes?), and they've gotten stretched out and don't fit right anymore. I wanted a replacement that I could wear to work out or with a tunic (no prominent logos in visible places), and I found these on Amazon. They're amazing! I have a pair of Lululemons, and the fabric on these is very similar if not exactly the same at a much lower price point. Highly recommend!
Priceless
Our first Christmas in our home- 2016 was the first year of my life that I didn't spend Christmas with my nuclear family in Maryland, and though it was bittersweet, it was absolutely wonderful to spend Christmas in our home for the first time! I loved it!
Time off with Riley- Riley had off for two weeks over Christmas, and I closed my Etsy shop, paused my mentorship program, and took a break from posting to spend time with him. It was such a nice period of reconnection to spend time taking walks, cooking, shopping, and decorating our home. I wish he was home more often!
I'm unsure how I feel about this new What I'm Loving posting timeline–part of me feels like it makes more sense, but I also liked posting mid-month so that y'all had the chance to try some of my favorite things during the month, especially if they're season or month-specific. Thoughts? Do you prefer mid-month or end-of-month favorites posts?
// That's what I've been loving lately! What about you?
Thank you for reading! You can find me online on Facebook, Instagram, Pinterest, Twitter, and YouTube. If you'd like to be alerted whenever I publish a new post, you can follow me on Bloglovin' or subscribe via email. Take a look at my Etsy shop and listen to my podcast about simplifying life, Simplify Everything! Are you a blogger too? Check out my Blogger Mentorship Program.
Related: What I'm Loving (June 2016) & What I'm Loving (July 2016) & What I'm Loving (August 2016) & What I'm Loving (September 2016) & What I'm Loving (October 2016) & What I'm Loving (November 2016)