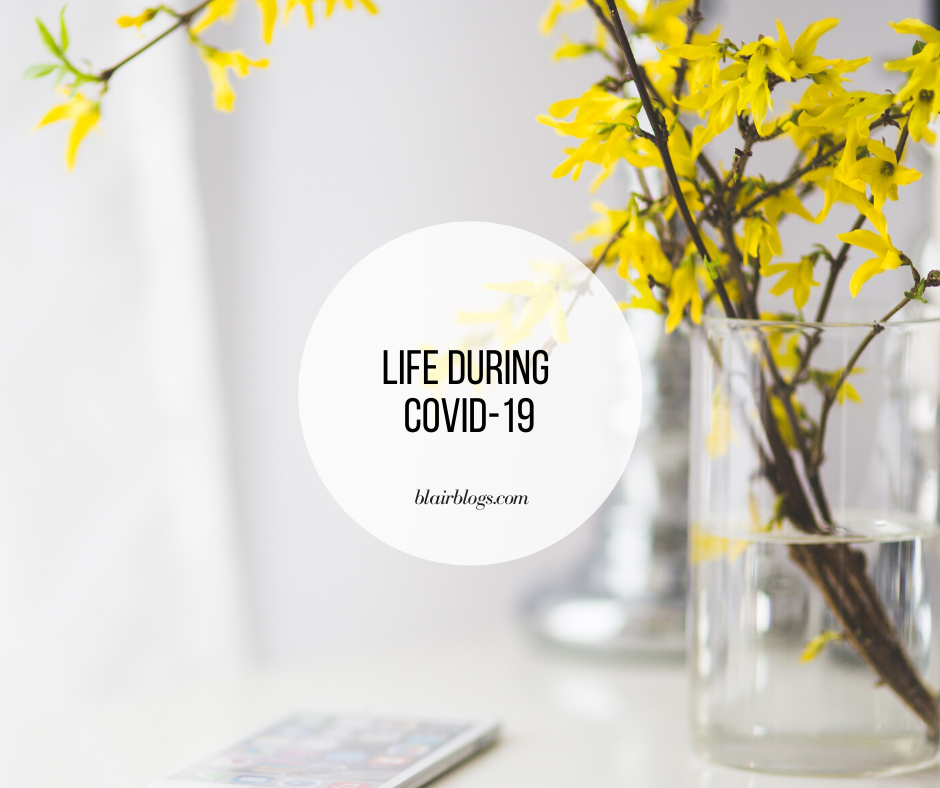 Life right now, amidst the 2020 COVID-19 pandemic, is profoundly bizarre.
To watch the entire nation–and the entire world–come to a screeching halt is surreal and unnerving. Businesses are closed. School years are over. All non-essential travel is canceled. People are afraid to leave their homes. There's no toilet paper or hand sanitizer left on shelves; there's very little personal protective equipment for healthcare workers. ICU beds are filling up. Church pews are empty. Many places have issued mandatory "shelter in place" orders. Millions of Americans are out of jobs. The economy has crashed. It's like a bad movie, and we're all in the middle of it.
I intend to document our life right now with the sincere hope that I will reread these words soon and think how glad I am that this horrific global pandemic is over. Of course, I'm only able to describe our tiny slice of life and the experiences within it; there's no conceivable way for me to encompass everyone's reality.
For us, life is like Groundhog Day. There's no difference between a Saturday and a Monday and a Thursday. Every day is the same. There's nothing to mark the time. Nora and I are at home every day, all day, full time. Today is day 29 of "social distancing" for us (April 6th). Day 29 of ?
Riley is working shortened hours and communicating with customers via the phone and email. His small business is feeling the strain but doing okay so far, which is more than many people are able to say. (He's considered an essential worker because he does uniforming, including uniforming law enforcement officers and firefighters.) In my own work, I've noticed a major uptick in online engagement but a decrease in Etsy sales, as can be expected.
We try to make a point to take a long walk every day, but the weather has made this challenging. I miss being out in the world. What I would give to walk around Target, to grocery shop, to eat out at a restaurant!
Most of all, I desperately miss seeing my family and friends. We were supposed to travel to Maryland for Easter but had to cancel our trip. We have another trip to Maryland planned in mid-May, but that'll likely be cancelled too. We have a third trip in June, and that's the only one that may stand, but there's no way to know now. I don't know when I'll be able to see my east coast people, and it breaks my heart.
I haven't been able to see local family and friends either. I really miss my mother-in-law and sisters-in-law. They're missing Nora growing up, even though we're only a few miles apart, which deeply pains me. I miss my friends too. We usually get together for coffee, lunch, or just to take a long walk a couple of times a week. New motherhood can be intrinsically lonely; this makes it even more so.
Like anything, there have been good things too. Riley's home more, which allows us to have extra family time. He's gotten to be a part of Nora's day-to-day in a way that he can't when he's out of the house working full time. Life is simpler, of course. We're cooking and baking at home. I've had the chance to pick up filming YouTube videos and writing again with Riley around to care for Nora. Although our income has decreased, so have our expenses. Aside from the obvious bills, our only expenditure is groceries. I've made a point not to pass the time by shopping online for fear that my current state of boredom would cause me to overspend.
There's a level of panic and anxiety that underlines every part of life right now. When Riley returns home from work, he immediately takes off his shoes and washes his hands. He sometimes changes his clothes completely. I wipe down our doorknobs, light switches, cell phones, remotes, faucets, and anything else that gets touched frequently whenever I have the time. The couple of times we've gone out for food through a drive-through, I've used sanitizer wipes to wipe down our credit card and drink cups. It's impossible to know what's enough and how much is too much. It's crazy-making, really.
I've tried to stay in touch with family and friends as much as possible through Zoom, FaceTime, text messaging, phone calls, Marco Polo, and sending cards. Communicating with people in "the outside world" helps restore a small sense of normalcy.
To be honest, there are some days when I feel like I'm going to burst! I have the worst case of Cabin Fever I've ever experienced. Our house feels like it's closing in on me, leaving me feeling claustrophobic and frazzled. To pass the time, there are small projects around our home that I'd like to work on, like painting our laundry room or reorganizing the linen closet. Somehow, these projects feel overwhelming. I might attempt to tackle them anyway.
Some days, I throw a bit of a pity party for myself, which I know is selfish and ridiculous. This pandemic came about just as I was finally feeling better after my postpartum from hell. Essentially, I've been stuck at home for five months and counting. "Over it" doesn't scratch the surface.
Each night, Riley and I talk about what we'll do when COVID-19 has simmered down. "We can walk around Walmart!" he'll say. "And eat dinner out!" I'll add. What a day that'll be! We're looking forward to doing anything outside of the house.
The chaos continues to spin, and we'll continue to stay at home. Because for every minute of boredom and Cabin Fever, there's a healthcare worker sacrificing his/her health and the health of his/her family to treat the public. There's a janitor keeping public spaces sanitized. There's a grocery store worker restocking the shelves. These essential workers and others are keeping our nation going at great sacrifice and risk…and all we have to do is stay at home. And so, we'll stay at home and do our part. And fiercely hope and pray that this ends soon.
It's very odd–almost like an out-of-body experience–to be living through something that will surely appear in my daughter's history books. I feel the same way about 9/11, but my young age at the time sheltered me from understanding the profound impact of such an attack. As an adult woman, the coronavirus outbreak's implications weigh on my mind. This is truly a historical event.
One thing I've noticed since the majority of people began "social distancing" is kindness. Loads and loads of kindness. I've noticed empathy, compassion, and warmth in a way I've never seen before. I've been sharing regularly online since 2012 when I started this blog, and people's words have been more love-filled and kinder than ever. It seems that we're all seeking connection and generally overlooking the disagreements and differences of opinion that prevent it. I hope this effort to connect and be kind stays around after the virus has made its way out.
Tell me: What's your life looked like during COVID-19? How are you feeling? What are you observing in the world around you? One day, we'll reread this post and others like it and think, "Wow, remember that?"
Thank you for reading! You can find me online on YouTube, Facebook, Instagram, Pinterest, and Twitter. If you'd like to be alerted whenever I publish a new post, you can follow me on Bloglovin' or subscribe via email. Check out my fun tees in my Etsy shop! Are you a blogger too? Check out my Blogger Mentorship Program.