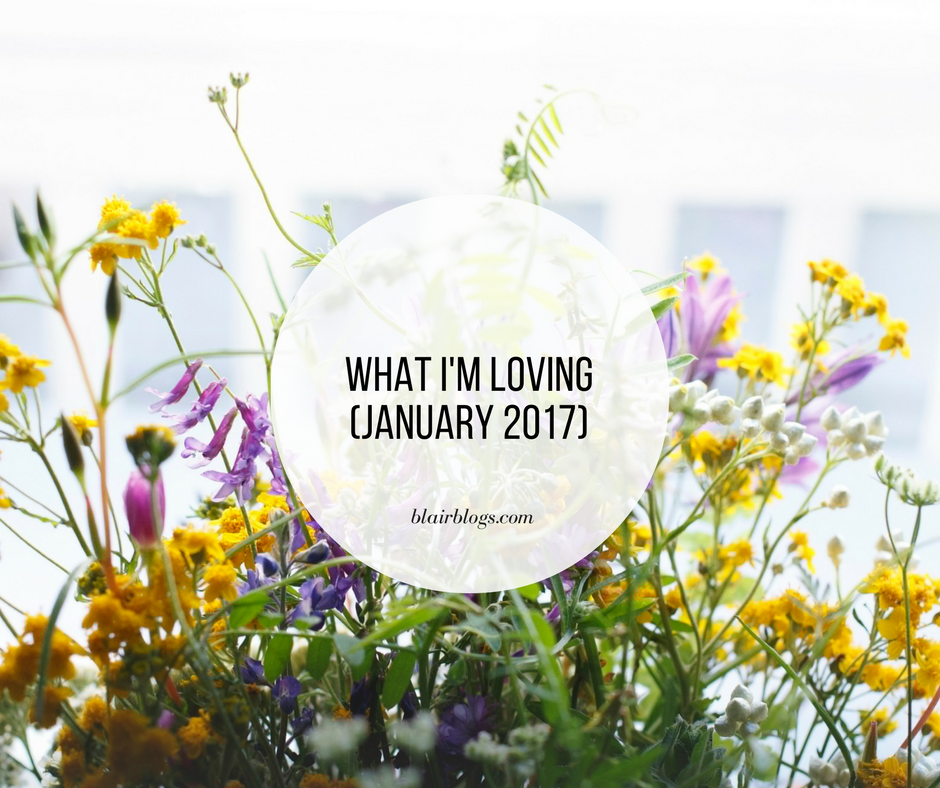 Today is the eighth installment of an ongoing post series, What I'm Loving (June edition, July edition, August edition, September edition, October edition, November edition, December edition), where I share what I've been loving lately in the following categories: Food and Drink, Makeup and Beauty, Home Décor and Products, Entertainment (TV, Music, Books, Internet), Clothing and Accessories, and Priceless. Let's get started!
As always, any Amazon links I share are affiliate links. This means that the price of the item won't change for you, but I receive a small commission of the sale which helps me keep my content free and my site up and running. Thanks!
Food and Drink (and Vitamins!)
Copycat Serendipity Frozen Hot Chocolate– No joke, this is one of the most delicious drinks I've ever tasted. It is completely decadent and a total indulgence. If you're a chocolate lover, you have to try this! We were discussing our Valentine's Day meal a few days ago (we're staying home and cooking), and when we started brainstorming dessert, we both shouted in unison, "frozen hot chocolate!" Yum. (I think we've changed our minds and are doing chocolate fondue instead, but this was a real contender!)
Lemon Water- This is the literal opposite of frozen hot chocolate. Every morning for the past month, I've made a big water bottle of lemon water and sipped on it while I get ready for the day. I tend to get dehydrated quickly and this has made a huge difference! My skin has also been clearer and my digestive tract has been great! This has proven to be such an easy way to start each day with a focus on health–and it takes no time at all.
Rainbow Light Prenatal One Multivitamin– I'm not pregnant, but I've been taking this as my daily multivitamin since I got married and I absolutely love it. My hair and nails grow rapidly, I feel healthy and well, and I have peace of mind knowing that if I happen to get pregnant, my body is well-supported. It's food-based and only requires one pill a day, which works well for me. I take it at night with my magnesium (explained below)!
Doctor's Best High Absorption Magnesium– Magnesium has been referred to as "the original chill pill" and "nature's antidepressant," and for good reason! I take two each night before bed and feel less anxious, sleep more soundly, and generally experience a more leveled out mood throughout the day because of it. A few weeks ago, my sister-in-law came over and said, "I feel so anxious right now and I can't figure out why." So I said, "Here's some magnesium!" Within 10 minutes she told me that she felt back to normal! Most Americans are deficient in magnesium, so if you experience mild anxiety from time to time, you may want to give it a try. It works wonders for me! (Obviously I am not a doctor; this is just my experience.)
Makeup and Beauty
 Home Décor and Products
Paper Mate Flair Felt Tip Pens– These are like The Pens of Instagram. It seems like everyone I follow there uses these colorful pens for journaling, scheduling, and goal setting. I've been eyeing a set of them for a few months (I'm a stationary/school supply addict), and finally pulled the trigger and bought them at the end of December to use with my Erin Condren planner and Powersheets. They're great!
AmazonBasics Lightweight On-Ear Headphones– I have a great pair of in-ear headphones, but they hurt my ears after an hour or so. I wanted more comfortable headphones for longer wear, but I didn't want to spend a lot of money. These are perfect! Only $15 and very comfortable. They come with a great drawstring bag, which speaks to my organization-loving heart, too! They can't compare to better brands like Bose (Riley has a pair of those), but for my purposes, they're ideal.
Entertainment (TV, Music, Books, Internet)
The Hidden Magic of Walt Disney World– I bought this book for Riley for Christmas, and we took it with us to Disney. During our afternoon rests at the hotel, we'd crack it open and read about whatever rides/restaurants/parks we'd visited that day. It was fun to learn behind the scenes facts! We're dying to do the Keys to the Kingdom tour one day and see the hidden magic for ourselves!
Looking for Fiction Suggestions!- I gravitate toward nonfiction when I choose books, but I want to read more fiction this year. I love getting lost in fictional stories and escaping into another world! Do you have any suggestions for me?
Clothing and Accessories
Hane's Comfort Evolution Bra– This bra is not sexy at all (like at all, at all), but it is so, so comfortable. Before we left for Disney, I wanted to find a sports bra-type bra that would be comfortable to walk in all day. This was perfect and incredibly comfortable! It doesn't do anything as far as shaping or lifting the girls, but it keeps them in place, doesn't rub, isn't too tight, and is invisible under clothes. I wore it every day in Disney and will certainly keep it for future walk/move-a-lot trips!
Small Tree Necklace– I mentioned this in my January: Rooted video; I bought it to wear as a daily reminder of my word for 2017 (rooted). It's delicate and pretty and reminds me of my word without being too forthright. I love it!
Priceless
Our Disney trip– Priceless, yeah right! Nothing about Walt Disney World is inexpensive, but the memories we made are truly priceless. A week away to a place where everything is taken care of and we could laugh and simply enjoy ourselves was a precious start to the year!
Baby Calla Grace- My best friend from college (also my MOH) Angela, and her husband Sam welcomed their first baby, a beautiful baby girl, in January. They live in northern California, so I've only met little Calla Grace through FaceTime, but she is so perfect. What a gift her tiny soul is already! I can't wait to meet her in person later this year. Watching my friends become moms is one of the strangest, most beautiful experiences of my life!
// That's what I've been loving lately! What about you?
Thank you for reading/watching! You can find me online on Facebook, Instagram, Pinterest, Twitter, and YouTube. If you'd like to be alerted whenever I publish a new post, you can follow me on Bloglovin' or subscribe via email. Take a look at my Etsy shop where I sell tees, totes, sweatshirts, and pillow covers! Are you a blogger too? Check out my Blogger Mentorship Program.
Related: What I'm Loving (June 2016) & What I'm Loving (July 2016) & What I'm Loving (August 2016) & What I'm Loving (September 2016) & What I'm Loving (October 2016) & What I'm Loving (November 2016) & What I'm Loving (December 2016)