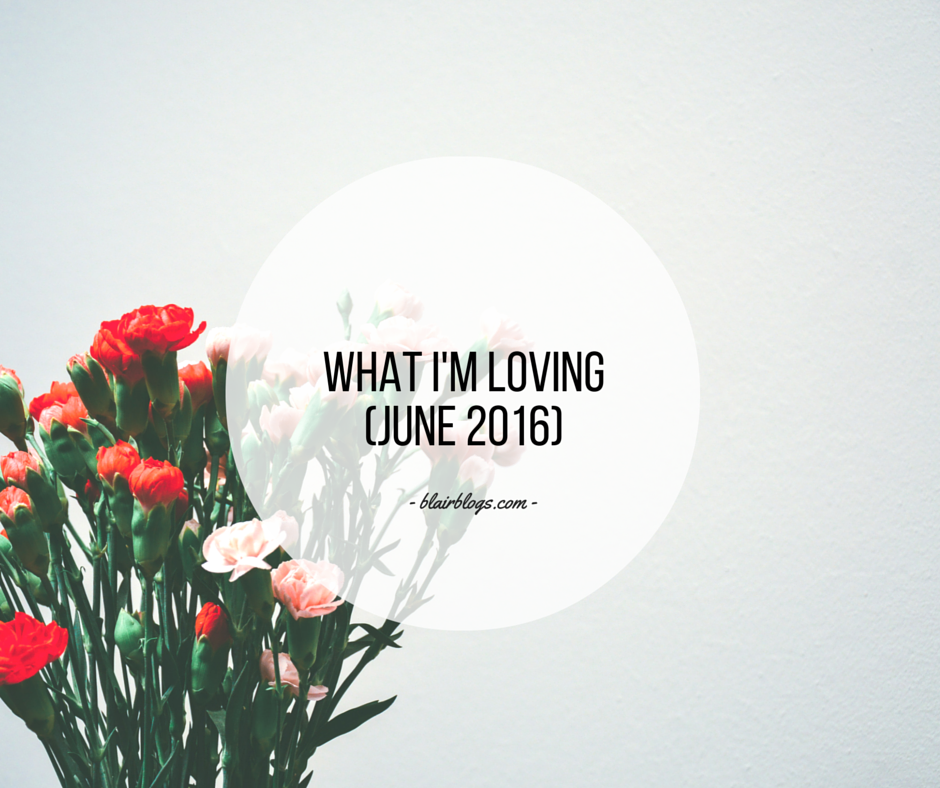 Today kicks off a new ongoing post series, What I'm Loving. I'll write a post every month or every couple of months outlining what I've been loving lately in the following categories: Food and Drink, Makeup and Beauty, Home Décor and Products, Entertainment (TV, Music, Books, Internet), Clothing and Accessories, and Priceless. Let's dive right in!
As always, any Amazon links I share are affiliate links. This means that the price of the item won't change for you, but I receive a small commission of the sale which helps me keep my content free and my site up and running. Thanks!
Food and Drink
La Croix– Every year around this time, I get back into La Croix which is flavored sparkling water sold in most grocery stores, Walmart, and Target. My favorite flavors are apricot (surprisingly delicious), cherry-lime, and berry. It's so refreshing!
Fresh Fruit- Yum. Strawberries, raspberries, blackberries–I want them all. I've also eaten so many peaches in the past month that I've actually had to make grocery runs just for more. They're delicious at this time of year!
Tazo Iced Tea Concentrate in Iced Passion– First of all, don't buy this online for $39 (#what), you can get it in the coffee aisle at the grocery store for about $4. I love this stuff. I mix it with lemonade to make iced passion tea lemonade…it's absolutely delicious and much less expensive than heading to Starbucks for the same drink!
Makeup and Beauty
Home Décor and Products
SOHO Acrylic Caddy Cosmetic Organizer– I wasn't sure if this should go under the "Makeup and Beauty" category, but since it's an organizational product, I parked it here. I outlined how I'm using this caddy for my makeup in this post and I absolutely love it. It's neat, organized, easy to use, and tucks perfectly in the cabinet.
Umbra Little Black Dress Hanging Jewelry Organizer– This is another organizer–this time it's for jewelry, and I've written about it in this post. It's worked out so well for me and has made keeping my jewelry clean, tangle-free, organized, accessible, and ready for travel so, so easy. I highly recommend it, and I think it's quite affordable.
Paper Mate InkJoy Ballpoint Pens– I bought these pens after using one to sign a restaurant receipt and falling in love it! I haven't written with almost anything but my Pilot V5's for years, but I love these colorful pens because unlike my Pilot V5's, they're ballpoint pens and don't bleed through my planner pages. I write with them every single day, especially in my Simplified Planner, which I talk about in this post.
Entertainment (TV, Music, Books, Internet)
Clothing and Accessories
Sanuk Yoga Mat Flip-Flops– These flip-flops are so comfortable. They're made out of recycled yoga mats (hence the name), and I'm so impressed with how squishy and supportive they are. I've had my pair for five years and they've held up really well. They're perfect for running errands in the summer. Riley bought a pair when we were vacationing in Orlando and they've become his favorite pair of shoes!
Sterling Silver Round Cubic Zirconia Stud Earrings– I wear the same pair of earrings about 350 days out of the year. I've done this since I got my ears pierced. They're always studs, they're always small, and they're always neutral enough to match whatever I'm wearing. After losing one of the earrings from the pair of studs I had been wearing for about seven months, I purchased this faux diamond studs on Amazon. Love them. They're light, comfortable, and really pretty. I've worn them every day so far and will continue to until one breaks or gets lost.
Priceless
Windows Open- It's the perfect time of year to crack our windows open for a few hours in the morning or evening for some fresh air. There is nothing, nothing, nothing that can compare to the sweet smell of late Spring/early Summer floating through our house. I just love it.
New Friends- We have finally found a church after months of searching for the right fit. Praise God! We've met some great people already and are continuing to meet more new friends all the time. Such an answered prayer!
House Guests- My sweet cousin is visiting me this week, and I absolutely love having our guest room occupied. It's a blessing to show her around town and give her a taste of the great state of Texas! Cousins are so special.
// That's what I've been loving lately! What about you?