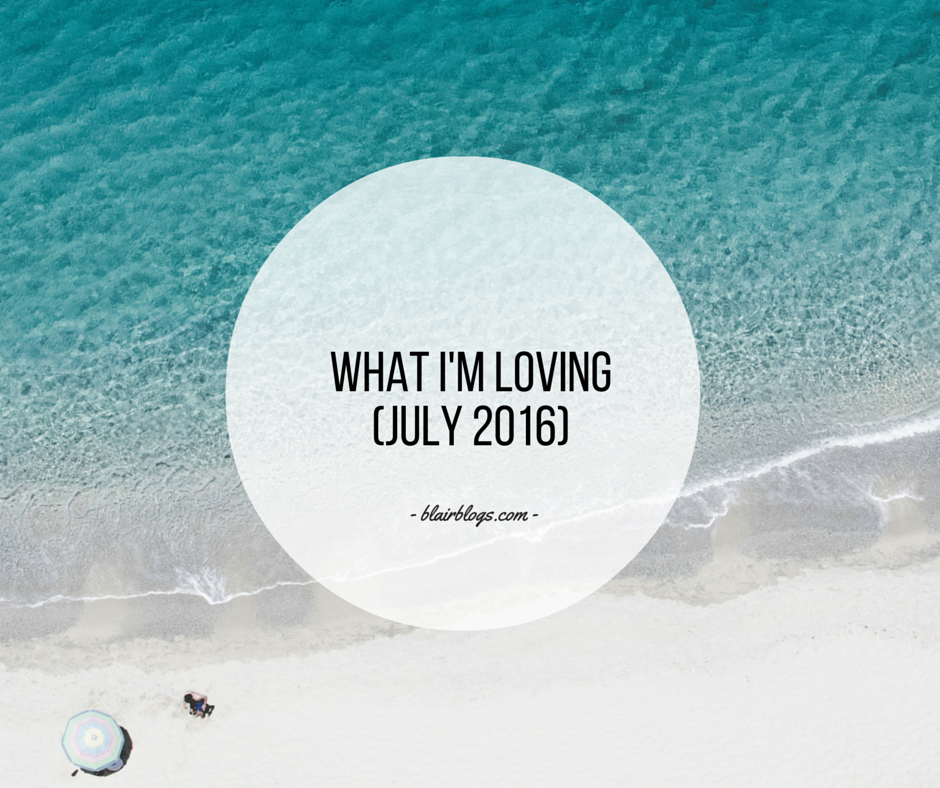 Today is the second installment of an ongoing post series, What I'm Loving (June edition here!), where I share what I've been loving lately in the following categories: Food and Drink, Makeup and Beauty, Home Décor and Products, Entertainment (TV, Music, Books, Internet), Clothing and Accessories, and Priceless. Let's dive right in!
As always, any Amazon links I share are affiliate links. This means that the price of the item won't change for you, but I receive a small commission of the sale which helps me keep my content free and my site up and running. Thanks!
Food and Drink
Caprese Salad- Fresh sliced tomatoes, creamy mozzarella, delicious basil, some salt and pepper, and a drizzle each of olive oil and balsamic vinegar? Heaven on a plate. (I even made bite-sized caprese salad the other night!) So, so good.
Clif Bars– I like to get up early in the summer and walk Charley while I eat a quick, light breakfast. Clif bars (in chocolate chip and oatmeal raisin) make this ritual super yummy!
Fruit of all kinds- I am still completely on board the fruit train! I can't get enough of it right now, especially since it's in season and delicious. Yum, yum, yum. What's your favorite fruit? Mine changes, right now I'm obsessed with peaches.
Makeup and Beauty
Alba Botanica Hawaiian Plumeria Shampoo & Conditioner– Prior to this, I've used Bamboo products, but when they stopped packing their punch, I turned to Alba. First of all, the plumeria scent is beyond delicious. Secondly, the products have no parabens, phthlates, sulfates, or salts, are formulated without animal testing, and are made with 100% vegetarian ingredients. (I've never colored my hair but use non-stripping products because I get keratin smoothing treatments done.) My hair feels soft and silky and again, and the smell is intoxicating in the best way. I'm definitely on the Alba train!
Elta MD UV Daily Broad-Spectrum Tinted Sunscreen– Confession: I hate sunscreen. I hate putting it on, I hate the way it feels, I just loathe it. Unfortunately, I was blessed with pale, freckled skin, so I have to suck it up and wear it anyway. After a recent dermatologist appointment where I was concerned about some premature wrinkles on my face, I was told that I need to wear facial sunscreen daily. *Cringe* My dermatologist recommended this sunscreen, and told me it feels more like a primer, especially since it's tinted. I purchased it, and to my great surprise, I like it. (I might even love it but I'm not ready to admit that yet.) It feels exactly like primer, it's not greasy or creamy like sunscreen, and it doesn't smell at all. Oh, and unlike pretty much every other facial sunscreen, it doesn't make my skin break out.
CeraVe Hydrating Cleanser– I've definitely mentioned this cleanser before, but it's worth mentioning again. It's that good. I use this each morning, and it's the most soothing, hydrating, balancing, gentle face wash I've ever used. I love the way it makes my skin feel, especially in the dry heat of the summer. (It's also great for shaving if you have sensitive skin!)
Home Décor and Products
Sistema Klip It Collection Juice Jug– We drink a lot of iced tea (a 2 quart pitcher every two days), and this is what I store it in. It's great because it doesn't spill or drip, the tea stays extremely fresh, and it doesn't take up a lot of room in the fridge. I bought this last November and have used it near-daily since then.
Tervis Tumblers– Whenever people visit us, they always make fun of us for having so many Tervis Tumblers. We have at least 15, probably more. They're all we use to drink out of! We're especially fond of them in the hot summer months because they keep ice frozen and water cold for hours. I'm drinking out of one right now! 😉
Parsons Bedroom Collection by Threshold– We've been looking for a bedroom set forever. Although I tend to lean towards white furniture, I knew I wanted to incorporate more dark wood in this house so that 1) it wouldn't feel too coastal and mismatch our home/location, and 2) so that it would feel more masculine since Riley lives here too (obviously). Finding a bedroom set that was made of wood, was stained a color we both liked, and wasn't at the Ethan Allen price point took months. On Monday night we ordered this set–the bed, two nightstands, the dresser, and the bookcase. Once we've set up our room, I'll definitely share photos. We're both really excited to see how it looks once it's set up and to finally have our bedroom finished. Plus, I love the Threshold brand! UPDATE: I actually don't love this bedroom set at all. In fact, I loathe it. Details on that here.
Entertainment (TV, Music, Books, Internet)
Clothing and Accessories
Luxury Bamboo Nightgown– I bought this exact nightgown in orchid a few weeks ago because I was looking for something ultra-comfy and cool to sleep in during the summer months. Oh my gosh, I would love to have one of these in every color. It is made of the softest, comfiest material–I hate taking it off to get dressed in the morning!
Croakies– I used to have a pair of these several years ago, but I have no idea where they are now. I bought a new pair before our beach trip in June and have used them constantly. It's so useful to have my sunglasses around my neck during the summertime rather than pulling them out and putting them back away dozens of times each day. (I got the XL variety because they fit wider-armed sunglasses.)
Nike Tempo Running Shorts– I originally fell in love with these shorts when I worked at summer camp back in college (which is where I met my husband!), and I continue to love them to this day. In fact, they're my summer uniform of sorts. They're comfortable and lightweight, making them perfect for running around when it's hot outside.
Priceless
Checking things off our Summer Bucket List- We created a Summer Bucket List and have had a great time checking things off (and planning to check things off)!
Long days- Every day around 9pm I remark how much I love the long days of summer. Riley always laughs because I say it every day, and I always sigh because I know that colder weather is around the corner, bringing with it short days when the sun sets at 5pm. (Nooooo!) I love the long, long days. I feel refreshed and I get so much done. Just this week I launched my Blogger Mentorship Program and started rolling out new tank designs at Blair Lamb Design!
Gratitude- I feel so thankful for where I am in life right now. This past year has been one of the most challenging I've walked through, and I finally feel like I've come out of the valley. A lot of things that have felt abstract and impossible are falling into place and I have peace about those that haven't. I'm thankful for you and your support, too. Nothing I do would matter if you weren't here. Thank you.
// That's what I've been loving lately! What about you?
Thank you for reading! You can find me online on Facebook, Instagram, Pinterest, and Twitter. If you'd like to be alerted whenever I publish a new post, you can follow me on Bloglovin' or subscribe via email. Check out my fun tees in my Etsy shop and listen to my weekly podcast about simplifying life, Simplify Everything! Are you a blogger too? Check out my Blogger Mentorship Program.
Related: What I'm Loving (June 2016)