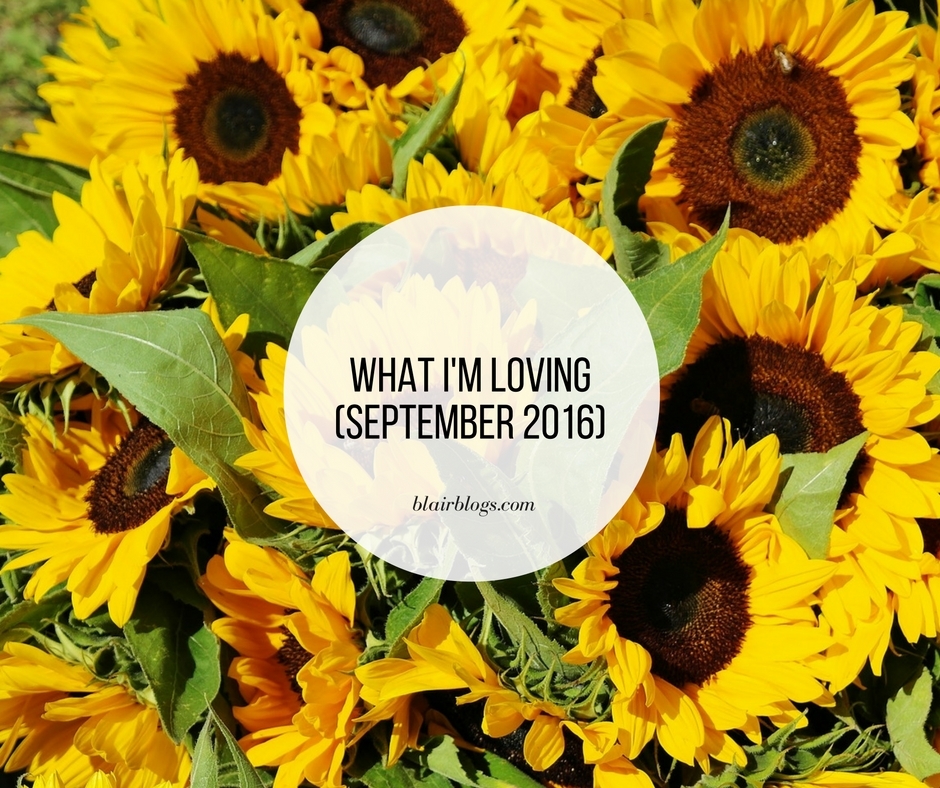 Today is the fourth installment of an ongoing post series, What I'm Loving (June edition, July edition, August edition), where I share what I've been loving lately in the following categories: Food and Drink, Makeup and Beauty, Home Décor and Products, Entertainment (TV, Music, Books, Internet), Clothing and Accessories, and Priceless. Let's get started!
As always, any Amazon links I share are affiliate links. This means that the price of the item won't change for you, but I receive a small commission of the sale which helps me keep my content free and my site up and running. Thanks!
Food and Drink
Harney & Sons Hot Cinnamon Sunset Tea– I drink a lot of tea, both hot and cold, and this may be the best tea I've ever had in my life. It is absolutely delicious–like fall and winter in a cup! It smells and tastes like cinnamon, with orange, nutmeg, and clove notes as well. If you love tea and cinnamon, try this–you will love it! (Fun fact: my sorority sister's–she was actually my g-little if you know sorority lingo–family owns Harney & Sons! She introduced me to the brand back in college and I've been hooked ever since!)
Contigo water bottle– After getting near-daily headaches because I was dehydrated, I pulled an old water bottle from college out of my cabinet and began to tote it around with me during the day in an attempt to drink more water. It worked beautifully, but that water bottle quickly cracked and started to leak in its old age. When we were shopping at Target the other night, we found these Contigo water bottles on sale for 50% off, so I grabbed two. I alternate them from one day to the next and have been consuming so much more water because of them! Woo hoo!
Cholula Original Mexican Hot Sauce– I have never been a hot sauce person by any stretch of the imagination! Ever. I don't like spicy food! Recently, however, I have fallen in love with Cholula hot sauce on scrambled eggs in the morning. (The fact that I'm eating scrambled eggs for breakfast is another surprising thing. #WhatsGottenIntoMe) It's sweet, has a little kick, and is just plain delicious. If you're not from the southwest, it may seem strange to put hot sauce on eggs, but here in Texas, salsa or hot sauce on eggs is as normal as butter on toast. I'm a total convert!
Makeup and Beauty
Tree Hut Shea Sugar Scrub in Almond & Honey– I've loved Tree Hut sugar scrubs for years! Recently, I've been making my own (recipe and how to here), but this was on sale at my grocery store last week and I needed more body scrub, so I grabbed a tub. This stuff is luxurious–it smells amazing and feels even better!
WHAT I'M REALLY NOT LOVING: Tom's of Maine Natural Deodorant in Lavender– Nope, nope, nope. I've never mentioned a product I don't love on my "What I'm Loving" posts for obvious reasons, but I had to warn y'all about this one. I had no issues with the scent, and I didn't smell bad when I was using it (it does its job!), but it made my skin bright red and irritated, and over time, several layers of skin peeled off! I'm still on the hunt for a natural deodorant that I can apply from a tube–I'm not dipping my hands in a tub, it freaks me out! Any suggestions?
Alba Botanica Plumeria Shampoo & Conditioner– I've mentioned this before, and I'm still obsessed with it. In fact, I'm on my second set of shampoo and conditioner! It smells great, makes my hair silky and manageable, and the product is gentle and lacks several damaging chemicals and ingredients. (What's your favorite shampoo/conditioner? I'm always on the lookout for new ones to try!)
Home Décor and Products
DewDrop Diffuser– I wrote about my newfound love for essential oils yesterday in this post, and my favorite oil accessory is hands-down my diffuser. I love diffusing lemon and peppermint in the morning, thieves in the afternoon, and lavender at night. If you have a diffuser, what's your favorite combination?
Clean Mama's cleaning routine– I talked about my new cleaning routine in this post, and I am proud (albeit a little shocked) to say that I've totally stuck with it for about a month now. I only tend to stick with systems that truly make sense and work (I'm an ISTJ after all), and this routine works beautifully. In fact, on Thursday, I'm kicking off a series of highly requested cleaning routine posts and videos!
File bins & folders– As administrative and organized as I am, I have always struggled to keep my paperwork neat and orderly. It never ends! This problem only got compounded when my husband and I got married last year, so earlier this month, I decided it was time to take control. Not wanting a giant, heavy filing cabinet, I purchased two of these cute acrylic file holders and some happy teal files–and I've actually stuck with it! I'm thinking about a post on file organization, if that's something you're interested in, let me know!
Entertainment (TV, Music, Books, Internet)
Lara Casey's Write the Word Journal– Last winter, during advent, I copied several verses out of the Bible each day into my journal as a part of a Christmas scripture-writing plan. I had never copied scripture as a spiritual practice before, and was surprised at how much I enjoyed it. Writing God's word is powerful but also cathartic and peaceful. Anyway, when I saw Lara Casey's Write the Word journal, I bought one immediately. It's beautifully designed and well thought-out…I highly recommend it!
Escaping Polygamy– I really haven't watched a lot of TV lately, but I've been tuning in every week for A&E's Escaping Polygamy series. The season finale was on Sunday night, and it's a reality show about three girls who previously escaped from a polygamous cult and now help others escape, too. It's a little over-dramatized/unbelievable at times, but overall, I love it. Each episode is really fascinating and exciting! (Riley's not so sure.)
Clothing and Accessories
ThredUP– I've heard great things about ThredUP in the past from other bloggers (it's an online secondhand clothing boutique where you can buy/sell clothing and accessories), but never tried it until this month. I was offered a small shopping credit in exchange for trying the site and reviewing it, and y'all, it's so cool! I bought a gorgeous like-new Rebecca Minkoff wallet for 58% off retail! (Photo of my wallet here!) There were lots of gorgeous handbags and wallets in perfect condition–I was so surprised and impressed! Check out the handbag selection (and the rest of the site) and enjoy 50% off handbags with code HANDBAGS50.
Speck Candyshell Grip Case– I consider anything cell phone-related to be an accessory because my phone is with me 24/7! I've had this case on my phone for about 18 months, and it's held up beautifully! I have it in the Lipstick Pink/Jay Blue, and it's about the brightest accessory I own. (Not sure why I chose that color combo, but at least it's easy to find!) I drop my phone all the time, even on our tiled kitchen floor, and my phone is totally protected and intact. If you're on the lookout for a well-made case, I like this one a lot!
Fall Etsy line– I launched my Blair Lamb Design fall clothing line last week! This is the third line I've launched, and it's my favorite to date. I've been wearing these tees almost every day! Go check them out!
Priceless
Time with old friends- My sweet friend of almost 20 years and her husband visited us over Labor Day Weekend, and we had so much fun galavanting around Texas, laughing about childhood memories, and spending time together. Those days were so precious to me and such a nice way to end the summer!
Evenings at the dog park- A dog park opened in our town back in June, and we have spent many beautiful summer evenings there. It's such a joy to watch our 10 pound poodle mix Charley play with other dogs. Charley was playing with a majestic chestnut-colored pit bull the other day, and it literally looked like a cotton ball (Charley) and a horse (Jessie, the pit bull) from across the park! Hysterical and oh-so adorable!
The second new year that September brings- Though the new year is technically in January, there seems to be a second new year in September, doesn't it? With fall around the corner and everything "back to school," September always feels like a welcomed fresh start to me. This year, I've used this second new year to really solidify my daily routines, like my blogging schedule and cleaning routine, and it's made a big positive impact.
// That's what I've been loving lately! What about you?
Thank you for reading! You can find me online on Facebook, Instagram, Pinterest, and Twitter. If you'd like to be alerted whenever I publish a new post, you can follow me on Bloglovin' or subscribe via email. Check out my fun tees in my Etsy shop and listen to my weekly podcast about simplifying life, Simplify Everything! Are you a blogger too? Check out my Blogger Mentorship Program.
Related: What I'm Loving (June 2016) & What I'm Loving (July 2016) & What I'm Loving (August 2016)