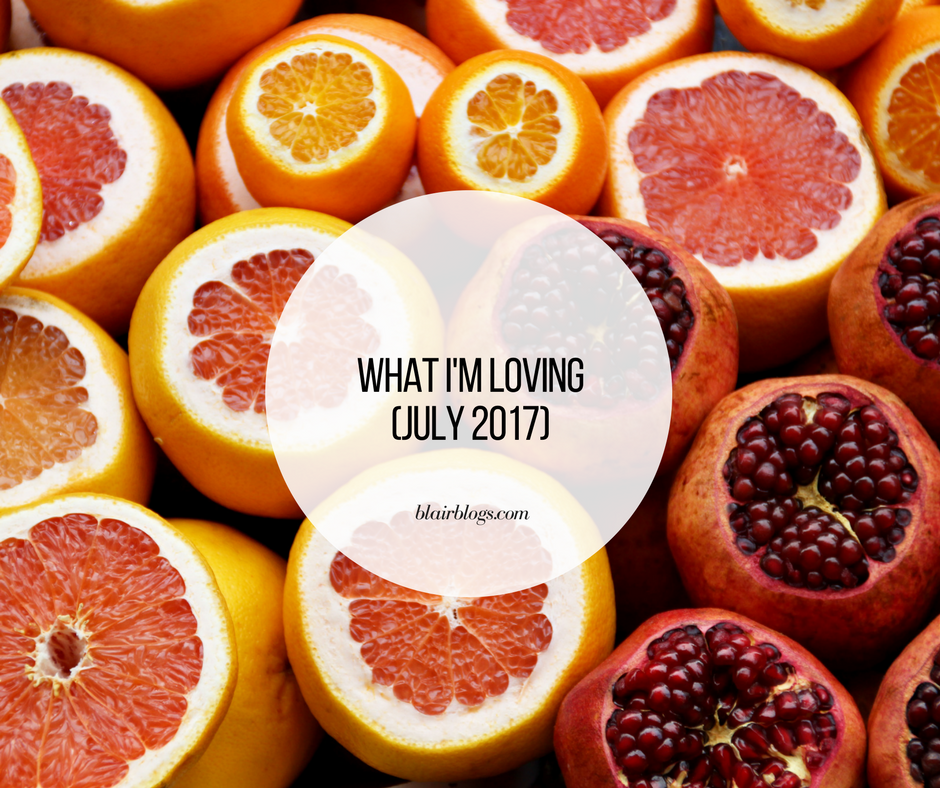 Today is the 14th installment of an ongoing post series, What I'm Loving, where I share what I've been loving lately in the following categories: Food and Drink, Makeup and Beauty, Home Décor and Products, Entertainment (TV, Music, Books, Internet), Clothing and Accessories, and Priceless. Let's get started!
Past installments:
As always, any Amazon links I share are affiliate links. This means that the price of the item won't change for you, but I receive a small commission of the sale which helps me keep my content free and my site up and running. Thanks!
Food and Drink
Every single thing I ate in Seattle– We ate so much delicious food in Seattle! Homemade Greek yogurt with honey, freshly-baked bagels, creamy handmade cheese, incredible crepes, crab, cherries, smoked salmon, everything. Wow, it was so yummy! I'll share lots more about what we ate in my Seattle trip vlogs on my YouTube channel if you're interested.
All the coffee I drank in Seattle– All of it, literally. Rich espresso, frothy milk, homemade vanilla syrup–yum, yum, yum. We so enjoyed all of the local coffee shops! (Our favorite was Storyville Coffee Company in Pike Place Market!)
Fruit Pizza– I made "fruit pizza" for our family's 4th of July celebration (photo here) and it was gobbled up in just a few minutes! It's so easy and delicious–just sugar cookie crust, vanilla cream cheese frosting, and sliced fruit on top. Perfect for summer, but yummy at any time of year. It's not low in calories, but it certainly feels lighter compared to other kinds of desserts! 😉
Makeup and Beauty
Real Techniques Expert Face Brush– I've been using these beauty blender-style sponges for the past six months and they were starting to get worn out; instead of replacing them, I decided to try a foundation brush this time. I love it! The jury's still out on whether I prefer the sponges or this brush–I think I may prefer the sponges–but I really do like this brush. It's much better than my fingers!
Maybelline Primer (Blur Plus Redness Control)– This primer has saved me during this hot Texas summer! It keeps foundation and concealer locked in place throughout the day, even when the temperatures hit 100 degrees. I also like that it helps with redness since my rosy cheeks can get a little out of hand sometimes!
L'Oreal Paris Infallible Pro-Matte Foundation Makeup– I wrote about my favorite drugstore foundation and concealer in this post, and this is another great foundation to add to that list! This is a great almost-full coverage foundation that stays put, doesn't break me out, and blends well. I recommend it!
Home Décor and Products
Dohm All-Natural Sound Machine– I've used a Dohm sound machine for over four years. It's improved my sleep so much! I like it because it's a fan, not a recording, so there's no sound loop (which I always tend to find with "fake" white noise). After four years, we decided to invest in a new one. The first one was starting to sound funny after taking it on so many trips without packing it properly. These aren't cheap, but if you struggle with falling asleep at night, I highly recommend giving one a try. They really block out noise!
Bergamot Essential Oil– In my online oil groups, I've heard lots about bergamot EO and its benefits. I finally purchased a bottle this month and I adore it! If you don't know, Earl Grey tea is black tea with bergamot, so the oil has that herbaly, cozy floral smell of the tea. I bought it after hearing how emotionally grounding it is, and I can attest to that! I diffuse it when I'm feeling anxious or wound-up, usually with lavender. It smells great and calms me down immediately. Related: How to Make an Earl Grey Tea Latte at Home (Copycat Starbucks London Fog)
Entertainment (TV, Music, Books, Internet)
YouTube Red Subscription– As I mentioned in this post, I always sign up for a one-month subscription of YouTube Red before I travel. With two trips in July, I subscribed at the beginning of the month. With Red, I can download videos to watch offline, which means I can watch my favorite content when I don't have strong wifi, like in the airport or on the plane. I love it! (This is not an affiliate link nor sponsored, I just genuinely love this subscription when I'm traveling!)
Clothing and Accessories
Gelante Women's Invisible Belt– I am obsessed with this belt! I hate constantly pulling my pants up and I also hate wearing bulky leather belts that are too tight and uncomfortable and look bulky under my shirts. This belt is the absolute answer to all of my issues! I got it in navy blue so it's almost completely undetectable on jeans. It lays flat as well, so it's not lumpy under shirts. Such a game-changer for $10? Get you one!
Round Cut Cubic Zirconia Stud Earrings– This is the second time I've bought these earrings! I wear them every single day of life. They're lightweight, don't irritate my ears, go with everything, and add a little bling to my outfit! Plus, at only $10, it's no big deal if I lose one or both (which I did–that's why I bought a second pair!). I highly recommend these as easy everyday jewelry that's pretty but inexpensive.
Priceless
Our 2 year wedding anniversary!– We've been married for two years as of July 31st! What a thing to celebrate. I'll save the mushy-gushy and simply say that our marriage is my greatest gift. I look forward to many more years together! We spent our anniversary in Seattle, which was an amazing trip. I'll share more about the trip in the days to come!
Looking forward to the fall season– Because I love summer so much, I rarely look forward to fall. (Don't freak out, I know that's an unpopular opinion!) However, this year, I am so, so, so looking forward to autumn. After a few months of being quite un-routined, I am truly looking forward to the consistency and schedule that fall will bring. Plus, jeans and coffee and crisp air! So cozy!
Snail mail– I've had the opportunity to connect with so many online friends through my PO box this summer. I deeply enjoy reading y'all's letters and writing back to you. Last night I spent nearly an hour writing letters! I just love it. There's something so therapeutic and nostalgic about writing real letters, stamping them, and mailing them out. Sending and receiving letters has been such a joy for me!
Traveling to Baltimore– I traveled to Baltimore in early July for my sister's bridal shower; it was a wonderful trip! I vlogged about it here, here, and here if you'd like to see more. Basically, I got to spend quality time with my sister, family, and friends, and it was awesome! Now we look forward to her wedding at the end of August!
// That's what I've been loving lately! What about you?
Thank you for reading/watching! You can find me online on Facebook, Instagram, Pinterest, Twitter, and YouTube. If you'd like to be alerted whenever I publish a new post, you can follow me on Bloglovin' or subscribe via email. Take a look at my Etsy shop where I sell tees, totes, sweatshirts, and pillow covers! Are you a blogger too? Check out my Blogger Mentorship Program.
Past installments: