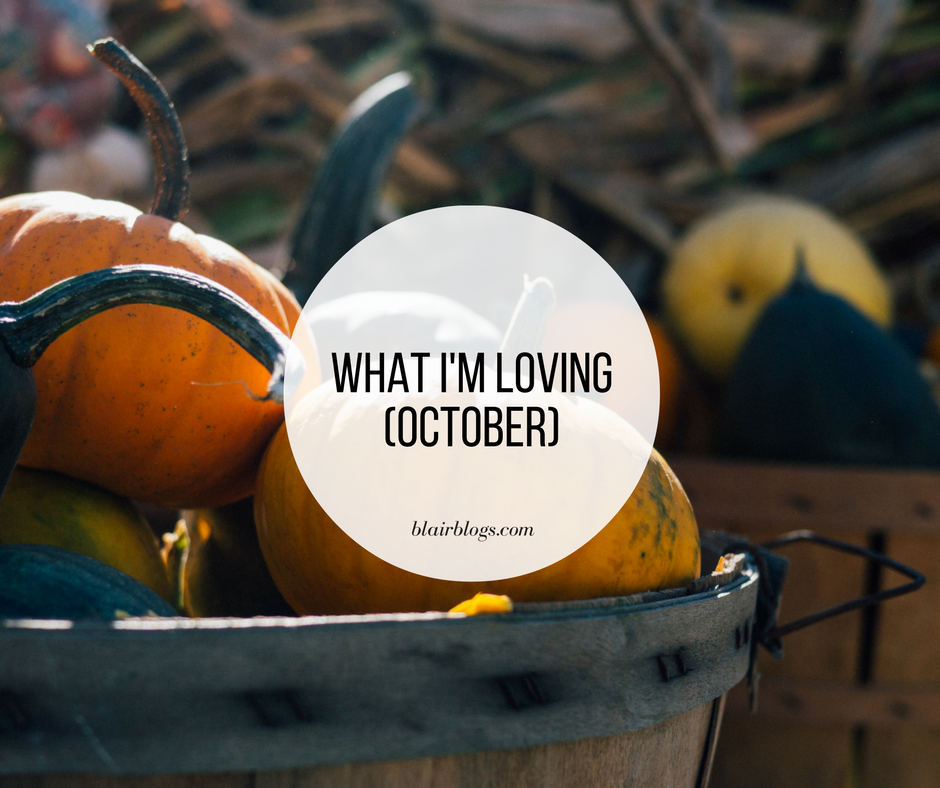 Today is the fifth installment of an ongoing post series, What I'm Loving (June edition, July edition, August edition, September edition), where I share what I've been loving lately in the following categories: Food and Drink, Makeup and Beauty, Home Décor and Products, Entertainment (TV, Music, Books, Internet), Clothing and Accessories, and Priceless. Let's get started!
As always, any Amazon links I share are affiliate links. This means that the price of the item won't change for you, but I receive a small commission of the sale which helps me keep my content free and my site up and running. Thanks!
Food and Drink
Homemade London Fogs- Half a mug of steeped Tazo Earl Grey tea, half a mug of steamed and frothed milk (I use an Aerolatte), and a tablespoon more/less of vanilla syrup. It is so good. The perfect fall pick-me-up!
Caramel apples- Our grocery store makes fresh caramel apples, and I buy one (or 30) every time I shop. They are so delicious and crisp and perfect! Yum.
Lindt Intense Orange chocolate– This chocolate bar is the best. It's delectable and rich and I love the orange undertones and almond pieces throughout. If you like orange and chocolate together, you'll love it.
Homemade chocolate chip cookies- No explanation necessary. I just pulled a giant chocolate chip cookie skillet cookie out of the oven 10 minutes ago for small group tonight–our house smells heavenly! (Wow, the month of healthy food this is not!)
Makeup and Beauty
Tree Hut Shea Sugar Scrub in Almond & Honey– I've shared this before, but it's so good that it's worth mentioning again. I use it on my legs before I shave them, and the hair grows back significantly slower. I hate shaving, so this is a big plus for me. It also smells heavenly!
Burt's Bees chapstick– I've loved Burt's Bees chapstick for years and years. The original is great, but I recently picked up a special "Mint Cocoa" seasonal flavor (scent?) at Cracker Barrel (weird) and it smells like peppermint hot chocolate. I love it!
MUJI Soft Cut Cotton Unbleached Squares– After hearing from so many bloggers and beauty gurus rave that Japanese cotton squares are top-top notch, I ordered these on Amazon. They are so soft. I use cotton squares to remove mascara and tone my face, and there is a noticeable difference in how these feel versus how the cotton squares I usually buy from the grocery store feel. At around $7 for 180 of them, they're not even much of a splurge. I highly, highly recommend these.
 Home Décor and Products
Entertainment (TV, Music, Books, Internet)
Jane the Virgin– One of my friends suggested this show, and it's really lovable and funny. The main character, Jane, is a virgin (clearly), when she gets accidentally inseminated by her doctor and becomes pregnant. The show takes place in Miami and is structured like a telenovela–every character is over-the-top, the plot is ridiculously layered and highly dramatic, but all in a quirky, almost satirical way. Plus, there's a lot of Spanish-speaking in the show, which is a great, fun way for me to brush up. (I studied in Spain 4.5 years ago!) I like it a lot!
For the Love– I read this book in two days and laughed/cried my way all the way through it. Jen Hatmaker is a fantastic writer–you will not be disappointed! The book is a series of essays on different topics, all around the central theme, "fighting for grace in a world of impossible standards," which is the book's tagline. In the midst of all the election ugly (#sooverit), the words in this book were like a warm hug.
Clothing and Accessories
I don't think I bought any new clothing or accessories in the past month, so I don't have anything to share here! 🙂
Priceless
Sunset walks- The sun is setting earlier and earlier (boo!), and it's made for some gorgeous after-dinner walks. We love taking Charley and walking around our neighborhood for 45 minutes-an hour each evening. The weather is beautiful, the wind is breezy, and it's such a nice time to decompress and chat.
Neighborhood kids- We have the cutest kids in our neighborhood! I love driving by their basketball games, trampoline-jumping parties, and sidewalk chalk coloring. They make my heart so joyful and I love that they always make a point to say hi and pet Charley when we're taking a walk. So darn adorable!
Evenings on the couch- We are obsessed with the sectional in our den; it's affectionately referred to as "dream couch," and we love lounging on it with cozy blankets for a while each night. Sometimes we'll sip hot tea or coffee and chat, sometimes we'll both work on our laptops, sometimes we'll watch a TV show or movie. Whatever we're doing, it's really cozy to curl up with Riley and Charley and relax.
// That's what I've been loving lately! What about you?
Thank you for reading! You can find me online on Facebook, Instagram, Pinterest, and Twitter. If you'd like to be alerted whenever I publish a new post, you can follow me on Bloglovin' or subscribe via email. Check out my fun tees in my Etsy shop and listen to my weekly podcast about simplifying life, Simplify Everything! Are you a blogger too? Check out my Blogger Mentorship Program.
Related: What I'm Loving (June 2016) & What I'm Loving (July 2016) & What I'm Loving (August 2016) & What I'm Loving (September 2016)