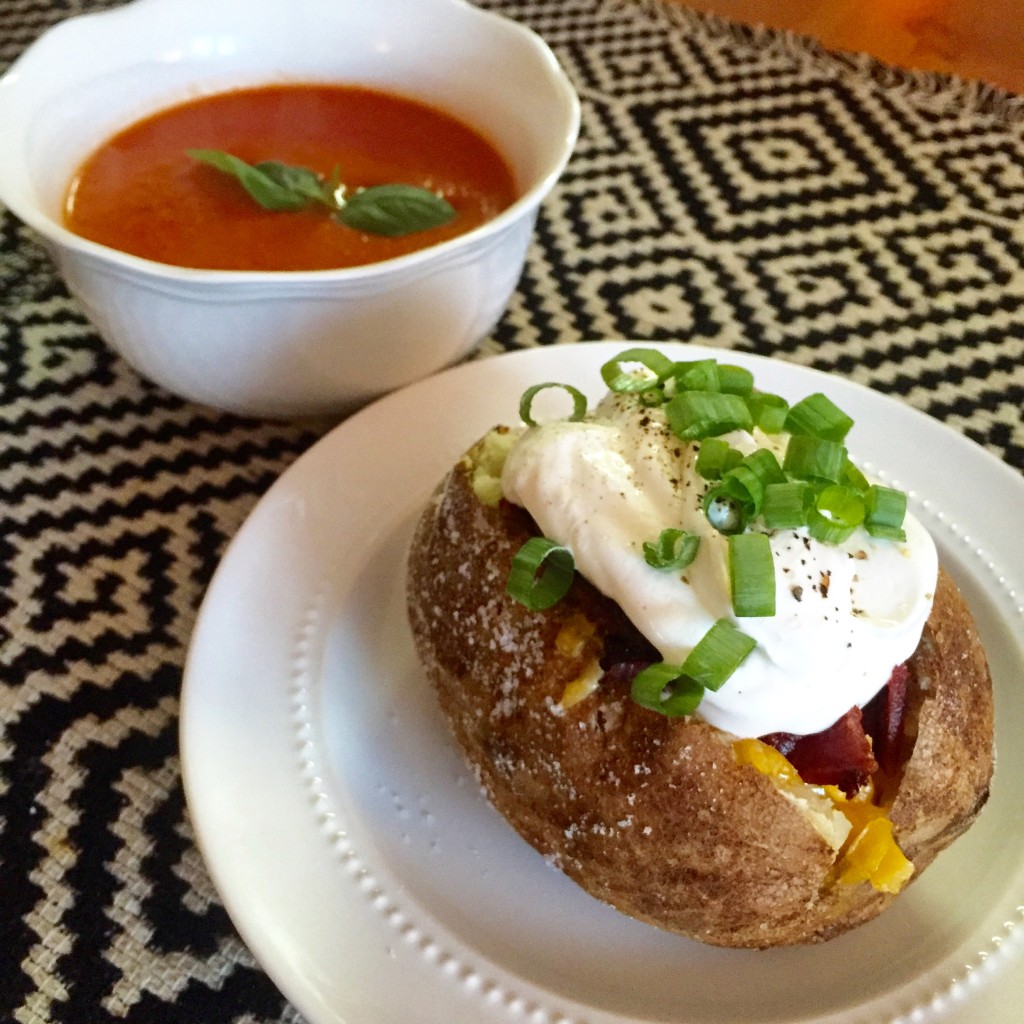 I was thrilled to get married for many reasons, but one major reason was that I could not wait to have someone to cook for! I absolutely love to cook (always have), but when I was single and living alone, I seldom put forth the effort to make homemade meals knowing that I'd end up having to eat the same thing for weeks or fill up my already too-small freezer with giant containers of leftover food.
Once we got married, I started cooking dinner every night. It has become one of my favorite parts of the day! I find so much joy in preparing a meal and then spending time with Riley as we enjoy it together. Cooking is truly one of my favorite hobbies–check out #blairblogscooks on Instagram for some of my favorite recipes or my latest recipe roundup post here! Like anything, however, without proper planning, something fun and enjoyable can easily become stressful. Shortly into our marriage I realized that I would need to start meal planning to avoid the 4pm scramble, but I didn't know where to start.
I tried various methods, both traditional (like writing meal plans on a calendar), and untraditional (like meal planning apps). Nothing seemed to work for me! Finally, I came across Plan To Eat. (Oh, by the way, this is not a sponsored post–the Plan To Eat peeps have no idea who I am!) It was one of the first meal planning sites that I found that required a paid subscription. Because of this, I was hesitant, but took advantage of the 30 day free trial. That's all it took and I was hooked–now I happily pay the $5/month subscription fee; $5 is nothing in comparison to the amount of time Plan To Eat saves me as well as how much fun I have exploring my love of cooking with its help.
(Psst–There's a Black Friday deal coming up…$19.50 for the whole year! That's just $1.60 a month…now is a great time to try Plan To Eat for free for 30 days and decide whether you like it–then you can grab that Black Friday deal if you do!)
Basically, Plan To Eat is an online recipe book that allow you to drag-and-drop recipes into a planning calendar. Doing this then populates a grocery list for you, making shopping super easy. There's also a "cooking view" feature, which I use on my iPad each night as I cook–it's like having the recipe book open, just more technologically advanced!
It's a little difficult to describe the Plan To Eat interface, so I recorded a video of my computer screen as I planned a fake week of meals. Hopefully this helps you understand how the site works! You can watch my video below or on YouTube here.
See how simple it is? Below are a few screenshots with brief explanations for those of you who are at work and can't watch the video yet!
Here is the Plan To Eat Interface. As you can see, I have several appetizers and a couple of beverages that I've saved to my online recipe book. If I were to scroll down, there are 79 more recipes that I've saved–breads, desserts, main courses, side dishes, condiments, etc. What I love about Plan To Eat is that I actually have somewhere to put all of the awesome recipes that I come across on Pinterest, Facebook pages, and Google searches. Now, when I see a great recipe online, I can save it to my recipe book, and then I will actually remember to make it! It's great. (I can also manually import family recipes, which I love.)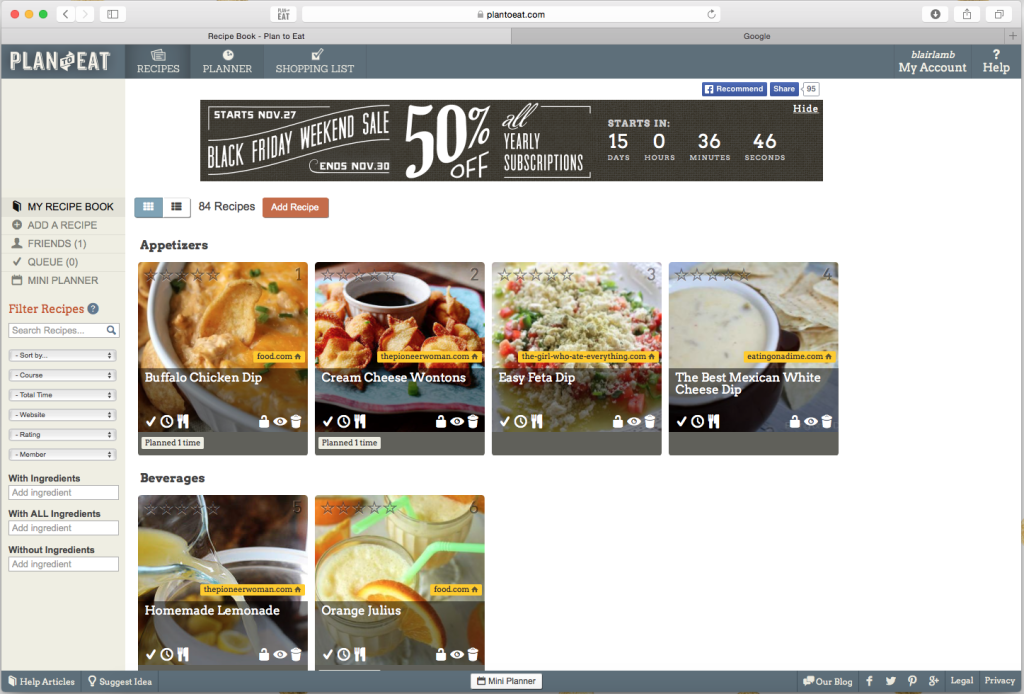 Next is the calendar planning view. You can plan as far out in advance as you'd like, but I always stick to one week ahead. (My taste buds change too much to plan further than that!) There's the option to plan in the monthly view or weekly view; below is the weekly view. (As I said in my video, I would never plan all of these heavy, unhealthy meals in one week! This is fake!) As you can see, you're also able to plan breakfast, lunch, and snack, add notes like "Side of broccoli" or "Cookies for dessert," and move meals that you've marked as frozen into the planner.
(If you make something and freeze it, you simply mark it as frozen on Plan To Eat, then the frozen meal will show up under the "Freezer" label in the left sidebar, and when you add it for dinner, the day before's note section will automatically remind you to defrost it! This is one of my favorite features.)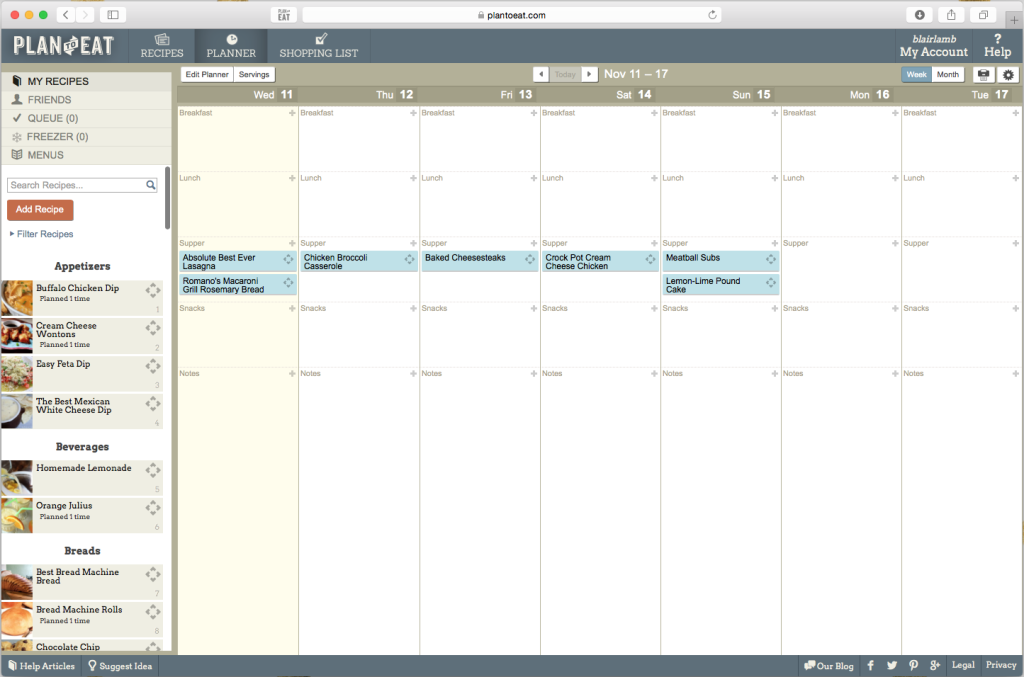 Once you're finished planning the week (or two weeks, or month), all of the ingredients will auto-populate in the Shopping List tab. As I mentioned in my video, I always go through and remove items that I already have on hand and do not need to purchase, like dried basil, eggs, or milk. (You can also mark certain items as staples and they'll never show up in the list! I'm not confident that I'll have every staple every time to do that, though!) I also take a few minutes and add items that aren't for the recipes, but for breakfast, lunch, and snacks–like instant oatmeal, coffee, or apples.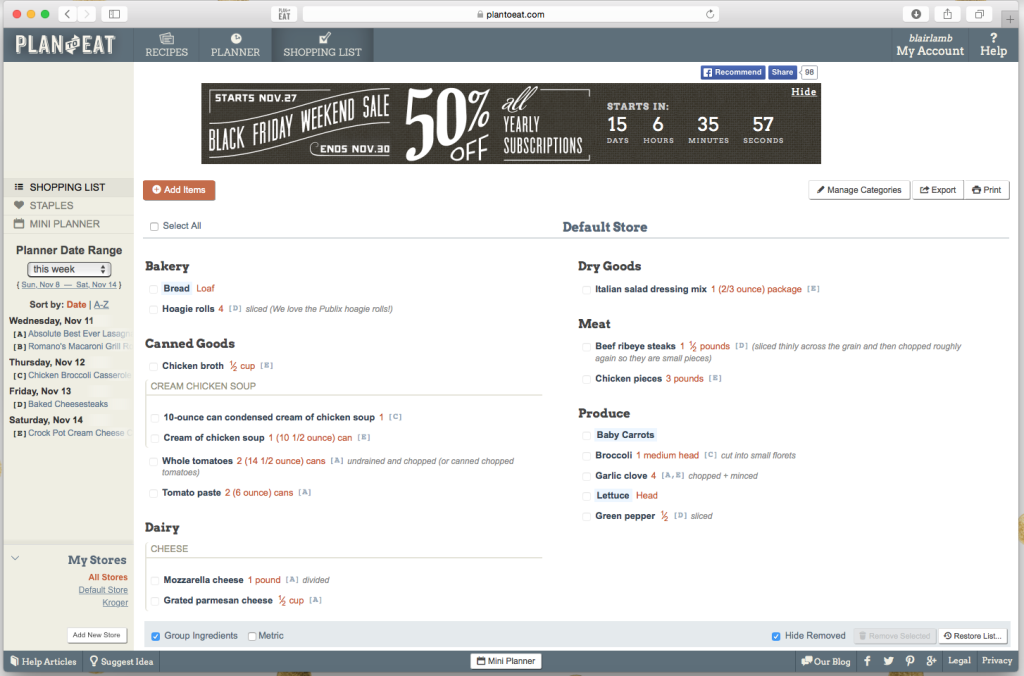 Now you can easily print out your list (pictured below), grab a pen, and quickly move through the grocery store by section, getting everything you'll need for the entire week! (You can also use your phone as the list–I just prefer paper.) I've never grocery shopped as quickly as I do now using this site.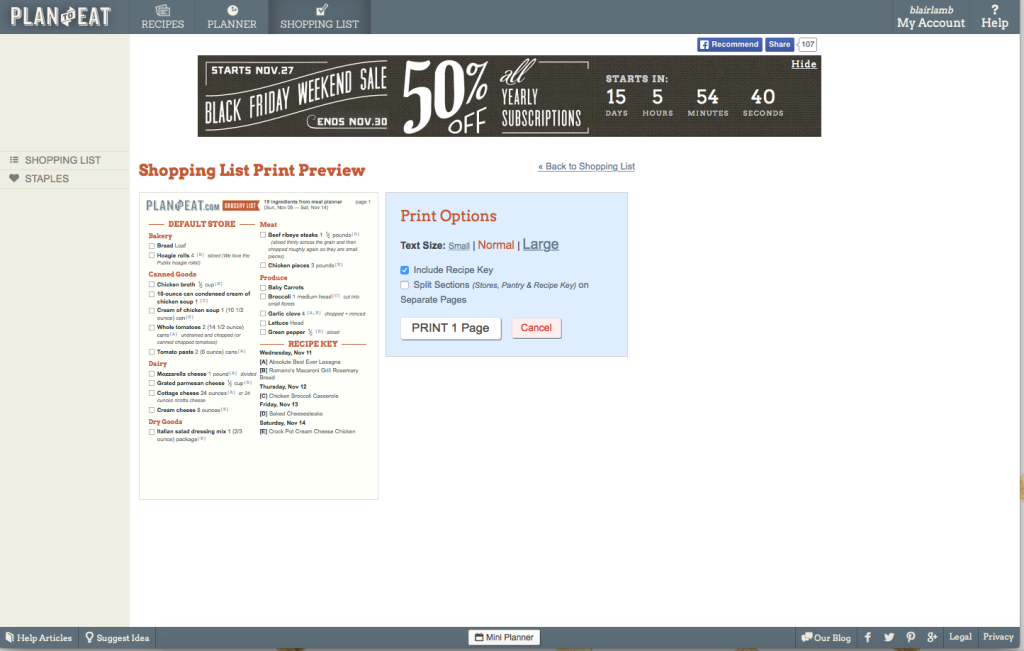 Now that you've planned your week's menu and gotten all of your ingredients, cooking is quick and easy! (And really fun, if you ask me!) There's a "cooking view" option for every recipe, which I pull up on my iPad in the kitchen as I cook. You can see what the cooking view looks like below; it's basically just really large type and easy-to-read instructions. (You can also print the recipe out if you'd prefer to have a physical copy.)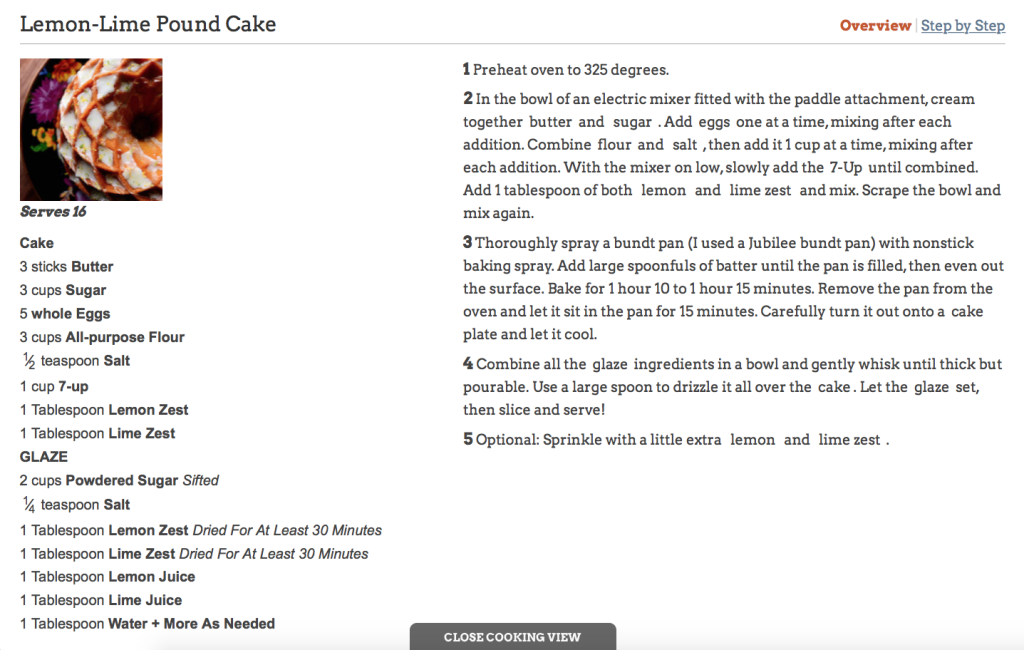 There's even a "step by step" option, where the site only shows you one step at a time and you have to push the next button to see the next step. This is great for new cooks or anyone who is easily distracted! (Pictured below.) I mean, can it get any easier than preheating the oven? 😉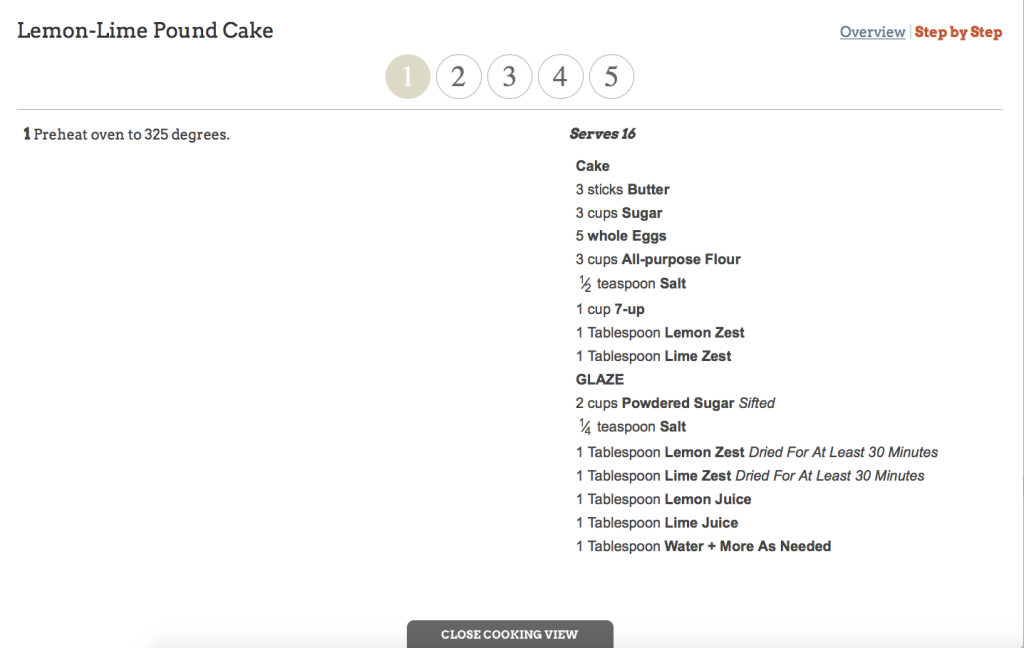 …And that's it! Then, all you have to do is set the table, serve the delicious meal you just made, and enjoy! After dinner, you're able to go into the Plan To Eat site and rate your recipes as well as add notes to them, so you can remember if something needed more salt or if your husband hated a particular dish!
That's how I meal plan. It's streamlined, simple, and accessible anywhere where I have internet! (I've been known to meal plan on my iPad on the way to church on Sunday mornings!) I absolutely love Plan To Eat and I Plan To Stick With It for years to come. (See what I did there… 😉 )
There are even more features that I didn't mention in my blog post, you can discover them yourself if you're interested! If you have any questions about my meal planning process, please let me know in the comments below. I'd be happy to help!
//Do you meal plan? If so, how? Have you ever heard of Plan To Eat? What do you think of it–are you going to give it a try?
//Use the image below to pin