Today I'm sharing five of our favorite easy weeknight dinners! We make these meals all the time and love them! To follow along with my cooking, be sure to follow me on Instagram and check out my #BlairBlogsCooks hashtag.
1 | Fajita/taco bowls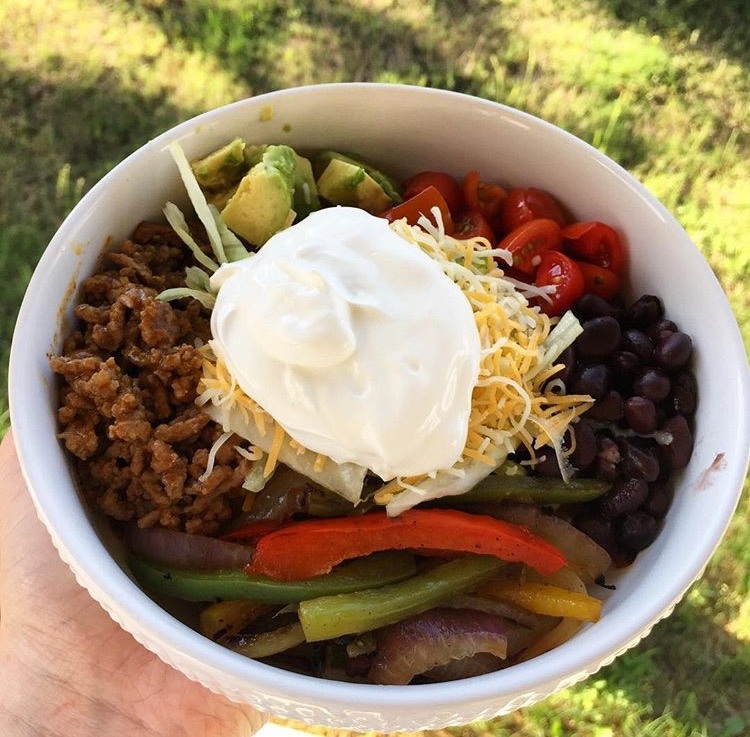 This meal is so easy it's crazy. We make these all the time and eat off of the leftovers for several days!
Recipe
Main Ingredients
1 lb ground beef (you could sub any other kind of meat/meat substitute)
Fajita or taco seasoning
Jasmine rice (you could sub white rice or brown rice)
Fajita veggies–peppers and onions (we use a green pepper, a red pepper, and two red onions)
Brown ground beef. Add seasoning. Cook rice according to instructions. Sauté fajita veggies. Layer rice, meat, and veggies in a bowl. Then, add whatever toppings you like!
Optional Toppings
Cheese
Sour cream
Limes
Shredded lettuce
Black beans
Cilantro
Avocado
Tomatoes
That's it! So easy and delicious.
Leftover ideas
Scrambled eggs with fajita veggies
Breakfast burritos
Burritos
Fajitas
Tacos
Salad with leftover toppings
2 | Chili with cornbread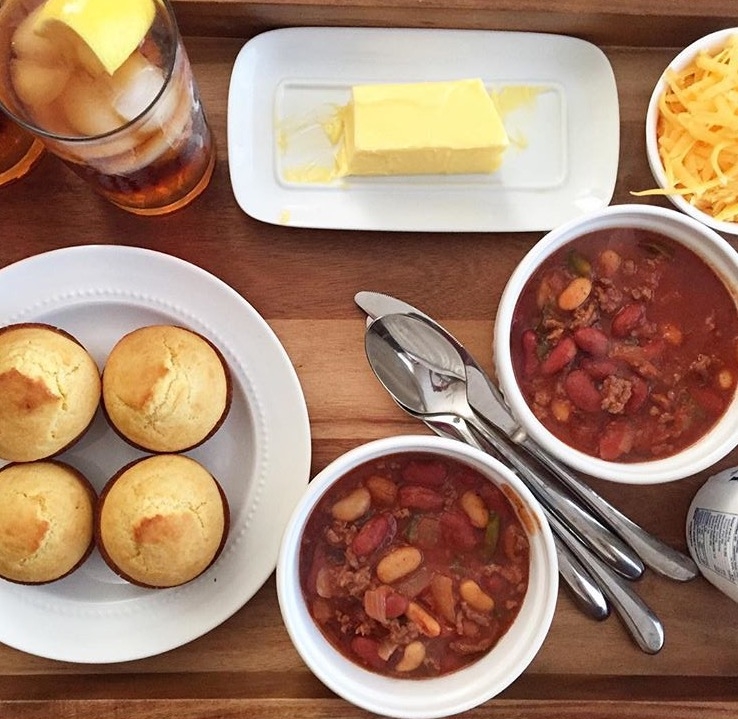 This meal is filling, healthy, and easy!
Chili recipe
Cornbread recipe
Boxed cornbread mix (whichever one you like!)
1 TBSP butter
Squeeze of honey
After baking, melt butter and honey and brush on top of cornbread while it's still warm. Delicious! (You can also make cornbread muffins and freeze the leftovers.)
3 | Arugula watermelon salad
This is easily our favorite summer meal. We eat it constantly!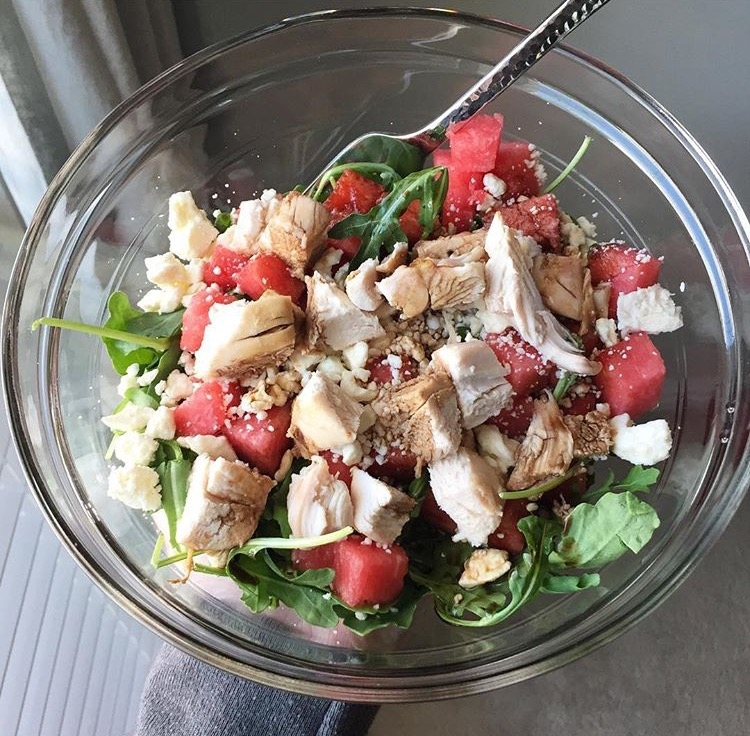 Ingredients
Arugula
Cubed watermelon
Cubed chicken (we usually buy a rotisserie chicken and cut it up)
Feta cheese
Olive oil and balsamic vinegar to taste
Salt and pepper to taste
Throw it all in a bowl and enjoy! We eat this salad at least once a week. It is absolutely delicious in every way! And healthy too!
4 | Baked potato and soup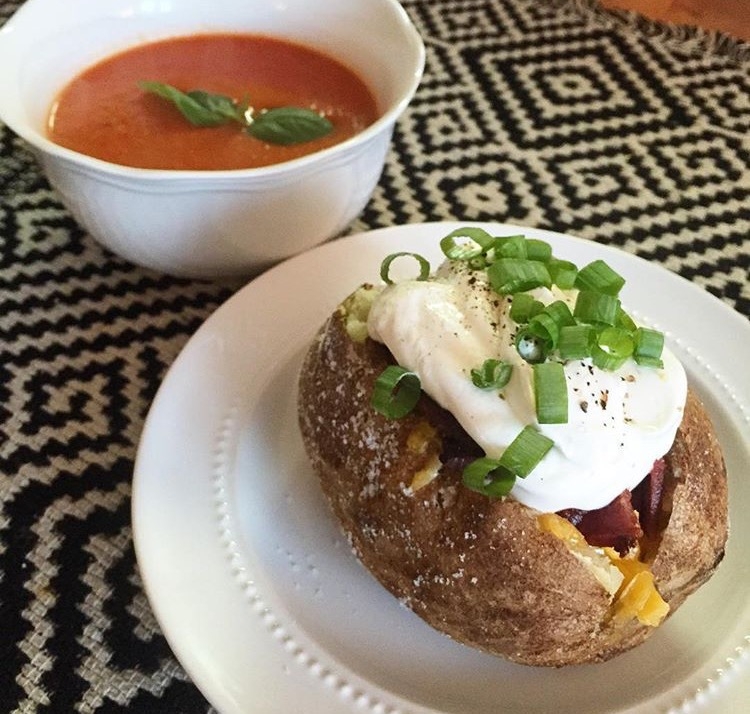 Ingredients
Bake potatoes (here's the exact method we use). Prepare soup. Enjoy!
Variations
Here are a couple of variations of this meal that we also eat often.
Grilled cheese and tomato soup
BLTs and soup
Paninis and soup
5 | Grilled chicken with fruit and veg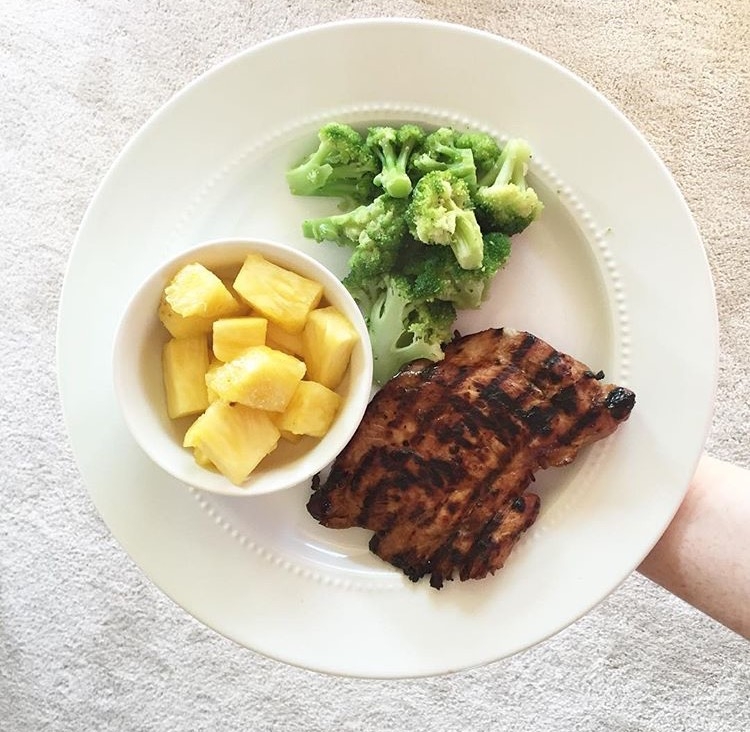 Ingredients
Chicken breasts
Chicken marinade (whatever sounds good)
Fruit
Veggies
It doesn't get easier than this! Throw your chicken in the marinade in the morning and grill it before dinner. While it's cooking, cut up some fruit and steam some veggies. Easy, healthy, filling!
I store all of my recipes and meal plan online using Plan To Eat. I've been using it for two years and absolutely love it! (I've written about Plan To Eat here if you'd like more information.)
// What's your favorite easy weeknight dinner?
Thank you for reading/watching! You can find me online on Facebook, Instagram, Pinterest, Twitter, and YouTube. If you'd like to be alerted whenever I publish a new post, you can follow me on Bloglovin' or subscribe via email. Take a look at my Etsy shop where I sell tees, totes, sweatshirts, and pillow covers! Are you a blogger too? Check out my Blogger Mentorship Program.