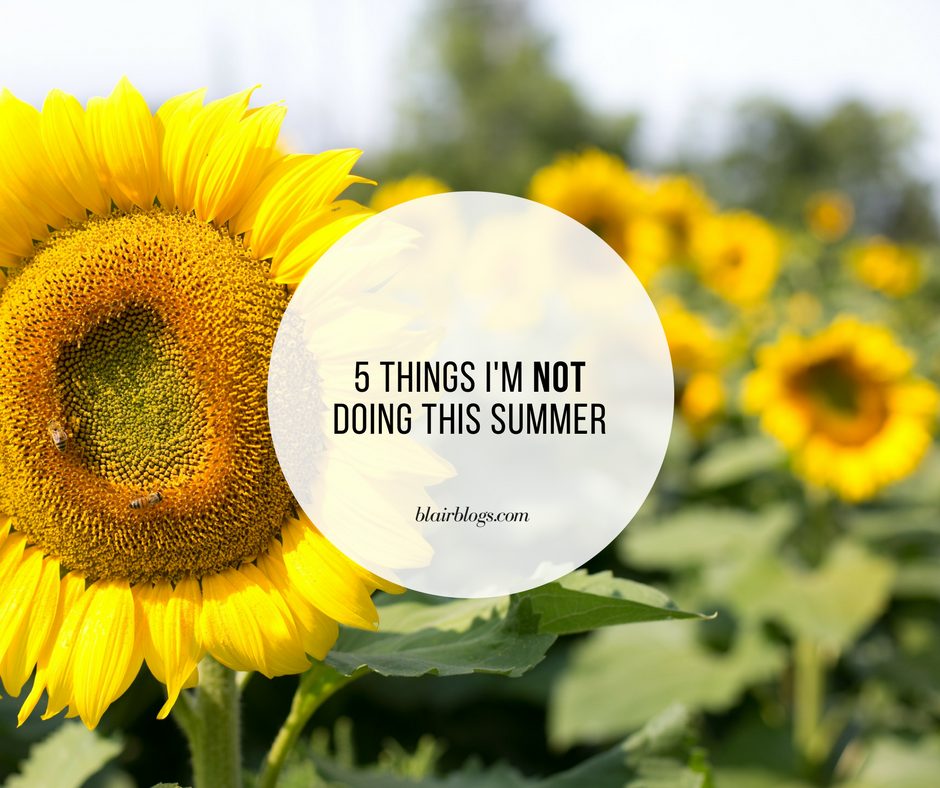 Summer has long been my favorite season. I feel the most creative, alive, and energetic during this time of year. In fact, I started my blog in the summer, launched my Etsy shop just before summer, created my Blogger Mentorship Program in the summer, and got married in the summer! I'm all about it!
Along with all of my creative energy, I seem to switch off the routined, regimented, orderly side of my brain. I've always felt like my brain battles itself–like I am half deeply logical and routined and half swirling creativity. It seems like the swirling creativity side comes out in full force during the summer months! Instead of fighting it (as I do most years), I'm choosing to embrace my summer self. Today I'm sharing five things I'm not doing this summer!
This post contains affiliate links.
1 | I'm not wearing makeup (usually)
If I'm dressing up for a date, get-together, or church, I put on my normal full face of makeup. Other than that, I'm not messing with it this summer. (Freedom!) I simply wear Juice Beauty Stem Cellular CC Cream (it's a tinted moisturizer) over my homemade essential oil moisturizer and add a little of this [awesome] waterproof mascara to my eyelashes. That's it!
It takes me about two minutes to wash my face and apply my CC cream/mascara. Easy and fast–perfect for the summer when I can't be bothered with heavy makeup!
2 | I'm not getting dressed up
Listen, it's 90 degrees every day of the summer here. I love the heat, but I want to be as comfortable as possible. I've been wearing my favorite Nike shorts (I have about 10 pairs of them) and a t-shirt around the clock for the past month (except when that outfit would be inappropriate, of course). It's no-fuss and fast! This, paired with my easy no-makeup routine makes getting ready a breeze.
3 | I'm not making meal plans
I am usually a big advocate of meal planning. In fact, I've written a whole post called How I Meal Plan Online (And Why I Love It!). At the beginning of June, I chatted with Riley and asked if he'd be okay if I wasn't so on top of preparing dinner throughout the summer. Not only does summer put me in an anti-planning/free-spirited mood, I'm also working lots of long hours right now to support my growing mentorship program, Etsy shop, blog, and YouTube channel.
Of course, he was fine with whatever worked for me. (He's so good to me.) Instead of formalized meal plans, I've been running to the grocery store a couple of times a week and picking up lots of fresh ingredients that make for easy meals. Things like potatoes, meat, cheese, lots of fruits and veggies, pasta, yogurt, and eggs are great to throw together for dinner in a few minutes.
Some of our favorite recent throw-it-together dinners have been: baked potatoes with toppings, fruit and vegetable smoothies, turkey wraps, spinach or arugula salads with toppings, scrambled eggs with veggies, grilled cheese…and some nights, cereal, frozen pizza, or yogurt. Super easy!
This method of un-meal-planning suits the summer perfectly. I know I'll get back into more formalized meal planning once fall rolls around, but for now, it's freeing not to cook a full meal every night. Riley likes to cook and has had the opportunity to do so more often, which makes us both happy. It's a win-win! 😉
4 | I'm not sticking to my cleaning routine
Though I've written extensively about my weekly cleaning routine, I have cut myself a lot of slack this summer. As I mentioned above, I'm quite preoccupied during the day and don't have the willpower to clean daily once everything's checked off my to-do list at night. Instead of the regimented cleaning routine I followed all through the fall and winter, I'm taking a more relaxed approach.
When a room is a mess, I tidy it. That's basically my summer cleaning routine in a nutshell! 😉 I usually like my home to be extremely neat and orderly, but the summer version of me seems to care a lot less about having each room in tip-top shape. I keep thinking Eh, it's clean enough. Riley said he likes summer Blair, hah!
5 | I'm not busy
I'm not into being busy–more in my post, Full, But Not Busy–and that has fully extended into the summer months. We have three trips/events this June-August: I'm hosting my sister's bridal shower in early July in Baltimore, we're heading to Seattle for our two year anniversary in late July, and we're attending my sister's wedding in mid-August in Baltimore. Other than that, we're making plans week-by-week (or not making plans week-by-week).
We've gone out with a few of our friends, planned a couple of pool days, and had some great lunch dates, but we're intentionally not packing our schedule full. The past two weekends, we've had completely free Saturdays. They have been so nice and refreshing! Time together without anywhere to be is my favorite.
// Are you as seasonal a person as I am? Do you turn into a summer version of yourself? How do the seasons affect you?
Thank you for reading/watching! You can find me online on Facebook, Instagram, Pinterest, Twitter, and YouTube. If you'd like to be alerted whenever I publish a new post, you can follow me on Bloglovin' or subscribe via email. Take a look at my Etsy shop where I sell tees, totes, sweatshirts, and pillow covers! Are you a blogger too? Check out my Blogger Mentorship Program.