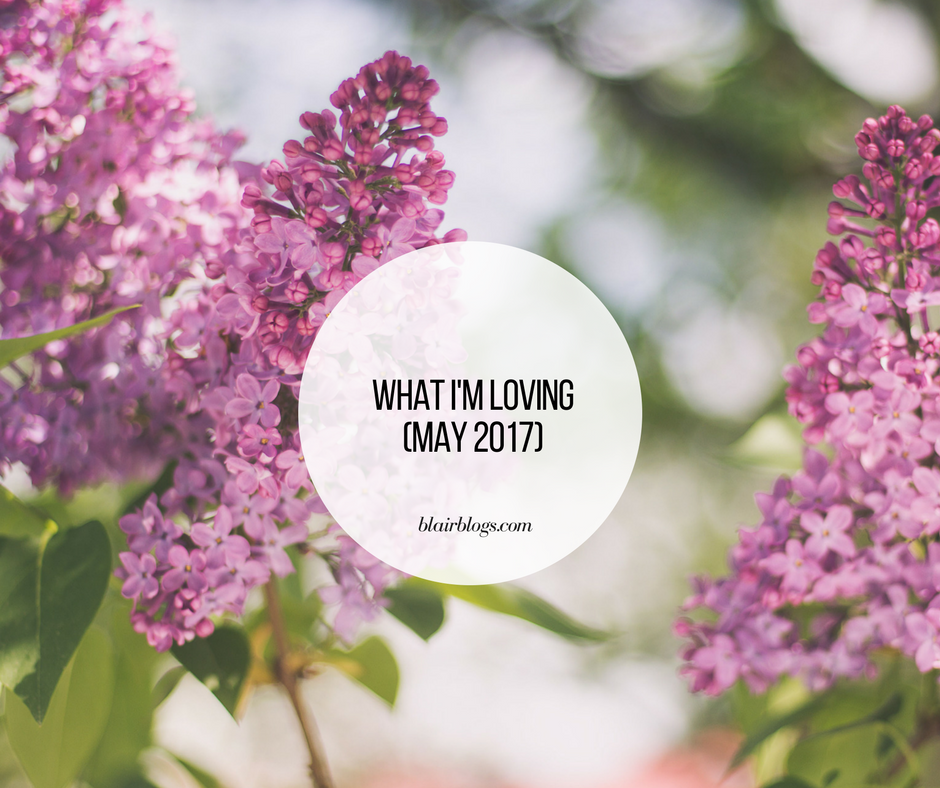 Today is the 12th installment (it's been a whole year!) of an ongoing post series, What I'm Loving (June edition, July edition, August edition, September edition, October edition, November edition, December edition, January edition, February edition, March edition, April edition), where I share what I've been loving lately in the following categories: Food and Drink, Makeup and Beauty, Home Décor and Products, Entertainment (TV, Music, Books, Internet), Clothing and Accessories, and Priceless. Let's get started!
As always, any Amazon links I share are affiliate links. This means that the price of the item won't change for you, but I receive a small commission of the sale which helps me keep my content free and my site up and running. Thanks!
Food and Drink
Ben & Jerry's "Oat of This Swirled" ice cream– The description on the front of this ice cream reads, "Buttery Brown Sugar Ice Cream with Fudge Flakes & Oatmeal Cinnamon Cookie Swirls." It is so delicious. Between the two of us, we ate a pint last week, and we just bought another one. #BikiniDiet #IllJustWearAOnePiece
Starbucks Iced Chai Tea Latte with almond milk– I love this drink because it combines the cozy spiced taste of chai with the light, nutty flavor of almond milk. I've gotten it a few times recently and have really enjoyed it. (If anyone wonders why we only seem to go to Starbucks, it's because it's our only coffee shop option for 30+ miles.)
Fresh, cold watermelon– Is anyone else obsessed with watermelon, too? I eat it constantly at this time of year; it's refreshing, satisfying, and healthy (46 calories/cup). Love it!
Makeup and Beauty
CoverGirl Professional Waterproof Mascara (in "Very Black")– With the summer humidity and my watery allergy eyes, I went on the hunt for a waterproof mascara. I typically steer clear of waterproof mascara because I've found it clumpy and impossible to remove at the end of the day, but I've been impressed with this one: it goes on smooth (no clumps), doesn't smear or run, is genuinely waterproof, and can be removed with eye makeup remover easily.
Maybelline Master Conceal Concealer– I've talked about this at least once before in my Drugstore Foundation + Concealer I Love post, but it's worth a second mention. I can't believe how well this works for the price! I basically have see-through skin, and it covers my dark circles in a second. Highly recommend.
Revlon Ultra HD Gel Lipcolor (in "HD Sand")– This shade is a great nude with a touch of peach. It's been perfect for everyday wear, and is especially suited for the spring and summer. I like the consistency of the product, and have found it to wear evenly throughout the day.
Dr. Bronner's Castile Soap– I use this soap to make my homemade face wash, a few drops on a loofah as body wash, and am getting into using it to make hand wash, too. It's fantastic, natural, and affordable! Get some!
 Home Décor and Products
AmazonBasics under desk foot rest– When your wife has scoliosis, ergonomic foot rests are as good as flowers. 😉 Riley bought this for me at the beginning of May and I've noticed a marked decrease in back pain when I'm working on my computer. I like that it rocks back and forth, too, because it gives me something to do with my feet and legs while I'm typing.
Tervis tumblers– We own about 25-30 Tervis tumblers. In fact, we have an entire kitchen cabinet just for them! We're obsessed. Unless we have company or we're being fancy (when we use glassware), we drink out of Tervis tumblers. When it's hot and we seem to be drinking water allllllll day long, we each cart around a Tervis from sun-up to sun-down. Love, love, love them.
Entertainment (TV, Music, Books, Internet)
Happier with Gretchen Rubin– I've definitely shared this podcast before; it's one of my tippy top favorites! It's easy to listen to while also being interesting, informative, and uplifting. I particularly enjoy listening to it while I cook and clean. (One of the hosts shared an email I sent in on episode 119 which was super fun after being an avid listener for so long!)
Elevation Worship– I love listening to music while I package up Etsy orders, and lately I've been all about Elevation Worship, and especially their song "Do It Again." So powerful!
Clothing and Accessories
I don't have anything to share in this category! I didn't purchase any new clothing or accessories this month, and there's nothing I've purchased in previous months that's noteworthy (that I haven't already mentioned in previous installments).
Priceless
Morning walks- I have a lot of goals and projects I'm working on this month, but my primary goal is take a walk every weekday morning. (I've been documenting them and sharing gorgeous photos and videos of the sleepy Texas countryside on Instagram!) There's something about waking up while the world is still quiet and breathing in warm air that makes me feel alive.
Tiny new babies- My pastor and his wife just welcomed their third little boy on Friday, and his mama was at church yesterday with him! (Wonder Woman, I know.) I could spend hours just looking at his perfect little face, ears, fingers, and toes. Oooh, those tiny newborns give me baby fever! So precious.
Summer weather- Summer officially starts on June 20th, but the weather has already turned to warm and balmy here. I love it so much my heart could burst. I feel alive in the summer in a way I don't feel alive for the other nine months a year. Favorite season by a long shot!
// That's what I've been loving lately! What about you?
Thank you for reading/watching! You can find me online on Facebook, Instagram, Pinterest, Twitter, and YouTube. If you'd like to be alerted whenever I publish a new post, you can follow me on Bloglovin' or subscribe via email. Take a look at my Etsy shop where I sell tees, totes, sweatshirts, and pillow covers! Are you a blogger too? Check out my Blogger Mentorship Program.
Past installments: