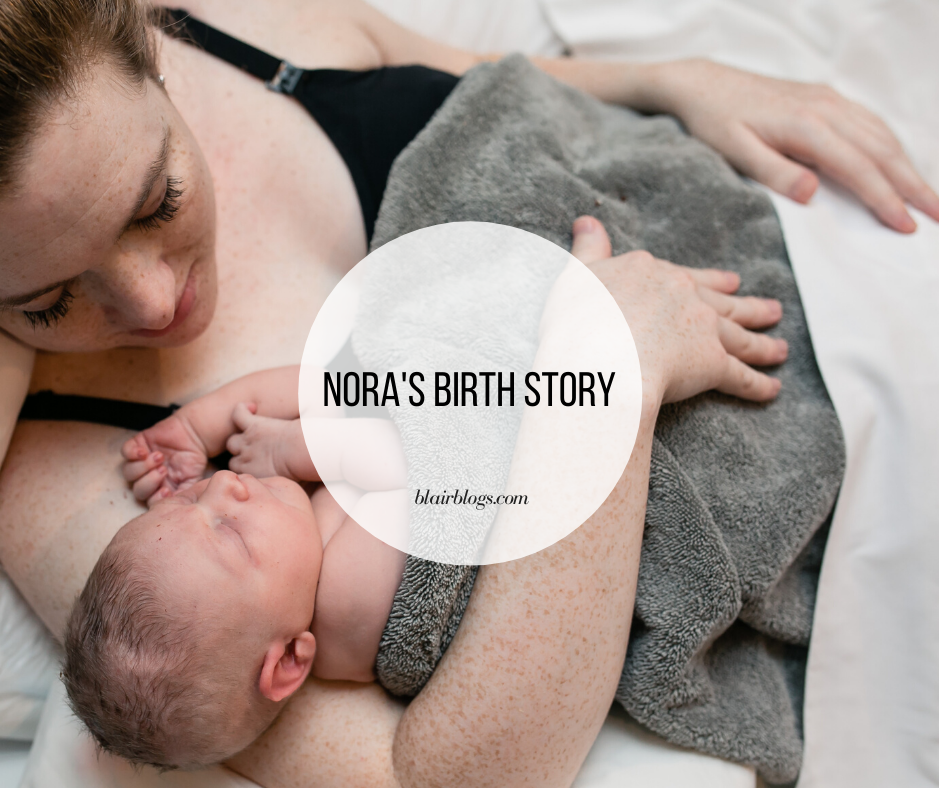 Thursday, October 24th
Six days prior to going into labor, I had my final prenatal appointment at my amazing birth center, Origins Birth & Wellness Collective. I was four days past my due date. Although I was growing increasingly tired of being pregnant, both the baby and I were physically doing well. It was recommended that I schedule a biophysical profile for the next day, a Friday, to double-check on the baby and placenta. If anything had looked off, I would be induced.
On the drive home from Origins that day, I called my mom. She and my dad live in Maryland, where I grew up. They were planning to be in Texas for the birth, so I explained the situation and suggested that they book flights to Texas sometime in the next few days. They were very eager to make the trip down and decided to book flights for the following evening!
Friday, October 25th
So, the next day, Friday, October 25th, Riley drove me to get the biophysical profile. The baby's head was low but we were able to see her sweet little profile, strong heartbeat, and fully functional placenta. Based on my appointment and the biophysical profile, an immediate induction was deemed unnecessary.
When my parents arrived that night, neither my mom nor dad could believe how big I'd gotten—they'd just seen me three weeks prior. I know I didn't, but it felt like I gained five pounds every day from 39 weeks on! By this point, I felt huge!
Saturday, October 26th
On Saturday morning, I awoke to our doorbell ringing. My friend Jenny had sent her husband over with fresh blueberry muffins that she'd baked for us with a tag that read "Happy Labor!" They were delicious and the clear highlight of our breakfast that morning!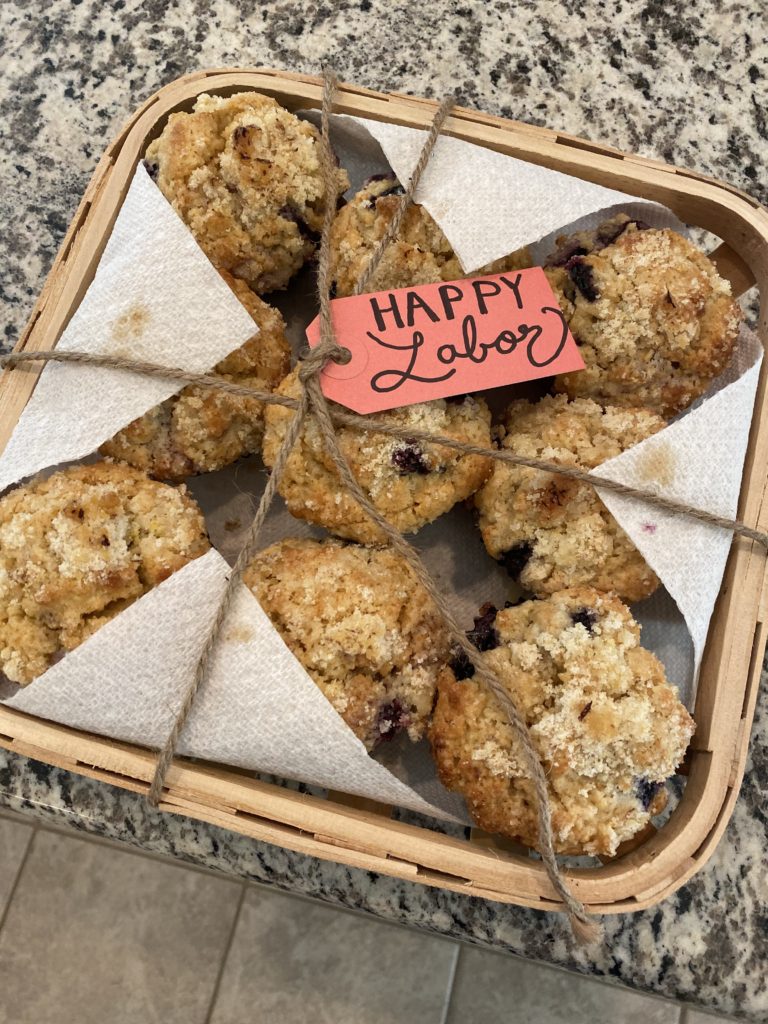 I wanted to walk, and Riley and my parents wanted to pick up a few things, so the four of us ventured out to Walmart on Saturday afternoon. While we were there, one of my midwives called to check in.
I was experiencing lots of pressure and was having a hard time walking through the store comfortably. By the time we were ready to check out, I had to find a bench to sit down and rest for a few minutes.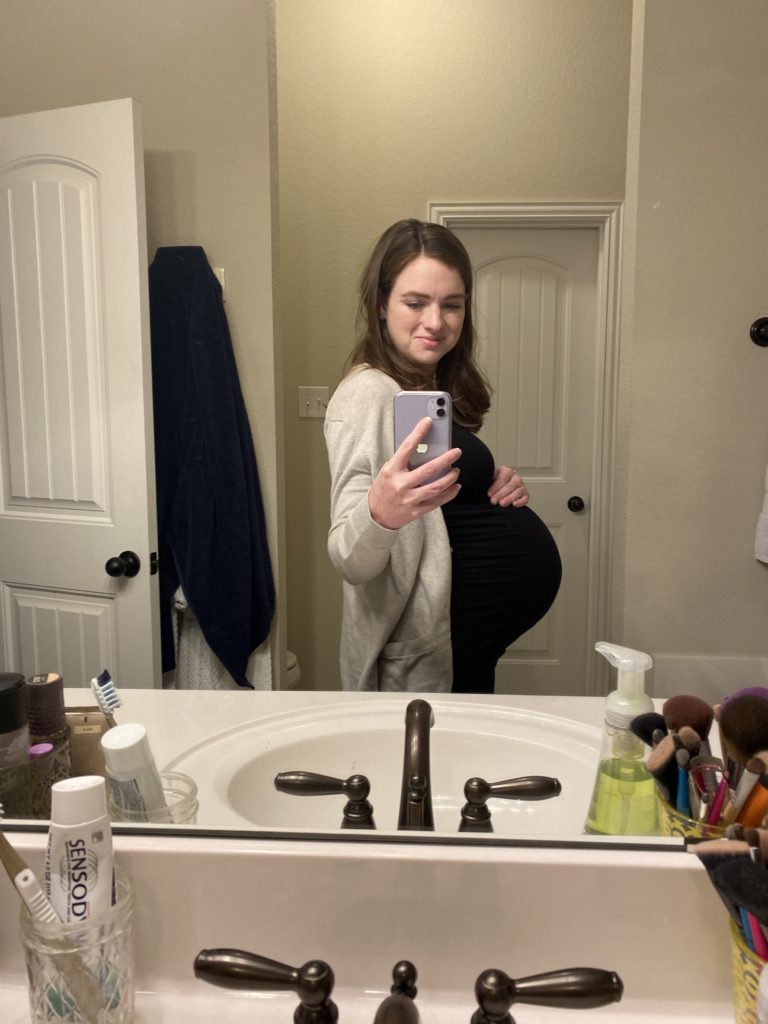 On Saturday night, I began to have relatively consistent contractions. They weren't overly intense, but they were noticeable and I had to stop and breathe through them. Nothing picked up, so we talked and laughed for a while and then we all went to bed. Knowing that my parents were in Texas and wouldn't miss the birth made me physically relax; because of this, I thought it was very possible that labor would pick up overnight and I'd have the baby on Sunday.
Sunday, October 27th – 41 weeks pregnant
On Sunday morning, I woke up feeling very, very pregnant but definitely not in labor. At this point, I was a week past my due date. I know that due dates are really just "guess dates," but I was starting to think I'd never have this baby!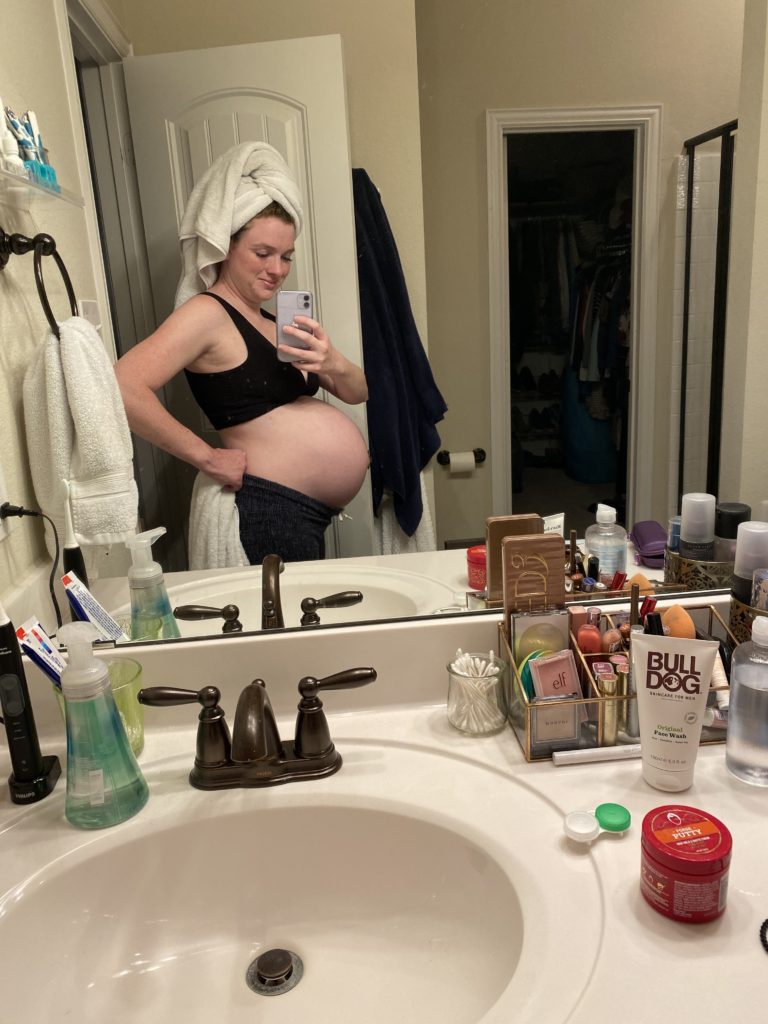 Determined to spur on labor, we spent a couple of hours on Sunday walking outside. It was a gorgeous, warm fall day. Overall, I did well on our three mile walk, although the last half mile was difficult. After we finished walking, we dropped our dog Charley off at home and went out for Dr. Pepper slushes at the local Quik Trip gas station! #smalltownlife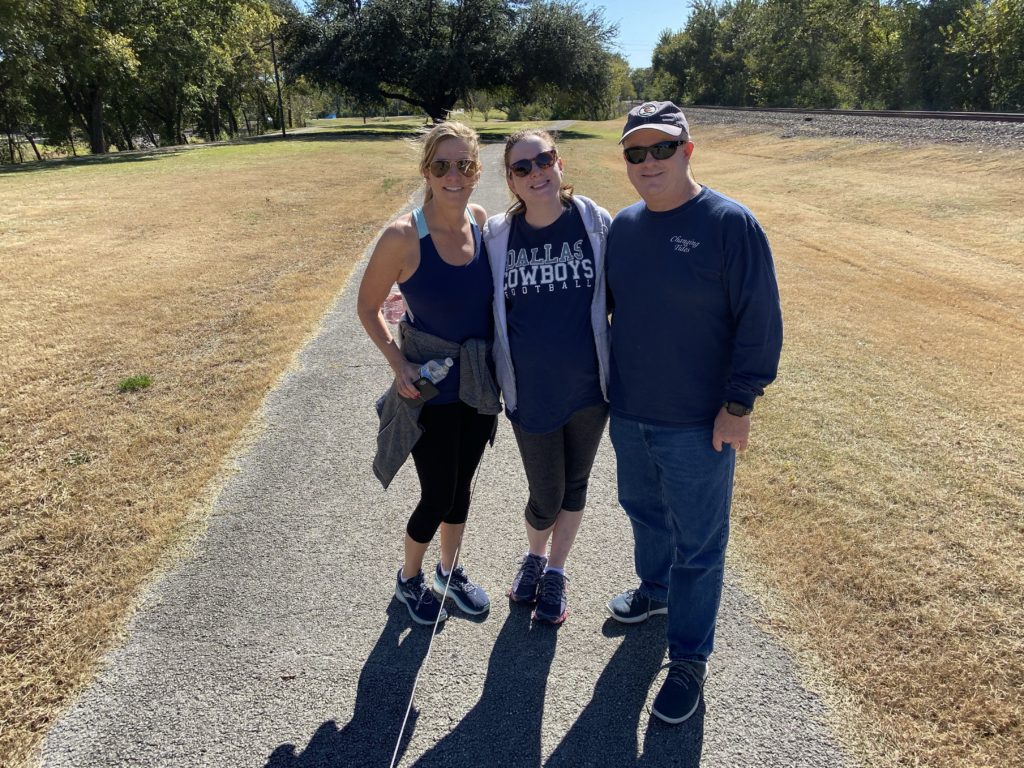 Once home, I began contracting again. This time things felt more intense and I was hopeful that my long walk had finally spurred on labor. Contractions did continue throughout the evening but puttered out around bedtime.
Monday, October 28th
In the early morning hours, my contractions picked back up. I drew a bath around 5:30am and got in it. This was something I learned in our childbirth education classes—to "ask the bath!" (We took and loved Birth Boot Camp.) Apparently, if you get into a warm bath and you're in real labor, your contractions with strengthen; if not, they'll fizzle out. I contracted for a while in the tub, but eventually, they did fizzle out and I got up to eat breakfast. Riley took the hilarious photo below, which shows my very swollen late pregnancy self eating breakfast as a contraction began!
During breakfast, I started having contractions again. They stopped and started all. day. long. By Monday night, I was exhausted both mentally and physically. I wanted to meet my daughter! All this prodromal labor was really starting to take its toll.
Tuesday, October 29th
Tuesday was a bit of a blur. I continued to have contractions on and off all day long. I took naps when I could, drank gallons of water, bounced on my birth ball, and tried to will my body into labor. Finally, around 10pm, my contractions started to change and become more consistent.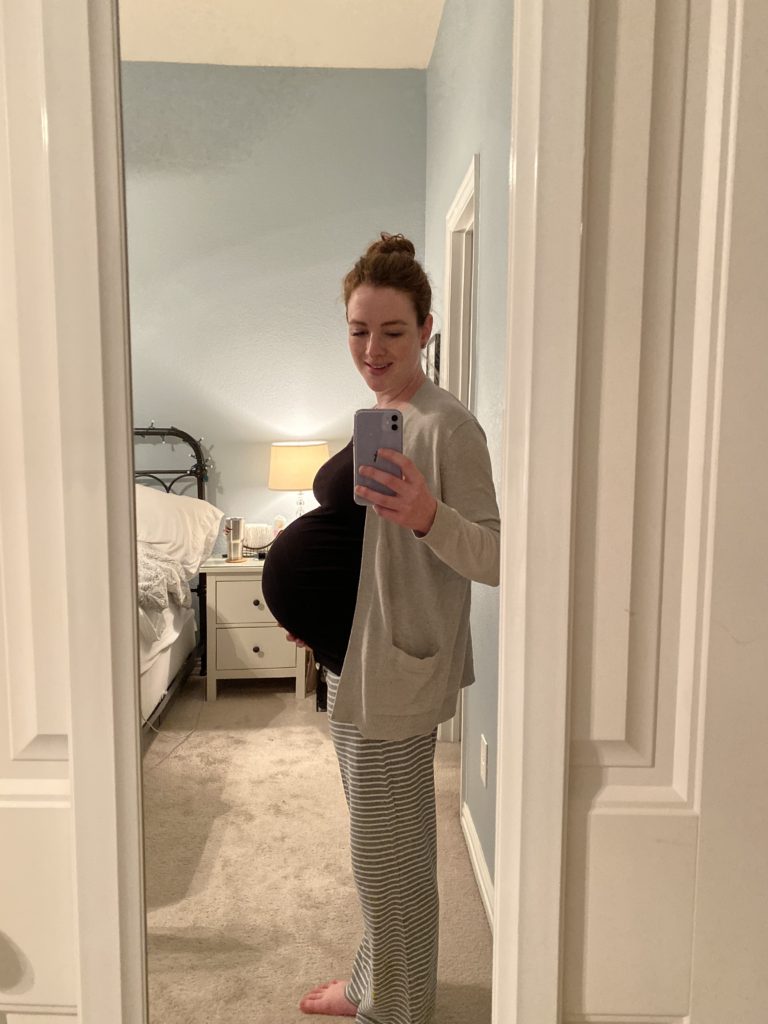 They became more intense and closer together. Riley called our incredible doula, Beth, and told her that we thought I was actually kicking over into real labor now. She said she was on her way!
"Doulas are a trained professional who provides continuous physical, emotional and informational support to a mother before, during and shortly after childbirth to help her achieve the healthiest, most satisfying experience possible.

Countless scientific trials examining doula care demonstrate remarkably improved physical and psychological outcomes for both mother and baby. Doulas have a positive impact on the well-being of the entire family." (Source)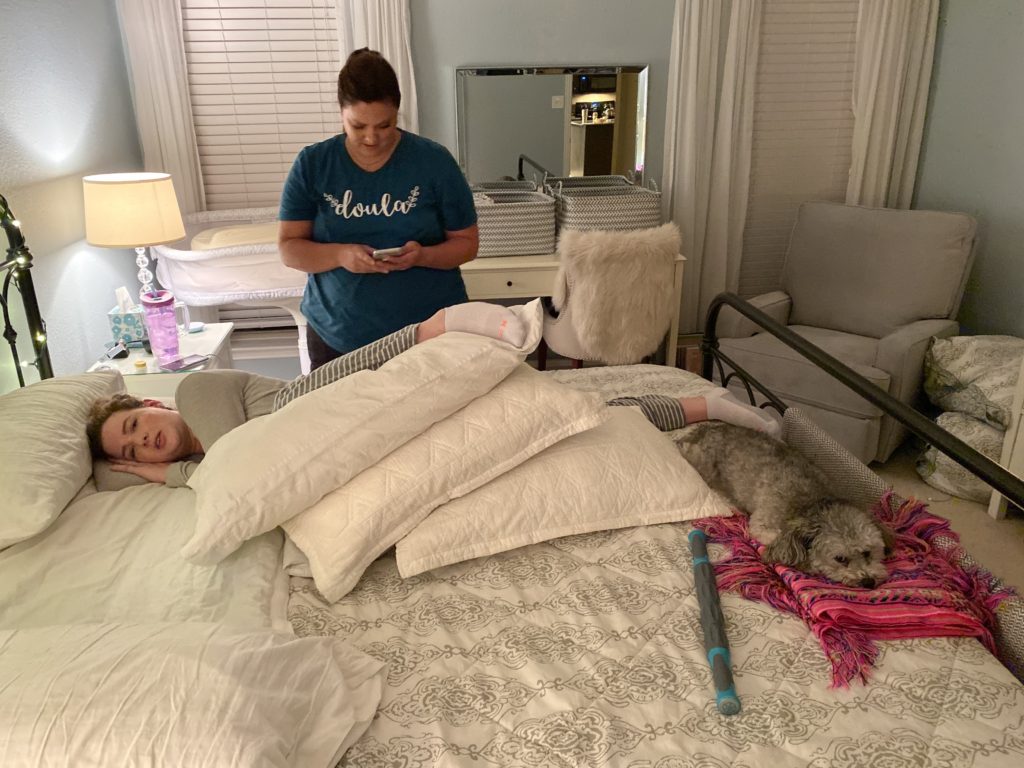 Around 11:30pm, Beth arrived. She had me do a variety of different positions to help my cervix dilate. My contractions were becoming very intense and I was simultaneously becoming very tired, which scared me. I had hoped and prayed throughout my pregnancy to go into labor in the morning because I wanted as much rest as possible before birth. It was frustrating that after days of contractions, my body decided that now was the time!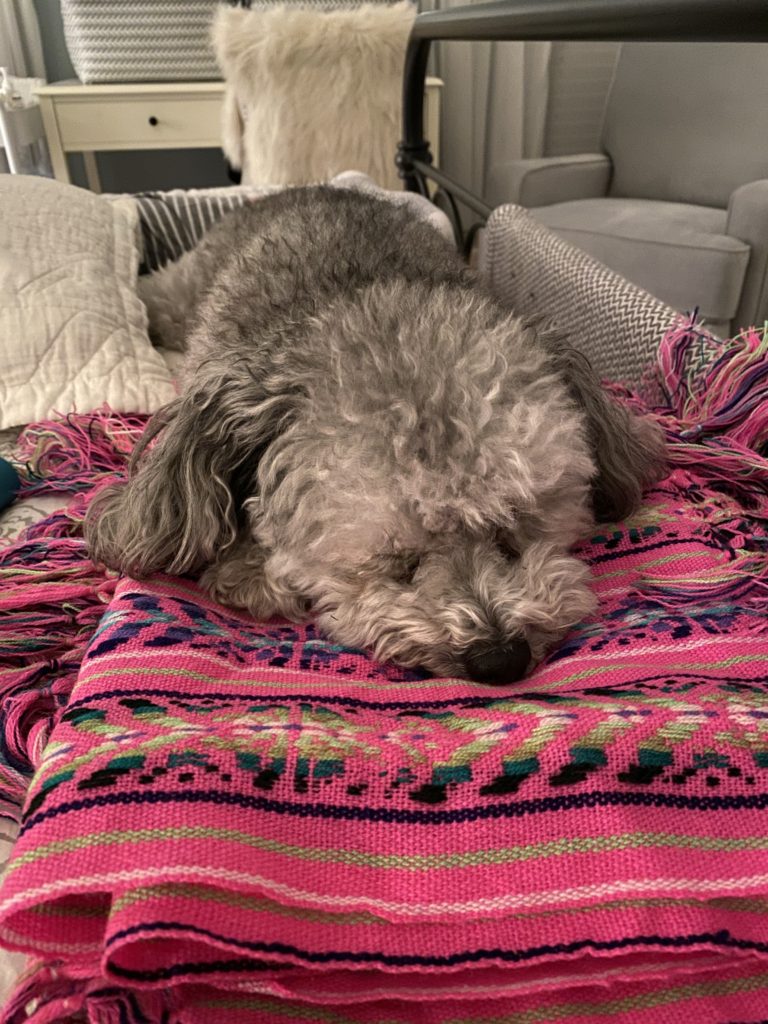 After a few hours of laboring with Beth, things began to slow down again. At this point, I wasn't sure how to feel. I was both completely drained and completely ready to give birth. Beth suggested that the labor slow-down was my body's way of resting—she encouraged me to get some sleep and call her when things picked up again. She left our house around 1:30am, and I went to bed shortly thereafter.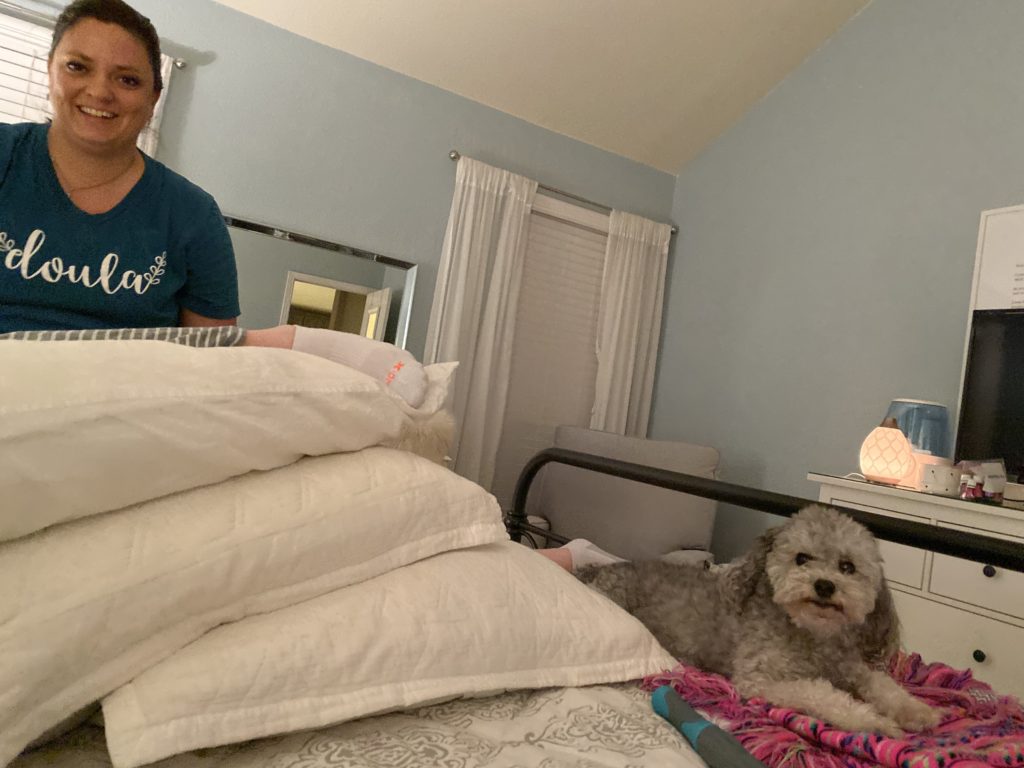 Wednesday, October 30th – Nora's Birthday!
Going into labor
I jolted awake at the sound of thunder rolling outside. Glancing over at the clock, I sighed. It was 3:30am, which meant I'd only gotten a couple of hours of sleep. As another roll of thunder roared and a flicker of lightning lit up our bedroom, I felt a contraction start. Something told me that this was it. I knew I was going to meet my baby soon. These contractions were powerful and different from any of the others.
I tip-toed around our bed and quietly entered the bathroom so I could "ask the bath" once again. I drew a warm bath and slipped into it. I have a bamboo book holder that sits across the top of the tub, and I laid a towel on it and rested my head there. Contractions surged. Still tired, I rested between each one. I wasn't timing the contractions, but they felt about seven or eight minutes apart.
I had an intense spiritual experience during my time in the bath. In between two strong contractions, I prayed for God to make it easier. There was an almost audible voice that responded, "Let these be strong so you can meet your daughter. I'm going to show you not how calm you are–but how fierce you are."
From there, I could literally begin to feel my cervix dilating. I had no idea that was possible! After talking to my midwives, I found out that many women have this experience of feeling their body open up. It was so neat.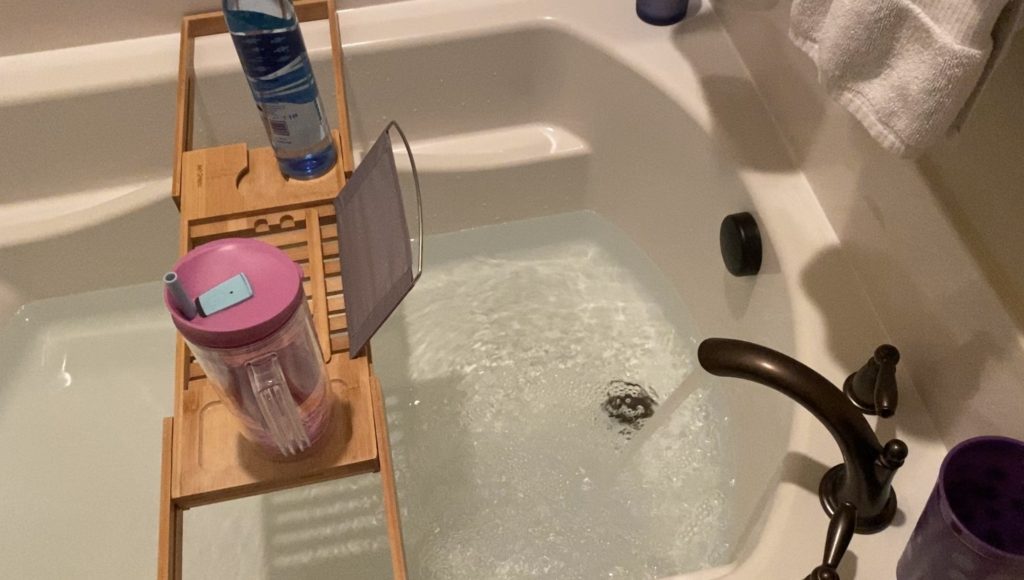 About two hours later, I got out of the now-cold water, put on pajama pants, and tried to get back into bed to get some rest. Wishful thinking! As soon as I laid down, my contractions grew in both frequency and intensity. I began to hold onto our metal bed frame and vocalize quietly through each one.
By 6:30am, any attempt at staying quiet (so that Riley and my parents could continue sleeping) was pointless. My moaning was becoming louder and louder. Riley woke up and began to time the contractions; he did so for the next 90 minutes.
By 8am, I was truly off in "Labor Land," but Riley knew it was time to head to the birth center since my contractions were five minutes apart. I had been in close touch with my midwives all week, so it wasn't surprising when I received a phone call from Midwife Roxanne just as I was getting dressed to go.
She was calling about an appointment I had that afternoon, but immediately upon hearing my voice when I answered the phone exclaimed, "Forget that appointment! Let's have a baby!" From there, our house was a bustle of activity. My parents woke up and helped us gather everything we needed to pack in our car. I grabbed some grapes and peanut butter crackers and hurried into our car in between contractions. I also asked Riley to apply the TENS unit we'd borrowed from our doula for the 45 minute car ride.
The drive was surreal. Contractions ranged from three to six minutes apart, and I asked Riley to count down from 30 out loud each time one started; I also pressed the "Boost" button on my TENS unit at the onset of each contraction. Focusing on the numbers made the intensity more manageable because I knew by the time he got to 20, the contraction had peaked, and when he got to 10, the contraction would begin to fade out.
Thankfully, we didn't hit any traffic or construction of any kind and made it to Origins very quickly.
Did you know that for women with low-risk pregnancies, birth center births/home births are as safe as hospital births? Check out the following studies for more information: Outcomes of Care for 16,924 Planned Home Births in the United States: The Midwives Alliance of North America Statistics Project, 2004 to 2009 and Perinatal or neonatal mortality among women who intend at the onset of labour to give birth at home compared to women of low obstetrical risk who intend to give birth in hospital: A systematic review and meta-analyses

"More women in well-resourced countries are choosing birth at home, but concerns have persisted about their safety," said Eileen Hutton, professor emeritus of obstetrics and gynecology at McMaster, founding director of the McMaster Midwifery Research Centre and first author of the paper. "This research clearly demonstrates the risk is no different when the birth is intended to be at home or in hospital." (Source)

See also: The Business of Being Born, Ina May's Guide to Childbirth
Arriving at the birth center
Once we pulled up to the birth center, I jumped out of the car and hurried inside. I was in between contractions and didn't want to go through one while I was walking. I made it into the lobby and instantly started another contraction. I grabbed onto the closest piece of furniture and leaned forward.
Amanda, the birth center's office manager, walked over to me and asked, "Can I touch you?" It was such a kind question and immediately made me feel respected and empowered. "Yes," I responded. She rubbed my back and gently reminded me to breathe as the feeling intensified. At the same time, my doula, Beth, came around the corner from her place in the birth suite and applied counter pressure.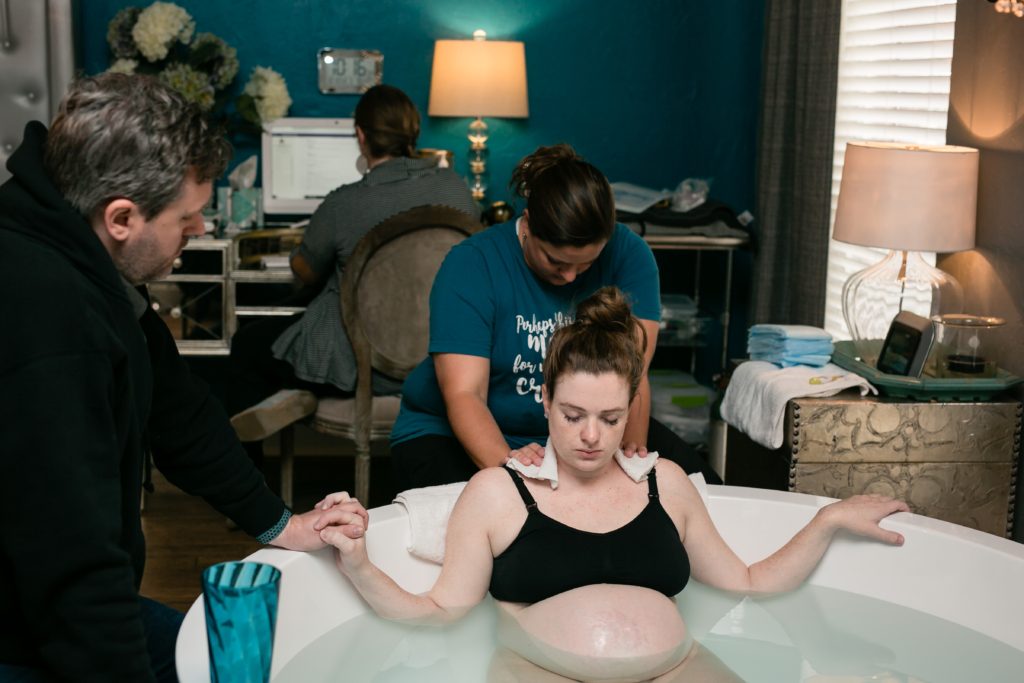 After that contraction, I was able to make my way into the birth suite. Riley followed in behind me. My midwife, Gina, greeted me with a big hug. I was extremely relieved to be at my birth center, which had been a place of peace and joy throughout my entire pregnancy.
Gina asked if she could check me, and I agreed. (This was the first time my cervix was checked by my midwives my entire pregnancy.) She looked surprised. "You're dilated to a seven or an eight! You're in transition!" I was shocked and delighted! Finally. (Side note: something I absolutely loved about my care at Origins was my bodily autonomy. Nothing was ever "done to me." I had an informed choice in every test and procedure performed throughout my pregnancy and birth. I was never touched without first giving consent.)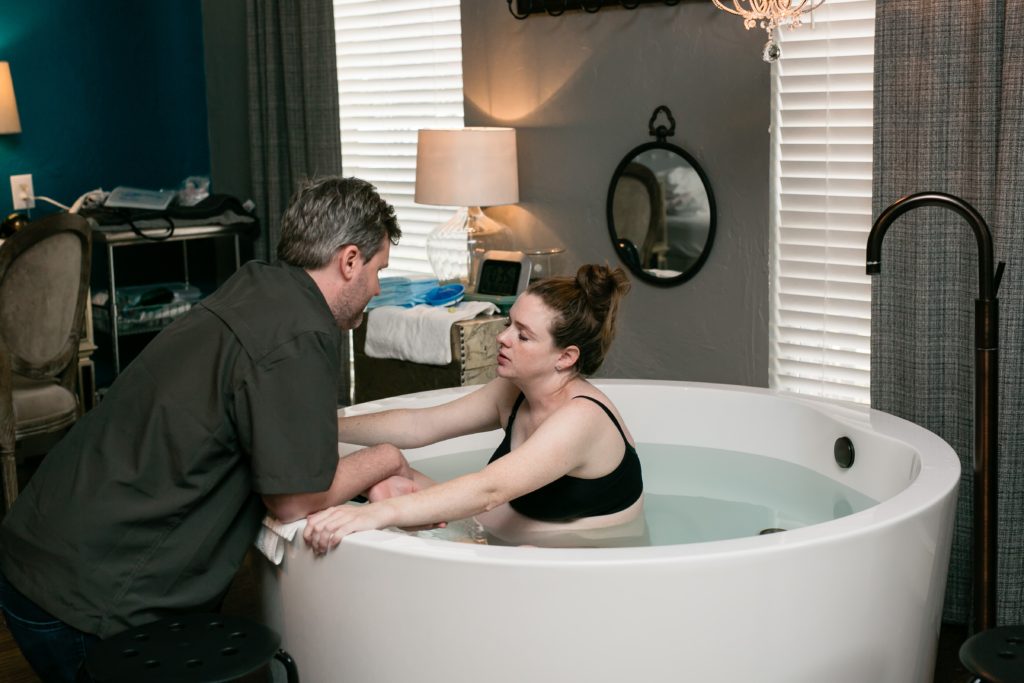 In that moment, I thought I was within minutes of meeting my baby. That turned out to be seriously wishful thinking! I still had some hard work and several hours of labor ahead of me.
Laboring
Strong, strong, strong contractions came and went for hours. This was the hardest work I've ever done in my life. Nothing I'd ever read about "what contractions feel like" accurately described what they actually felt like! These were not like period cramps. They rocked my entire body in a way that I've never experienced before, ever. When I think about contractions, the word that comes to mind is intense, not pain. The intensity of labor brought me to the end of myself and required true mental fortitude.
During my pregnancy, I often listened to an album called "Holy Spirit Labor Relaxation album" by Kierra Blazer. The album has several tracks, one of which is called "Jesus Encounter." Basically, Kierra gently guides the listener through imagining being physically present with Jesus. She encourages you to imagine being with him in a particular place, somewhere where you feel safe and calm.
For me, of course, that's the beach. The first time I listened to that track, I immediately imagined myself sitting on a sandy beach, the waves crashing in front of me. For some reason, I pictured it to be breezy and overcast instead of sunny, probably because that version of the beach feels the coziest to me. Through her guided visualization, I imagined sitting on that beach with Jesus. To this day, going through this imagery in my mind is deeply relaxing. (I highly recommend that album if you're a pregnant Christian and it sounds interesting!) There were many times throughout my labor when I mentally escaped to this beach with my precious Savior.
A couple of hours into laboring at the birth center, my mom arrived and came into the birth suite. Unfortunately, she wasn't feeling 100 percent, so she opted to wear a mask and gloves. My dad and mother-in-law arrived at the same time and camped out in another room.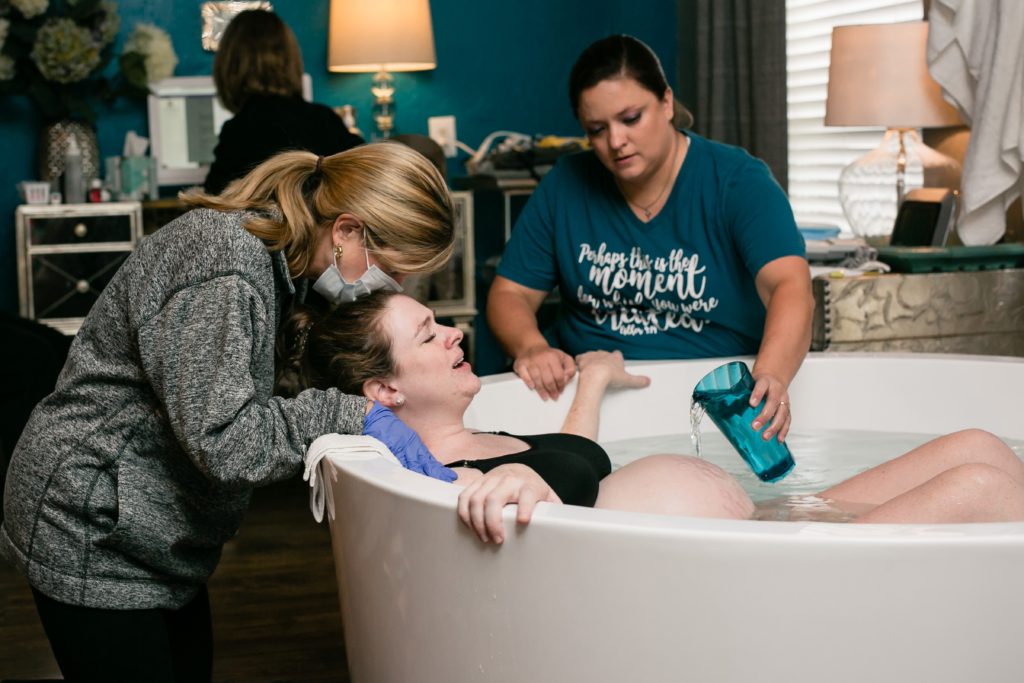 It soon became clear that Nora was in a suboptimal position. My contractions were powerful and I was moving around well, but she wasn't descending the way she should have. Through feeling my belly and cervix, my midwife determined that she had turned posterior ("sunny side up") and asynclitic (basically, a tilted head). We didn't know it at the time, but she also had a nuchal hand (hand up by her face).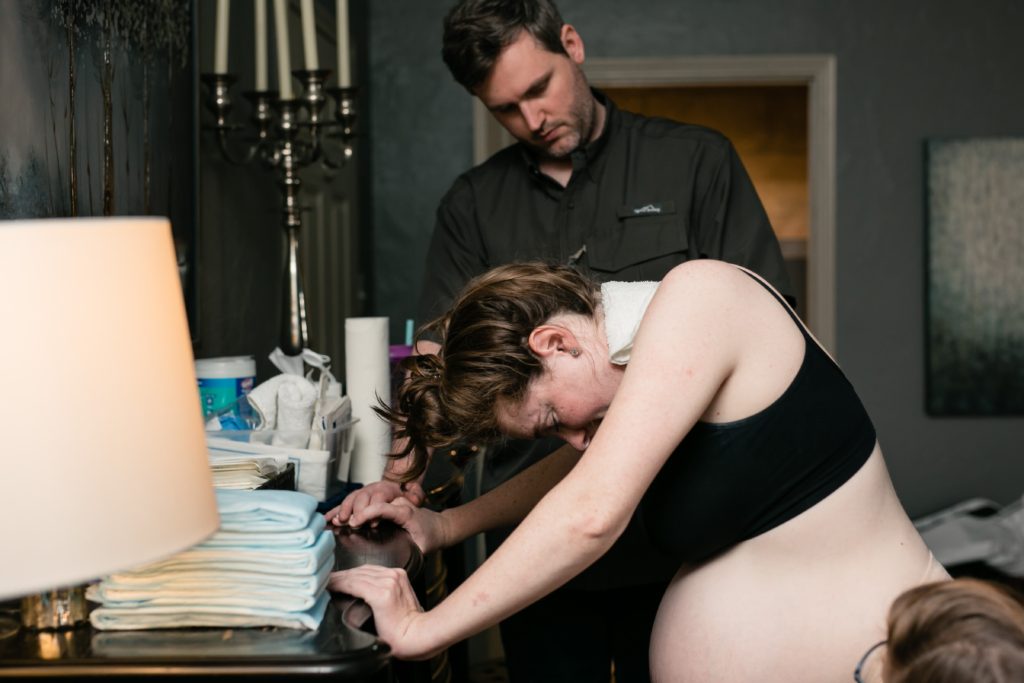 My midwives and doula led me through a series of absolutely-insane-while-in-labor positions to correct Nora's position. Everything from a peanut ball between my knees to swirling my hips in figure eights while leaning on a dresser to bending forward into a handstand-like position during contractions. Moving around in these positions during hard labor was a physical challenge like nothing I've done before.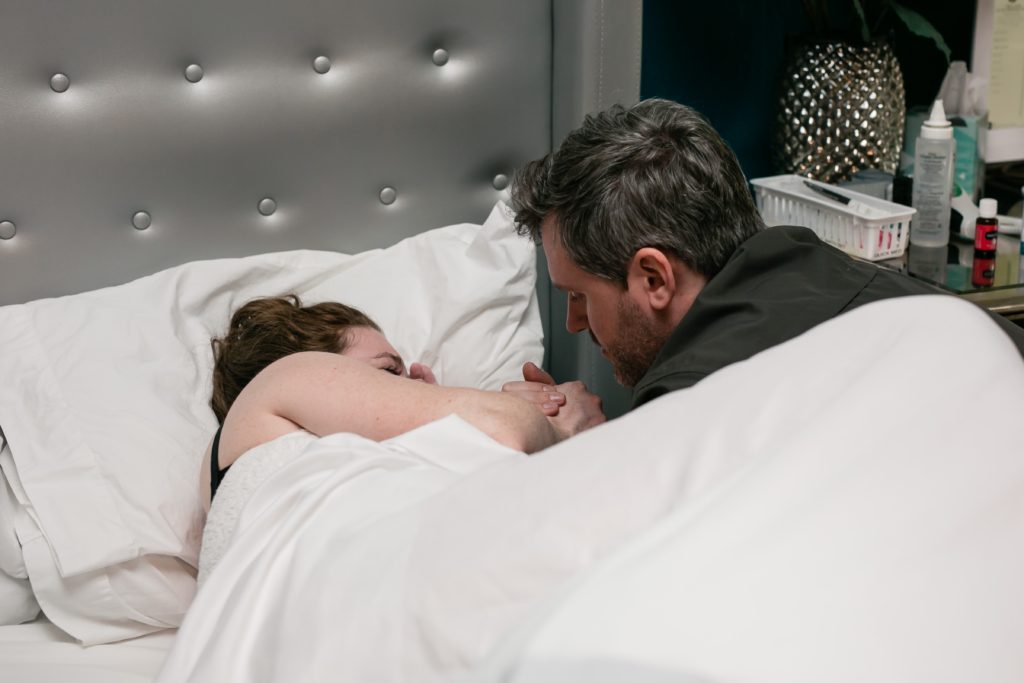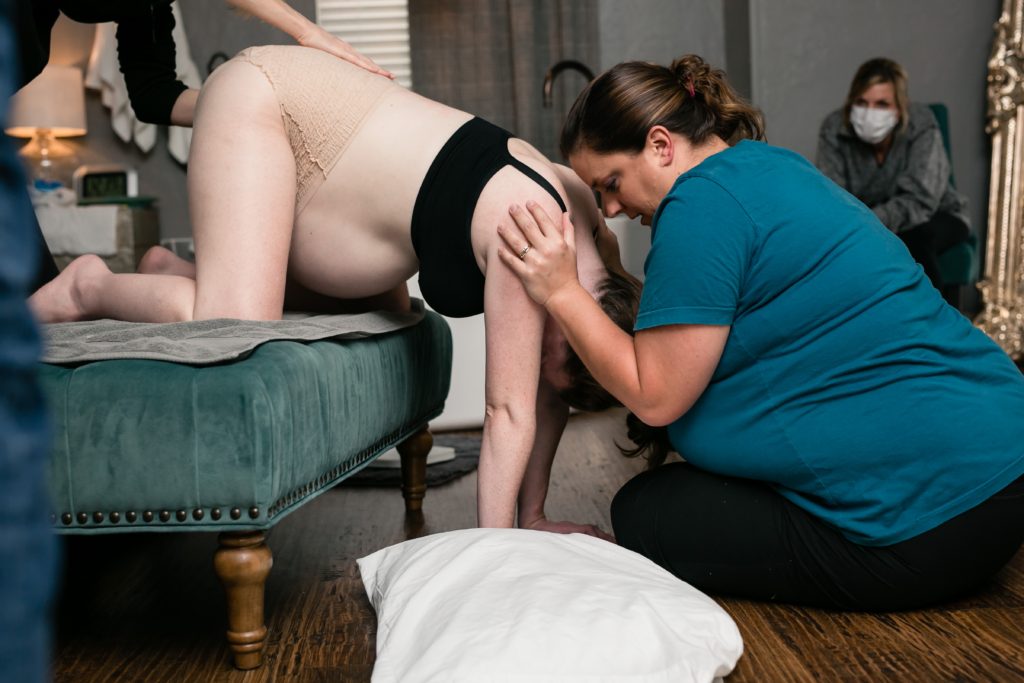 Eventually, while laying on my back on the bed (absolutely the most uncomfortable and painful position possible for me—if you're planning an unmedicated birth, plan to move around!), my midwives and doula bicycling my legs, Nora turned. It was incredible. My mom, Riley, and I watched my belly transform as she dropped into place. We were all shocked and delighted!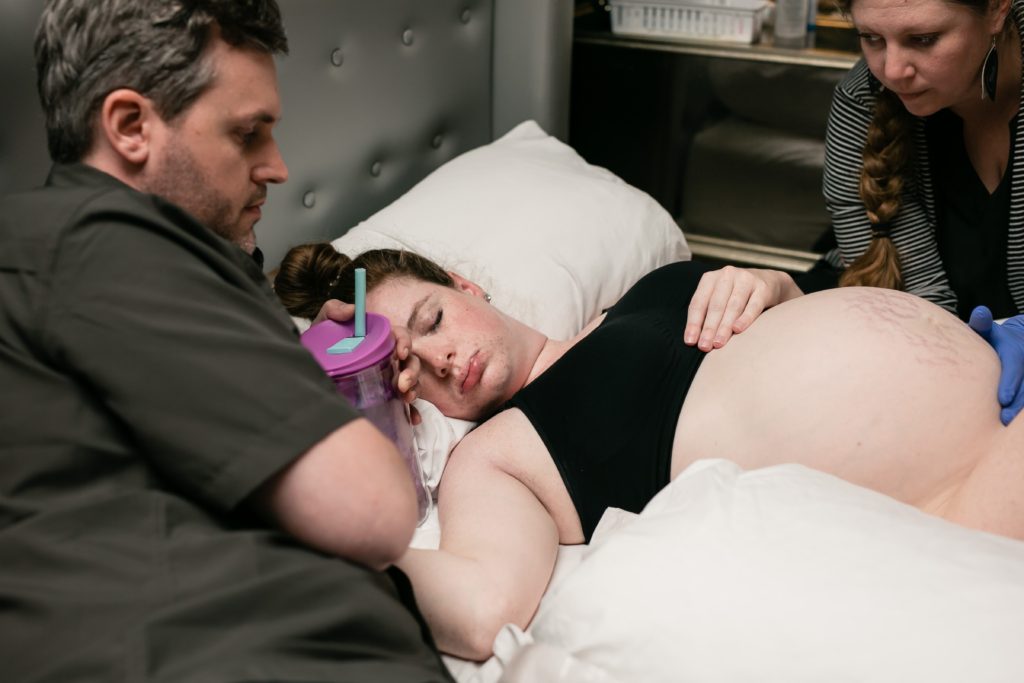 During this period of time, my wonderful chiropractor Rachel (who works out of the birth center and is specialized in prenatal chiropractic work) came into my birth suite at my request and adjusted me. It felt great.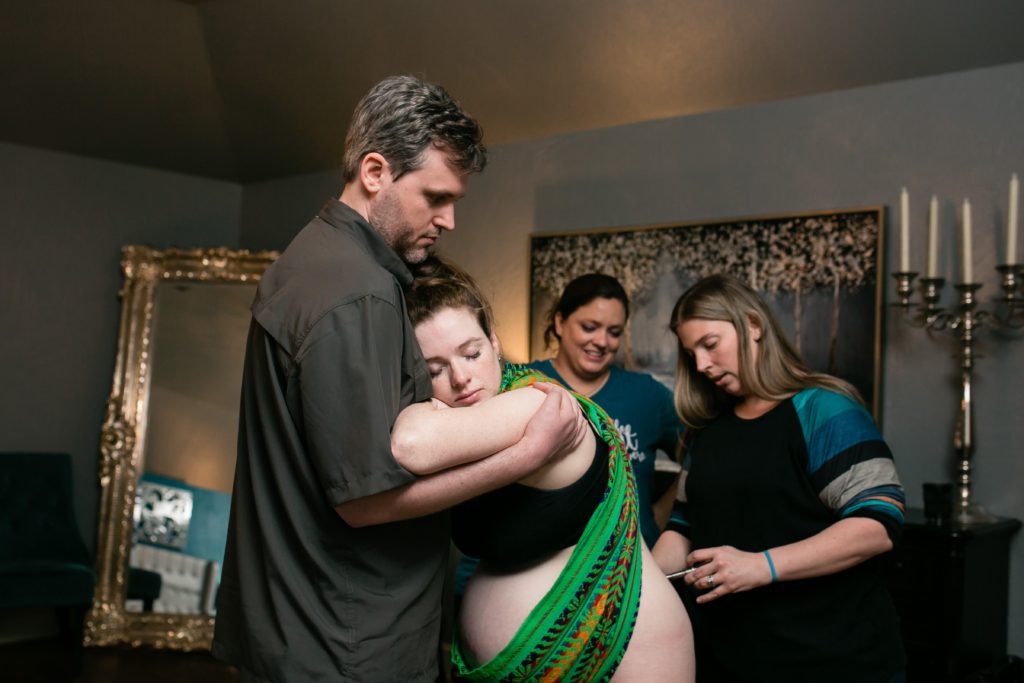 I labored for a while longer. My doula suggested that we move to the bathroom for me to sit on the toilet. The toilet is a popular place for moms to labor (some birth professionals call it "the dilation station!") because a woman's body naturally opens up and releases there. This was definitely true for me. After only a couple of minutes sitting backwards on the toilet, I felt a massive pop. "What was that?!" I wondered aloud. "Your water broke!" said my doula. One of my midwives came and tested the fluid trickling down my leg and confirmed. I was so excited. One step closer!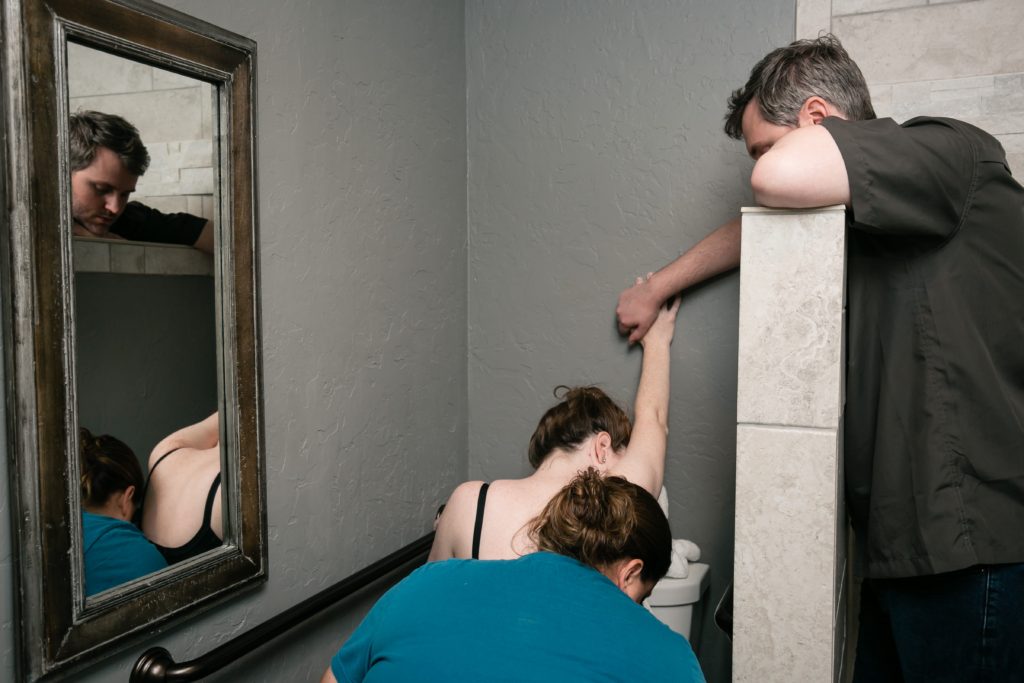 Time passed, contractions surged. This period of time is a blur. I was working through each wave of contractions with the help of my birth team. My mom and Riley were incredibly supportive and encouraging. My doula helped me stay focused. My midwives reminded me that I was safe, my baby was safe, and labor was progressing well. I truly believe that I had the very best birth team on the planet. I can't imagine birthing without them.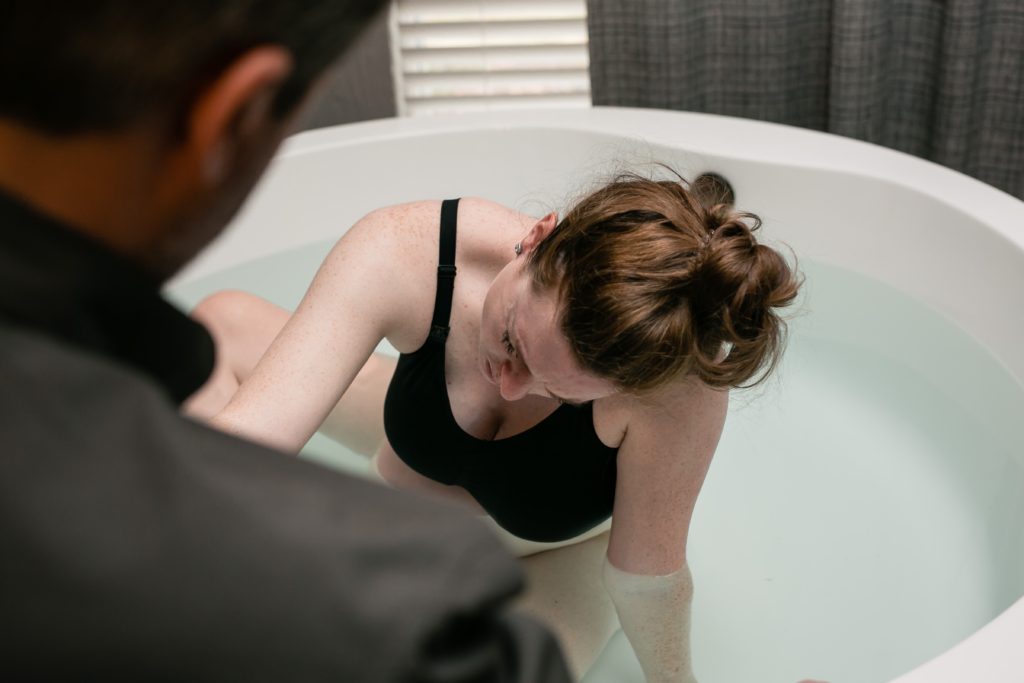 Preparing to push
My midwife checked me one more time, and I was just about ready to push. I still had a small cervical lip but was completely dilated. It was suggested that I move into the shower before pushing as a way to help my body relax and open up.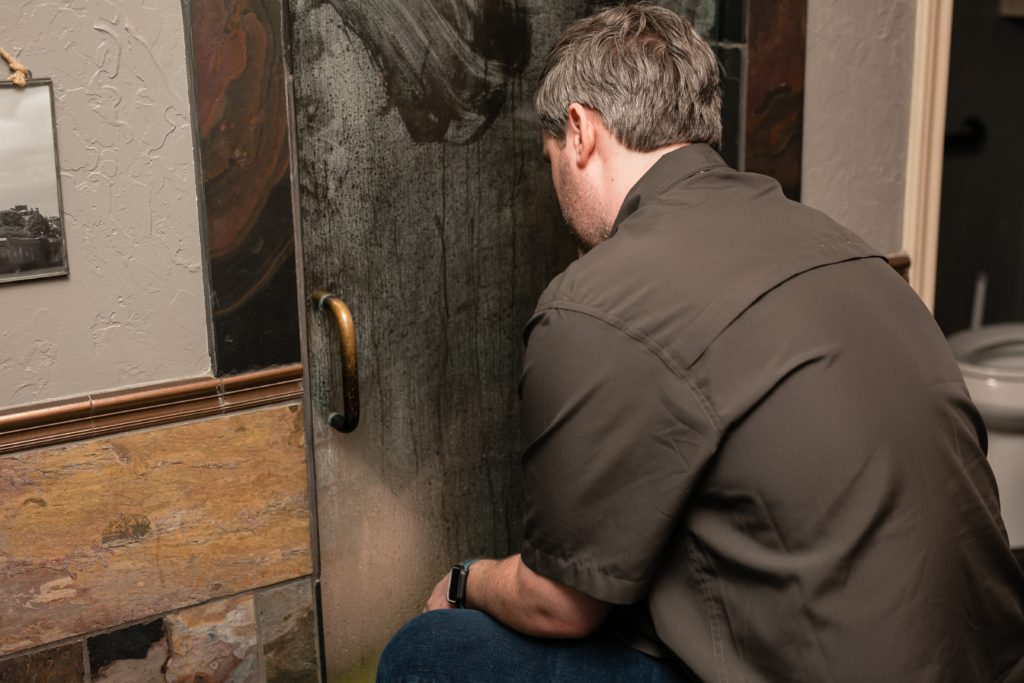 This was, by far, my favorite part of labor. It was intense but beautifully peaceful. I was sitting on a birth ball, my back to the stream of water. The steam and heat of the water felt amazing. I loved it. In between each contraction, I found myself nearly falling asleep as I leaned forward onto the shower bench. As crazy as it sounds, I go back to this moment in my mind often. It was so special. With a clear mind, alone in the hot shower, I was completely checked into the intensity of the labor experience. This is what I had dreamed about when I planned for an unmedicated birth. I was in the in-between; ready to meet my daughter but not quite there yet.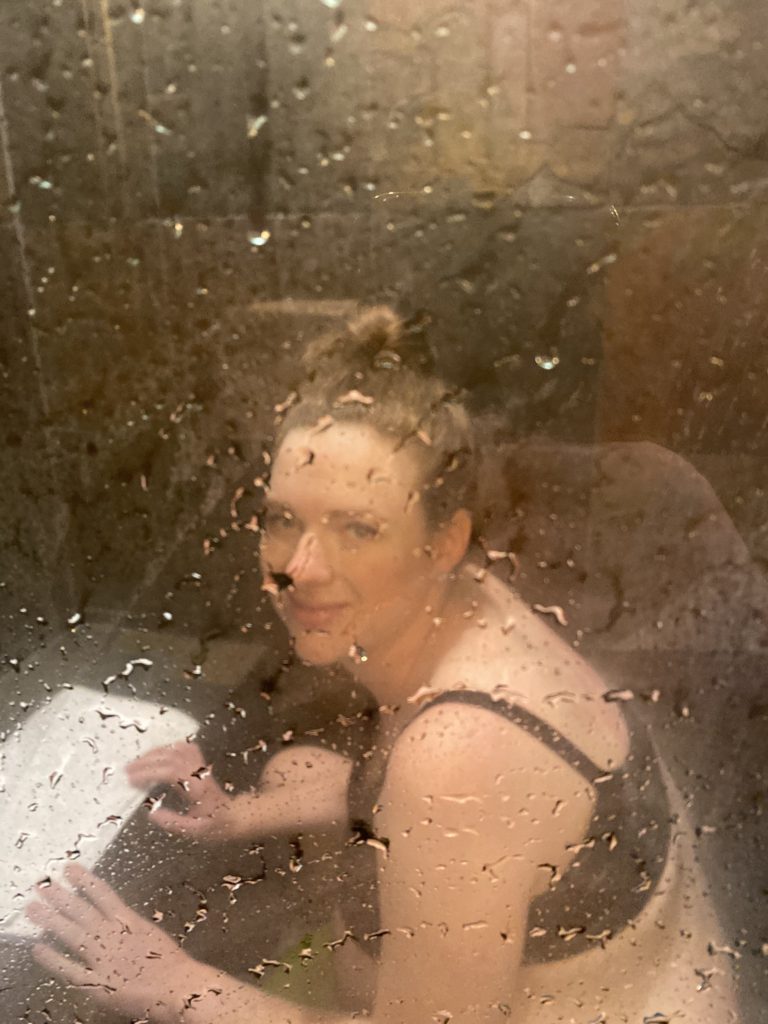 After 30 minutes in the shower, I began to feel "pushy." My body was starting to bear down on its own. I called out of the glass door, "I feel like I have to push!" My mom was in the birth suite and said that the midwives calmly but quickly prepared the room for Nora to be born.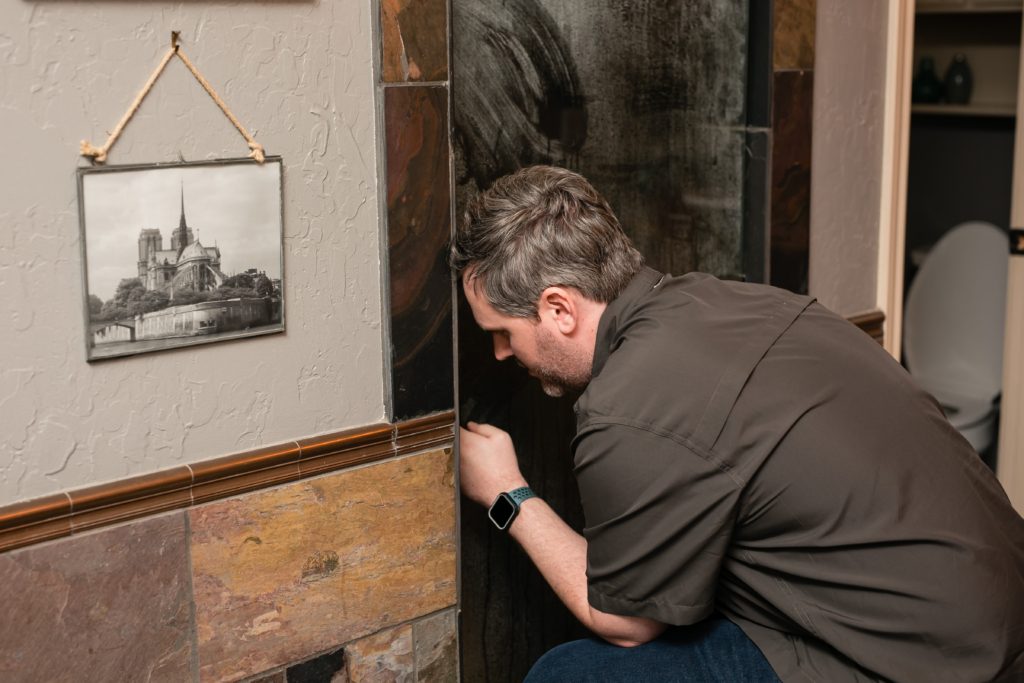 Pushing
Getting out of the shower, I shuffled across the wood floors and got on the bed, stopping to hang on my doula and breathe through contractions a few times. I couldn't have made it through labor without her. She repeated the same handful of phrases throughout my labor experience, like "Let it be strong," as a contraction was peaking, and then "Let that one go," as a contraction was ending. Her words were so reassuring and helpful. She applied counter pressure, she massaged me, she helped me breathe. She was seriously incredible.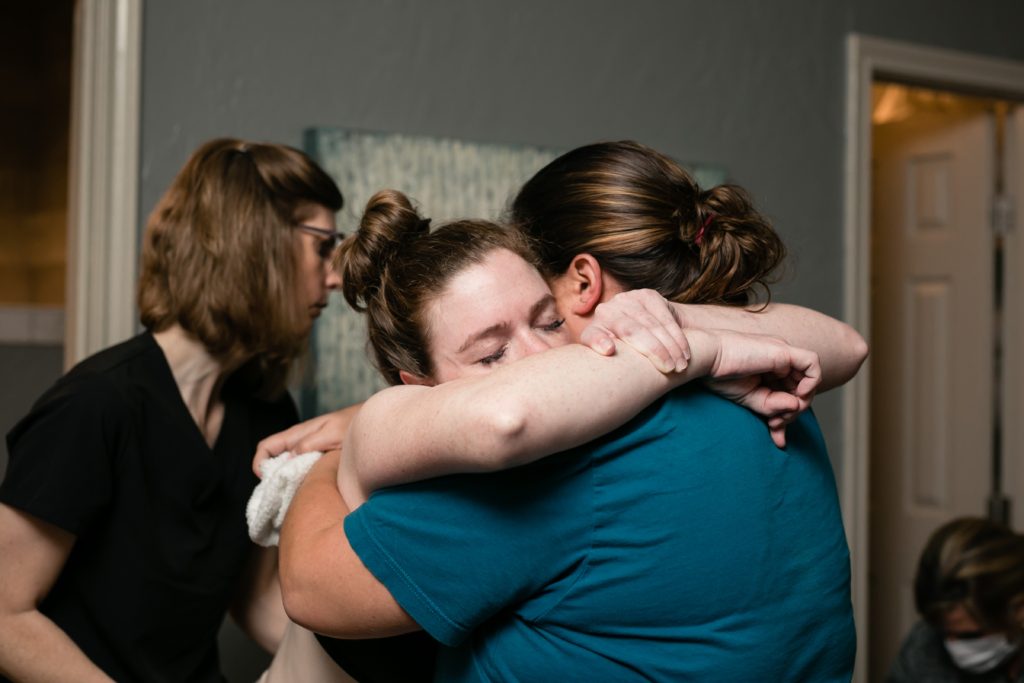 Around 2:30pm, it was time to push! My midwife had me lay flat on my back and begin to bear down as I listened to my body's urges. There was no coaching. No counting. No yelling "push!" It was peaceful and calm, and I was empowered to follow my body's lead.
After several pushes on the bed, it became clear that Nora's head was stuck behind my pubic bone. My midwife moved me to a birthing stool to use gravity and push her head past it.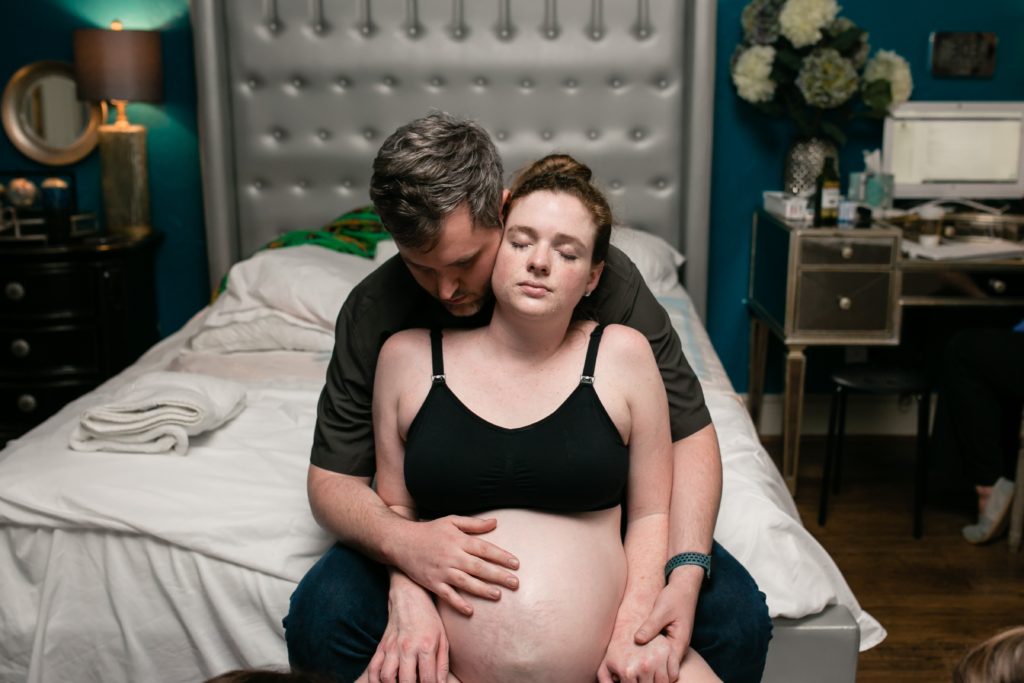 As soon as I sat on the birthing stool, Riley behind me, Nora began to descend beautifully. The pressure I felt here was unbelievable. It was so intense! I successfully pushed her down, and then began to experience a burning sensation (the "ring of fire"). Within 20 minutes, her head was delivered. Even though I wasn't on any pain relief medication, my body was numb from the waist down. I could only feel pressure. A few more minutes and her body slipped out. I had absolutely no idea that she had been born!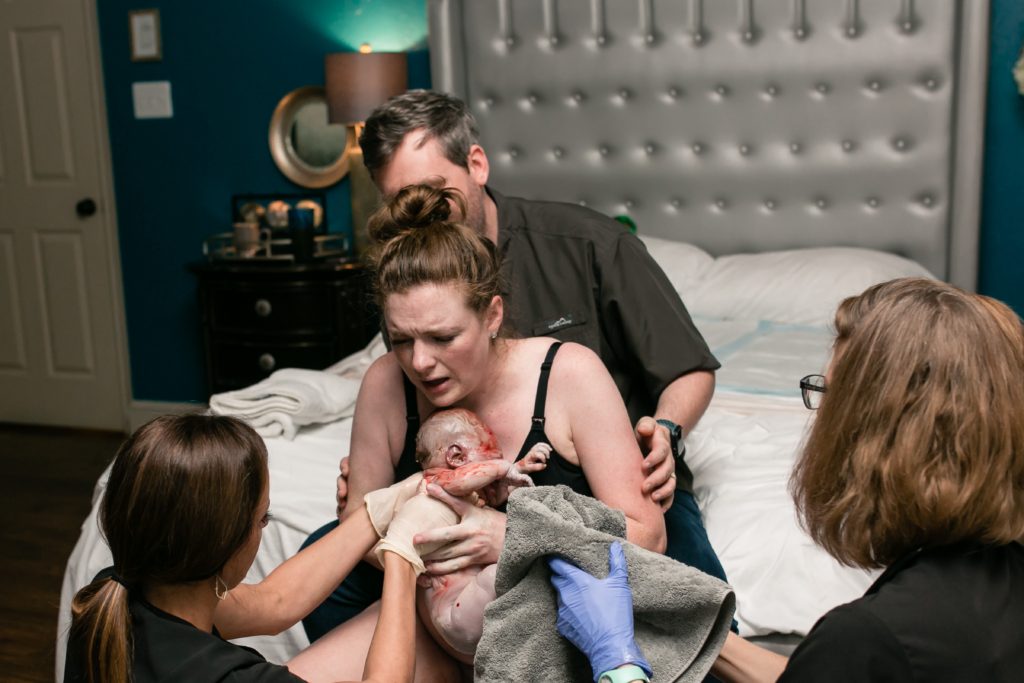 At 3:09pm, my midwife put her up on my chest and I was shocked! I could hear my mom, who was sitting cross-legged on the floor watching the birth, begin to sob tears of joy and excitement. I was stunned and shocked! I looked down at her precious face and breathed, "Thank you Jesus! Thank you Jesus!" Obviously I knew I was pregnant with a baby and I was laboring to birth a baby, but when she was finally on my chest, I was somehow surprised that I had a baby!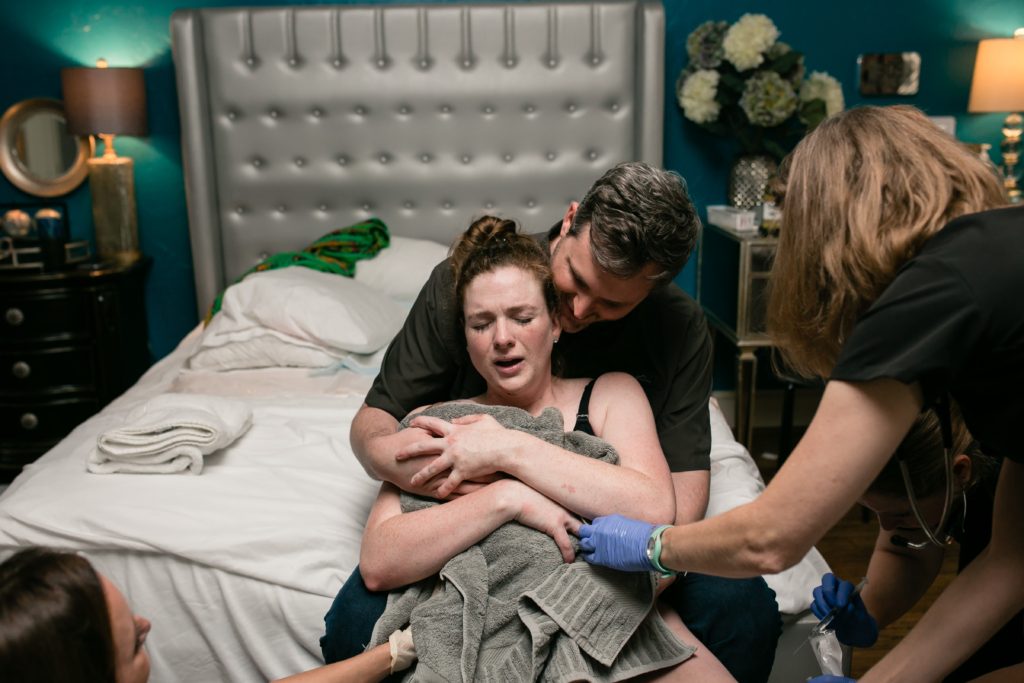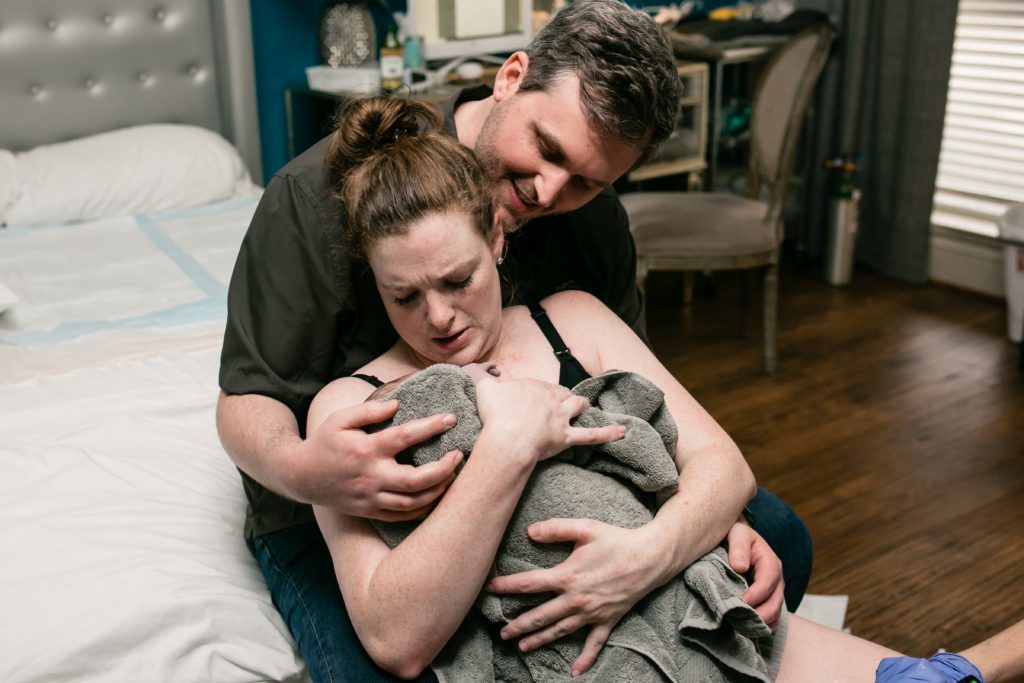 Post-birth complications
Just about a minute after Nora was born, I began to bleed. Calmly but firmly, my midwife had me lay back on the bed to slow it down, Nora still warm on my chest, wrapped in a heated towel.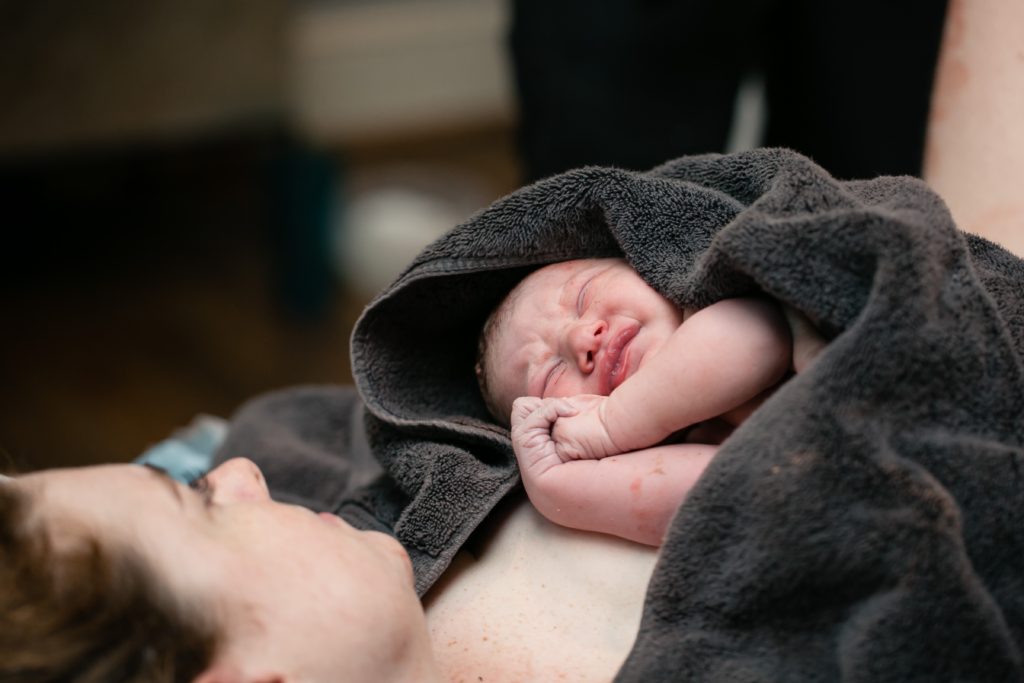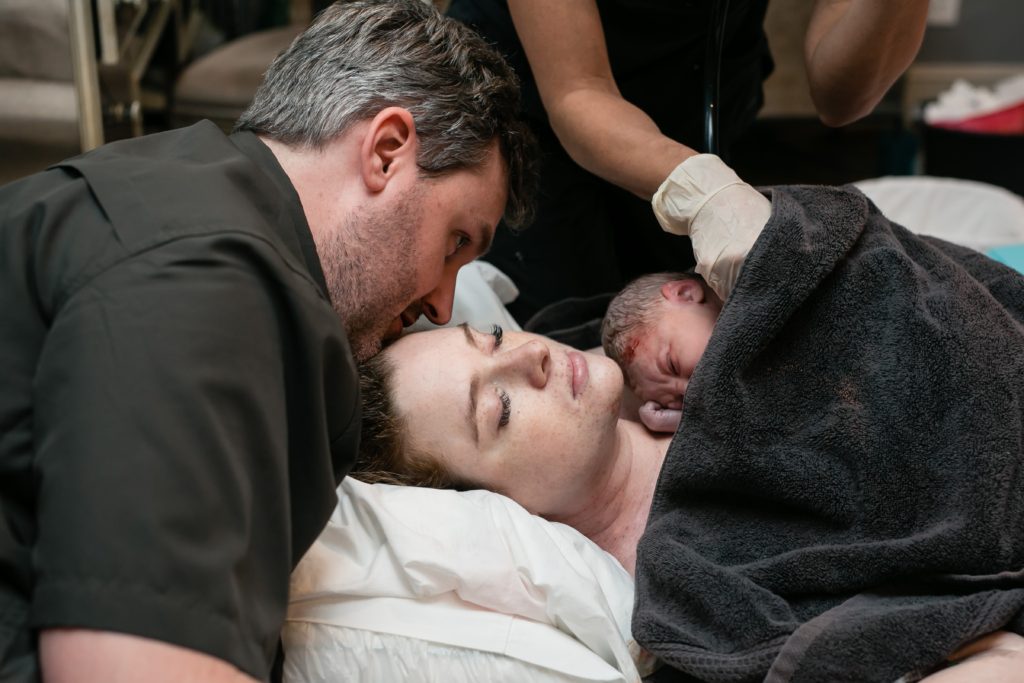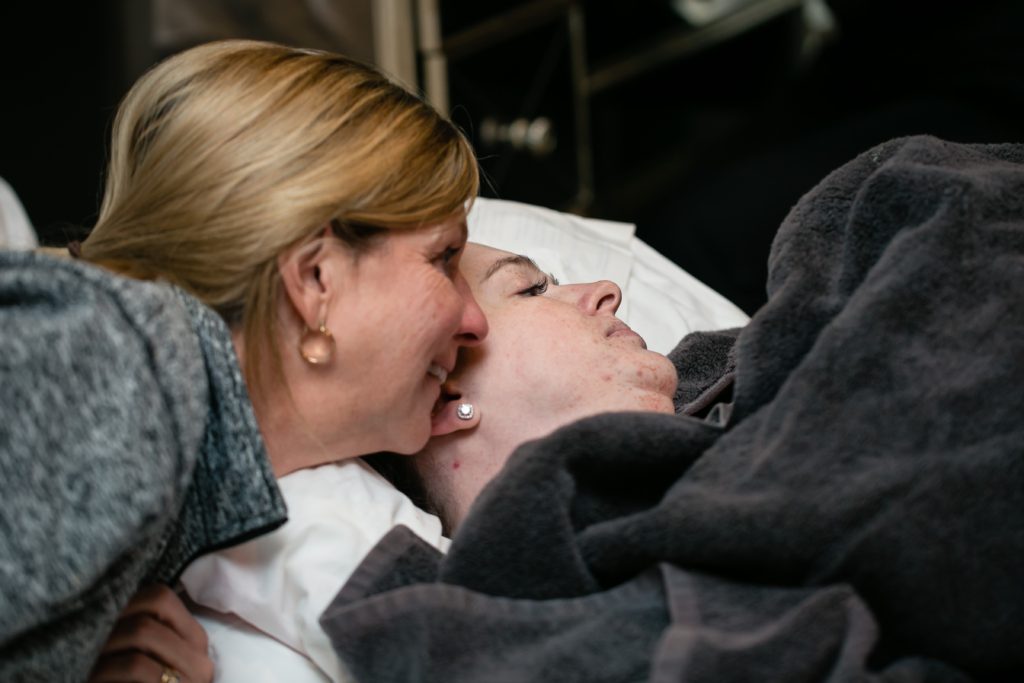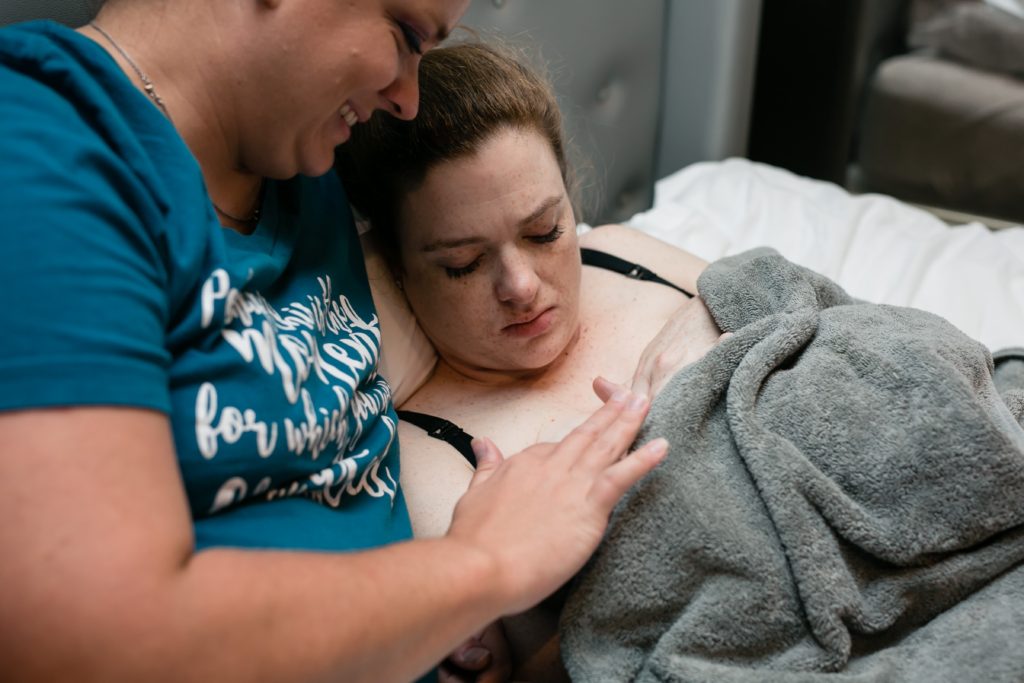 A shot of pitocin was administered in my thigh, which is something I had agreed to previously. This is called a "managed third stage," and it's a way to help the uterus clamp down and deliver the placenta after birth. It was necessary in my situation because I had been in labor for so long and it was decided that my uterus, which is a muscle (and was very tired!), may need some extra help to contract effectively and deliver my placenta.
After I received the shot, there was a quiet flurry of activity. Apparently, after the cord blood had drained into Nora, the cord had snapped off of my placenta, which is highly dangerous. This occurred because I had a velamentous cord insertion; this condition is extremely rare and was not able to be identified via ultrasound during my pregnancy. Only about one percent of all births have a velamentous cord insertion.
At this point, I had a retained placenta (it was still in my uterus). Again, dangerous. One of my midwives had to manually remove it before I lost too much blood. This was, let's say, not fun. Ouch! During this time, I received an IV bag of fluids as well.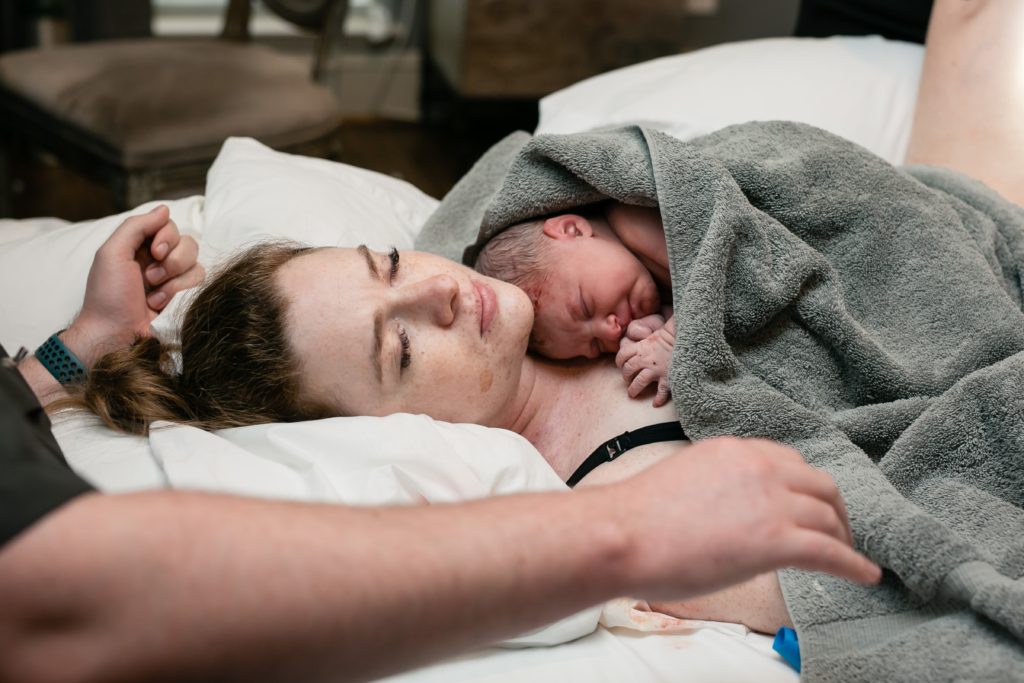 Although these circumstances are very scary in retrospect, in the moment, I felt completely safe and calm. My heart rate and blood pressure, which were being monitored, were normal. I didn't feel lightheaded, confused, or "out of it" at all. I looked around the room and saw Riley, my mom, and about 10 midwives/birth workers, all of whom I knew well from my prenatal appointments. I wasn't comfortable, but I wasn't scared.
I cuddled Nora on my chest and cooperated, closing my eyes and breathing. I could read the anxiety on both my mom and Riley's faces, but I was truly okay.
Tear repair
It's hard to say how long it took because I felt stable throughout, but at some point, my bleeding was under control, my placenta was completely removed, and it was time for my tear to be repaired. Unfortunately, due to Nora's nuchal hand, I suffered from a third degree tear. As I mentioned earlier, I couldn't feel myself tear at all, so I was unpleasantly surprised when I found out how badly I was injured.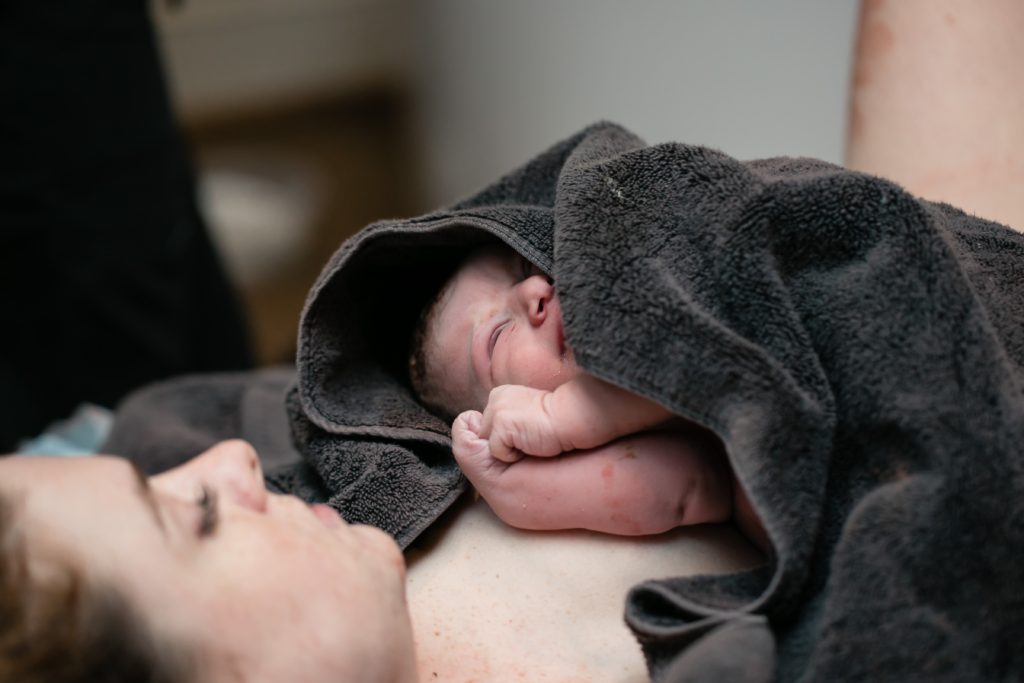 I was still holding precious Nora on my chest. She was warm and squishy and perfect. I focused on her while the team completed my repair. I was numbed, but it was difficult to keep my body from shaking (so much adrenaline!). I had to actively work to relax, which was very challenging. It felt strange to be so exhausted and so hyped up simultaneously. Eventually, my stitching was complete, and I was able to sit up a bit more to admire Nora.
Falling in love
I looked at my beautiful, perfect baby in shock and awe. I just couldn't believe that she had finally arrived! My midwife helped me nurse her for the first time. We smelled her hair and counted her fingers and toes. She was amazing.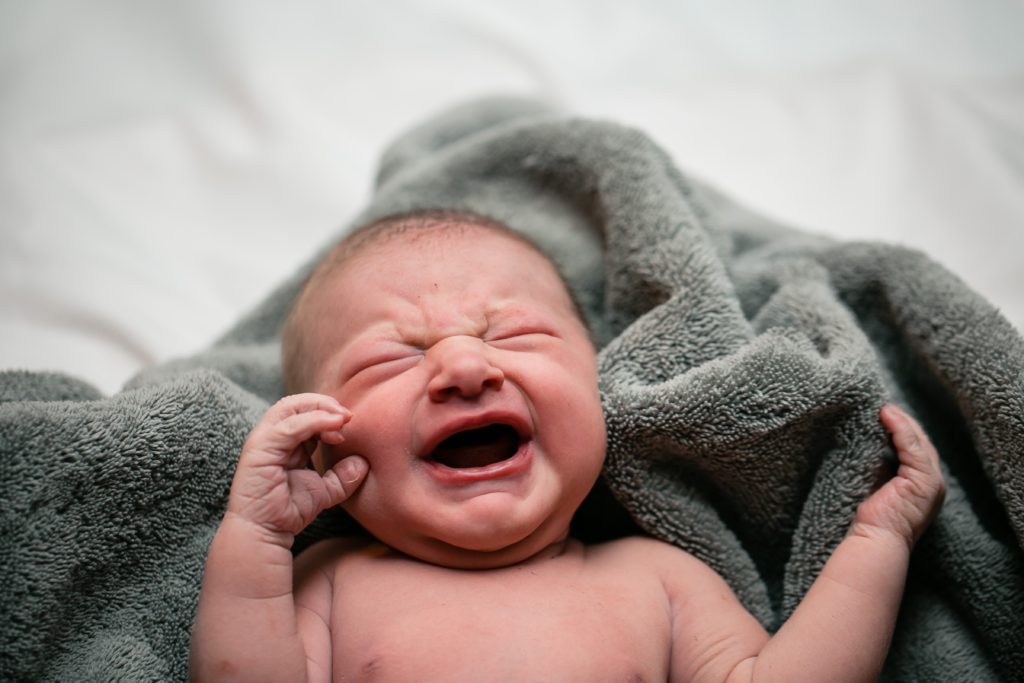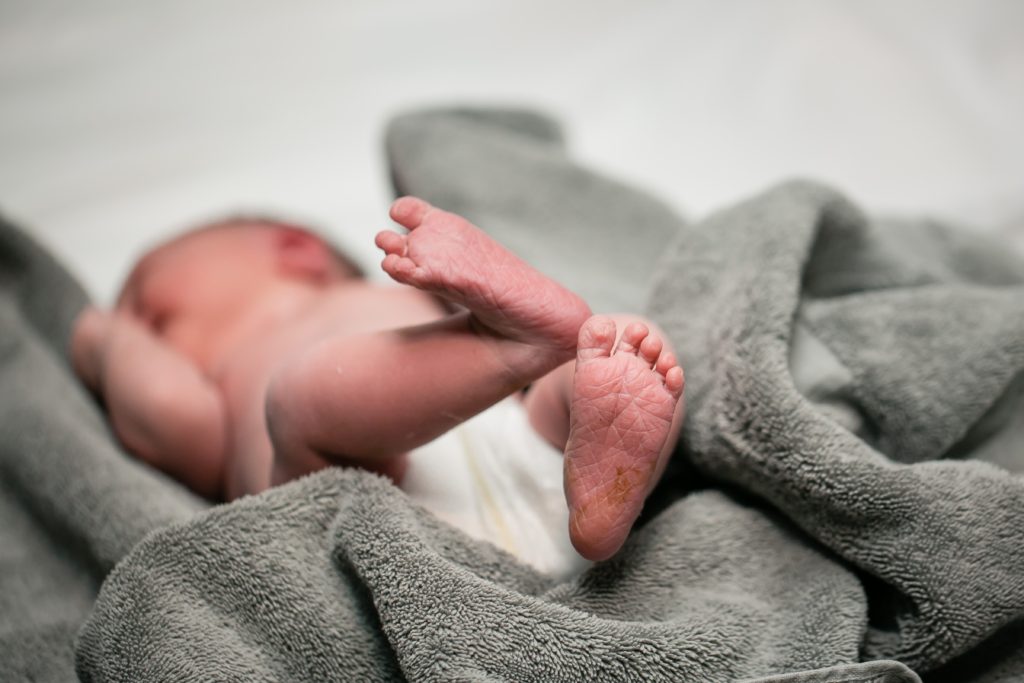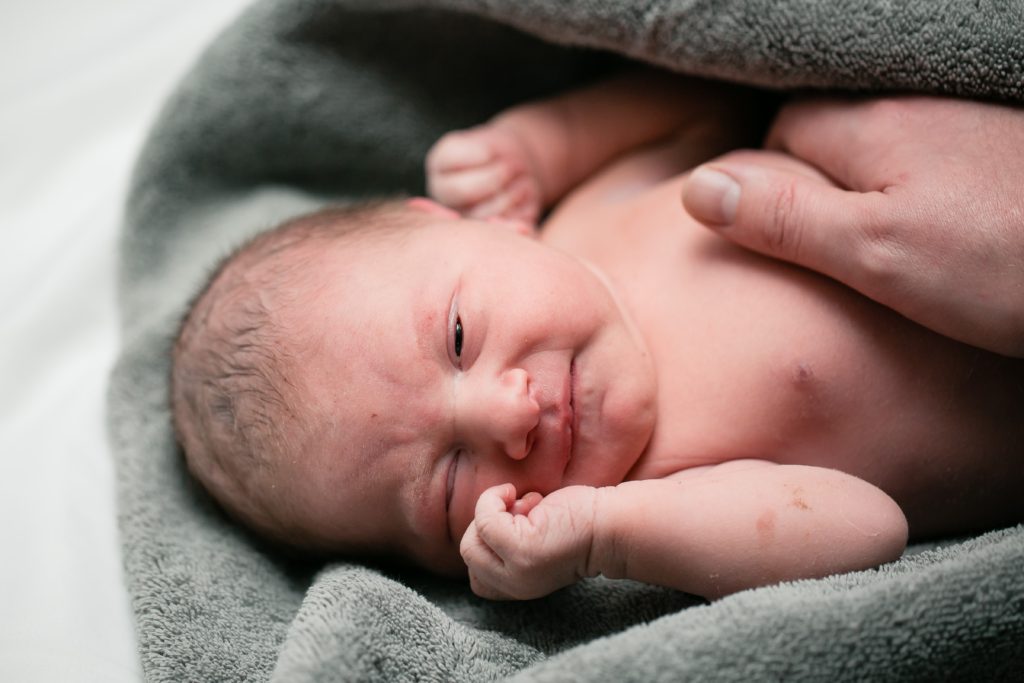 Newborn exam and meeting grandparents
While I was getting stitched up, my mom left the birth suite to tell my dad and mother-in-law the good news that Nora had arrived! When it was time for her bedside newborn exam, I invited the three of them in to meet Nora and watch her get weighed and measured. It was precious to see their joy and delight in meeting their gorgeous granddaughter. (They were also extremely relieved that I was doing well!)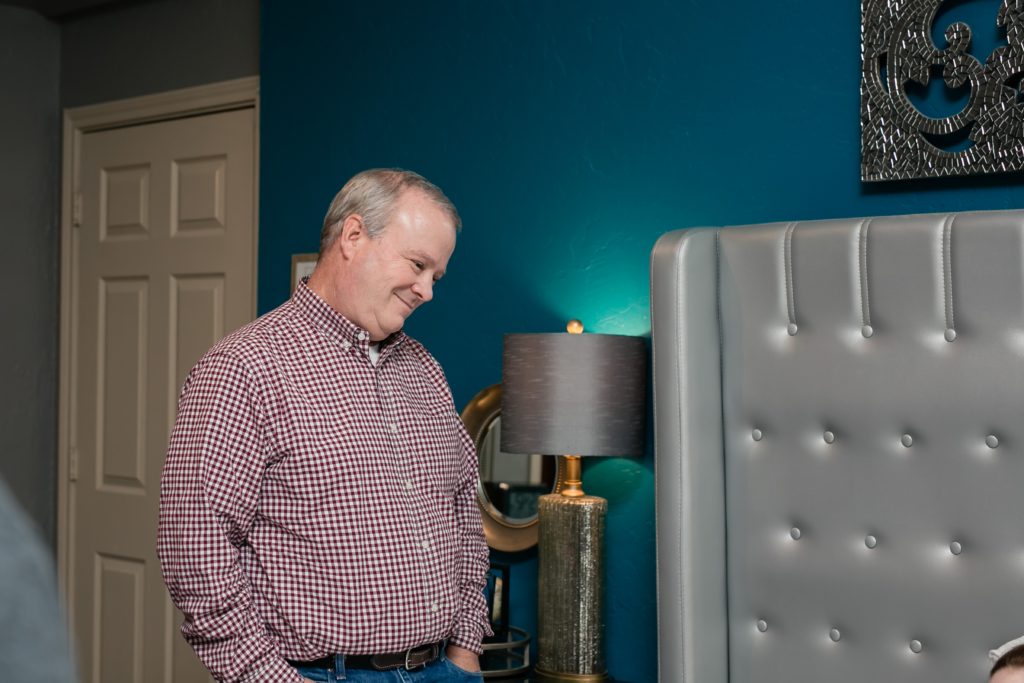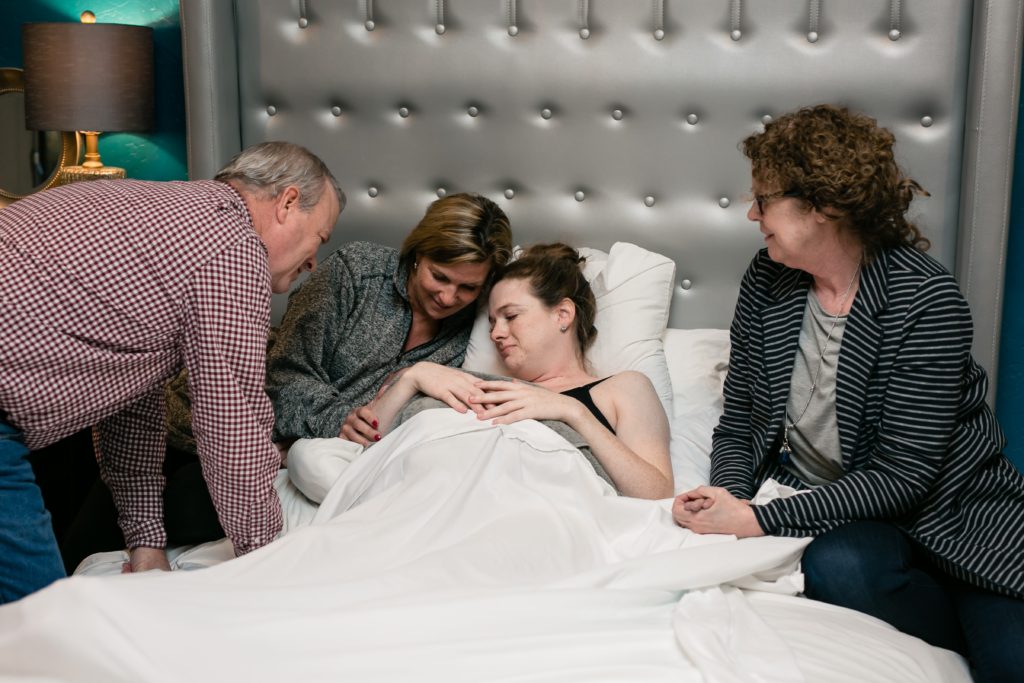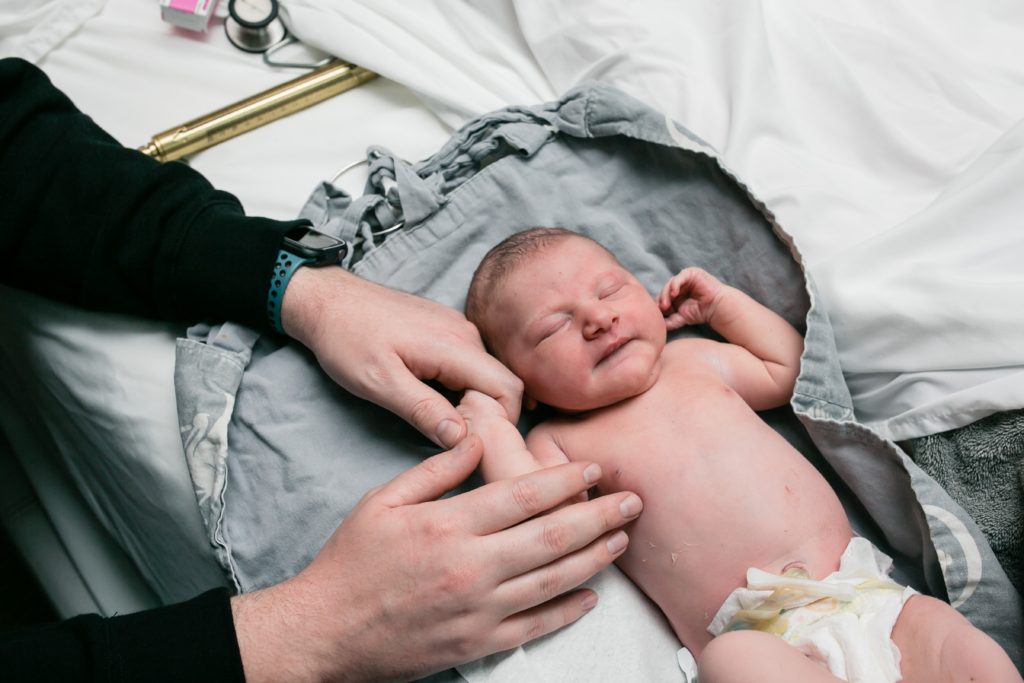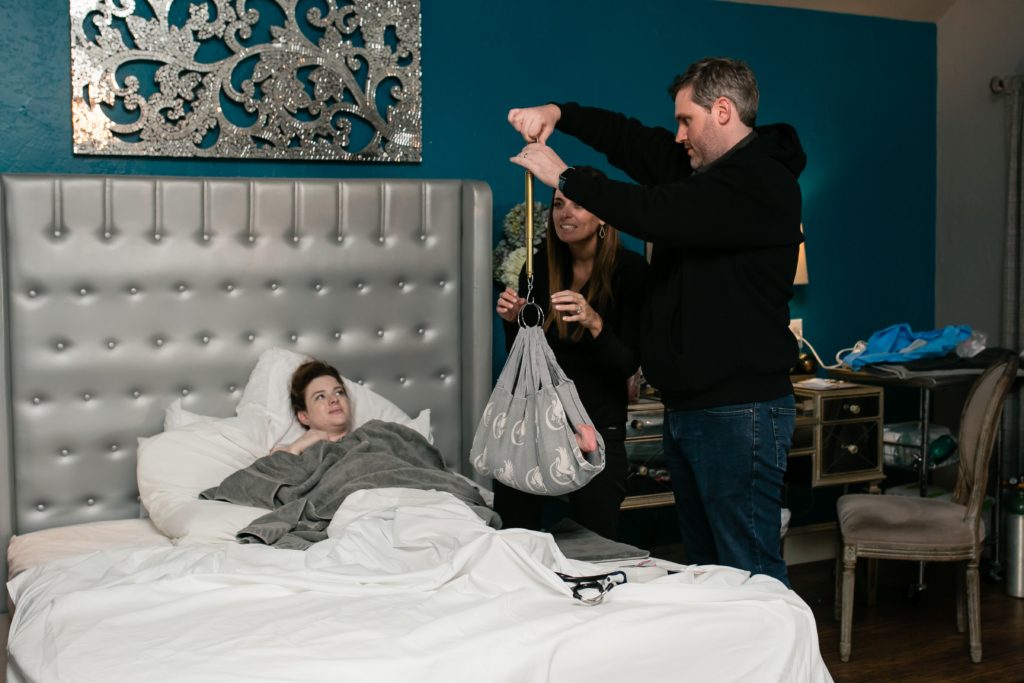 Nora measured 21.5 inches and weighed 8 pounds 9 ounces. She was a big, beautiful baby!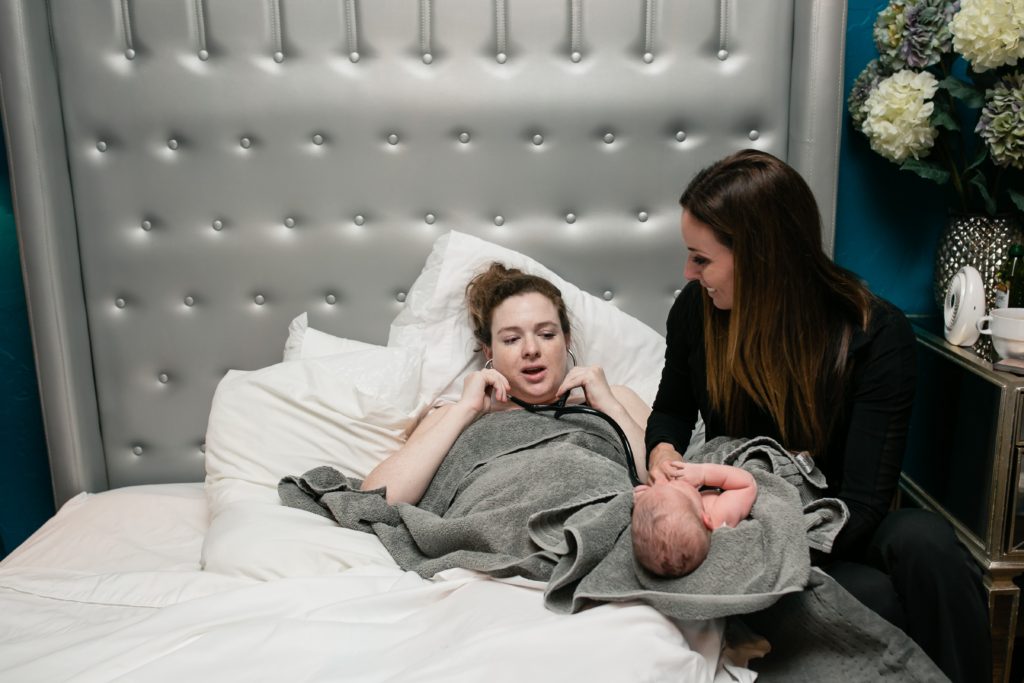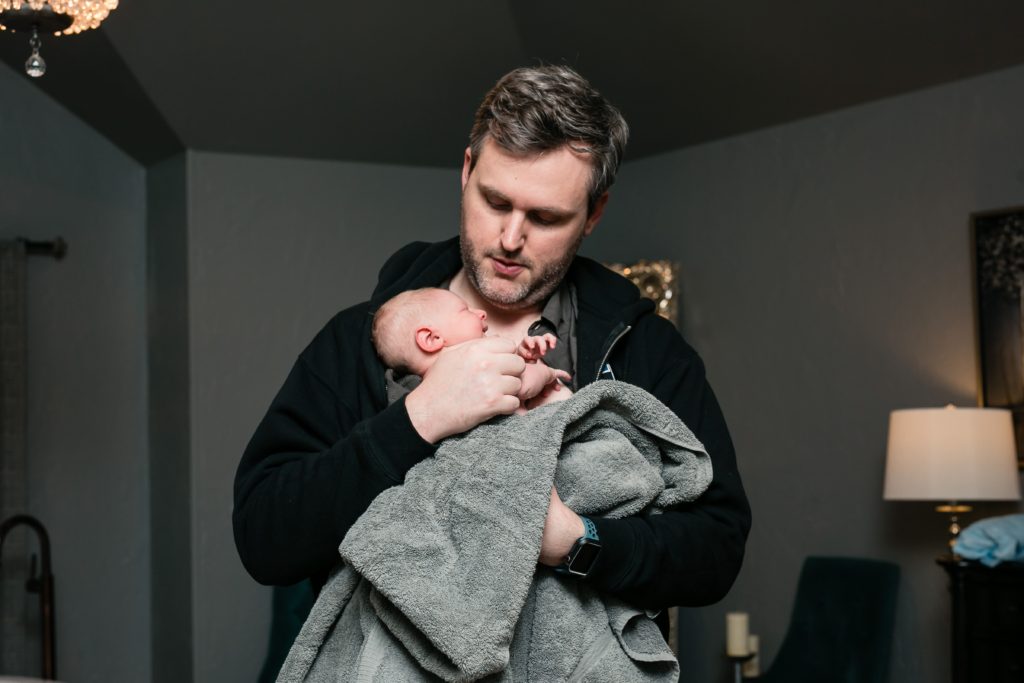 After her newborn exam (she was absolutely perfect!), Riley got her dressed. Watching him tenderly caring for our newborn daughter was heart-melting.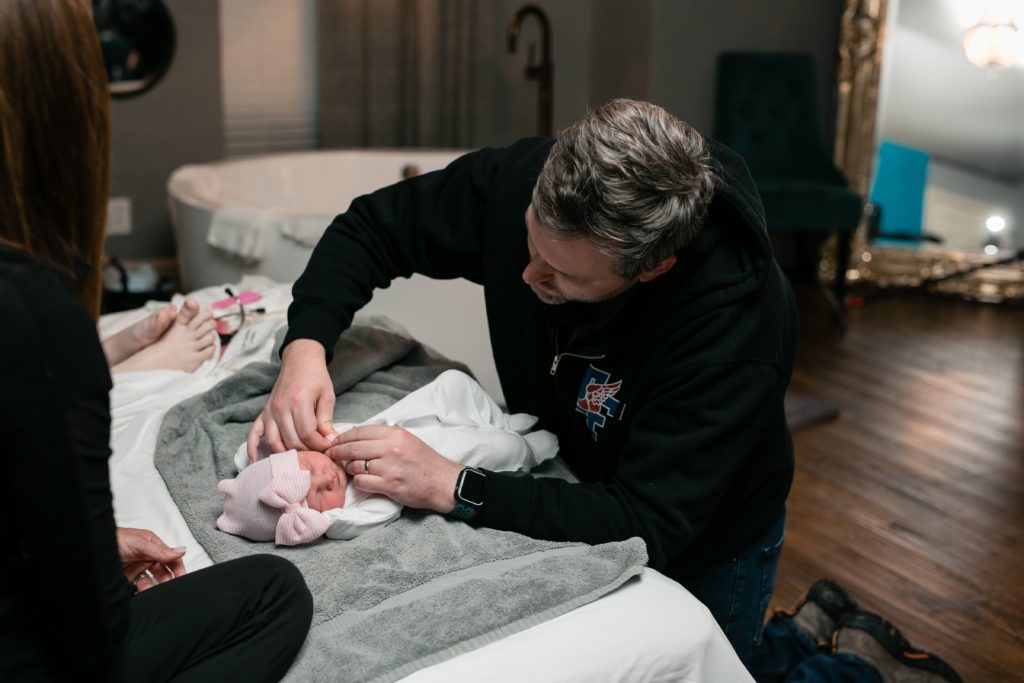 I had purchased a precious little going home outfit for Nora from an Etsy shop called SK Creations. It was soft white cotton with pink stitching, a little pink monogram (had to!), and a sweet matching hat with a bow. She looked adorable.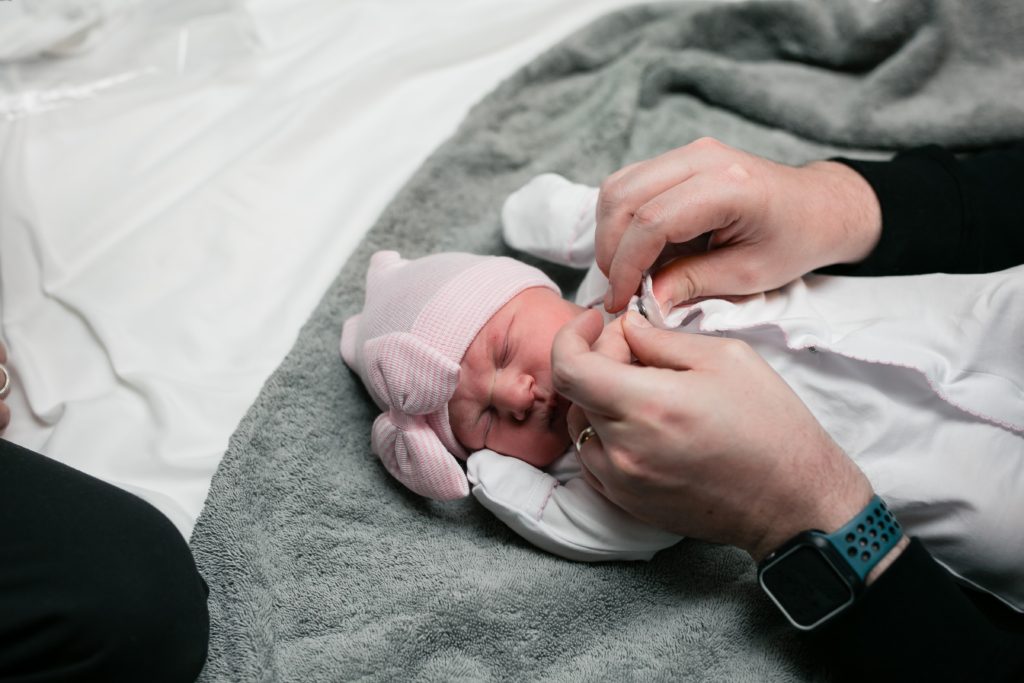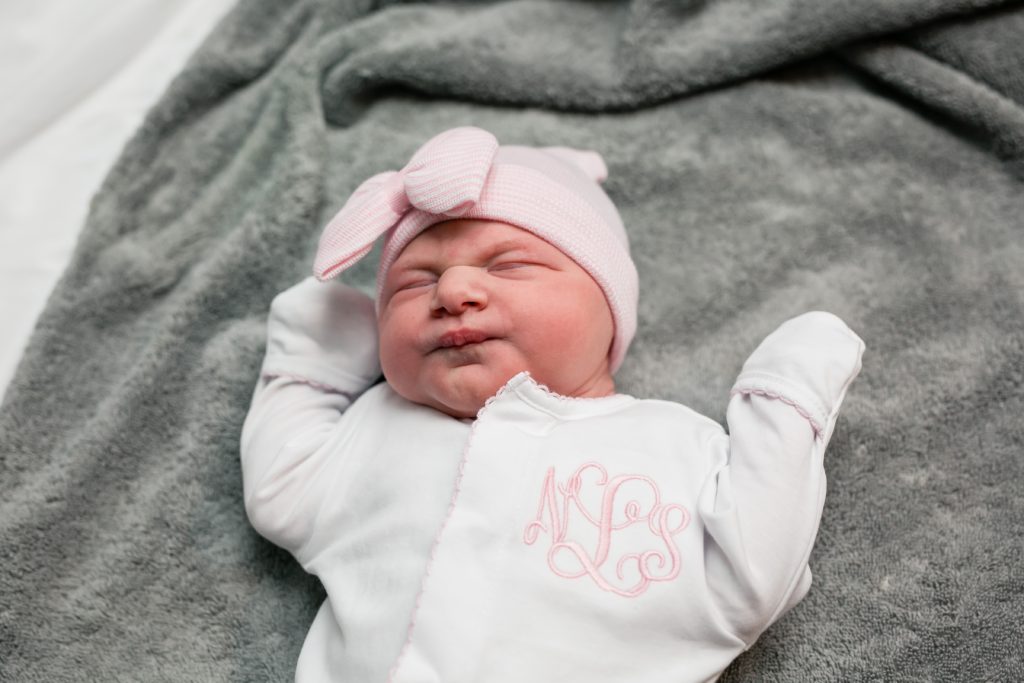 Final hours at the birth center
Once the newborn exam was complete and our parents spent time holding Nora and taking photos of/with her, they hugged and kissed us and left.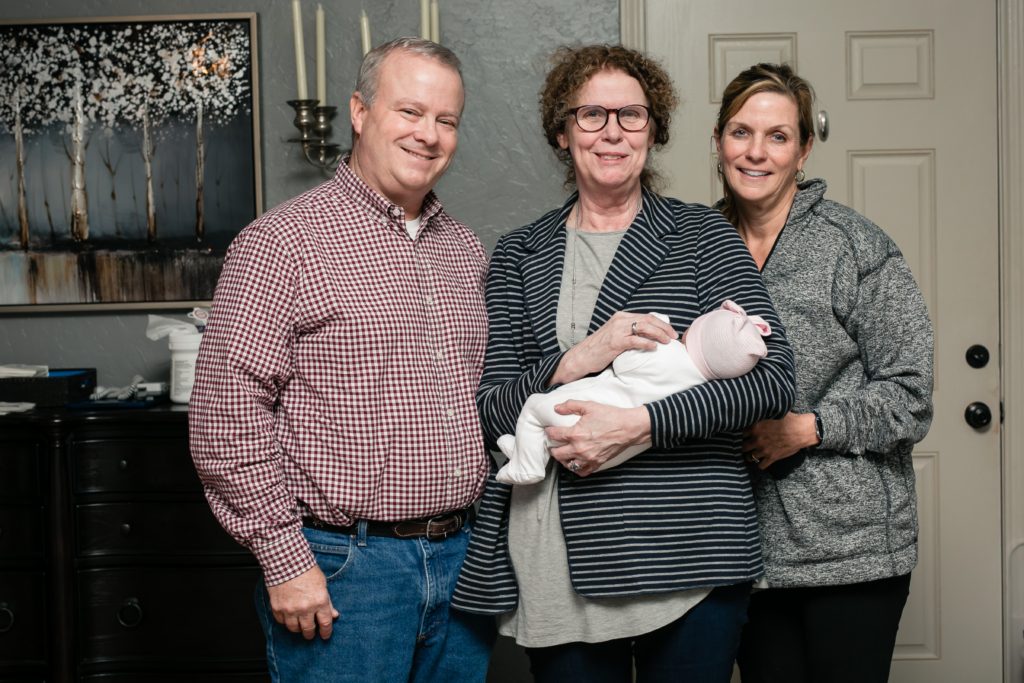 Riley and I laid in bed cuddling Nora and talking through the events of the day with my midwives, chiropractor, and doula. As someone who highly values facts and information, and likes to externally process, I asked lots of questions about my labor and birth that I wasn't able to voice in the moment. It was very helpful, healing, and important for me to process through my experience and have the gaps filled in with what happened and why, especially for the period of time after she was born.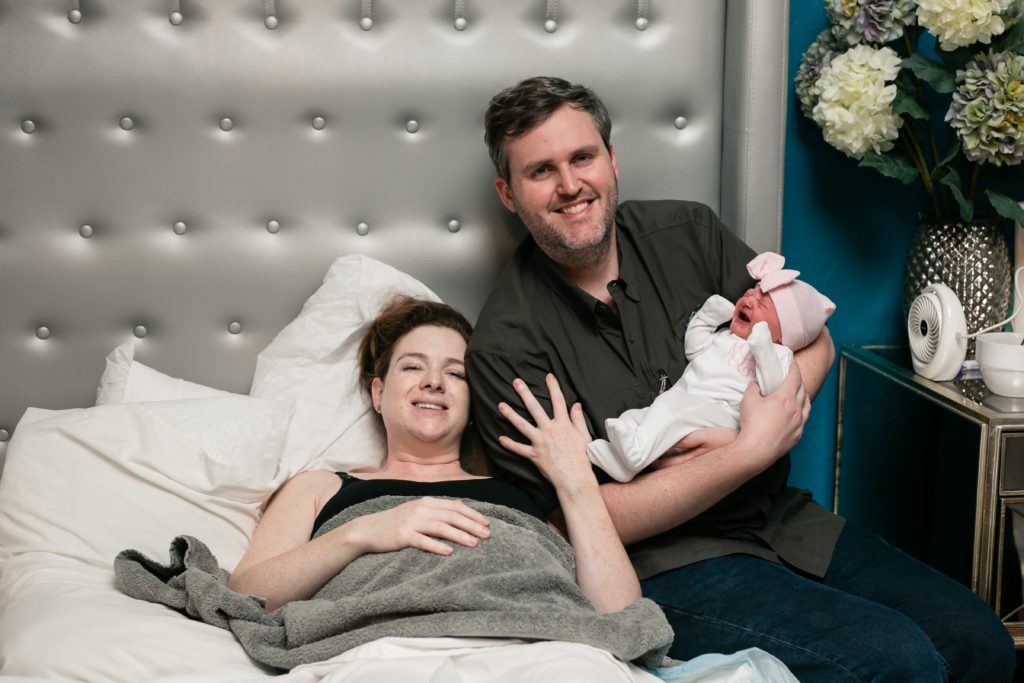 After a couple of hours, I had the opportunity to take an herbal bath. It felt incredible. Riley sat outside of the tub and we talked and laughed about what an insane day it had been. I remember us looking at each other with a knowing look that couldn't be put into words–like, what. just. happened?? What a crazy, amazing day!
The photos below are of my second herbal bath; the water looks like tea because it's been infused with herbs! These photos were taken a few days after my birth when I returned to the birth center for Nora's newborn photos (why I look made up).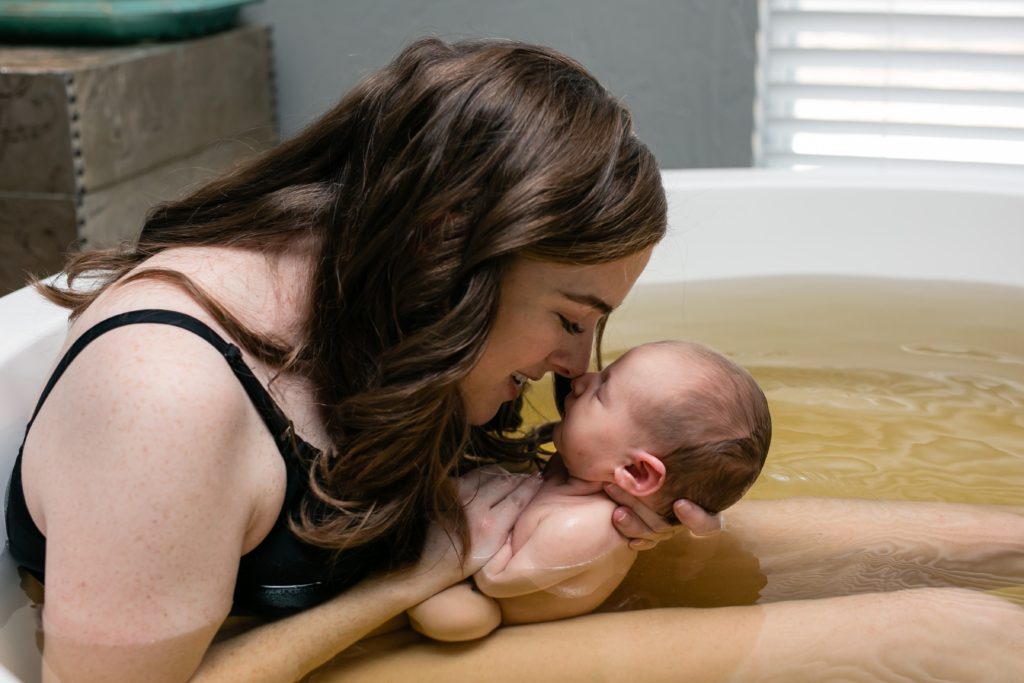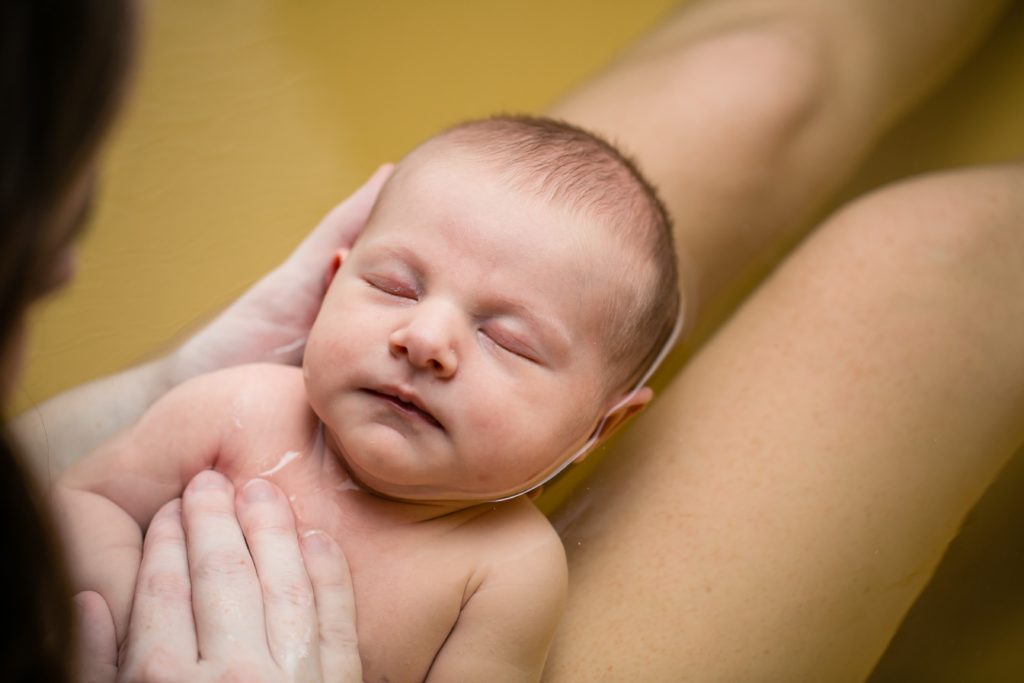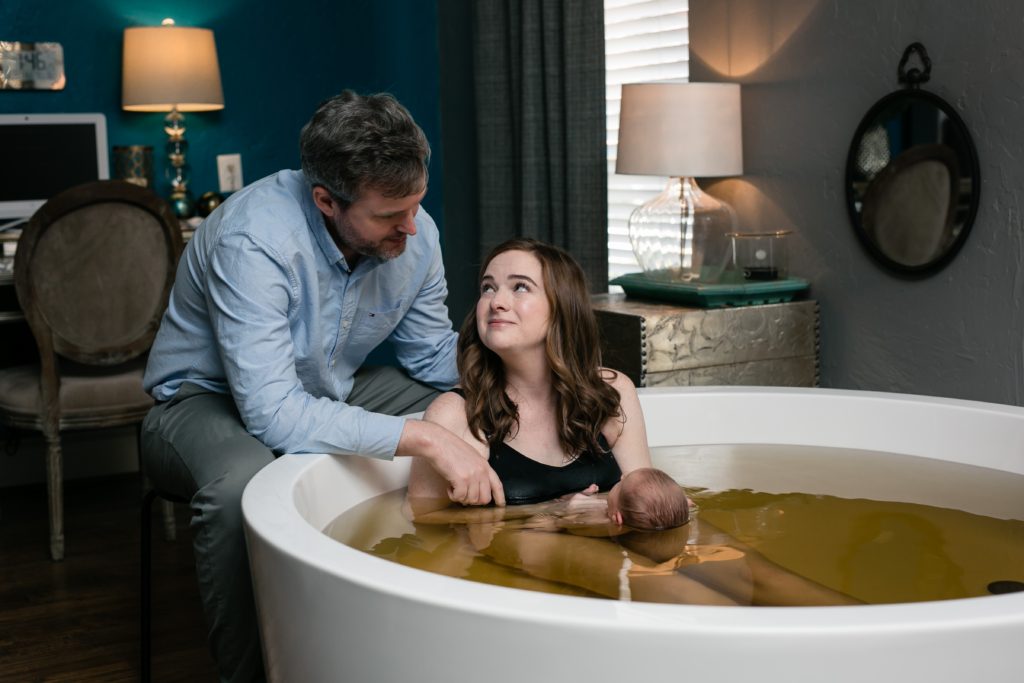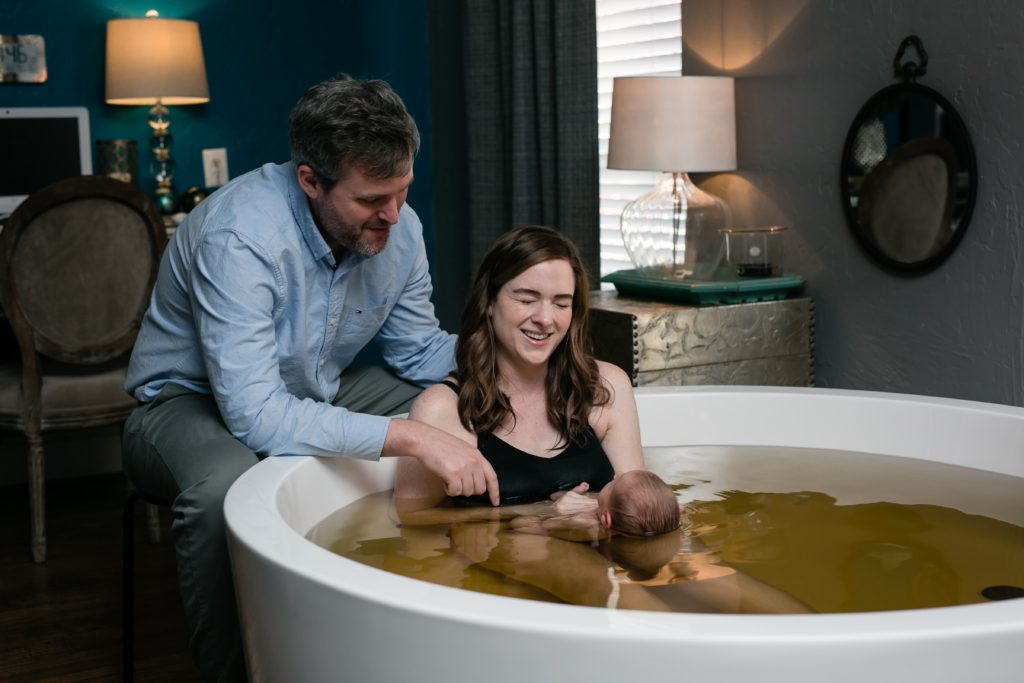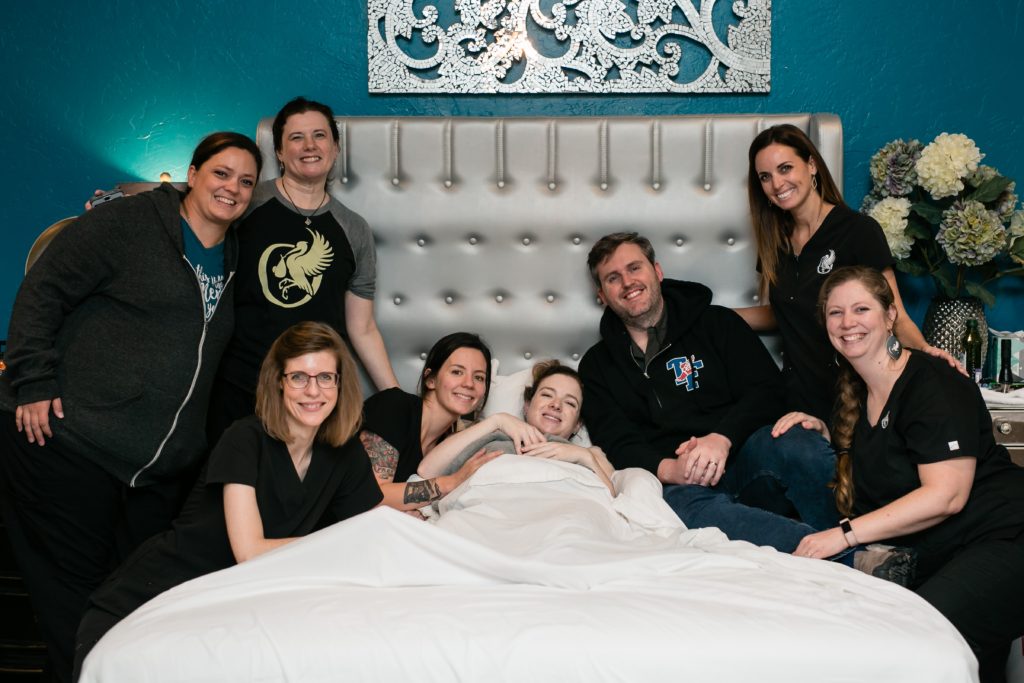 Around 9pm, 12 hours after arriving at the birth center, we headed home. That car ride was unforgettable. I sat in the back of the warm car with Nora, holding her tiny, perfect hand as we drove. It was only 32 degrees, which is unusually cold for a Texas October night. We walked into our home for the first time as a family of three, exhausted, elated, and brimming over with love. It was so, so good to be home.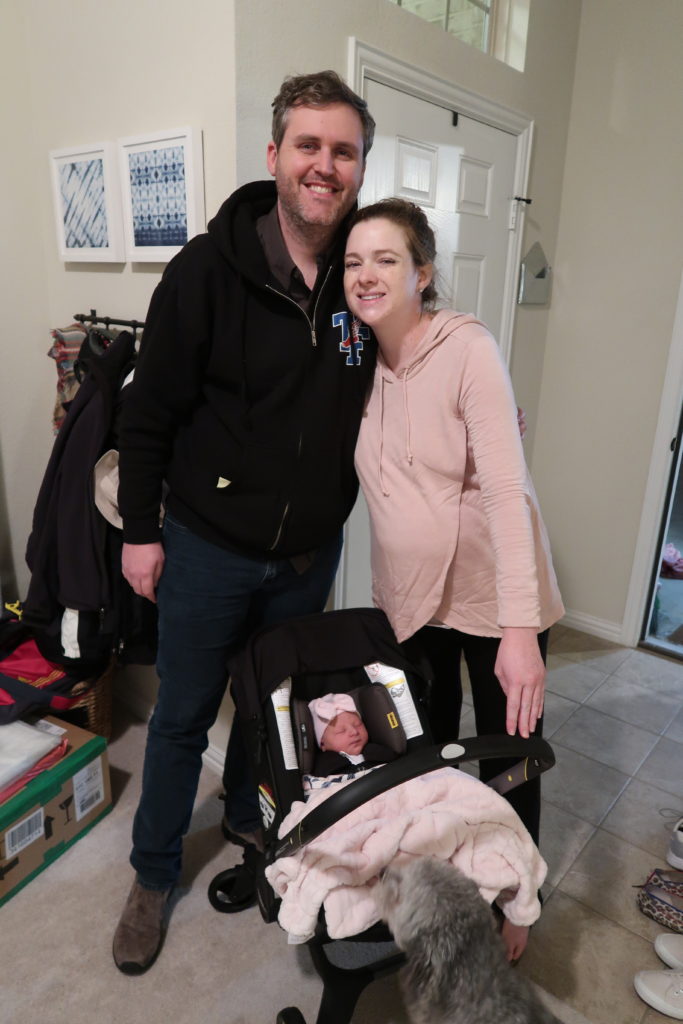 We climbed into bed, I nursed Nora, and Riley swaddled her up and put her in her little bedside bassinet. It didn't take long for any of us to fall asleep!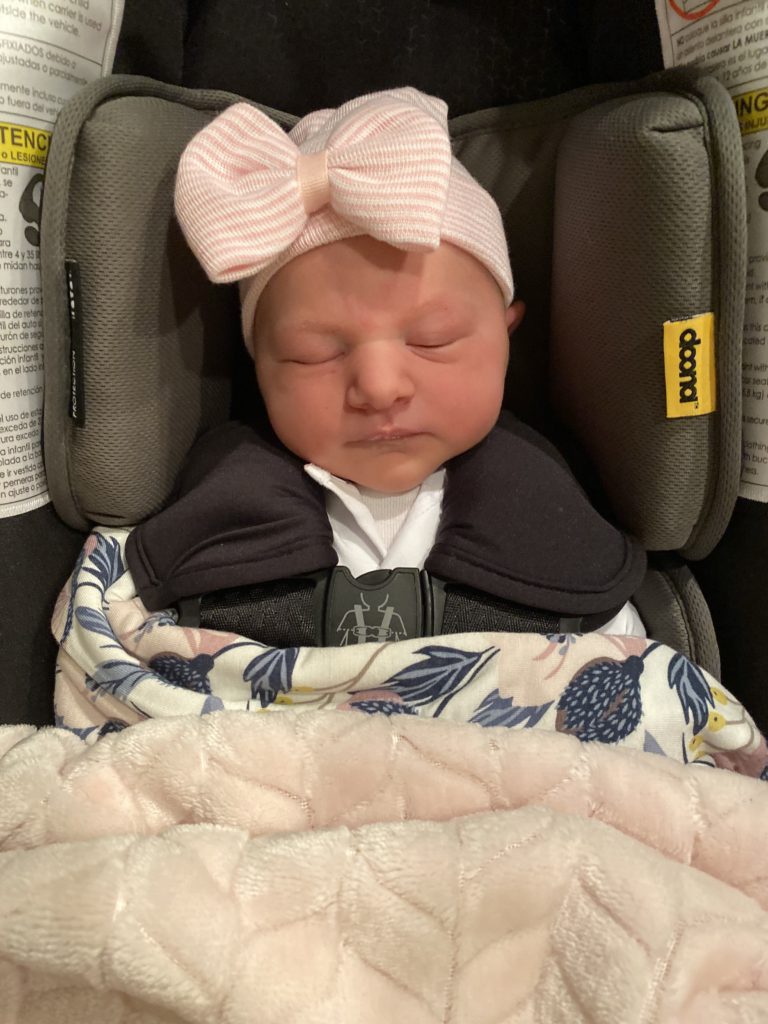 Final thoughts
Nora's birth was an experience I will never forget. It was far more intense than I anticipated, but then I was far stronger and fiercer than I thought I could be. There were unforeseen complications after her birth, but I felt safe and calm throughout. Giving birth was definitely a life-changing, life-marking sort of thing.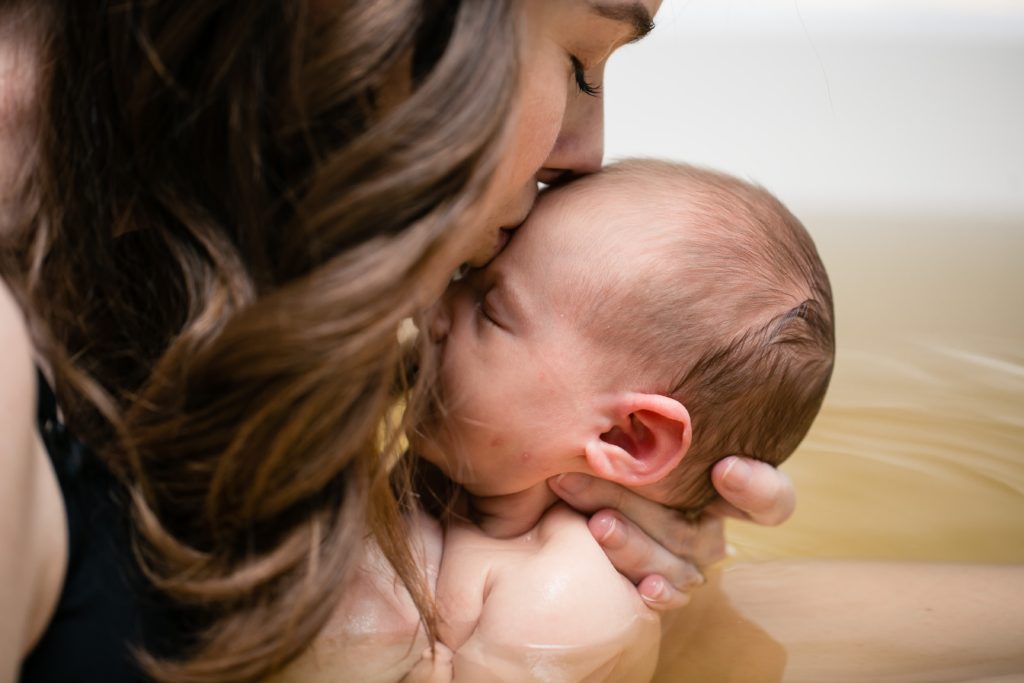 In the same way that some people dream of running a marathon or skydiving, I've always dreamed about experiencing natural, unmedicated childbirth. (I realize that sounds crazy to some people!) It has always amazed me what the female body can do—grow and sustain a human, open up and birth a human, and then nourish a human. I've always wanted to journey through it and feel everything. It was truly unbelievable. I am immensely grateful to have experienced something so amazing.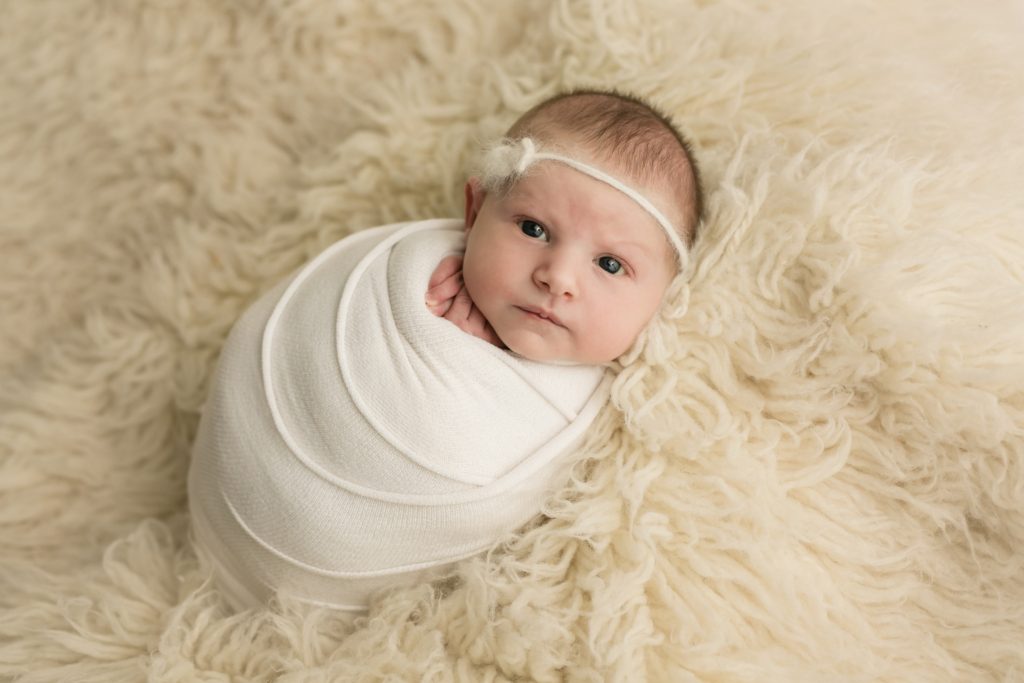 Someday in the future, I really hope I get to experience childbirth again. It was absolutely incredible. It was, by far, the single most empowering experience of my life.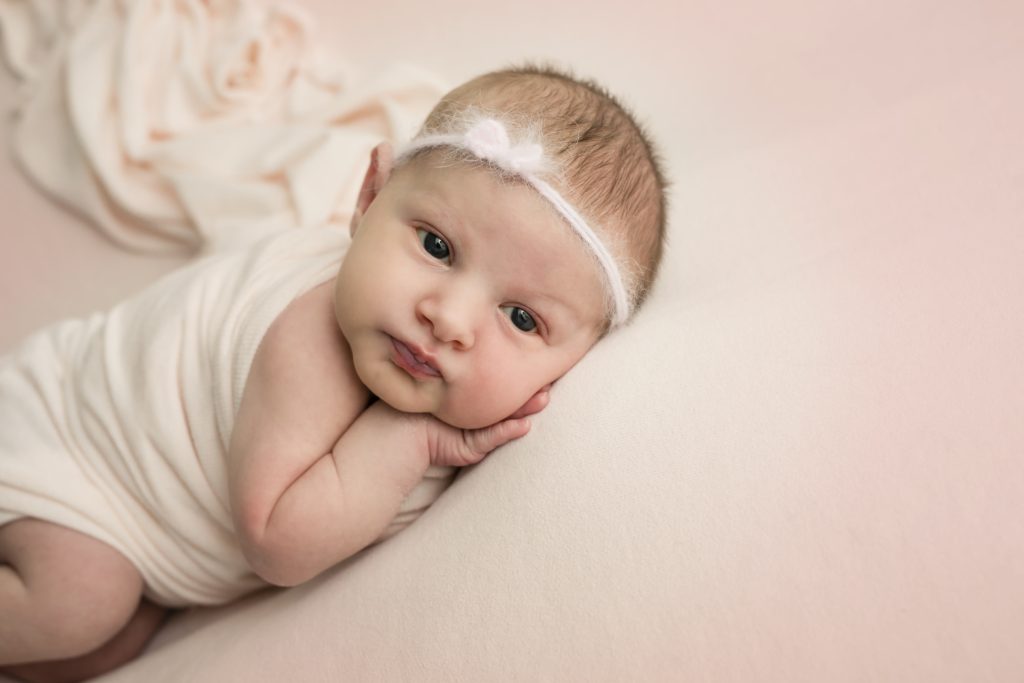 Postpartum
As much as I look back on Nora's birth story with joy, my postpartum period has been excruciatingly difficult and painful. I am obsessed with my baby, but I am not obsessed with postpartum…to say the least! There's too much to unpack here, but I will surely share more about the past four months in another post and/or video.
Dear Nora,
You, my precious baby, changed me and your Daddy just by being you. Our entire world was rearranged the second you arrived. I look into your bright blue eyes and fluttery eyelashes and think: how did I breathe before I knew you? You have a spirit so golden and gorgeous that it could only have been hand-crafted by God himself.
One day you'll read this birth story–your birth story. I want you to know that on the day that you were born, Mommy was too. Your entry into this world introduced me to a part of myself that I didn't know existed. The strength, ferocity, focus, and intensity that you drew out of me will change my life forever. Thank you for this beautiful gift, angel girl. The very first thing you did in this world was change me for the good–I have a feeling you'll do the same thing many times over for many more people.
We love you beyond what we can say. Your perfect lips, sweet smell, adorable dimples, sparkling eyes, chubby legs, and tiny fingers and toes are just the beginning. As your personality starts to shine, we are eager to know you and watch you grow. Your life is miraculous to us. We love you, Nora. Thank you for making us Mommy and Daddy.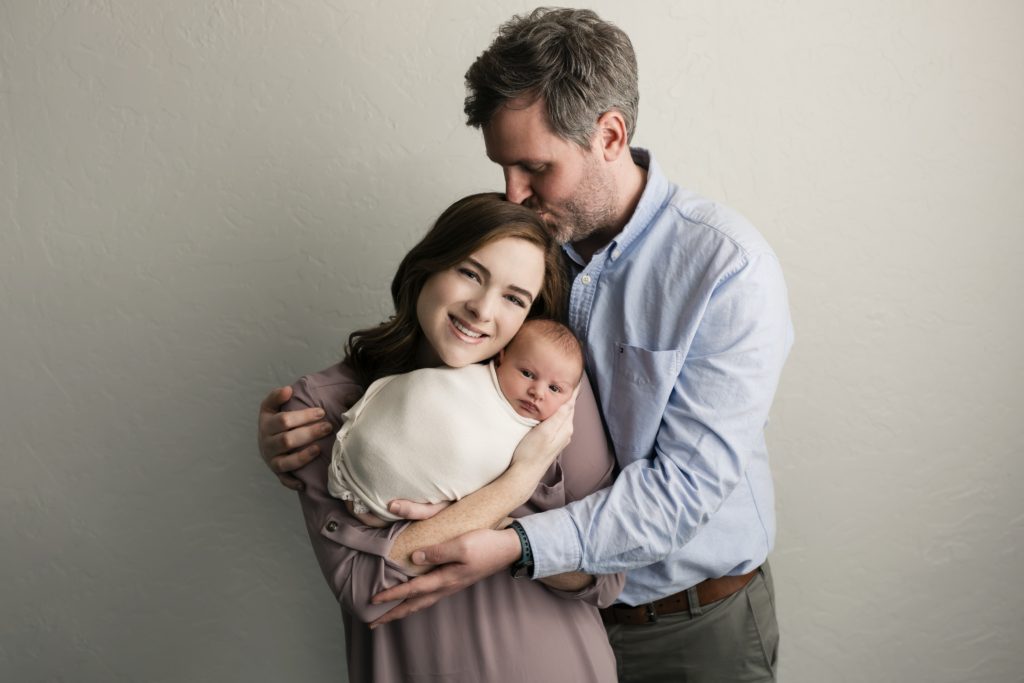 Check back later this week on my blog for Nora's birth video. Get your tissues ready!
Special thanks to my husband, mom, midwives, doula, and chiropractor for helping me birth our beautiful girl. I truly couldn't have done it without your love and support.

Also, huge thanks to Natasha Hance of Birth Unscripted for photos we'll cherish for the rest of our lives (and Nora will cherish for the rest of hers).
Thank you for reading! You can find me online on YouTube, Facebook, Instagram, Pinterest, and Twitter. If you'd like to be alerted whenever I publish a new post, you can follow me on Bloglovin' or subscribe via email. Check out my fun tees in my Etsy shop! Are you a blogger too? Check out my Blogger Mentorship Program.