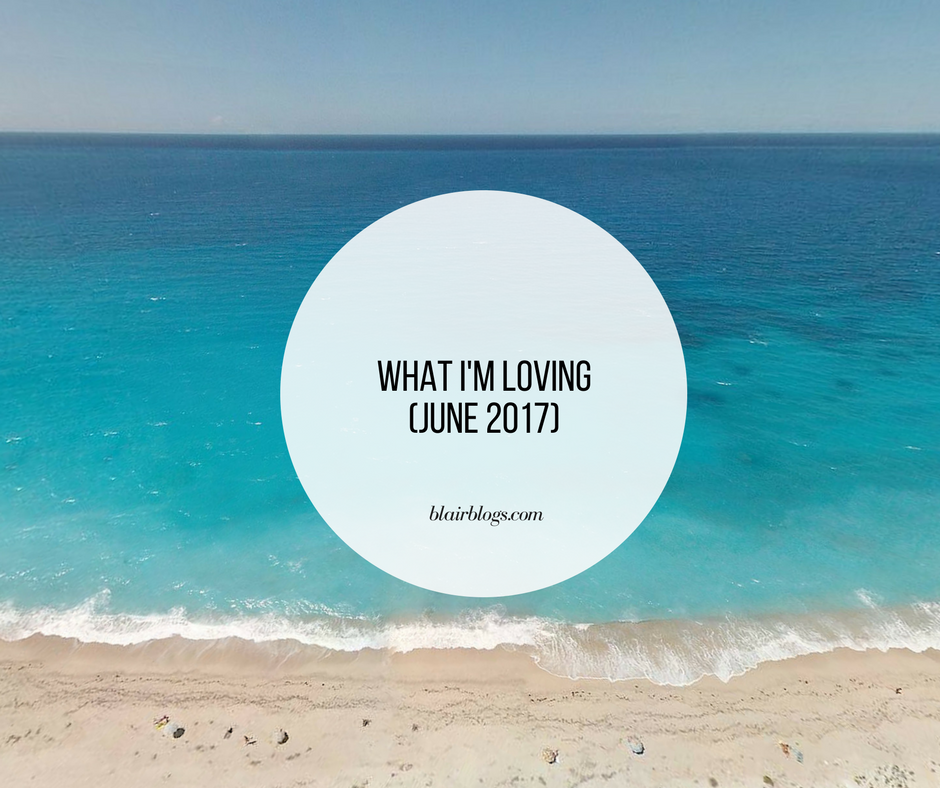 Today is the 13th installment of an ongoing post series, What I'm Loving, where I share what I've been loving lately in the following categories: Food and Drink, Makeup and Beauty, Home Décor and Products, Entertainment (TV, Music, Books, Internet), Clothing and Accessories, and Priceless. Let's get started!
Past installments:
As always, any Amazon links I share are affiliate links. This means that the price of the item won't change for you, but I receive a small commission of the sale which helps me keep my content free and my site up and running. Thanks!
Food and Drink
Chobani Coconut Yogurt– This is so delicious! I especially like it with a small handful of mini chocolate chips mixed in as dessert. A better choice than a giant ice cream cone but still satisfying (not quite as satisfying, but pretty good! ;)).
Fresh Mango– I looove fresh mango! I could eat a mango every single day of the summer. Our grocery store sells pre-sliced mango for a reasonable price and I pick some up every time I shop!
Lemon Water– I think I mentioned this in a previous post, but I can't get enough of it! It gets so hot here that I end up drinking lots of water around the clock, and regular water gets boring really fast. A lemon wedge is so refreshing!
Makeup and Beauty
Young Living Mountain Mist Deodorant– I can't use any natural deodorants with baking soda in them (which is most of them) because it makes my skin peel off. Ouch! I love Young Living's oils, so I decided to give their deodorant a try. Here's my brief review: it smells great (I have gotten so many compliments on how good I smell), it works, but it needs to be reapplied at least once throughout the day, it's made my underarm skin very soft, eliminated ingrown hair, but is hard to get used to because it's a deodorant but not an antiperspirant. Getting used to feeling sweaty (though not stinky) is strange. I'm sticking with it, though!
Revlon Ultra HD Matte Lipcolor in "Seduction"– I love this color and the consistency of this formula! It's truly matte. It's kind of like a peachy nude–perfect for the summer, but flexible enough for other seasons too.
 Home Décor and Products
Glass Roll-On Bottles With Stainless Steel Rollers– I use these to make rollers for my essential oils and they're awesome! I used to use roller bottles with plastic rollers, but the stainless steel rollers are so much better. The price for six of these is great as well. Highly recommend!
OXO Good Grips Spatula– Riley was cooking dinner the other night and told me to order a good spatula because he was tired of using our crappy old one. (He actually ranted about it for 10 minutes and had me laughing so hard I cried!) I ordered this one from Amazon because I love the OXO brand. This sounds so silly, but it's such a nice spatula! Heavy and has a great rubber handle. If you've been using a janky old spatula, grab this one!
RTIC Tumbler (YETI Knockoff)– I'm obsessed with this tumbler. I usually use Tervis Tumblers, but in the Texas summer heat, this one works better. I take ice water with me everywhere I go, and I can leave this RTIC Tumbler in the car while I shop or run errands and my water will remain completely chilled (with ice cubes unmelted)! It's awesome. At night, I put ice water on my nightstand and the ice doesn't melt at all while I'm sleeping! I have the stainless steel version, but I have my eye on the teal one…so cute!
Entertainment (TV, Music, Books, Internet)
Redeeming Love– This book has been heavily recommended to me for years, and now that I've read it, I can pass on the recommendation. The story is powerful and I quickly became [overly] emotionally invested in the characters and storyline–I felt angry, frustrated, overjoyed, and every other emotion for hours after reading a chapter! There were times when the story seemed to drag a little, but overall, I highly recommend it. This is a powerful book!
Happier in Hollywood Podcast– I have listed to Happier with Gretchen Rubin for a long time; this podcast is hosted by Happier's co-host, Liz Craft, who is a writer and producer in Hollywood (who is also Gretchen's sister). The podcast is about navigating the craziness of Hollywood and "the industry." I'm not involved in the TV/movie industry at all, and that's precisely why this podcast is so fascinating to me.
Beauty and the Beast (2017)– This movie is so stunningly beautiful! I've always been a big Beauty and the Beast fan, and both Riley and I love this version. We keep saying how we can't wait to watch it with a fire in the fireplace this fall!
Clothing and Accessories
I don't have anything to share in this category! I didn't purchase any new clothing or accessories this month, and there's nothing I've purchased in previous months that's noteworthy (that I haven't already mentioned in previous installments).
Priceless
Finally publishing "Natural Birth Control: The Fertility Awareness Method, Explained"– I have spent a significant amount of time on this post over the past five months and it was a fantastic feeling to finally get it published last week!
You 🙂 – To those of you who have supported me with kind words, who have encouraged me by sharing your own stories with me, who have sent me emails and letters, I cannot thank you enough. You have [perhaps unknowingly] stood in the gap for me and helped me feel so much less alone over the past couple of years. Thank you so very much for your love and support. I appreciate it more than you'll ever know.
// That's what I've been loving lately! What about you?
Thank you for reading/watching! You can find me online on Facebook, Instagram, Pinterest, Twitter, and YouTube. If you'd like to be alerted whenever I publish a new post, you can follow me on Bloglovin' or subscribe via email. Take a look at my Etsy shop where I sell tees, totes, sweatshirts, and pillow covers! Are you a blogger too? Check out my Blogger Mentorship Program.
Past installments: