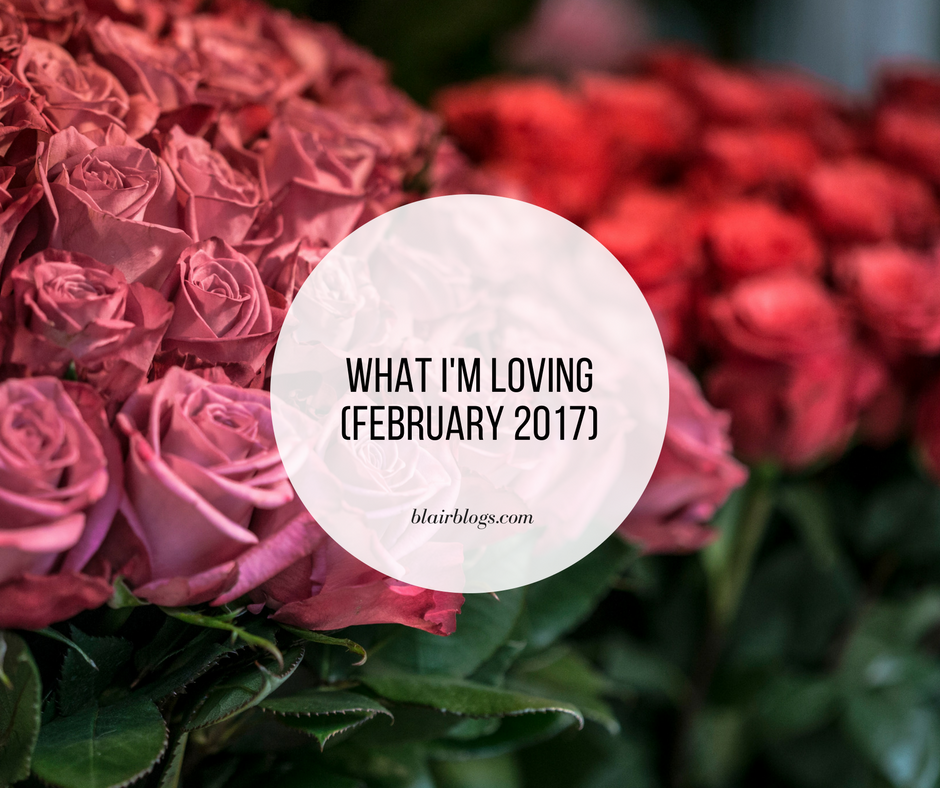 Today is the ninth installment of an ongoing post series, What I'm Loving (June edition, July edition, August edition, September edition, October edition, November edition, December edition, January edition), where I share what I've been loving lately in the following categories: Food and Drink, Makeup and Beauty, Home Décor and Products, Entertainment (TV, Music, Books, Internet), Clothing and Accessories, and Priceless. Let's get started!
As always, any Amazon links I share are affiliate links. This means that the price of the item won't change for you, but I receive a small commission of the sale which helps me keep my content free and my site up and running. Thanks!
Food and Drink
Green apples- I've never particularly liked green apples, but I bought a bunch of them at the beginning of February (mostly because they're so beautiful) and have been loving them! I'm trying to cut back on sugar, and these have been a great substitute for sour candy, which is a longtime addiction of mine.
Unsweetened Almond Milk– We've been all about smoothies lately as the weather gets warmer, and I really like the subtle nutty flavor that unsweetened almond milk adds to the fruit's sweetness. I also enjoy it in black tea for the same reason.
Plain yogurt- I can't believe I'm sharing this one because I've always thought of plain (unsweetened/unflavored) yogurt as disgusting and bland. However, in my continued effort to reduce my sugar intake, I've been eating plain yogurt. Sometimes with fresh berries, sometimes in a smoothie, sometimes with a sprinkle of cinnamon. It's delicious!
Makeup and Beauty
Alba Botanica Very Emollient Bath and Shower Gel– I have mentioned many times that I have extremely dry skin, so I'm always on the lookout for shower gel/soap that's moisturizing and effective. I have this product in the French Lavender scent, and I love it. It smells amazing (there are other scents if you don't like lavender) and leaves my skin soft and moisturized, not tight.
Maui Moisture Shampoo and Conditioner– After about six months of using Alba Botanica shampoo and conditioner (and loving it), I decided to branch out and try something new–I got the bamboo "flavor" in the green bottle. I was drawn to the ingredients in this formulation specifically; it doesn't contain a lot of junk like sulfates, silicones, parabens, etc. In fact, the first ingredient is aloe vera juice. My hair feels soft enough after using the shampoo and conditioner that I don't have to use any product in my hair! Plus, it smells fantastic.
 Home Décor and Products
I don't have anything to share in this category! This month has been tough (briefly explained in the "Priceless" section below), so there hasn't been any time for shopping or decorating. We're hoping to paint a few more rooms soon–can't wait to share!
Entertainment (TV, Music, Books, Internet)
French Women Don't Get Fat– I wrote a relatively full-bodied review here on Instagram, but in short: this book is fabulous. It's interesting, easy to read, and offers realistic advice on maintaining a healthy weight. I have never read a "diet book" that I so wholeheartedly agree with before.
Uninvited– I may have mentioned this book previously because I've been slowly making my way through it. It's the kind of book that's meant to be savored; so, when I have an hour, I'll read through a chapter and digest the beautiful words. I've cried countless times when reading these chapters! (Another quasi-review/recommendation here on Instagram.)
House Hunters Renovation– I've seen this show here and there, but when my friend Rachel came to visit in mid-February, we watched several episodes in a row and I realized how much fun it is! It's all the ridiculousness/addictiveness of House Hunters PLUS a full-house renovation. I recommend watching it with your wittiest friends because their comments will make the show! 😉
Clothing and Accessories
I don't have anything to share in this category either! I didn't purchase any new clothing or accessories this month, and there's nothing I've purchased in previous months that's noteworthy.
Priceless
Moving my office to our living room- You may have seen on Instagram that I moved my desk out of the office and into our front living room. I've been toying with doing this for a while, and one Saturday last month, I woke up and just decided to make the move. I love my office (room), but it gets almost no natural light during the day. It's lovely sitting at a sun-drenched desk now! This was a small but very positive change.
My friend Rachel visiting- My college friend Rachel visited us over Presidents' Day weekend! We love having houseguests, and her trip was absolutely wonderful. We explored the area, ate great food, and swapped lots of stories. It was fantastic!
Life- I know this seems cheesy, but we walked through two deaths in February. First, Riley's maternal grandmother, Granny, passed away. We went through saying our last goodbyes, funeral preparations, attending the funeral, burying her, and grieving, only to be met with a second death less than two weeks later. One of my sister-in-law's best friends passed away, too. It was/is awful. I feel completely helpless and we're all emotionally exhausted. All that to say, I'm thankful for life.
// That's what I've been loving lately! What about you?
Thank you for reading/watching! You can find me online on Facebook, Instagram, Pinterest, Twitter, and YouTube. If you'd like to be alerted whenever I publish a new post, you can follow me on Bloglovin' or subscribe via email. Take a look at my Etsy shop where I sell tees, totes, sweatshirts, and pillow covers! Are you a blogger too? Check out my Blogger Mentorship Program.
Related: What I'm Loving (June 2016) & What I'm Loving (July 2016) & What I'm Loving (August 2016) & What I'm Loving (September 2016) & What I'm Loving (October 2016) & What I'm Loving (November 2016) & What I'm Loving (December 2016) & What I'm Loving (January 2017)