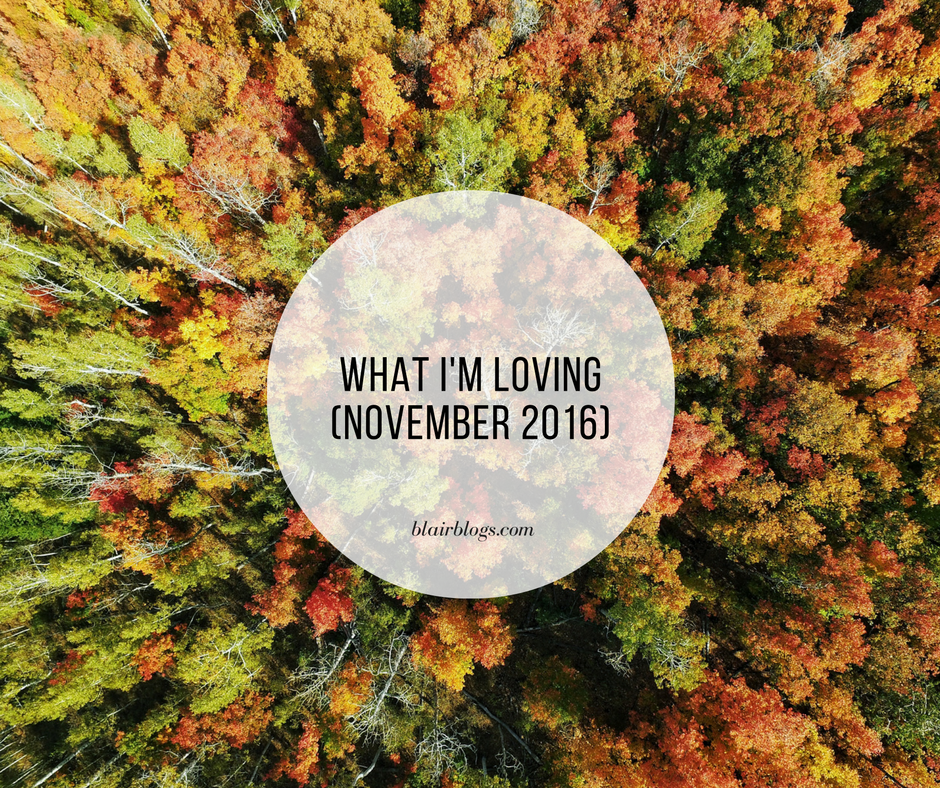 Today is the sixth installment of an ongoing post series, What I'm Loving (June edition, July edition, August edition, September edition, October edition), where I share what I've been loving lately in the following categories: Food and Drink, Makeup and Beauty, Home Décor and Products, Entertainment (TV, Music, Books, Internet), Clothing and Accessories, and Priceless. Let's get started!
As always, any Amazon links I share are affiliate links. This means that the price of the item won't change for you, but I receive a small commission of the sale which helps me keep my content free and my site up and running. Thanks!
Food and Drink
Mandarin oranges- I bought a big bag of mandarin oranges to keep in a bowl on our island, and we've been really enjoying them. I always crave citrus as soon as the weather gets chilly! They're so delicious that if I don't watch it, I'll end up eating three in a day.
Homemade soup- This is my ideal fall/winter scene: soup simmering on the stovetop, candles lit throughout the house, a fire in the fireplace, and Riley and I curled up with Charley on the couch together. I feel warm and fuzzy just thinking about it! We've been doing this a lot lately–and I've been really enjoying making homemade soup to add to the cozy factor. I bought this 12 quart pot, and have been using it to make this chicken noodle soup, this zuppa toscana, this French onion soup and this creamy tomato basil soup. Yum!
Leftover Halloween candy- Our neighborhood is very suburban with lots of families, so we stocked up on Halloween candy, anticipating lots and lots of trick-or-treaters.  Strangely enough, we only had a handful, so we have bags of leftover candy. I wish we'd had more visitors, but I am not complaining about a large candy stash! 😉
Makeup and Beauty
Juice Beauty Stem Cellular CC Cream– I've been slowly swapping out traditional products for more natural options, but makeup has been tough. After discovering Juice Beauty, I ordered this CC cream, and I have been loving it. It's super thick, so I mix it with 2-3 drops of jojoba oil. This, in combination with my new skincare regime (outlined below), has allowed me to ditch my foundation completely.
Homemade 3 Step Skincare System– I wrote about my homemade, natural face wash, toner, and moisturizer in this post; it has transformed my skin and I feel great about using gentle, natural ingredients, especially on my face.
NARS Lip Gloss in Shade "Orgasm"– This is THE perfect shade for me. It's subtle and feminine without being boring, and it's not so bold, trendy, or light that it can't be worn everyday. This is my go-to lip gloss and what I wear every time I put on makeup.
 Home Décor and Products
Willow Tree Nativity Set– I have adored this set forever, and my mom gifted it to me as my wedding gift last year. What a precious heirloom gift. I will cherish it for many years to come. I love the beautiful craftsmanship, and especially that the figures don't have facial features–it just goes to show how powerful body language is! Mary adoring baby Jesus? So beautiful. (We put up our Christmas decorations last weekend because we'll be out of town for Thanksgiving, when we typically decorate.)
Mulit-Level Acrylic Organizer– I bought this to organize my essential oils, and it's the perfect little rack! It keeps all of my oils organized and within reach, and it looks super cute. Now, to fill it up…
OXO SimplyTear Paper Towel Holder– Why are good paper towel holders so expensive? Like, I want a stand for disposable cloths, not a second mortgage. I finally bought this one for about $25, and it's been a great investment. We aren't using paper towels as often anymore (more on that here), but I love that when we need one, I can just get one, and not the entire roll. If you're in the market for a paper towel roller, this is a good one!
Entertainment (TV, Music, Books, Internet)
The Life-Giving Home– This book is so cozy. I love reading it in the bath or just before I fall asleep. The authors, a mother and daughter, share the importance of home as well as a plethora of implementable ideas to craft a life-giving home. Its contents have affirmed in me my desire to create a restful and beautiful home environment and helped me discover practical ways to accomplish that. It's the perfect book for the fall and winter.
Apple Music– I re-subscribed to Apple Music because it's the holiday season! I love listening to Christmas music and other feel-good songs in November and December. It's been refreshing to unplug and dance around my house or sing loud in the car throughout the day.
Hallmark Christmas movies– When Riley and I got married, I discovered that he and his family spend hours each holiday season watching Hallmark Christmas movies–yes, those movies. The over-the-top, super cheesy movies that all have generally the same plot line. Well, I've fallen in love with them too. Y'all, these movies are the best. They're hilariously bad, but so Christmasy and comfy cozy. We love to have them on in the background on the weekends.
Clothing and Accessories
Stitch Fix– I just received a great "fix" from Stitch Fix, full of adorable options for Thanksgiving and Christmas. Because I wear comfortable, easy clothes 90 percent of the time, it's nice to spice up my wardrobe a couple of times a year with some fun, new pieces. If you've never tried Stitch Fix, I highly recommend it.
GAP Factory– We have a GAP outlet right around the corner, and I've stopped by a few times recently to browse and shop. GAP has always been hit-or-miss for me, but lately, I've found some great pieces, like comfortable sweaters and flowy tunics at great prices.
Etsy Christmas Line– Have you seen my four new Christmas designs over on Etsy? They're some of my favorite (and most festive) designs to date!
Priceless
Evenings in front of the fireplace- We lit our first fire a few nights ago, and have been enjoying a fire each evening after dinner (as I've overshared on Instagram). Neither Riley nor I grew up with a wood-burning fireplace, so we've never truly experienced how amazing they are. Oh my gosh y'all, I would love to spend every waking moment in my den for the next four months!
Time with family- My parents came to visit last last weekend, which was lovely, and we head to Maryland for a week over Thanksgiving for more time with my side of the family. After being in a new place for all these months trying to find my footing, I really look forward to being surrounded by familiar faces and places.
My dog- If you've been following along for awhile, you know how ridiculous this is. I am obsessed with my dog, Charley. He's so precious. But he's especially adorable when the temperatures start to drop because he gets extra, extra cuddly. He constantly climbs into my lap to sleep or curls up right on my belly when I lay down for bed. There's nothing better than a snuggly puppy!
// That's what I've been loving lately! What about you?
Thank you for reading! You can find me online on Facebook, Instagram, Pinterest, and Twitter. If you'd like to be alerted whenever I publish a new post, you can follow me on Bloglovin' or subscribe via email. Check out my fun tees in my Etsy shop and listen to my weekly podcast about simplifying life, Simplify Everything! Are you a blogger too? Check out my Blogger Mentorship Program.
Related: What I'm Loving (June 2016) & What I'm Loving (July 2016) & What I'm Loving (August 2016) & What I'm Loving (September 2016) & What I'm Loving (October 2016)