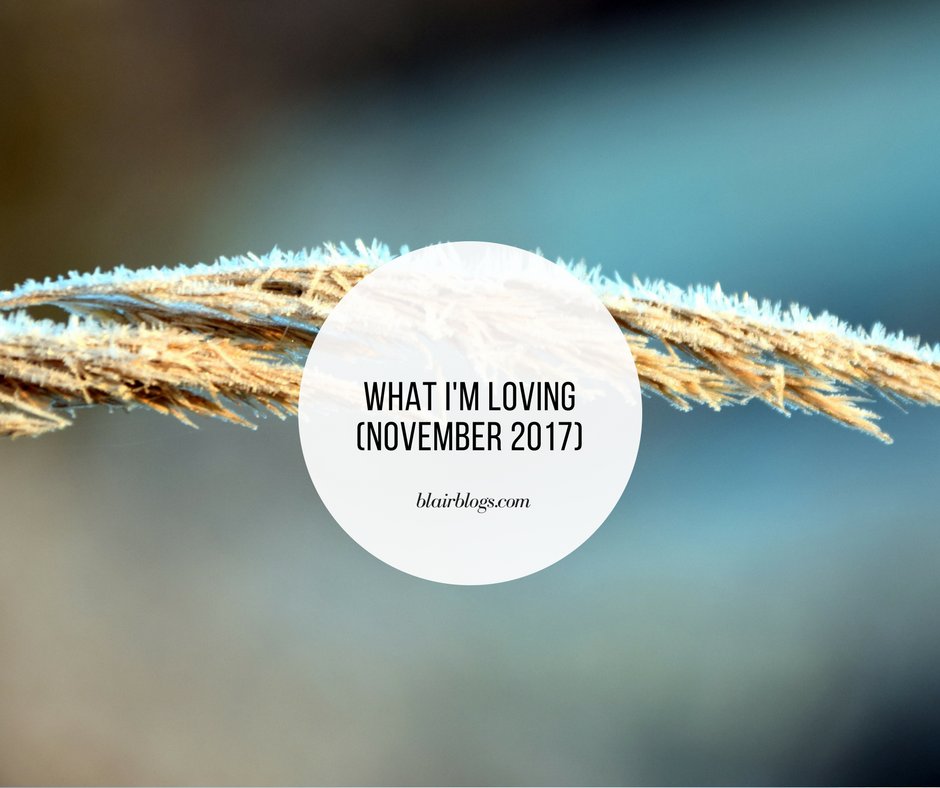 Today is the 17th installment of an ongoing post series, What I'm Loving, where I share what I've been loving lately in the following categories: Food and Drink, Makeup and Beauty, Home Décor and Products, Entertainment (TV, Music, Books, Internet), Clothing and Accessories, and Priceless. Let's get started!
Past installments:
As always, any Amazon links I share are affiliate links. This means that the price of the item won't change for you, but I receive a small commission of the sale which helps me keep my content free and my site up and running. Thanks!
Food and Drink
Green Tea Latte- Y'all know I'm always sipping on something from Starbucks…and the hot green tea latte has been a recent favorite. I love how frothy and delicious the matcha powder and milk get (I adore milk foam), and I usually sweeten my latte with a couple of pumps of vanilla syrup. So delicious at this time of year!
Naked Smoothies– This month has been absolutely crazy with my Etsy shop. We never could've anticipated so many orders! It's been amazing! I have had very little time to eat during the day, so I've relied on Naked smoothies as fuel. They're delicious and easy, nutritious, and filling! Thank goodness for these!
Contigo SnapSeal Travel Mug– This isn't actually food, but it suits this category best! We have three of these travel mugs and love them. They're perfect for taking a cup of coffee or tea on the road and they don't leak or lose heat!
Makeup and Beauty
Monistat Chafing Relief Powder Gel– I have long heard this recommended as a great makeup primer, but have been hesitant because, well, it's a chafing relief gel. Hah! It has exactly the same ingredients as most makeup primers and it is fantastic for a fraction of the price! I've used some pricey primers in the past, and this one holds its own against those. For about $5, you should give this a shot.
Avalon Organics Ultimate Night Cream– You guys know I make my own skincare system (and love it!), but my skin has been getting dryer and dryer with the cooler weather. With my sensitive, dry skin, I needed something heavier than my usual jojoba oil for the winter months. I searched on the ThinkDirty app for a non-toxic night cream and found this. I ordered it from Amazon and have loved it. It's more moisturizing during these dry months and smells lovely, like lavender!
Shea Moisture Olive & Green Tea Body Wash– I've been using Dr. Bronner's Castile Soap as my body wash, but with the dryer weather, I needed something more moisturizing. Again, I checked my ThinkDirty app and found this as a great, non-toxic option. Y'all, this stuff is great! It smells light and lovely and makes my skin feel great. Highly recommend this!
Home Décor and Products
Willow Tree Nativity Set– This is by far my most cherished and favorite piece of Christmas décor. It was my wedding gift from my mom, who knows how much I love Christmas and Jesus. The figures are simply gorgeous and a sweet reminder of why we celebrate at this time of year. This would be a beautiful gift for yourself or someone you love!
USA Pan Cookie Sheet– We've been baking cookies more often lately (because it's the best time of year!), and this is by far my favorite cookie sheet. I love it so much that I ordered another one yesterday! We received this as a wedding gift and after two and a half years of heavy use, it hasn't warped at all. It's very well-made and bakes cookies evenly every time. I hope to grow my collection of USA Pans because every one we have is fantastic.
Entertainment (TV, Music, Books, Internet)
Audible Membership– I grabbed an Audible membership this month (it's on sale for $5 for three months instead of the regular $14.95/month). Basically, I get one audiobook download monthly and a discount if I choose to purchase more. I really look forward to listening to books while I package Etsy orders, which is the reason I made this purchase. I've been spending hours each day on my living room floor packaging orders, and podcasts are no longer cutting it! If you have any audiobook suggestions, I'd love to hear them. Here's a special offer for you if you want to try Audible too: try Audible and get two free audiobooks!
The Holiday– This movie isn't new, but I watched it the other day and was reminded of how much I love it. Though I'm very sensitive and cry quite often in real life, I rarley cry at movies or TV shows. This is definitely an exception! This movie makes me cry every time. Just such a sweet, funny, warmhearted film for the holiday season.
Clothing and Accessories
Priceless
Thanksgiving Dinner- We went out to Riley's grandfather's house for Thanksgiving, which is located lakeside. His extended family drove to town to enjoy dinner together, and we had a lovely day eating, talking, laughing, and enjoying the warm Texas weather by the lake. Sweet memories!
Christmas Décor- The weekend after Thanksgiving, we decorated our home for Christmas (I shared our process of decorating in this vlog). I love, love, love having a Christmas house! My heart soars when I pull into our driveway and see our tree twinkling in the window. It is so warm and cozy having lights and decorations around our home.
// That's what I've been loving lately! What about you?
Thank you for reading! You can find me online on Facebook, Instagram, Pinterest, Twitter, and YouTube. If you'd like to be alerted whenever I publish a new post, you can follow me on Bloglovin' or subscribe via email. Take a look at my Etsy shop where I sell tees, totes, sweatshirts, and pillow covers! Are you a blogger too? Check out my Blogger Mentorship Program.
Past installments: