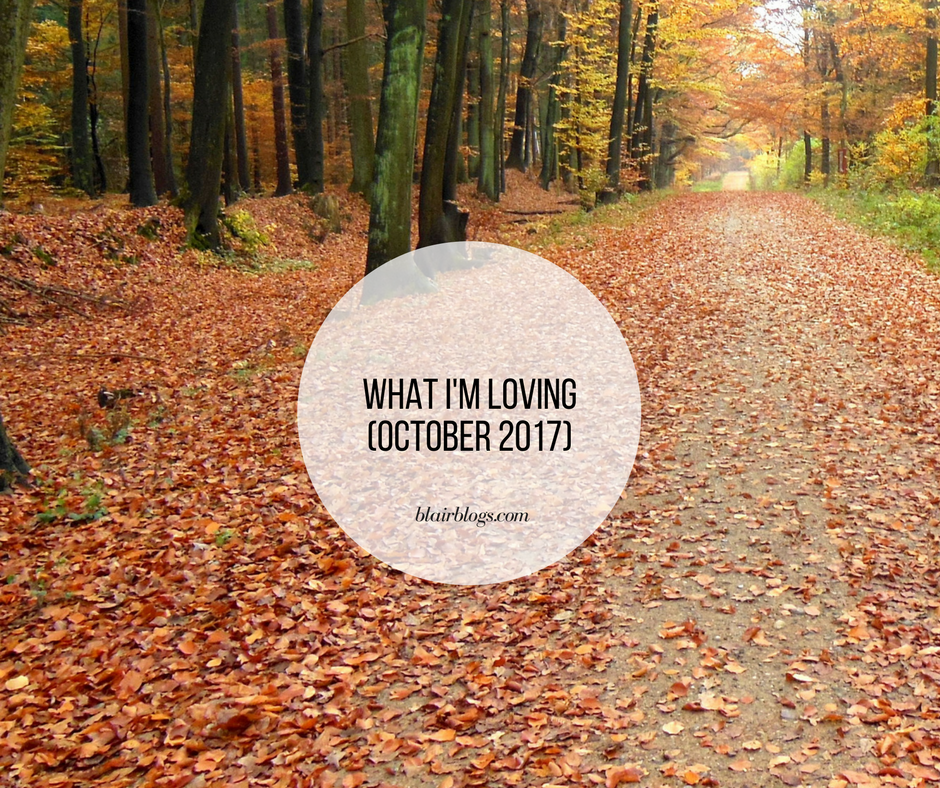 Today is the 16th installment of an ongoing post series, What I'm Loving, where I share what I've been loving lately in the following categories: Food and Drink, Makeup and Beauty, Home Décor and Products, Entertainment (TV, Music, Books, Internet), Clothing and Accessories, and Priceless. Let's get started!
Past installments:
As always, any Amazon links I share are affiliate links. This means that the price of the item won't change for you, but I receive a small commission of the sale which helps me keep my content free and my site up and running. Thanks!
Food and Drink
S'mores- Both Riley and I love s'mores, and we've been making them indoors in our fireplace! Hah! Super easy and delicious…and a fun fall treat!
Starbucks Latte- After a summer of iced coffee drinks, I have gone back to a simple, delicious Starbucks latte sweetened with classic syrup. So simply delicious!
Makeup and Beauty
Revlon Colorstay Setting Powder– I shared about my favorite drugstore foundation and setting powder in this post, and this Revlon setting powder is a new addition to that list! It's fine, lightweight, and actually sets my foundation well. I've really enjoyed using it and have been pleased with the results.
Maybelline Falsies Mascara– After using this mascara for the past six-ish months, I decided to switch it up. I'm loving this falsies mascara–it's a bit more volumizing than the other one, but still has a great non-flaky formula that lasts all day. I'm picky about my mascara, so I always have to share when I find something I love!
Home Décor and Products
Vicks FilterFree Humidifier– We ordered this humidifier about three weeks ago and have fallen in love! We turn it on before bed and let it humidify our air as we sleep. Not only does it combat dry-air-induced-sore-throats, my skin and lips have also been so much softer and healthier since we started using it! I love that the tank is big enough to run all night. We've gone through a few junky humidifiers, but this one's a real winner!
Keurig K55 Single Serve Coffeemaker– To be honest, I used to loathe Keurig coffee. I had one of the very first Keurig machines and I hated it so much! Though it's clearly not artisan coffee, the technology has improved quite a lot over the years. We purchased this a couple of months ago when we realized how often we were making Starbucks runs and have saved both time and money having a fast coffee option at home!
Christmas Spirit essential oil– This blend is the best! It smells exactly like fall and is great to diffuse in the evening when we're lounging by the fire. So cozy! (For the record, I don't recommend buying Young Living oils on Amazon–the prices are inflated–but I wanted to give you a visual!)
Entertainment (TV, Music, Books, Internet)
Hillsong's Wonder album– I love Hillsong (we even had one of their songs performed during our wedding ceremony), and this album has captured me. I especially love the song "So Will I (100 Billion X)." Just awesome! It's great to listen to while I package Etsy orders or drive to the post office.
Safiya Nygaard– Are you subscribed to Safiya's YouTube channel? You should be! She creates great content–usually lighthearted subjects that are very, very well-researched and presented. I've never watched videos quite like hers. For example, when she talks about crazy fashion trends, she'll give the complete history of where they originated and how they evolved. She's got beauty and brains–I love watching her videos!
Clothing and Accessories
New fall clothes from Old Navy and jeans from American Eagle– I shared a handful of new clothes I purchased this fall in my Fall Haul + Try-On video, so if you'd like to see individual pieces, check out that video! I bought two new pairs of jeans I love (wearing them now!) as well as a variety of tunics/dresses. I rarely purchase new clothes and have been thrilled with the pieces I brought home!
My Christmas fall line– I launched my Christmas Etsy line on November 1st! There are lots of festive holiday designs! Here's a sneaky coupon code for you: use SNEAKYSHIP for free domestic shipping through Thursday, November 30th at midnight. Enjoy! Thanks for following along! (Make sure to follow my Blair Lamb Design Instagram account, too! I'm hosting a giveaway every Thursday from now until Christmas–one giveaway is open now!)
Clpp'li faux fur slippers– Y'all, I am all about these slippers. Because I work from home and live in slippers all fall and winter, I generally purchase a new pair once the weather cools down each year. I grabbed these a few weeks ago and have fallen in love! They're warm and cozy, have a rubber sole (great for grabbing the mail, etc.), but are lightweight. Get you some!
Priceless
Fires at home– If you know me you know that there is nothing, nothing, nothing that fills my cup like sitting in front of the crackling fireplace in the evening. I could do it every day for the next six thousand years and never tire of it. The warmth, sound, smell, feeling–there's nothing like that kind of cozy!
My parents visiting– As I finalize this post, my parents are asleep in my guest room! They're here for the long weekend from Maryland, and it's always a great time when they visit. We have some loose plans this weekend but largely are just looking forward to spending time together!
On Monday November 6th, I'm hosting a giveaway in collaboration with Starfish Living for one of their adorable (and super functional!) planners! Make sure to stop by next week so you can enter for a chance to win!
// That's what I've been loving lately! What about you?
Thank you for reading! You can find me online on Facebook, Instagram, Pinterest, Twitter, and YouTube. If you'd like to be alerted whenever I publish a new post, you can follow me on Bloglovin' or subscribe via email. Take a look at my Etsy shop where I sell tees, totes, sweatshirts, and pillow covers! Are you a blogger too? Check out my Blogger Mentorship Program.
Past installments: