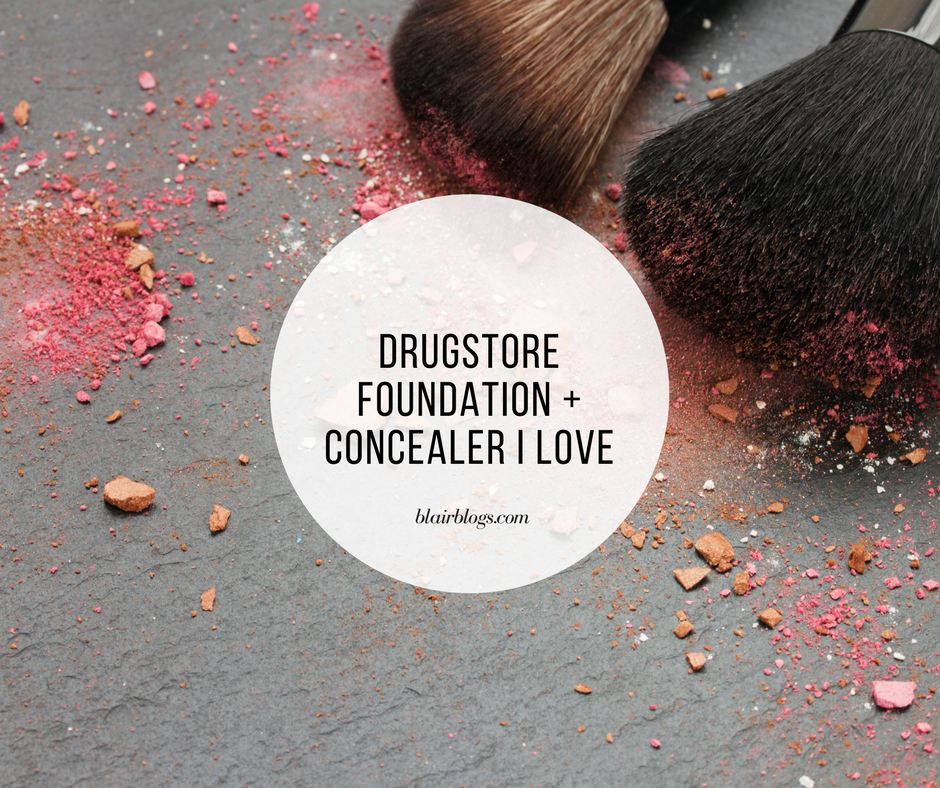 Late last year, I decided that I was tired of spending so much money on foundation and concealer and determined to find affordable alternatives to high-end, high-priced makeup. After trying many, many different products, I've landed on three that I love. Let's get right to it!
This post contains affiliate links. It is not a sponsored post.
This foundation is perfect–and I don't say that lightly. It's moisturizing but not greasy, provides full coverage without being thick or cakey
, and it lasts all day. Since I discovered it (after being disappointed with many other drugstore foundations), I've bought it again and again. As with any makeup, I wear the lightest shade, Ivory. I highly recommend it!

If there was such a thing as a makeup pet peeve, mine would be thin concealer that doesn't conceal anything. I want dark circles covered along with blemishes and discoloration. This concealer does the trick! The formula is thick and provides great coverage, but it's not too thick. (I realize that's the worst explanation of all time, but I hope you're tracking.) Basically, you won't need to apply layer after layer of this stuff to cover whatever you want to cover. I love it! I wear the shade Fair.
I've used this as my setting powder for months and it. is. awesome. I apply it only to my t-zone (forehead and down my nose and chin) to slightly matte-ify that a
rea without my face looking unnatural and flat. It lasts forever and definitely helps my foundation and concealer stay in place and keep oil at bay throughout the day. For $5, you can't beat it! I wear the Light shade. (I apply this with an EcoTools Retractable Kabuki brush.)
I bought these during an Amazon Lightening Deal a few months ago and have LOVED using them. (Even without the lightning deal, they're only $4.50 each!) I can't say enough good things about the way these flawlessly apply my foundation and concealer. Here's how I use them: I wet one and squeeze it out so it's a little damp. I dot my foundation around my face on my chin, both cheeks, my nose, and forehead. Then I "bounce" the blender over the dots and around my face and the foundation comes out as a thin, even layer. For my concealer, I do the same thing, but only where I want it. This method took a little getting used to, but I'll never, ever go back to using my fingers. The application is so much better this way and very fast!
For under $30, I've found foundation, concealer, setting powder, and applicators I love. That's half of what I was paying for just foundation in the past! I consider that a win!
// What are your favorite drugstore makeup products?
Thank you for reading/watching! You can find me online on Facebook, Instagram, Pinterest, Twitter, and YouTube. If you'd like to be alerted whenever I publish a new post, you can follow me on Bloglovin' or subscribe via email. Take a look at my Etsy shop where I sell tees, totes, sweatshirts, and pillow covers! Are you a blogger too? Check out my Blogger Mentorship Program.