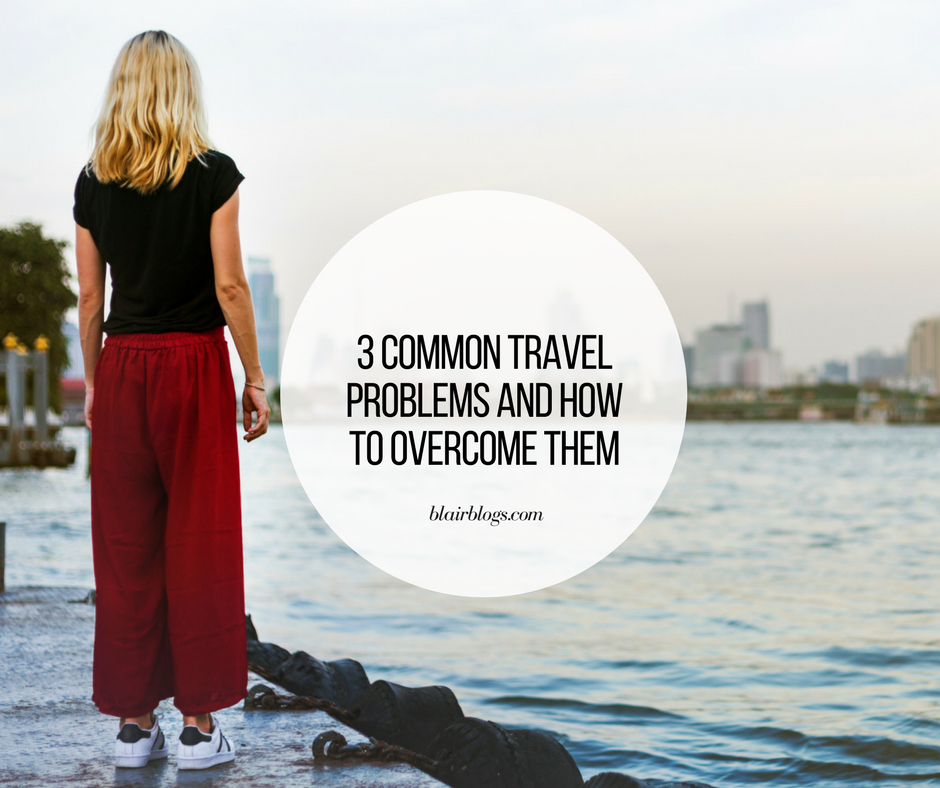 I recently traveled to Baltimore to host my sister's bridal shower (which I vlogged here, here, and here). Throughout my trip, I took mental notes on the travel problems I encountered and what I did to find solutions. Surprisingly, my problems were not related to the logistics of travel–this obsessive planner has those down! The emotional and mental sides of travel are much tougher on me. I used to be terrible at accepting my own travel limitations/issues and addressing them; because I've gotten better at this over time, today I want to talk about three common travel problems and how to overcome them.
This post contains affiliate links.
Problem #1: Travel days make me anxious
I used to pride myself on being exceptionally relaxed when traveling. Unfortunately, because of the way world news has turned in recent years, I now deal with quite a bit of travel anxiety. My anxiety has nothing to do with navigating airports/going through security and everything to do with imagining the worst case scenario and mentally catastrophizing each step of travel. Embarrassed, I once brought this up with a friend; she admitted to feeling the exact same way. If you can relate, you're not alone.
Because I know that travel days often make me feel anxious, I take care to keep myself calm and my mind occupied. Here's what I do:
1. Douse myself in essential oils
I use Lavender, Release, Valor, Stress Away, and Peppermint to help me relax when I travel (all Young Living brand). It's amazing how well these help.
2. Download and watch YouTube videos
Before I travel, I always spend $12 for a one month YouTube Red subscription. With it, I'm able to download YouTube videos to my phone or tablet to watch offline. I download videos I've watched before and love, videos from my favorite channels, videos I'm excited to watch, etc. I usually lean toward videos/content creators that are familiar to me as they ease my mind the most. Then, when I'm at the airport or on the plane, I can watch these videos (even if there's no wifi). This is incredibly calming to me.
3. Listen to podcast episodes
Before traveling, I abstain from listening to my favorite podcasts for about a week and download all the new episodes to my phone the night before I leave home. Then, I have something to listen to while traveling that's familiar but also new and interesting.
4. Pray
When I travel, I pray constantly. It helps immensely. While traveling to the airport, while walking through the airport, and while flying. I pray against my anxiety and for peace in my heart as I go through my day. I often meditate on 2 Timothy 1:7, "For God has not given us a spirit of fear, but of power and of love and of a sound mind."
5. Limit or avoid caffeine
Caffeine affects me greatly; it makes me very alert to the point of sometimes feeling like my heart is beating out of my chest, and is especially frazzling when I'm already in an anxious state. I usually choose to limit or avoid caffeine on travel days–often decaf coffee (which still gives me a little caffeine kick) or herbal tea is my best bet.
Problem #2: Constant socialization when traveling makes me exhausted
Where are my fellow introverts? I get you, I get you, I get you. I love people, I just can't be around them all the time. When I travel, many times I'm heading to my hometown to visit my family. This always means that my trip involves seeing all three of my grandparents, a handful of aunts and uncles, some of my cousins, my childhood friends, my siblings, my parents, family friends…the list goes on. Trips to Baltimore are often jam-packed with trying to see everyone before I leave town. I truly love the face time, but it does exhaust me as an introvert.
In order to avoid being anti-social while also honoring my own introverted nature, here's what I do:
1. I don't plan anything on arrival or departure day
If I can help it, I don't plan to see anyone or do anything on arrival or departure day. This helps me unwind upon arrival and prepare before departure without feeling the added pressure to socialize. A dear friend told me that she's made it a habit to take a shower immediately upon arriving in a new place. She uses the time in the shower to unwind and breathe before she begins to socialize with family or friends. I think hers is a brilliant plan! It's not rude or stand-offish because anyone can understand the feeling of being dirty after traveling and it gives her a good hour to shower and dress in peace before jumping into socialization.
2. I retire to my bedroom early
I almost wrote "I go to bed early," but that's not true. When I travel, I retire to my bedroom around 9 or 9:30pm, which is usually three hours before I actually go to sleep. This gives me time to shower, get ready for bed, read, watch TV, journal, blog, or whatever else. My travel nighttime ritual keeps me sane! After a day of constant chatter, I need a few hours to myself for my mind to rest before another day of socialization.
3. When appropriate, I establish boundaries
My mom is the most extroverted extrovert you will ever, ever meet! (If you're reading this, hi mom! Love you!) She loves to be around people all day long and it completely energizes her. Sometimes, when I'm in Baltimore, I have to tell her when I've had enough socialization for the day since our social limits are so different. She is always understanding and gracious and I don't get to the absolute end of my rope.
On this last trip, after hosting my sister's bridal shower all day (social level 100), my mom wanted to drop by my sister's new house so I could see it. I really did want to see her house, but I was feeling braindead. Having worked all day setting up the shower and cooking (for almost 60 women!), and then socializing (with almost 60 women!), I was truly done. (If you're introverted too, I know you know what I mean.) I told her I'd love to stop by Allie's but that I could only stay for 20 minutes or so. She agreed, we stopped by, toured the house and chatted for a half hour, and said our goodbyes. It was just the right amount of socialization! Sometimes, when it's appropriate and kind, I establish boundaries surrounding socialization when traveling.
Problem #3: I miss my creature comforts
I have always, always been a person who likes rhythms and routines; my daily creature comforts make me feel relaxed and steady. Without them, I feel a little uneasy. This has been true for years–when I was young and my friends looooved sleepovers, I secretly hated them. I wanted to be in my own bed at night and wake up in it in the morning! That same feeling has stuck with me into adulthood.
However, because I truly love to travel, I've had to come up with ways to make hotel rooms and guest rooms feel like home so I can relax and enjoy my time away.
Here are three ways I overcome missing my creature comforts when I'm away from home:
1. I keep my morning and evening routines the exact same
Like most people, I have a morning routine when I wake up and an evening routine before bed; when traveling, I keep these routines the exact same as they are at home. In the morning, I wake up, take my temperature, use the bathroom, brush my teeth, wash my face, get dressed, and then make the bed. I do that every day (in that order) when I'm at home and every day when I'm traveling.
Similarly, every evening, I put a glass of water on my nightstand, use the bathroom, brush my teeth, wash my face, take my vitamins, and get in bed. Again, I do the exact same thing when I'm out of town. Bookending my days with familiarity helps me feel comfortable, especially when the middle of the day is out of my ordinary.
2. I bring my own drinking cup
This is so silly and insignificant, but it's actually quite comforting. Every single day of life, I tote around a cup of lemon water. All day, every day, 365. When I travel, I often bring one of my favorite water bottles from home to carry with me throughout the day. Something about keeping that one small thing the same makes me feel at home even when I'm not. (For the record, this is my top favorite water bottle!)
Related: I decant my shower products into containers when I travel because I like having the same products with me on the go! (I use and love Humangear Gotoobs for this.)
Also related: I bring a few of my favorite tea bags with me as well. I can get hot water almost anywhere I am, and having a hot cup of familiar-flavored tea before bed is very relaxing to me.
3. Instead of feeling uncomfortable, I document the experience
When I'm traveling and I begin to notice that I'm feeling uncomfortable, instead of allowing the discomfort to set in, I change my perspective and view the experience as new and novel by documenting it. I am a big-time documenter (photos, videos, journals, social media, etc.), so this comes quite naturally to me if I'm intentional about it.
For example, if I'm in a crowded city and feel overwhelmed, I turn my overwhelm into interest and begin to snap photos. I think, "How amazing is it that I get to experience something so different from my day to day life?" The power of positive thinking–it works!
// I know I'm not the only one who has travel problems. What travel problems do you face and how do you overcome them?
Thank you for reading/watching! You can find me online on Facebook, Instagram, Pinterest, Twitter, and YouTube. If you'd like to be alerted whenever I publish a new post, you can follow me on Bloglovin' or subscribe via email. Take a look at my Etsy shop where I sell tees, totes, sweatshirts, and pillow covers! Are you a blogger too? Check out my Blogger Mentorship Program.
image for pinterest