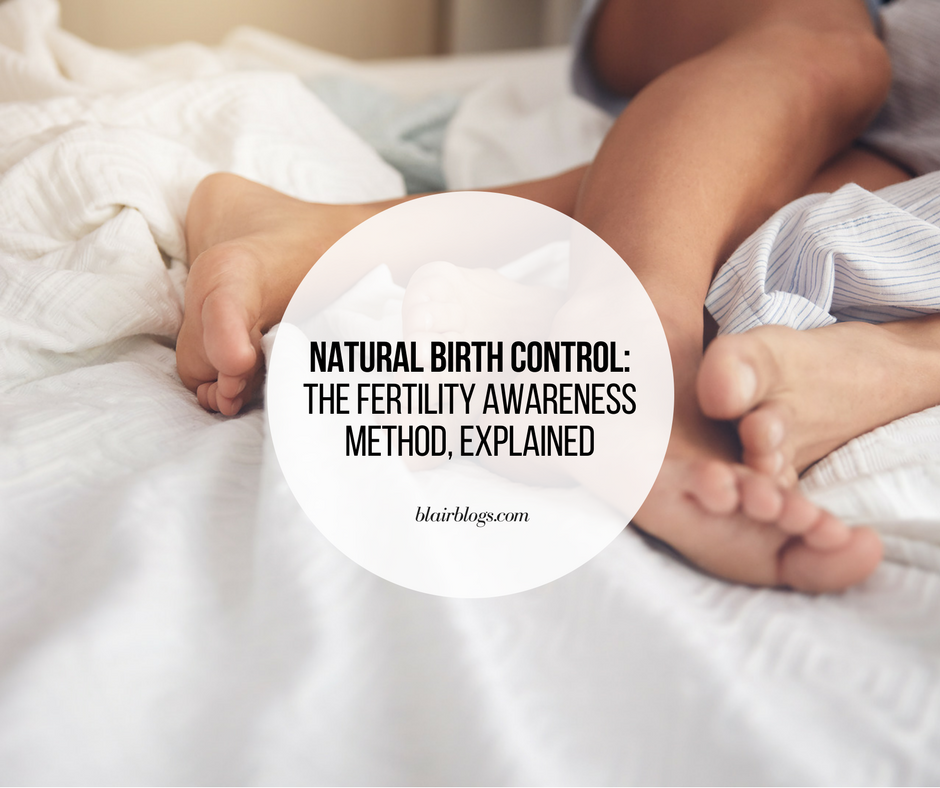 Disclaimer: I am not a doctor or medical professional. I encourage you to do your own research in partnership with a trusted health care provider. This blog post is intended to provide informative and helpful information based on my experience and research. This post contains affiliate links; it is not a sponsored post. Wink for giveaway was provided by Kindara, but this is not a sponsored post and that all facts, thoughts, opinions, experiences, and advice within the post are solely my own.
Start with this book
I've been working on this post for five full months. Five months! In all the years I've blogged, this is easily the longest I've ever spent on a single post. The reason? I have gone around and around hundreds of times about how to share all of the information and resources and knowledge I have on this subject. The reality, however, is that I can't do that in one blog post. But there's a book that does.
If you are interested in your fertility, your cycle, natural birth control, getting pregnant, or reproductive health to any degree, read Taking Charge of Your Fertility by Toni Weschler. This has long been called the fertility bible, and is so well known in the natural birth control/trying to conceive community that it's often referred to as simply TCOYF.
Aside from the actual Bible, this is the most life-changing book I've ever read. In fact, I believe that every woman would greatly benefit from the information in this book! If I could change any one thing about health education in America, it would be to include this book as mandatory reading for young women (and men!) in school. Even if you're not interested in the Fertility Awareness Method, I highly encourage you to read TCOYF.
As women, we aren't properly taught how our bodies work outside of our anatomy (if that). I know this to be true because many of my highly educated friends make frequent comments that are scientifically inaccurate. Let's explore a few!
Common women's health myths
"I went on the pill to regulate my period."
Women don't ovulate on the pill–that's what prevents pregnancy (no ovulation=no chance of pregnancy)–and therefore don't have a menstrual cycle. This means that women do not actually get their period while on hormonal birth control, except for on extremely rare occasions when ovulation occurs (this is how a tiny percentage of women on the pill become pregnant). The bleeding that women on hormonal birth control experience is only "withdrawal bleeding" and was "built" into birth control (by two male doctors in the 50s) to mimic a woman's natural cycle. Why? Because the doctors felt that "having a period" would make women on birth control feel more "acceptable." (Source)
"Women ovulate on the 14th day of their cycle."
Though ovulation may happen on day 14, it could happen on day 10, 18, or 37. (This is why the Rhythm Method has such a high failure rate, and also why many couples who intentionally "time their intercourse" around day 14 often don't get pregnant.)
"Sperm only live for three days in the vagina."
Actually, sperm can survive for up to five days if fertile cervical fluid is present. This is how some women have sex while menstruating and conceive–the sperm survived until ovulation (which likely occurred quite early in her cycle), and she became pregnant.
…and those are just some of the myths I've heard! (Don't get me started on people who think women have the same likelihood of getting pregnant any day of the month!) Taking Control of Your Fertility author Toni Weschler goes into detail about why these myths exist, why the Fertility Awareness Method (FAM) is absent from medical school curriculum, the hairy politics and profit problems behind natural contraception, and the "perpetual cycle of ignorance" surrounding women's reproductive health–so read the TCOYF book (and check out the other resources listed below) and get informed!
My experience with hormonal birth control
My relationship with hormonal birth control began in high school. Though I was not sexually active at the time, my periods were heavy, painful, and irregular. My doctor recommended the birth control pill to "regulate my cycle," and not knowing any better, I went on it. Though my period became "more regular" (because I stopped getting it…read above for more) and my cramps subsided (because I wasn't getting a period), I gained a lot of weight and experienced many other unpleasant side effects. After about a year, I took myself off of it. Even with the limited knowledge of women's reproductive health that I did have, I knew that my body felt very "off" and it freaked me out enough to stop taking the pill.
I then went through the rest of high school, college, and the first couple of years post-grad birth control-free. I felt great. I lost the weight I had gained, I became a little more in tune with my cycle, and I felt healthy. After I got engaged, though, I headed back to the gynecologist to get on birth control before my wedding. I didn't know I had another option and we weren't ready for babies right away. A quick five minute consultation later and I had a prescription for the pill. This was in late January, so I started on birth control at the beginning of February. (My wedding was in July–we didn't have sex until we were married–and I was advised to get on the pill sooner than later to maximize its efficacy.)
Health-wise, that February on the pill was one of the worst months of my life. I felt nauseous all the time. I was sick all the time. I was bloated and uncomfortable. I had terrible headaches. I felt anything but myself. I felt absolutely horrible. By mid-February I knew that the pill wasn't going to work long-term. There was no way I could commit to feeling so poorly for the rest of my fertile years!
"Given that women are fertile only a few days a cycle, it's ironic that they're the ones who risk the vast array of side effects and physical ramifications of birth control. These include increased risk of blood clots, strokes, breast cancer, irregular spotting, severe pelvic inflammatory disease or uterine perforation, heavy and crampy periods, urinary tract infections, cervical inflammation, and allergic reactions to spermicides and latex, to name a few. And for what? To protect themselves from a man, who produces millions of sperm per hour!" -TCOYF, pg. 12
I remember opening up my laptop one evening that month and crossing my fingers that I could find an alternative. At the time, I was a 23 year old college-educated woman and I had never heard of any type of natural birth control in my life. There is something severely wrong with that, but that's a soapbox speech for another time.
In looking for something effective and natural, I came across the Fertility Awareness Method (FAM). At first, I was totally overwhelmed and couldn't make sense of it. Everything was completely new information to me. I had no idea–not even the slightest clue–how my body really worked. Not only did I learn that there was, in fact, a scientifically accurate way to prevent pregnancy, I also learned more about hormonal birth control–and with the information I learned, I knew it was not right for me.
I believe that information is power, so I encourage you to do your own research and make your own decisions with regards to your reproductive health. Here are some resources I found particularly helpful:
Resources
I am not here to tell you what method of birth control is right for you! I am, however, encouraging you to put in the time and do the research. Look into the form of birth control you're using (or considering). Be informed so that you can make the right decision for you and your body. Information breeds knowledge and knowledge breeds power. An empowered woman is informed and knows her options. Empower yourself!
What is the Fertility Awareness Method (FAM)? (Natural birth control)
"Fertility awareness is simply a means of understanding human reproduction. It is based on the observation and charting of scientifically proven fertility signs that determine whether or not a woman is fertile on any given day. The three primary fertility signs are waking temperature, cervical fluid, and cervical position (the last one being an optional sign that simply corroborates the first two). FAM is an empowering method of natural birth control or pregnancy achievement, and it is an excellent tool for assessing gynecological problems and understanding your body." -TCOYF, pg. 4
For more on FAM, read this article, "What Is the Fertility Awareness Method?" via Kindara.com.
What you need for FAM
One of my favorite things about this method is how simple it is. To get started, all you need is:
A chart to track your cycle–I use the Kindara app (it's free)
A basal body thermometer–I use a Wink, which syncs via Bluetooth to Kindara; pictured above (more here)
The three primary fertility signs FAM tracks
In short, a woman practicing FAM knows whether she is fertile or not based on three primary fertility signs; two are non-negotiable for the method, the third is optional. They are:
Waking temperature (also called basal body temperature, or BBT)
Cervical fluid
Cervical position (optional)
I'll explain how the three of these signs work together, but please understand that I am writing in very broad terms! Should you choose to practice FAM, you must read Taking Charge of Your Fertility in order to fully understand the "rules" of the method. Do not try FAM without first reading this book in its entirety! I am going to offer a brief overview of the method here, but you will need to read TCOYF before using the method. I can't be clear enough here: do not attempt to practice FAM without first reading TCOYF.
1. Waking temperature (also called basal body temperature)
Every morning, I take my basal body temperature (BBT) before getting out of bed, eating, drinking, talking, anything. My alarm dings, I turn it off, and I pop my thermometer in my mouth. Because I use a Wink, which was created for FAM and automatically syncs to Kindara, the app I use to chart my cycle, all I have to do is wait for my thermometer to vibrate, signaling that my temperature has been recorded and sent to my phone. Before I started using a Wink, I would note the temperature on the basal body thermometer (I used this one) and record it in my Kindara app manually.
Throughout a woman's cycle, her waking temperature will change and fluctuate. Preovulatory temperatures are lower, while postovulatory temperatures are higher. Based on the temperature shift, a woman can confirm ovulation. The thermal shift is a result of the heat-inducing hormone progesterone.
2. Cervical fluid
I've never heard a single woman in "real life" talk about cervical fluid, not even my gynecologist. However "weird" it is to discuss, the reality is that almost all ovulating women experience various kinds of cervical fluid throughout their cycles.
"Virtually all ovulating women experience an observable pattern of changes in their cervical fluid throughout their cycles. Once they learn to recognize these subtle differences, they realize that interpreting the pattern is really very simple. When a woman is extremely fertile, her cervical fluid becomes wet and humid.

[…] Indeed, as you approach ovulation, the slippery eggwhite cervical fluid most women experience can feel so slick that you may have a sensation of slip-slidding on your underwear as you sit down.

Just as some women may initially balk at the idea of taking their temperature every morning, there are others who react similarly to the idea of checking their cervical fluid before urinating. But when you think about it, it only takes a second to touch the outside of your vagina, then feel its quality between your fingers.

For those of you who think of yourselves as too squeamish to do any of this, all I can say is that once you've checked a couple of times, you realize it's really no big deal." -TCOYF, pg. 84
On my charting app (Kindara), the cervical fluid options are None, Sticky, Creamy, Eggwhite, or Watery. I simply log my cervical fluid sometime during each day into the app, and alongside my temperatures, I am able to tell when I'm fertile and when I'm not (more in the charts below).
3. Cervical position
Though I do not personally track my cervical position, there are many women who do. (It's especially helpful for women whose cervical fluid or temperatures aren't easy to interpret.)
"As you approach ovulation, your cervix tends to rise, soften, and open. It progresses from feeling firm like the tip of your nose (when not fertile) to feeling soft like your lips as you approach ovulation. Your cervix will drop abruptly into the vagina when estrogen levels fall, and progesterone becomes dominant after ovulation. By simply inserting your clean middle finder, you can detect these subtle changes." -TCOYF, pg. 94
What a charted cycle looks like
When all three of these fertility indicators are put together, here's what a typical charted cycle looks like. This is on the Kindara app, which is what I use. Some women chart using other apps or by hand on paper–whatever works for you is great!
To briefly explain: the blue line indicates a woman's waking temperatures. The numbers in the blue circles are counting the days in her luteal phase, which is the phase after ovulation. The pink and gray bars indicate cervical fluid–how much and what type.
As a woman tracks both her waking temperature and cervical fluid (and optionally, her cervix), she will be able to identify her fertile window, confirm ovulation, and know when she's infertile. Cervical fluid tells you when your fertile window opens, and your waking temperatures tell you when it closes! The two signs work together.
The red hearts indicate unprotected sex (this woman was clearly trying to conceive). A red outlined heart indicates protected sex. The P indicates a woman's "Peak Day of fertility," or her last day of fertile cervical fluid before ovulation.
Below the chart, there are places to optionally track your cervix, ovulation predictor kit results, pregnancy tests, and the option to add your own trackable items. For example, I've added things like "Exercise," "Anxiety," "Moody," and "Sick" to my charts. That way, I can mark if I've exercised, experienced anxiety, felt moody, or been sick on any given day. Tracking these things alongside my fertility helps me stay in tune with my body.
By tracking her fertility signs and reading her chart, a woman can make decisions about when to have sex and whether to use a barrier method or not. She can time intercourse around ovulation to either try to conceive or avoid conception. Let's talk about charting for the purpose of birth control!
The 4 rules of charting for birth control
There are four rules a woman and her partner must observe in order to effectively avoid pregnancy when using FAM. They are, in brief overview:
1. First five days rule
A woman is considered infertile during the first five days of her cycle. (More info.)
2. Dry day rule
On the evening of any day that a woman has observed no cervical fluid, she is considered infertile. (More info.)
3. Peak plus four rule
A woman is considered infertile on the evening of the fourth day after her most fertile cervical fluid and once she has observed a clear temperature shift (and cervical fluid has become infertile again). (More info.)
4. Temperature plus three rule
On the third evening after a woman's temperature shift, she is considered infertile. (More info.)
These rules may seem complicated or confusing at first glance, but I assure you that once you've charted three or four cycles, you'll know them like the back of your hand. Additionally, the more you understand your body and its cues, the more they'll make sense to you. (I can now quickly glance at my chart and interpret it within a few seconds, but when I first started practicing FAM, it took me a little longer.)
My experience using FAM
I have learned to trust and listen to my body because of FAM. It has changed my life. I can tell you, on any given day of the month, whether I'm in my menstrual, follicular, ovulatory, or luteal phase. I can tell you about how many days until I'll ovulate or how many days it's been since I've ovulated. (I can actually feel when I ovulate thanks to a phenomenon called mittelschmerz!) I can tell you when my period is coming and when it will end. For the first time in my life, I know my body. It is so, so freeing and beautiful!
When I feel run-down and tired, I don't immediately wonder if I'm sick–I wonder whether I'm in my menstrual or luteal phase, when it's common to feel that way because of shifting hormones. I am in tune with my body and use my cycle to benefit me by planning projects, meetings, and trips around it. Amazing stuff, right? (A great explanation of planning life around a woman's cycle phase here.)
"With FAM, couples can experience the freedom of effective contraception without devices, chemicals, or side effects for most of the cycle." -TCOYF, pg. 16; emphasis mine
I never felt free on the pill. I felt completely out of control. Now, I feel free. I feel healthy. I know what's going on with my body and why. All the good feelings aside, FAM works. We've been married for two years next month and have successfully avoided pregnancy for the duration of that time.
We're not anxious every month wondering if I'm pregnant, either. We know I'm not! I don't know how to say this without sounding crass, but these were our first two years of marriage–we have put this method to the test! It requires diligence and commitment, but when done correctly, it works beautifully.
Additionally, when we are ready to get pregnant, FAM will be massively helpful in identifying when I'm fertile so we can time intercourse accordingly.
The FAM community of women
I'm a member of a FAM group on Facebook with over 11,000 other women, and the cover photo reads:
"Fertility awareness is not conservative. It's not liberal, hippie-ish, or Christian. It's not exclusively for environmentalists or vegans, Catholics or Muslims, the rich or the poor. Fertility awareness is an essentially human project by which a woman learns to interpret the signs of her body that indicate her fertility. It is therefore a form of self-knowledge that empowers couples to achieve or avoid pregnancy without reliance on artificial technology. It enables women to recognize any reproductive health issues they may have. It is a deep respect for the human body, and as such, it is for all women, everywhere." (I wish I knew who wrote this; there is no author listed.)
That absolutely sums it up. After that horrible February on the pill, I started charting using FAM in March 2015. I have found nothing but acceptance, kindness, and empowerment in the FAM community since then.
I'm in Facebook groups and on forums, and I have observed nothing but complete respect and thoughtful information shared among women of all backgrounds from all over the world. So, if for whatever reason, you've decided that FAM isn't for you because of X or Y, let me assure you that it can be for you if you want it to be. The online community of women surrounding FAM is beautiful, inclusive, and uplifting and has taught me so, so much.
What other women practicing FAM are saying
I reached out to my FAM sisters in the Facebook group mentioned above and asked what their experience using FAM has been. I was blown away by the responses. Here's what was shared:
"FAM has empowered me by giving me the tools to learn about my body and take ownership of my fertility. It makes me feel like I have a super power." -Anna, age 26

"After 2 traumatic births during which my physical and moral integrity were violated, I was completely disempowered and spent the first years blaming my body for not working properly. Then I blamed myself for making bad decisions that prevented it from working properly. Bottom line, my body and I were completely disconnected. FAM has helped me reconnecting with it regaining the control that I surrendered. Relying solely on myself to prevent pregnancy is the most empowering thing I have experienced in my life." – Eli, age 36

"I wish I had known about FAM earlier! Countless false pregnancy tests, ovary pain, numerous HBC  [hormonal birth control] methods, wasted money, and unnecessary OBGYN visits had left me feeling in the dark about my body. Doctors didn't seem to know how to help me in many situations that FAM handles like a piece of cake. I now don't feel the need to run to my OBGYN about every little thing. I can easily see what's going on with my body by charting. I feel free with FAM and my body is so happy without the hormones. It's so unfortunate that it isn't taught in schools during sex-ed. I know it's something I'll instill in my daughters!" – Hannah, age 24

"FAM helped me discover a hormonal imbalance that was easily corrected before I had to go through any losses or difficulties getting pregnant." -Jeanette, age 34

"FAM has not only empowered me in ways nothing else has, it has made my relationship with my partner stronger, and shown me what my passion in life is, I'm now almost qualified to be an instructor! I'm grateful for the day I found FAM, it's the best choice for me." – Justyna, age 22

"After experiencing severe physical and mental illnesses due to the birth control implant, I never wanted to introduce another synthetic hormone into my body again. That's when I came across FAM. FAM has given me the ability to ditch hormonal birth control, learn more about my body than I ever have or thought possible, and free me from worrying about whether I will get my period or not each month. FAM will be invaluable later in life when I am TTC [trying to conceive]. It has changed my life and the way I see fertility forever!" – Jordan, age 22

"Love this! When I discover FAM in college, I was experiencing debilitating cramps, fatigue, acne, moodiness, all the lovely PMS side effects! Through learning about my body, I was able to determine what was wrong and how to fix it naturally. I never used hormonal birth control, nor did I have any desire to, but FAM gives me the confidence I need to delay pregnancy for now until my husband and I are ready for kids. Now I'm a user of the FEMM protocol and a certified FEMM teacher as well!" -Mairead, age 23

"I am young, ambitious, and FAM is the best thing for me. My boyfriend of 2 years and I have big plans for these next 10 years and cannot risk a pregnancy. FAM has allowed us to take charge, know when it is risky, and avoid an unplanned pregnancy successfully. On top of that, I know that I am being proactive about my reproductive health and healing my womb after years of pain and discomfort with an IUD. When we are ready, we can start a healthy family. FAM is the foundation to a healthy woman, a healthy child, and the opportunity for me to fully focus on my career in my 20's. I was so relieved to learn that FAM was an option, and in fact the best option for me and tens of thousands of other women around the world." -Pandora, age 19

"FAM is incredibly empowering. It gave me information about my own body that no one had ever told me, and it showed me how to use that information to avoid or achieve pregnancy (and even just to maintain my own health). When I used it as birth control, I no longer had the heavy cramps and heavy bleeding that I had had for the past 7 years with my Paragard IUD. It never made me gain weight and bleed for weeks and weeks as I did from the Depo Provera shot. It didn't make me throw up on the first day of the new birth control pills as I had before using the IUD and Depo. And it helped me to successfully avoid pregnancy for a year until I was ready to start using that information to get pregnant (which happened right away, partially because of the information I had gained about how my own body worked)." -Michelle, age 30

"FAM has blown my mind – I cannot believe no one ever taught us this stuff in high school sex-ed classes. The biology of it all is fascinating and something every woman deserves the opportunity to learn about." – Jessie, age 28

"FAM has given me some sense of control in the quagmire that is secondary infertility. I feel empowered by the knowledge which helps with the grief." -Stephanie, age 32

"The first 2.5 years of my marriage, I was on hormonal birth control with little to no sex drive. FAM has allowed me to continue to avoid pregnancy until we're ready, while allowing my libido to go back to normal so I can fully enjoy the intimate side of our relationship!!! 😉 I'll never go back!" – Lauren, age 25

"FAM opened my eyes to how little I knew about my body, even AFTER giving birth! I am so glad someone encouraged me to become educated about my own fertility because I feel so empowered now!" -Stephanie, age 30

"I grew up with a paralyzing fear of sex because of the possibility of an unintentional pregnancy before I was ready. But I also knew in my gut that hormonal birth control and invasive devices (IUDs or implants) were NEVER for me. Using FAM feels like knowing an incredibly powerful secret – yet it shouldn't be a secret! Now I can confidently say that I've left my fears behind and I fully understand my body. I can read my body as easily as a book because I've learned to speak its language. I know when I'm fertile, when I'm infertile, and when I can expect my period, once I've experienced ovulation in a cycle. I'm proud of my healthy body and proud of myself for taking charge! Best of all, this knowledge will serve me throughout my entire life time." – Megan, age 25

"I wish I had knowledge of FAM growing up. I was convinced I was pregnant every cycle as a teenager because I knew I didn't want to go with hormonal birth control. As someone who is somewhat of a hypochondriac and catastrophizer, I was always convinced as a teenager I had some sort of infection based on what I now know is cervical mucus, despite doctor's visits (who never explained it, either!). I now feel incredibly empowered, and it makes me tear up thinking about how much this information would have helped me as a teenager, and at the possibility of providing any potential future daughters with these tools. I love feeling like I have the knowledge to be in control of my fertility!" -Leanna, age 27

"I'm so angry that I struggled with finding a hormonal birth control that worked for me for a decade before finding out about FAM. The discovery coincided with my meeting my now husband, and almost a year into our relationship, we embarked on our FAM journey and had my IUD removed. About three months later, he commented, rather abruptly one night, that he hadn't seen me cry or get upset irrationally for a couple months. I hadn't realized how much the hormones impacted my day to day life. Three years later, we have successfully avoided pregnancy and hope to start trying to conceive next year using FAM. I feel so much more in tune with my body than I ever have before, and he has a better understanding as well. I've even heard him talking to his friends about it and how amazing it is. I love that it has improved our communication and brought us closer together, and that I have control over my own fertility without relying on doctors and prescriptions. If I have a daughter, this information will absolutely be passed on." -Kacey, age 31

"FAM has relieved the anxiety and depression I suffered while using HBC [hormonal birth control] and has empowered me with a knowledge of myself I didn't have before. I have a newly discovered appreciation for my period and my body's reproductive system, and I'm so happy to know I can confidently avoid pregnancy without relying on an external source to do it for me." Georgia, age 24
FAQs about FAM
But does it actually work?
Yes, it does. FAM has just a 0.4% failure rate (with perfect use) and a 1.6% failure rate (with typical use) (source). As far as my personal experience, we've been practicing FAM for about two years (since July 2015), and have successfully avoided pregnancy each month.  Read this article, "Charting to Avoid Pregnancy" for more information.
Isn't this Natural Family Planning (NFP)?
It's close, but it's not the exact same thing. As Weschler writes in TCOYF, "The primary distinction between FAM and NFP is that those who use NFP choose to abstain rather than use barrier methods of contraception during the woman's fertile phase." Basically, FAM users may use condoms, a diaphragm, or another barrier method during a woman's fertile phase and still engage in sex, while couples practicing NFP will abstain from sex altogether.
Isn't this the Rhythm Method?
Absolutely not. 100% no. Not even a little bit! This is a huge misconception! The Rhythm Method is highly ineffective because it falsely assumes that every woman ovulates on the 14th day of her cycle and starts her period on the 28th. This method doesn't account for potential variation on the day of ovulation and thus is not at all recommended as an effective means of avoiding pregnancy. Many people wrongly associate FAM with the Rhythm Method, but the two methods are completely different.
In fact, the CDC currently lists the typical use failure rate of fertility awareness based methods (FABMs) as 24% (source) because the study this statistic is based on lumps all FABMs–from FAM to Rhythm–together. When broken down, FAM has just a 0.4% failure rate (with perfect use) and a 1.6% failure rate (with typical use). That's a huge discrepancy! (More here.)
What if I have PCOS?
Charting with PCOS can often be challenging. I know quite a few women who do chart with PCOS, though, so it is possible. Read this article for more information on practicing FAM/charting with PCOS.
What if my cycles are anovulatory and/or irregular?
For many women with anovulatory and/or irregular cycles, charting using FAM provides valuable information about their health; often times, this information can help identify a problem (i.e. low estrogen or progesterone), which is a great first step in finding a solution. For more information, read the following articles: "Anovulation and breakthrough bleeding" and "Avoiding Pregnancy in Irregular Cycles."
How do I transition from hormonal birth control to FAM?
When coming off of hormonal birth control, a woman's cycles are usually a little crazy! (Mine were off-kilter for a few months after just one month on the pill.) Watch this video for more information on transitioning.
It is typically recommended that couples use a barrier method (or abstain from sex) full-time for at least three complete cycles before practicing FAM for birth control (rules listed above). That way, a woman's cycle has time to regulate, she can learn her body's signals, and she can familiarize herself with her fertility and FAM.
What if I want to get pregnant?
Charting is awesome for trying to conceive because it can help you read your body's fertility signs and let you know when you're fertile. If you're able to time intercourse around ovulation, your chances of getting pregnant are much higher than random, untimed intercourse. I have several friends who have gotten pregnant on their first try because of FAM! Read this article and check out this conception chart for more information.
Giveaway!
Giveaway Closed
I'm giving away a brand new Kindara Wink Basal Body Thermometer and a copy of Taking Charge of Your Fertility (bundled together–one winner!). To enter, click here or use the Rafflecopter widget below!
The Wink was provided by Kindara for the purpose of this giveaway; I purchased the copy of TCOYF.
Thank you for reading/watching! You can find me online on Facebook, Instagram, Pinterest, Twitter, and YouTube. If you'd like to be alerted whenever I publish a new post, you can follow me on Bloglovin' or subscribe via email. Take a look at my Etsy shop where I sell tees, totes, sweatshirts, and pillow covers! Are you a blogger too? Check out my Blogger Mentorship Program.
images for pinterest