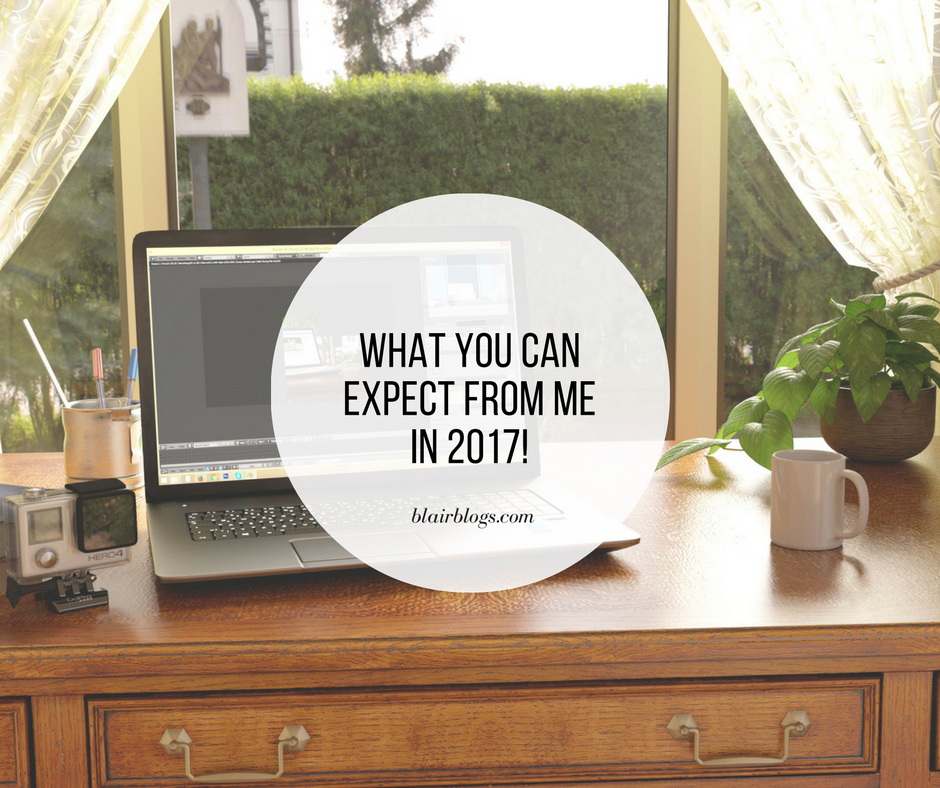 Hey friends! As we wrap up 2016 and look ahead to 2017, I thought I'd fill you in on what's to come. This past year has been full of new adventures, like launching a podcast, opening an Etsy shop, and starting a Blogger Mentorship Program. All that, in addition to blogging, has kept my creative tank full and my schedule fuller! I thank you, truly, for your support, encouragement, advice, and general thoughtfulness over the past 12 months. I have met many wonderful "internet friends" through this site, and y'all are the best part of working online. So, thank you!
Here's what you can expect from me in 2017:
A new monthly series centered around my word for 2017. I've never done a "word of the year," but I'm working through Powersheets for the first time and have been challenged to choose one. Each month, I'll post an update on my progress living this word out, which will include a brief blog post and a check-in style YouTube video. The series will launch in the first week of January, so stay tuned if you're interested! (This monthly series will also include a private Facebook group for other women who are focused on a similar word/series of goals in 2017…more on that to come in January!)
Posts on topics that I've wanted to write about, but have let fear/anxiety stop me in the past, including: the effective natural, non-hormonal birth control method I've used with 100% success throughout our marriage (post published here), why my husband and I didn't live or sleep together before we were married, and why we would make those same decisions again, stories about past dealings with very difficult/hurtful people and what I've learned from those interactions, honest postings about my own shortcomings and struggles, and how I'm trying to grow in those areas, and more relationship-centric, marriage-centric posts. My heart is beating faster just writing these topics out! I have had each of these on my "to write" list for months and months, but have let my nerves (and potential internet trolls) keep me silent. This year, I'm going to write more about hard things.
Continued forward movement on my Blogger Mentorship Program. I spend hours working with my mentees each day, and I absolutely love it. (I know I say this every time I mention the BMP, but I genuinely mean it.) These women are smart and creative and interesting, and it's a joy to support them and provide them with resources and encouragement as they create a blog from scratch, grow their current blog, or launch "extras" (like an online shop, a podcast, an ebook, etc.). Oh, and I'd be remiss if I didn't mention that the BMP is $70 off through the end of December! If you're interested in more information, check out this page.
More YouTube videos. Lately, I've been super into creating videos on my YouTube channel, like vlogs and home tours. I am hoping to expand my content and channel in 2017 because I've really enjoyed this new way of sharing and creating. (Plus, for personal reasons, it's fun to have a video diary of sorts!) If you have any video requests, I would appreciate them–I'm still figuring out what topics I want to share and the "vibe" I'm after with regards to my channel.
Continued monthly "What I'm Loving" posts, but with new posting dates. Instead of being published in the middle of the month, each month's post will be published at the end of the month or the beginning of the next, so the dates are more accurate. For example, my December "What I'm Loving" post will be published in the last few days of December or early January, instead of mid-December. (That was a lot of words for a very small change.)
New designs and products in my Etsy shop! Etsy has been a great success for me this year, and I look forward to expanding in 2017. Since March, when my shop launched, I've sold 274 items and have 34/34 five star reviews! Huge thanks to those of you who have supported this venture. Make sure you follow my shop on Instagram for updates, sales, and coupon codes!
More interview-style guest posts and/or new ways to incorporate voices and ideas from my online community into my content. I'm continuing to brainstorm this piece, and will keep you updated when I make forward progress on it. In this coming year, I'm really interested in using my platform to share others' stories and experiences, not just my own. Inviting guests on my podcast (and the subsequent conversations) has inspired me to want to speak with more women in 2017 and share their thoughts–I'm becoming more and more passionate about sharing and learning from different opinions and experiences.
This last one is bittersweet–an end to Simplify Everything, my podcast. As I've set personal and business goals for 2017, I've come to realize that it's time to wrap up this project. I initially thought that choosing a very specific podcast topic like simplicity would help me create content, but it's actually pigeon-holed me and made it difficult to come up with new, on-topic episodes. I love the venue of podcasting and hope to launch another podcast at some point, but for now, it's time to step back to make room for other projects. I will share a post in January about where you can listen to past Simplify Everything episodes and my podcast plans for the future. Thank you for a great run!
Thank you for a wonderful 2016 and I look forward to 2017! Merry Christmas and Happy New Year! See you next year! (I'll be on Instagram between now and then–and I'll post my week of Christmas vlog on December 26th or 27th! Other than that, see you in January!)
Thank you for reading! You can find me online on Facebook, Instagram, Pinterest, and Twitter. If you'd like to be alerted whenever I publish a new post, you can follow me on Bloglovin' or subscribe via email. Check out my fun tees in my Etsy shop and listen to my weekly podcast about simplifying life, Simplify Everything! Are you a blogger too? Check out my Blogger Mentorship Program.