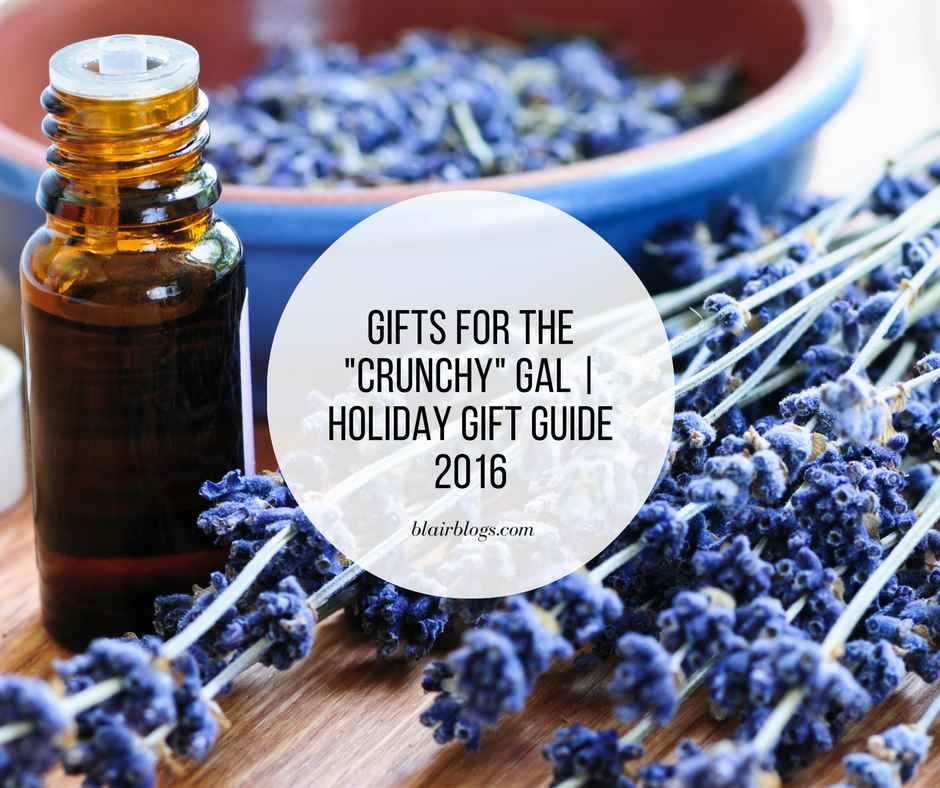 Today is the second installment in my holiday gift guide series (first installment: Gifts for the Cozy Homebody)! I often joke about being "semi-crunchy," meaning that I love natural, green, holistic alternatives, but not always to the extent of some of my friends. If you're shopping for someone who uses essential oils, prefers glass containers to plastic ones, loves organic and non-GMO food, and wouldn't think of getting near red dye #40, this gift guide is for you!
My philosophy on gifts is as follows: I am not about materialism, but I am about thoughtfully showing love through meaningful gifts. (In fact, one of my primary love languages is giving and receiving gifts (more here).) I am not a proponent of getting into debt over the holidays, nor am I averse to homemade gifts. Basically, I'm sharing ideas for people who are looking for them. If you don't like holiday gift guides, or if you don't enjoy giving gifts over the holiday season, this may not be your cup of tea.
For my fellow lovers of gift-giving, this post series is most certainly for you! Let's get right to it. Here are some great gift ideas for the "crunchy" gal (or guy!) in your life! This post contains affiliate links.
Traditional dryer sheets are packed with nasty chemicals and synthetic fragrances–and wool dryer balls are an effective, reusable, eco-friendly alternative. They'll cut down on dry time, soften laundry, and can be used for thousands of washes. Many people like to put a few drops of essential oil on them (like lavender, purification, or citrus fresh) before tossing them in the dryer to give their clothes a light scent. A pack of dryer balls and a bottle of high quality essential oil would be a fantastic gift for the natural-minded person in your life.
I've been using Juice Beauty's CC Cream for a few months now, and just purchased a second tube during the company's Black Friday sale. I use it mixed with a few drops of jojoba oil for my daytime moisturizer and have been very pleased with the results. Juice Beauty carries a wide variety of organic beauty products without nasty chemicals, most of which have rave reviews. A few items from Juice Beauty in a travel makeup bag would make a sweet gift!
Because plastic containers and water bottles sometimes contain harmful chemicals and aren't great for the environment, a lot of people are gravitating toward glass water bottles instead. This is a great option if you don't want to spend a lot of money but still want to give a gift to a friend or coworker. I'd pair a glass water bottle with something small but fun, like a pack of no-crease hair ties or a box of holiday tea. Cute and easy!
Y'all know I am all about essential oils (more here and here). I clean my home with them, wash and tone my face with them, and diffuse them all day. In fact, I currently smell like peppermint and lavender after nearly bathing in both during the turbulent cross-country flight I just got off of. All that to say, when Organic Aromas reached out to me about trying one of their diffusers, my answer was a resounding yes. I love it so much that I had to share it in this gift guide!
This diffuser rocks! It requires no heat or water, is plastic and toxin-free, and is made of beautiful hand-blown glass and carved wood (look how beautiful!). You just drip a few drops of your favorite EO into the basin and turn it on. This thing is so powerful, I've never seen anything like it! It'll fill your entire room with gorgeous scent in a matter of minutes.
One thing to note: these diffusers don't work well with thicker essential oils such as vetiver, frankincense, sandalwood, benzoin, and patchouli. It's suggested that you dilute those oils with other essential oils in a blend or with a thin carrier oil. If you know someone who loves essential oils, this gorgeous and unique diffuser would be a lovely gift. And take it from me–you can never have too many oily accessories! (For more information on Organic Aromas, check out their Facebook, Instagram, Pinterest, or Twitter accounts.)
I've never subscribed to this box personally, but it looks fantastic! It's a "premium discovery and trial service providing expertly curated, healthy beauty products, non-toxic cosmetics, natural wellness, and sustainable, toxin-free living goods." Sounds perfect for someone who prefers natural alternatives, right? Subscription boxes are especially great gifts because they're the gift that keeps on giving for months after the holiday season has ended!
My husband and I love coffee and tea all year round, and especially in the cold months. I love to wake up with tea first thing in the morning and sip on a hot mug of it before I go to sleep…and I pretty much crave it every hour in between! Riley's the same way about coffee. If you know a coffee or tea lover, a bag or two of an organic variety is bound to be a great gift. You could throw in a mug, tea infuser, or some local honey if you want to "beef up" your present, but coffee or tea are perfect on their own, too.
Massage gift certificates are awesome gifts because therapeutic massages are the kind of luxury that most people can't justify splurging on but would love to indulge in (and would benefit from) more often. Something like a SpaFinder gift card allows the recipient to book a massage at her local spa and pay for it with the card you gave her, making it easy for everyone. Again, this gift could be expanded with a robe, slippers, sleep mask, etc.–but I'd take a massage (or spa) gift certificate any way it came! This is a safe and generous option for the "crunchy" girl in your life; who doesn't love a day at the spa?
I could literally spend every penny I have on bath and body products. Inexplicably, it is the category of spending that I can most justify splurging on. I'll wear the same ragged coat for 10 years, but a $15 bath bomb? Sign me up! Anyway, pretty much all mainstream brands of bath and body products are loaded with nasty chemicals and toxins, so natural, homemade versions are the way to go for your "crunchy" people. If you're not interested in making your own items, consider shopping on Etsy! There are dozens of beautiful shops full of organic, natural, highly-rated products made by great people.
I don't have a Himalayan salt lamp myself, but I can name several friends who swear by them. Apparently, the negative salt ions boost blood flow, improve sleep, calm allergy symptoms, and do lots of other beneficial things. This may sound like the craziest product in the world, but I am incredibly curious and would love to receive one as a gift! I'm certain there are others who feel the same way–the more "out there" a natural alternative/remedy/treatment is, the more intriguing it is, and the more I want to try it!
This would make such a great gift! An indoor herb garden in an adorable little white planter? Are you kidding? How fun! If you're shopping for a loved one who has a green thumb (or wants to have a green thumb), and likes to cook, something like this would be a hit. Plus, this gift falls squarely into the "want, but don't need" category, which is always a fun category to dip into for the holidays!
// Have you already started gift shopping? Are you buying for any "crunchy" gals/guys this year?
Related: How to Simplify the Process of Shopping for Gifts + Gifts for the Cozy Homebody
Thank you for reading! You can find me online on Facebook, Instagram, Pinterest, and Twitter. If you'd like to be alerted whenever I publish a new post, you can follow me on Bloglovin' or subscribe via email. Check out my fun tees in my Etsy shop and listen to my weekly podcast about simplifying life, Simplify Everything! Are you a blogger too? Check out my Blogger Mentorship Program.