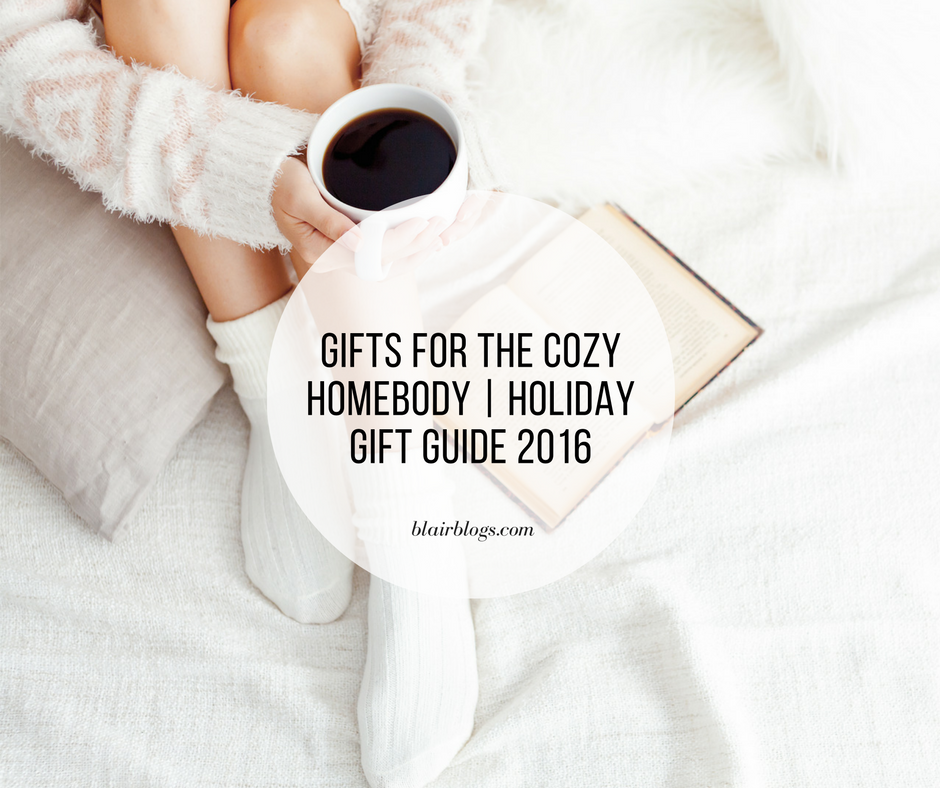 Today is the first installment in my 2016 Holiday Gift Guide series! I have several posts planned, each around a central theme. As the post title suggests, today's gift guide is focused on gifts for the cozy homebody in your life. I would 100 percent put myself in this category…in fact, as I type this, I'm in a sweatshirt and leggings, candles lit, homemade pasta sauce simmering on the stove, a fire in my fireplace. I love spending time at home, so you can trust my recommendations for sure! 😉
My philosophy on gifts is as follows: I am not about materialism, but I am about thoughtfully showing love through meaningful gifts. (In fact, one of my primary love languages is giving and receiving gifts (more here).) I am not a proponent of getting into debt over the holidays, nor am I averse to homemade gifts. Basically, I'm sharing ideas for people who are looking for them. If you don't like holiday gift guides, or if you don't enjoy giving gifts over the holiday season, this may not be your cup of tea.
For my fellow lovers of gift-giving, this post series is most certainly for you! Let's get right to it. Here are some great gift ideas for the cozy homebody in your life! This post contains affiliate links.
Those of you who have been following along for a while knew this was coming, right? I love candles. We light them every night all year long! Candles are a perfect gift for people who like to be at home because they add such a lovely ambiance to any environment…and Yankee Candles are my personal favorites. I especially love Pink Sands, Fluffy Towels, and Macintosh.)
I had my eye on a Letterfolk board for months before I finally bought one; in fact, it was the first piece of décor I purchased after we moved into our home back in March. I love switching out the sayings every few weeks. Currently, my board says "Autumn, the year's last, loveliest smile" and hangs in my kitchen. I also love to write "Welcome ____ and _____!" when we have out-of-town guests come to visit or holiday greetings when it's the season. I highly recommend a Letterfolk board, especially if your cozy homebody loves words.
Almost every woman I know loves to curl up with a cup of tea for a thoughtful conversation, warm bubble bath, or good movie. A tea sampler is a fantastic gift! I love gifts like tea and candles because they're not forever gifts–you use them up and enjoy them, and that's that. There's nothing to maintain for years and years. Some great-looking sampler options are The Republic of Tea Holiday Sampler, Tea Forté Warming Joy Seasonal Sampler, and Taylors of Harrogate Classic Tea Variety Box. If you want to beef up your gift, you could add a pretty tea set or mug.
A great, reasonably priced gift that any home-loving person would adore is a fluffy blanket to cuddle up in. My husband and I have a big basket of blankets in our den that we use 24/7, and whenever we have guests, they know where to grab a blanket for themselves too. Blankets are especially great gifts because they're one-size-fits-all, and you don't have to worry too much about choosing one in the "right" color. Pretty much any fluffy blanket will do, but I especially love this faux fur one and this reversible sherpa one. (Related: the Christmas-themed pillow covers I sell in my Etsy shop!)
I received an iPad four years ago as a Christmas gift, and although I thought it was awesome, I didn't know if I'd use it much. To this day, I use it every day. I love it! This is definitely a more splurgy gift, but us homebodies love watching Netflix and YouTube, online shopping, reading, and casually scrolling through social media–and an iPad is the perfect device for all that. Plus, it's fantastic for travel. If you're interested in spending a few hundred dollars on your gift recipient, you may want to consider an iPad.
We have a HOB sign hanging above our fireplace (photo here), and it's the first thing anyone comments on when they enter our home. These signs are crafted by hand and very beautiful; they'd be the perfect gift for anyone who likes spending time at home. There are dozens of different designs and quotes to choose from and the women behind the shop are fantastic. Depending on which size you choose, these signs can get pricey–but the high quality craftsmanship is worth the price tag, in my opinion.
Us homebodies usually love spending evenings, long drives, weekend afternoons, and general downtime reading or watching movies. If you know of a book, movie, or magazine subscription that your gift recipient would enjoy, get her that. If you're unsure, search online or opt for a gift card to Amazon, Barnes & Noble, Netflix, Red Box, or iTunes. I especially love gifting magazine subscriptions (and always order them through Amazon's discount magazine subscription service) because they aren't something people think to buy for themselves, but they're a fun and very affordable "extra"/luxury.
I gifted my husband this speaker a couple of years ago, and we (yes, we 😉 ) still use it daily. It's bluetooth-enabled, wireless, clear, and very loud, so we can listen to music or podcasts anywhere in our home. This is the perfect gift for someone who loves to spend time at home listening to music, podcasts, or watching TV shows or movies at a louder volume (over the sound of doing dishes, for example). Paired with an iTunes gift card, it's a generous and useful present.
Everyone takes off constricting jeans and scratchy blouses and changes into comfortable clothing when they get home, right? Think about gifting some comfortable pieces, whether it be a pajama set, PJ pants, yoga pants, an oversized sweater or sweatshirt, a bath robe, or a fuzzy pair of slippers for your favorite cozy homebody. You can find these items at places like Target, Old Navy, Gap, J.Crew, and Amazon for reasonable prices. As far as estimating sizing for the recipient, you should round up because it's loungewear and meant to be loose, and also include a gift receipt in the event that it doesn't fit.
People who like to spend time at home often also enjoy playing board games. They're a great way to pass the time, especially in the cold winter months, and make a fun group activity. Lighthearted games like Lipless or Telestrations, strategy games like Ticket to Ride or Settlers of Catan, and classics like Monopoly or Clue are favorites in our house. We received a basket (the one we now use for blankets) with three board games in it as a wedding gift, and it is one of the most unique and well-loved gifts we received. Something similar would make a fantastic holiday gift!
// Have you already started gift shopping? Are you buying for any "cozy homebodies" this year?
Related: How to Simplify the Process of Shopping for Gifts
Thank you for reading! You can find me online on Facebook, Instagram, Pinterest, and Twitter. If you'd like to be alerted whenever I publish a new post, you can follow me on Bloglovin' or subscribe via email. Check out my fun tees in my Etsy shop and listen to my weekly podcast about simplifying life, Simplify Everything! Are you a blogger too? Check out my Blogger Mentorship Program.