Disclosure: I received the starter kit mentioned in this post free of charge in exchange for my consideration and honest review. As always, all opinions are 100% my own. I love these oils and have since spent [lots of] my own money on them! 😉
How my essential oil journey began
I've been interested in natural products, remedies, and alternatives for about eight years. I would describe myself as "semi-crunchy," meaning that although I prefer natural options, I am at peace with some traditional ones too. For example, I primarily manage my chronic scoliotic back pain with chiropractic care, heat/ice, and stretching, but feel comfortable with taking a few doses of ibuprofen on particularly painful days. That said, the older I get, the more pulled I am toward natural solutions, especially as we think about having a baby in the next few years. But, as with most things, it's been a slow journey. Given my personality, making changes little by little over time is effective and sustainable, especially with regards to natural living. Basically: I'm semi-crunchy (and okay with that), I'm on a journey, and please don't harass me because this or that part of my life isn't natural. It's a process, and it takes time. Amen.
Okay, so let's talk about essential oils. I bought my first bottles of essential oil in college when I was dabbling in making my own body care products. I purchased them cheap from the grocery store, and although I enjoyed using them greatly, I was aware even then that they weren't super high-quality. I had to use dozens of drops of each in any product I made because of their low potency. Regardless of their ineffectiveness, I was intrigued.
Over time, as I began reading natural living blogs like Thank Your Body, Mama Natural, Mommypotamus, Holistic Squid, and One Good Thing by Jillee (not a natural living blog per se, but Jillee shares lots of natural recipes for household products), my eyes were opened to the possibilities of essential oils and I became really excited about trying them.
Then, I got laid off, started a new job, broke up with my ex-boyfriend, met Riley, got engaged, got married, and moved to a new city–all in less than 18 months. Suffice to say that diffusing lavender wasn't on my mind (though it really, really should've been!). Fast forward to present day, when a friend-of-a-friend (who's now my friend too!), Kelsi, emailed me to ask if I'd ever used essential oils. She had recently gotten into them herself and became a distributor with Young Living, and she was wondering if I was interested in trying them and writing about it. YES, YES I WAS. Kelsi hooked me up with a Young Living starter kit and dozens of fabulous resources, we video chatted, went through the oils and what I could use them for, and I dove in.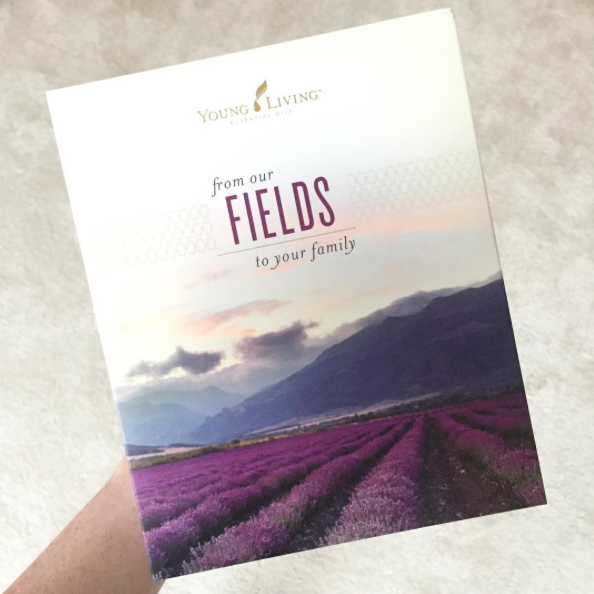 For the past month I have been absolutely obsessed with these little amber-colored bottles. At present, I have lavender on my wrists, purification freshening up the clothes in my dryer, and thieves diffusing. Told you–obsessed! Since I received the Young Living Starter Kit, those are the oils that I have experience with, so that's what I'm sharing about today. (I've since placed an order for six or seven others. 😉 )
Young Living as a company
First of all, let's talk about Young Living. There are several different oil distributors, and you can even find oils in most grocery stores or on Amazon, but quality really matters here. Even before I started learning from Kelsi, I knew that I would purchase from Young Living when I decided to jump into the world of essential oils.
I had done some research (as is standard for me) and found the company's meticulously detailed "Seed to Seal" approach to quality both refreshing and reassuring. There are dozens and dozens of quality controls associated with each bottle of oil produced (if you're interested you can read about the entire process here), and I can personally attest to the superior quality of oil. There is such a noticeable difference between the cheap store-bought oils I used to buy and those produced by Young Living!
The Happy Oilers
After my initial conversation with Kelsi, she shared that she was a part of a group of Young Living oilers called The Happy Oilers. Essentially, it's a fantastic group of "oilers" started by Madison Vining and her husband that has tons of resources, literature, videos, discussion boards, Facebook groups, business information, and even its own gorgeous handbook! (Which I now own!) Since I signed up as a Young Living member through Kelsi (my "sponsor"), I joined The Happy Oilers, too. Y'all, this group is incredible. I have learned so, so much from the handbook, Facebook group, and plethora of other information. I am so thankful to have such a breadth of information at my fingertips, especially with regards to essential oils, of which I am very much a newbie.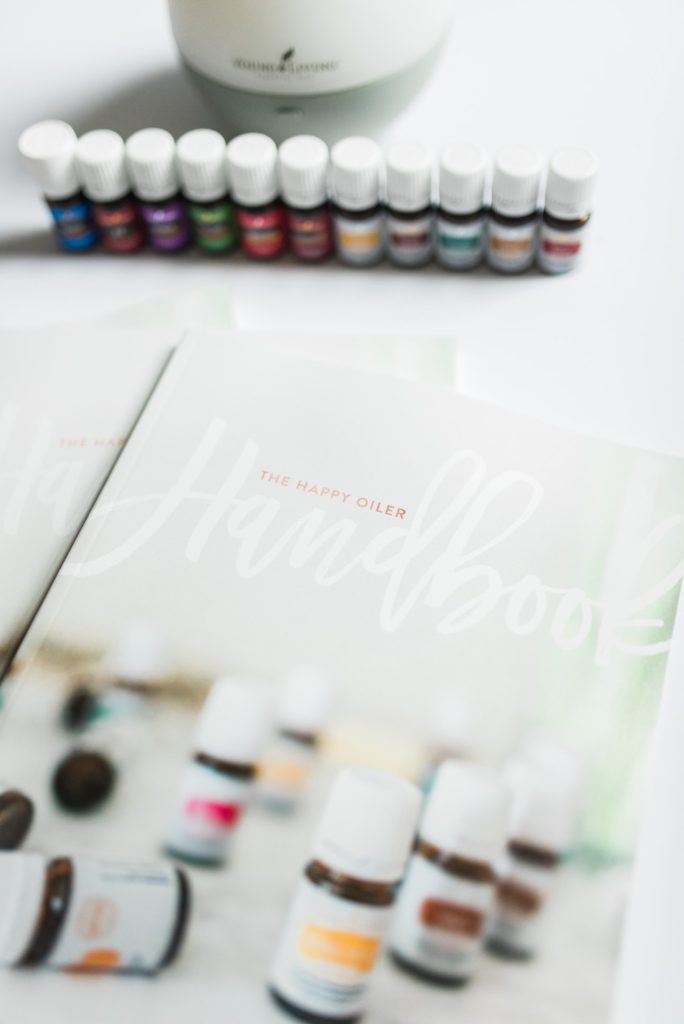 I can't imagine what it would've been like if I didn't have Kelsi and The Happy Oilers group as resources in the past month! I would've been completely overwhelmed and undereducated. If you're interested in getting into essential oils, I really encourage you to do so through Kelsi ([email protected]), because you'll then have her support and know-how and access to everything Happy Oiler–and it's all so, so helpful.
Young Living Starter Kit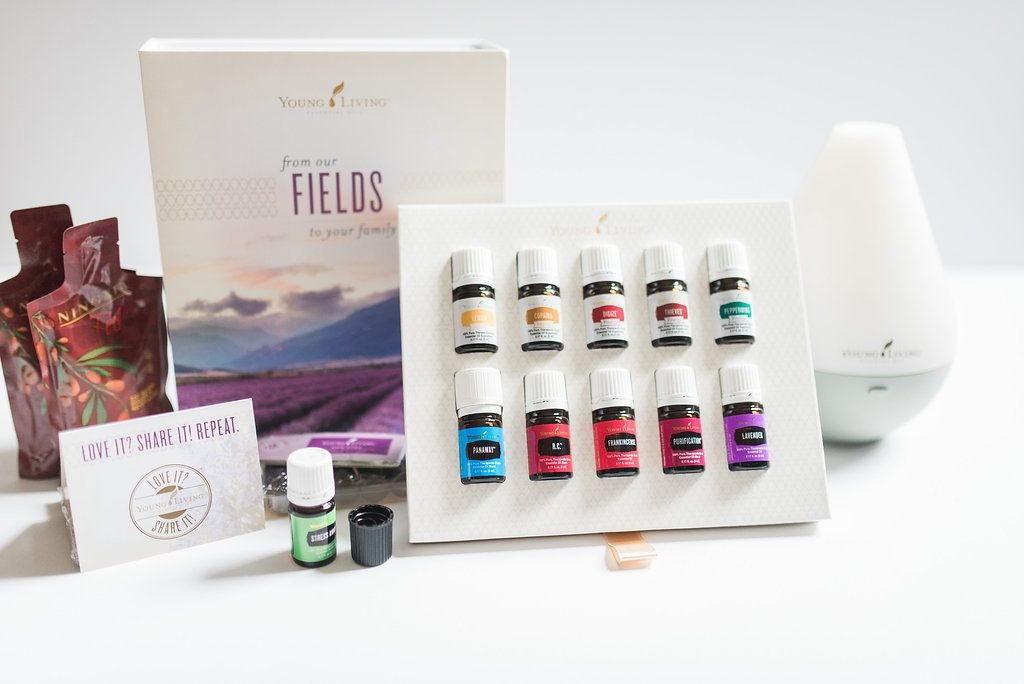 Anyway, let's dive into the kit! First of all, the packaging is gorgeous beyond gorgeous. It was designed by the same team that designs Apple packaging, and it shows. When I got my kit in the mail, I texted Kelsi ten thousand heart eye emojis! (Only a slight exaggeration.) I am very persnickety about packaging and design, and I was totally blown away. It's beautiful! With the starter kit, I also received a diffuser. More heart eyes!
Here's exactly what comes in the premium starter kit: (Two notes–"vitality" indicates that the oil is safe to ingest orally and the prices in italics are what these items retail for outside of the starter kit.)
Lavender $15.46
Peppermint Vitality $13.16
Lemon Vitality $8.22
Copaiba Vitality $28.29
Frankincense $39.14
Thieves Vitality $19.08
Purification $9.87
RC $13.49
DiGize Vitality $18.09
PanAway $46.38
Stress Away $15.66
Samples of other products/literature $32.93
DewDrop Diffuser $83.88
If you bought everything in the kit individually, it would total $341.08. The starter kit is $160, which is a great value and a nice way to get started with oils. I appreciate the variety in the kit because I've been able to try oils that I may not have thought I'd use or want!
Let's go through the oils, what they can be used for, and what my experience has been with each.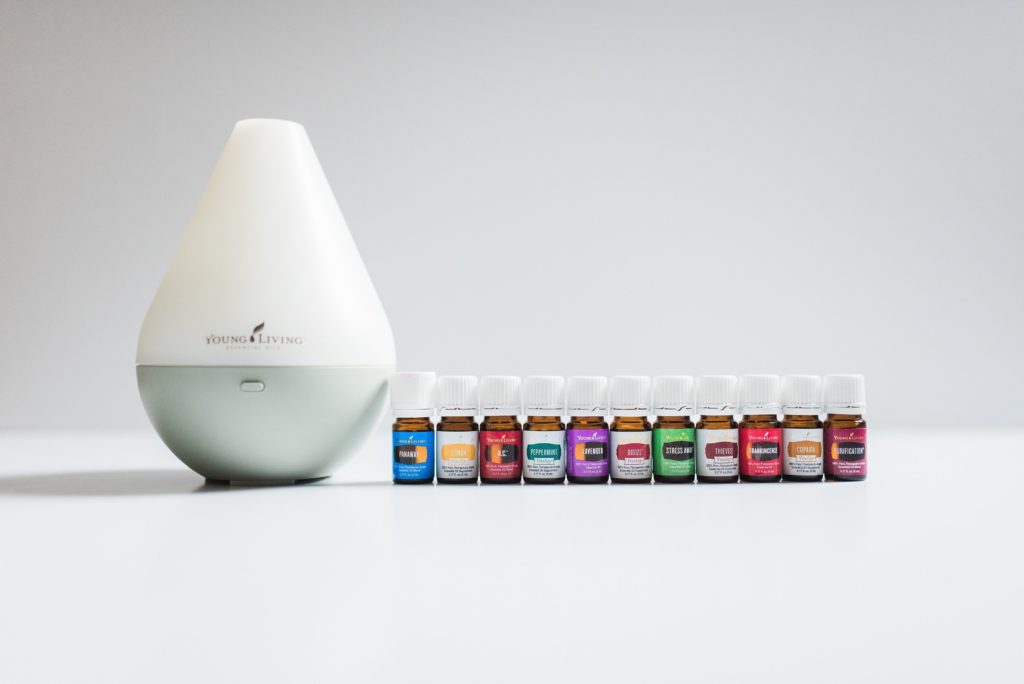 Lavender
I've loved lavender forever (I even went to a Lavender Festival in May!), and my love has only grown now that I have my hands on this essential oil. Lavender oil is incredibly calming, and it can be used to support nasal function, sleep, skin, and hair health. It also just smells amazing! I love diffusing it at night…I'm not exaggerating when I say that I feel like I've taken 20 sleeping pills when I sleep with lavender diffusing. The difference is noticeable and amazing. It's so calming and relaxing that if I ever forget to set up the diffuser before bed, Riley will get up and do it himself. We love lavender!
Peppermint Vitality
This is my favorite oil in the kit. Peppermint is great for bad breath, supporting digestion, energy, bringing oxygen to the brain, supporting circulation, and suppressing appetite. I diffuse it while I work in the morning, and I find myself noticeably more focused and on-task. Plus, it smells fresh and lovely. I've taken it internally a few times (it's a vitality oil, so it's safe for ingestion) when my stomach has felt upset. I was so impressed when my stomachache subsided within just a few minutes of putting a drop on my tongue! I've also put a little on my temples and the back of my neck when I have an occasional tension headache–it works wonders!
Just the other night, Riley ate lots of onions at dinner and his breath was, let's say, a little rough. I convinced him to let me put a drop of peppermint on his tongue and his bad breath was gone immediately and replaced with minty freshness! The best. I love this oil and have already ordered another bottle of it!
Lemon Vitality
In case you're interested in my personal oil ranking, lemon and lavender are tied for second place after peppermint. Lemon is great for energy, detoxing, bloating, supporting nasal function, home cleaning, and it makes really delicious lemon water. I love using it for cleaning (post on that coming soon), diffusing (with peppermint and/or lavender, especially), and have even used it to remove a super sticky label instead of Goo Gone. It worked like a charm! I'm eagerly awaiting my second bottle of this one, too.
Copaiba Vitality
Copaiba is a driving oil, meaning that it intensifies the benefits of other oils. It's very soothing and great for a happy throat, healthy skin, and even fresh smelling pits. If you have a baby, I've heard that it's really helpful with teething. I haven't used it much yet, but look forward to in the future.
Frankincense
Frankincense is a calming and balancing oil that is said to help with spiritual awareness and stress. It's fantastic for maintaining healthy skin and keeping fine lines and wrinkles at bay. I've spent the past week knee-deep in research because I plan on making a homemade, all natural, three step skincare line (which I'll post about, obviously)–and frankincense will be a major player in that! All I hear is how incredible it is for your skin…stay tuned!
Thieves Vitality
Thieves got its name from the legendary 15th century French thieves who created a blend of herbs including clove, rosemary, and other botanicals to use to keep themselves healthy while robbing dead and dying victims of the plague. (Not the happiest story, but interesting nonetheless.) It's a great-smelling blend that provides immune and respiratory support, supports wellness, eliminates odors, and is great for cleaning.
I really love this oil. It's smells great, especially in the fall and winter, but beyond that, it's powerful. I felt like I was coming down with something earlier this month, so I diffused thieves and put a drop on my tongue a couple of times a day, and quickly felt back to normal. I intentionally didn't take anything over-the-counter; again, I was so impressed with its effectiveness and potency.
Purification
Purification smells so, so good. It's very invigorating and perfect for neutralizing odors, maintaining clear skin, bloating, purifying skin, and enjoying the outdoors annoyance-free. I've used up my entire bottle already! I put a few drops on a dampened square of flannel in place of a dryer sheet and I'm not exaggerating when I say that my clothes have never smelled so fresh. I'm looking for loads of laundry to do so that I can use more purification–I just love it!
I've also put a few drops of purification on cotton balls and put them at the bottom of my trash cans–it really helps keep odors at bay. You can do the same thing in stinky shoes, diaper pails, etc. This is an awesome oil and I already need more of it!
RC
RC is an uplifting and inspiring oil that supports great breathing, freshens the air, and provides respiratory support. Kelsi told me to think of "Respiratory Care" when I thought of RC (though that's not technically what the letters stand for!).
I haven't come across the need to try this oil yet, but I will definitely keep it on hand for the cold winter months when my lungs need the extra love!
DiGize Vitality
DiGize is an oil that supports digestion, can help alleviate nausea/heartburn/constipation, and supports the immune system. I haven't tried this one yet, though I'm not sure why not! I have an incredibly sensitive stomach and it sounds like this would be a great help! It can be rubbed directly onto your belly.
PanAway
PanAway is like the icy/hot of the essential oil world. It can help with occasional soreness, tension, stressed nerves, circulation, and joint support. I've used it several times on my neck and shoulders, where I get the most tense, and it's made a noticeable difference. Also, it smells awesome–just like wintermint gum!
Stress Away
Stress Away is a little green bottle of calm. It certainly lives up to its name and can help with stress relief, promoting sleep, confidence, relaxation, and nervous tension. I've diffused it and rubbed it on my neck in the morning, in the afternoon, and before bed–basically any time I feel my stress mounting. I wish so badly that I had known about Stress Away when I was in college. It would've been a game-changer! After I start diffusing it, or after I've applied it, I feel like the edge is taken off my anxiety and I can think clearly again. It's really incredible!
To sum up my thoughts and feelings on the starter kit, I'm totally obsessed.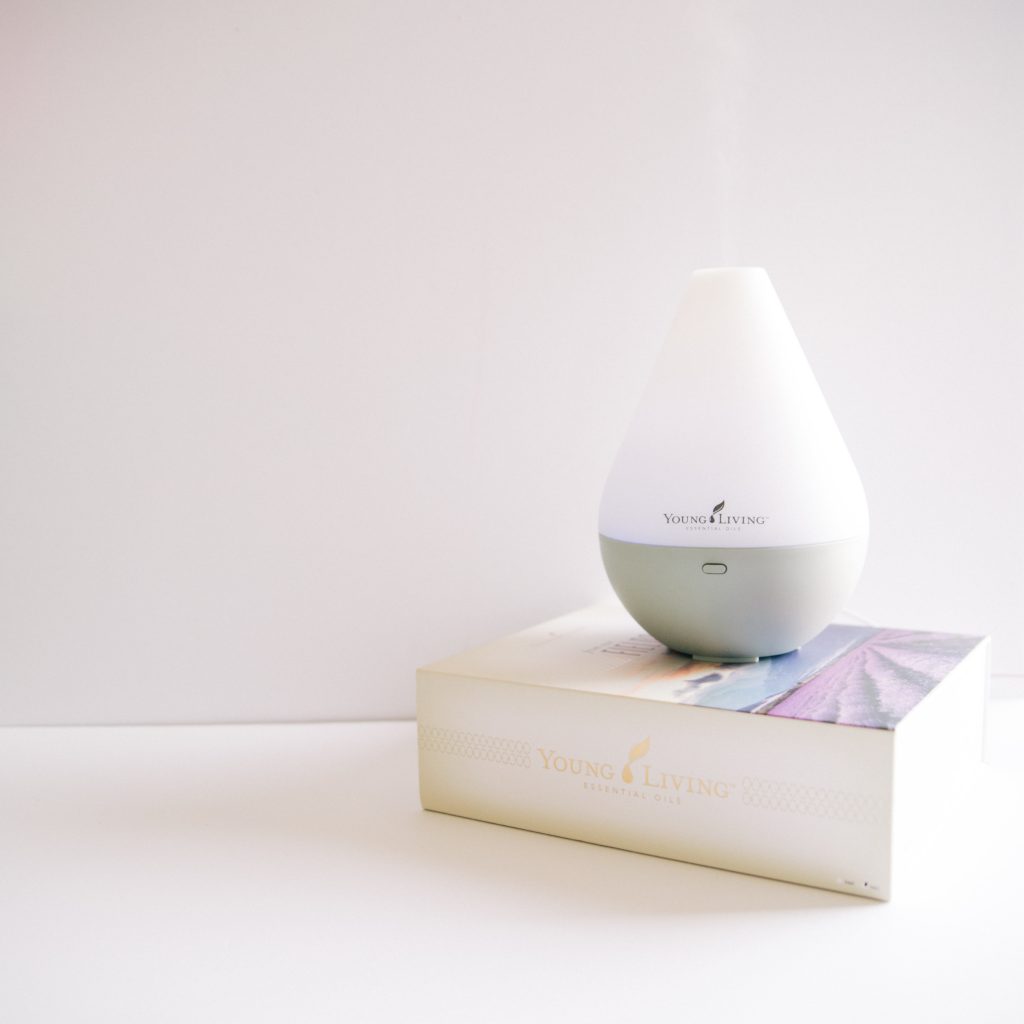 Oil accessories
If you're interested in oil accessories like rollers, glass spray bottles, oil storage cases, etc., two great places to find those items at good prices are AbundantHealth4You and Amazon under "Essential Oil Accessories". I've already purchased quite a few accessories to make my own cleaning products and body care products! (Can't wait to share those posts with you soon!) I purchased my accessories from Amazon because I'm a Prime member, but if you're not, AbundantHealth4You is probably cheaper.
For more information
If you're interested in learning more about essential oils, and/or if you'd like to purchase some, you can contact Kelsi at [email protected]. She's been so amazing and helpful to me, and she's totally willing to Skype, email, and chat with you about oils to help you learn and take advantage of all their benefits! I can't recommend working with her enough. She's absolutely awesome! I feel like having an oil mentor is imperative to really understanding the oils and their uses and benefits.
Just so you know, if you decide to jump into the oil world this month, you'll get a free bottle of Thieves laundry detergent with your kit and Kelsi is graciously offering to send my readers both a $10 Amazon gift card (for oily accessories…or anything else!) and a Happy Oilers Handbook. Woo hoo!
Moving forward
I placed another order last week for a bottle each of Citrus Fresh, Lavender, Lemon, and Peppermint, a bottle of concentrated Thieves Household Cleaner, and two bottles of Christmas Spirit, which I've heard is THE BEST to diffuse in the fall and winter. I can't wait!
As I've mentioned a few times, I have lots of plans for sharing how I'm using essential oils in my cleaning and beauty routine, so stay tuned for those posts. There is so, so much information on essential oils that I want to share–enough to fill my editorial calendar for the rest of this year and all of next! Literally! I'm really looking forward to future oily posts because this has become a major interest of mine over the past month. Don't you love finding natural, safe products that work? I do!
// Have you ever used essential oils? Are you interested in trying them?
Thank you for reading! You can find me online on Facebook, Instagram, Pinterest, and Twitter. If you'd like to be alerted whenever I publish a new post, you can follow me on Bloglovin' or subscribe via email. Check out my fun tees in my Etsy shop and listen to my weekly podcast about simplifying life, Simplify Everything! Are you a blogger too? Check out my Blogger Mentorship Program.