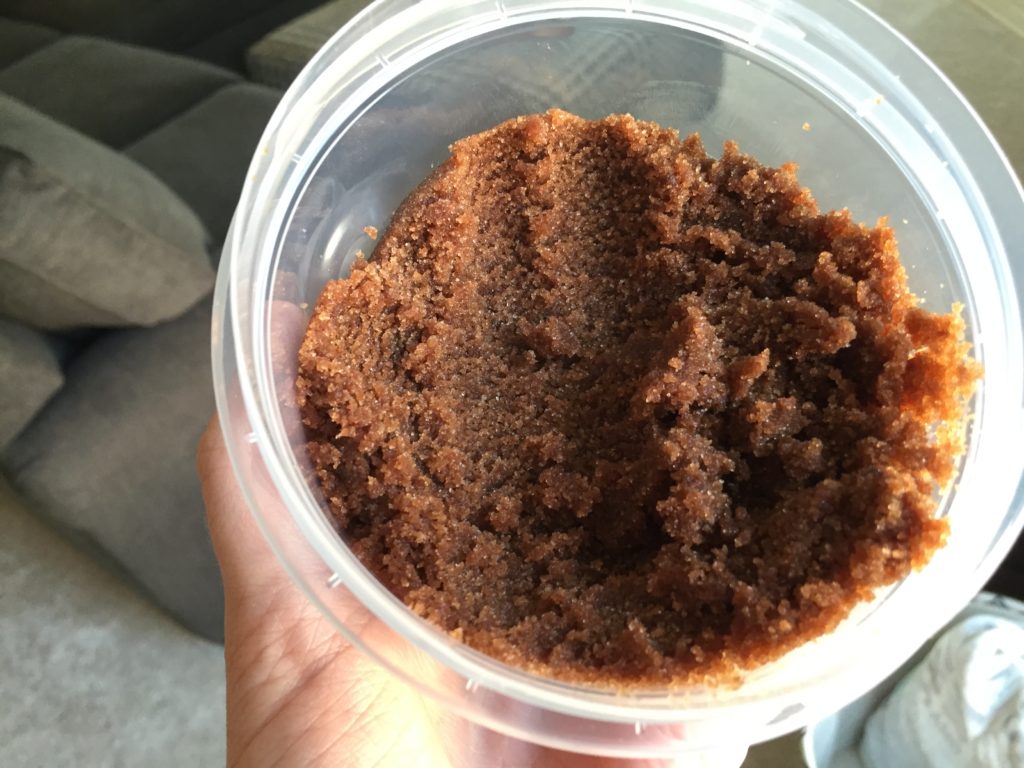 It's summertime! My favorite time of the year! I love the heat, the long days, the fresh food, the flip-flops, the freckles and tans, the comfy sundresses…everything. I am a summer girl through and through. (In fact, I'm at my favorite place on earth–the beach–with my husband and family right now!)
One of my must-do summer skincare rituals is using a body scrub regularly. Why? There are so many reasons: because I want my skin to be smooth since it's more visible in the warmer months, so that I can get a closer shave, to get rid of dry/flaky skin on my heels, knees, and elbows, and so that my skin is exfoliated and even before I self-tan.
All that to say, today I'm sharing a quick and easy DIY body sugar scrub recipe. This is a chocolate version (it smells really good), but you could easily omit the cocoa powder and add essential oil or something else for a different scent. I made this recipe about three weeks ago and have used it about twice a week since then. My skin feels great!
DIY Chocolate Body Sugar Scrub Recipe
Recipe adapted from CraftyAllyson on YouTube
Ingredients:
1/2 Cup White Sugar
1/2 Cup Brown Sugar (you could omit brown sugar and use 1 C white sugar instead)
1/4 Cup Olive Oil (you could substitute another kind of oil)
1/2 TSP Vanilla
1 TBSP Cocoa Powder (you could substitute essential oil)
Instructions: Just mix it all together! (I store mine in a Ziploc Twist 'N Loc Container, but you could use a mason jar or any other airtight container.)
Notes: This mixture will keep for several months if there's no water introduced into it, but if you take your container into the shower (like I do), the shelf life reduces because of the chance of mold. (You could add some Vitamin E oil to extend the shelf life a little, since it's an antioxidant. Another idea is to use half salt/half sugar or all salt since salt is a natural preservative.) I estimate this batch of sugar scrub will last me about a month; if I used it less frequently, I'd likely make a half-batch, or store half of the full batch in an airtight container and keep the other half in the shower.
Alternatives: If you're not the DIY type, I highly recommend the Tree Hut Shea Sugar Body Scrub. This was my go-to for years before I tried making my own!
// What body products have you DIY-ed?
Thank you for reading! You can find me online on Facebook, Instagram, Pinterest, and Twitter. If you'd like to be alerted whenever I publish a new post, you can follow me on Bloglovin' or subscribe via email. Check out my fun tees in my Etsy shop and listen to my weekly podcast about simplifying life, Simplify Everything!
As always, all Amazon links are affiliate links. This means that the cost doesn't change for you, but I receive a small percentage of the sale to help keep my content free and my site up and running. Thank you for your support!