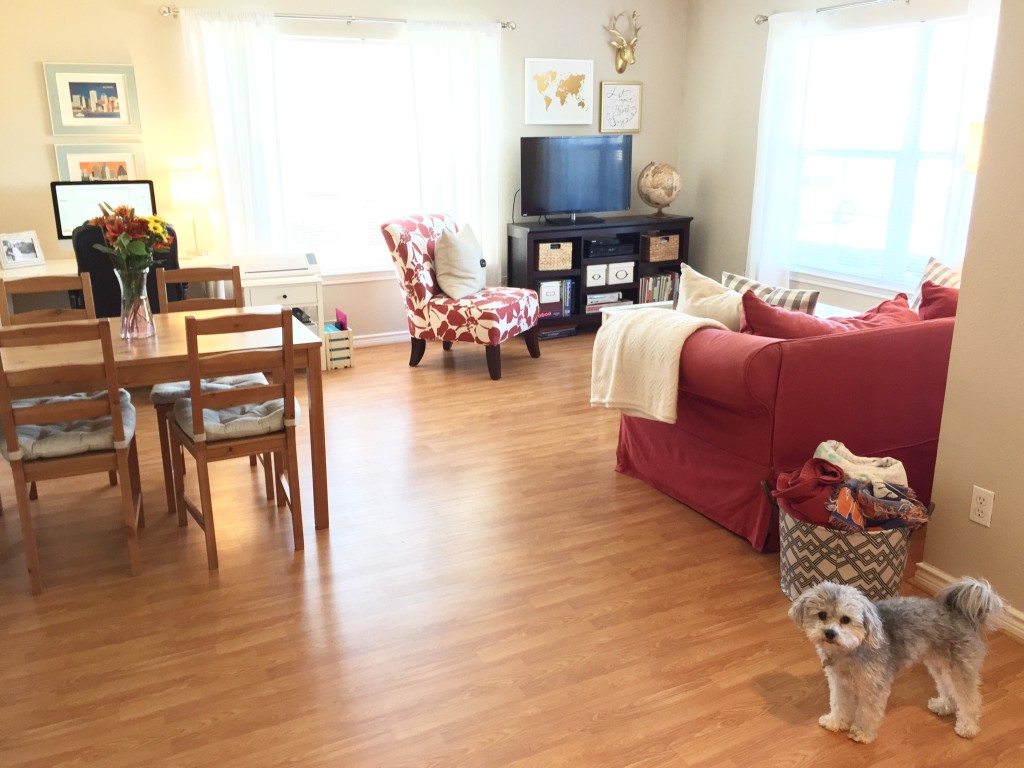 A few months ago, I saw a pillow on Instagram with the following words dancing across it…
But you know, love grows best in little houses
With fewer walls to separate
Where you eat and sleep so close together,
You can't help but communicate
Oh, and if we had more room between us, think of all we'd miss
Love grows best in houses just like this."
I immediately fell in love with those sweet words from my own little 700 square foot home. Turns out, the words are song lyrics from a country song called Little Houses by Doug Stone (check out the hilariously-corny-but-well-meaning music video), and have inspired dozens of beautiful signs and other home décor on Etsy. At the time, I was frustrated by our failed house hunt, and wasn't exactly embracing the tiny apartment we call home.
The more I thought about those lyrics, though, the more I began to agree that love does indeed grow best in little houses. Now, I tell Riley almost every day how much I love our little home…because, honestly, I do. It is very small (home tour here), and lacks significant storage space (as evidenced by this video), but, oh, there are so many blessings that pour out of such a small space.
Like how we eat breakfast and dinner in the same place that we play with Charley, which is the same place where I blog, and also where we play games and watch TV. We always get to be together, and that time is so cherished. Even when I have to wrap up a blog post after dinner, and Riley is watching a football game, we're not even 10 feet apart. We still get to interact and laugh together, even while we're doing "our own thing."
Or the blessing of turning on music or a podcast (my current favorite podcasts here), setting the speaker on the kitchen counter, and being able to do housework anywhere in our apartment, while still being able to enjoy whatever's playing–no surround sound needed.
And when I cook–which is all the time–I'm just a few feet away from Riley and Charley. We get to chat and laugh and spend time together as I stir soup or bake bread…because there's no dining room here, just a cheap table and chairs set from Ikea smack in the middle of our living room, in front of our "office," or a desk pushed against the wall.
The one bathroom we have? Yeah, it makes for sleepy, giggling conversations through the steam while Riley's in the shower each morning and I brush my teeth. And is there any better way to start the day than in a warm bathroom laughing across the shower curtain? I've yet to find one.
And when I clean, which I often do (cleaning routine here), I can make every nook of our place shine in just a few hours. No maid service needed, no 3,000 square feet–just my headphones in, vacuum on, and spray bottle nearby. And to me, there are few things more blissful than getting into bed each evening with a tidy and fresh home.
I love the way our little home has forced us to purge and de-clutter, pushing us into accidental minimalism. We don't have room to store ten pairs of jeans, so we just keep two. Our pantry can only hold just a little, so we only keep just a little in it. Our limited wall space forces us to hang only what we cherish–which at present means a whole lot of wedding photos. We're living with less, and we're better for it. (More on the method I'm using to get rid of stuff here.)
Our one TV? It lives in the living room, and it is the physical manifestation of compromise. We've learned quickly to either enjoy what the other enjoys, find something we'd both enjoy, or use the DVR. I've never watched so much football or ESPN as I have since I got married…but most of the time, I actually enjoy it!
And on days when I've just had it? When I'm moody and irrational and I don't want to solve anything–I just want to slam the door and cry? Well, there's only one viable door to slam, and that's to the bedroom. So, even in my ugliest moments, I can't stay cooped up in silence for too long, because my husband needs somewhere to sleep. When there's nowhere to hide, beautiful vulnerability becomes inevitable. Communicating and not going to bed angry isn't only a choice, it's a complete necessity in a little place like ours.
Perhaps my favorite? The rattling of the front door around 6pm each evening can be heard from anywhere in our home, even the shower. With this rattling, and then the click of the door unlocking, I always know that my Riley is home from work and drop whatever I'm working on to run into a big hug. I wouldn't trade anything for that first-thing-in-the-door embrace.
And so, at the end of the day, love is growing best in our little house. I've heard that a married person is much like a rough stone at the beginning, with the goal of becoming smooth over years of learning communication, compromise, unselfishness, and love. I am so thankful for every square foot that we live in and the way that our little home is transforming our hearts. May we use every blessing we're given to become more like Jesus, more like smooth stones. Here's to little houses.