I was a babysitter/nanny for more than 10 years, and every time I would watch a family's children, I'd thoroughly clean their house after I put the kids to bed (or while they napped). I just couldn't relax, watch TV, or grab a snack until everything was clean! Depending on the family, I could sometimes tidy up in ten or fifteen minutes, but other times it would take me well over an hour. (You truly would not believe how some people live…and that's all I'll say about that!) Clearly, I am neat-nick.
It should be no surprise that I pride myself in maintaining a clean and neat home…or that I seriously cannot relax or focus until my environment is peaceful. You know what they say about outward calm and inner peace being connected? I'll co-sign that any day.
Despite the fact that a clean home is very important to me, I dislike many aspects of cleaning just like everyone else. I loathe mopping the floors and scrubbing the tub and shower with everything I am! But, I have developed the discipline enough to just do it, knowing that the end result is both a beautiful, cozy home, and a mind at peace. Today, I'll explain in further detail how I clean my home, starting with the frequency, then the order, and finally the products that I use!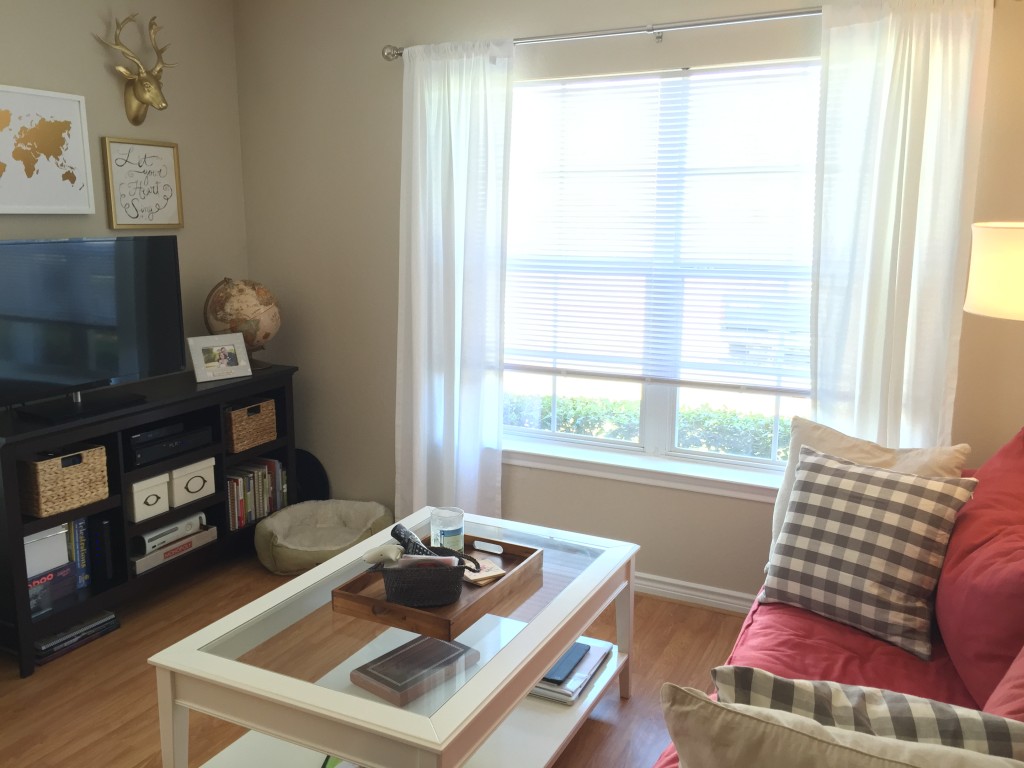 Frequency of Cleaning
When I worked full-time outside of the home, I would haphazardly clean when I had the time and energy. I'd vacuum and mop if the floors looked particularly dirty, tidy up the kitchen each evening, and wipe down the bathroom every Thursday after work before my girlfriends came over in the evening. It worked really well for my schedule at the time, and because I spent most of the day outside of my apartment, it remained clean most of the time without any significant effort on my part.
After Riley and I got married, and I started working from home, I thought I would like to try a more structured cleaning schedule. I scoured the internet and found some great day-by-day lists of tasks (like Monday: bathrooms, Tuesday: kitchen, etc.); then, using the list, I created weekly repeating events on my Google calendar. Each morning, I would get a notification that told me what I was supposed to be cleaning that day, and each morning, I would get very annoyed, ignore the notification, and then resent both the woman who created the list and myself for thinking this system would work for me.
I didn't want to do a cleaning task each day for several reasons: 1) I didn't want to be in cleaning clothes every day of the week or clean in my normal clothes, 2) cleaning for just a little seemed to interrupt the flow of my day, and 3) I would never feel fully satisfied because my home would always be only partially clean–never the entire apartment, all clean, all at once. But the biggest reason why bit-by-bit cleaning didn't work for me? I had the time to set aside three or four hours to deep clean my home all at once–so breaking it up was unnecessary and a waste of time/mental energy. So now, that's what I do.
I set aside a couple of days each month (sometimes every week, sometimes every two/three weeks–it really depends on the month, if we traveled, etc.) where I spend the entire morning cleaning. I put headphones in with one of my favorite podcasts, and go to town cleaning every nook and cranny of our small apartment (home tour here). The time goes by pretty fast, and when I'm done, our home sparkles. Each room is perfectly neat and clean, and that is extremely satisfying to me. (Side note: I clean the bathroom about once a week, take out our trash every other day, and the kitchen gets cleaned–meaning all surfaces wiped down with disinfectant and the floors dust-busted–daily.)
How frequently you clean your home (and how much you clean each time) really depends on your schedule and preference. It may make sense for you to do a little each day if that feels less overwhelming and more do-able for you; on the other hand, you may enjoy the satisfaction of a whole-house clean, in which case setting aside a morning or evening makes more sense. If you don't know, try both!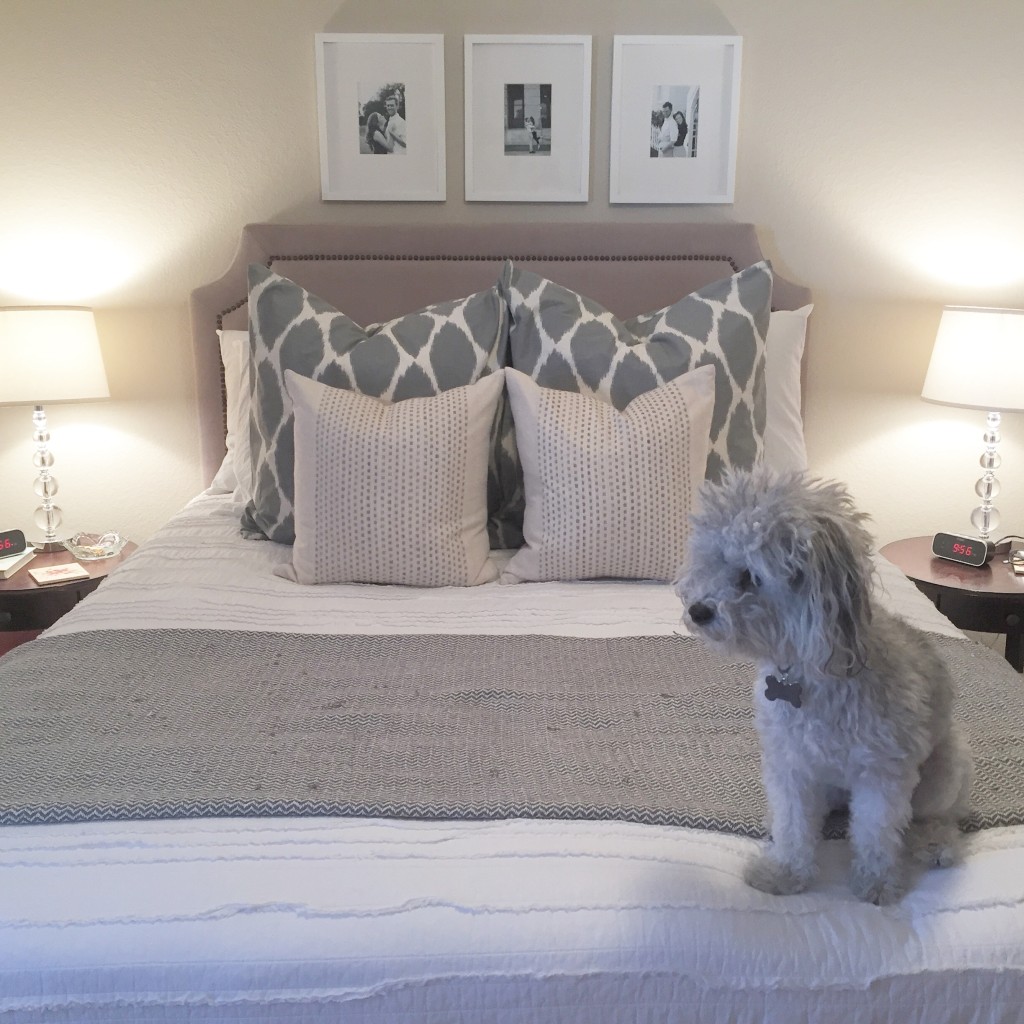 Order of Cleaning
Now that I've established that I do a few-times-a-month deep clean, I'll outline how. I always clean in the morning before lunch (usually from 9am to noon), and I usually just stay in my pajamas while I do so. Sometimes, I'll change into yoga pants and a t-shirt, but that's usually what I wear to bed, so typically I don't have to!
1 | Deal With Clutter
The first thing I always do is put away any random items or clutter so that I don't have to work around them while I clean. If there are shoes in the living room, I put them away in the closet. A stack of laundry gets put away in the dresser. The dishwasher gets unloaded and reloaded. Stray dog toys get corralled in a basket on the floor. I fluff our pillows on the couch and roll up any blankets, putting them back in their basket as well. If there's an unopened stack of mail (or if it's open but not dealt with), I'll sort it, throw away what we don't need, and address the rest. Basically, I fully reset our apartment so that I can clean and move the fewest number of items as possible in the process.
2 | Wipe Down All Surfaces & Mirrors
Next, I grab a bottle of surface spray and some glass cleaner, and wipe down every surface in our home with paper towels or microfiber cloths. This includes, but is not limited to: all kitchen appliances, cabinets, and countertops, the "dining room" table, the desk, the coffee table, all window ledges, all bookshelves and side tables, the dresser, all mirrors, all lamp bases, and the windows if they're smudged (I don't clean the windows every time). This is one of my favorite cleaning tasks, and it gets done more often than once a month! I wipe down surfaces about weekly or as needed. The only room I don't wipe down during this step is the bathroom–I do the entire bathroom all at once (see below)!
3 | Deep Clean Bathroom
Now that everything is put away and all the surfaces and mirrors in the rest of the house are sparkly clean, I head into the bathroom to shine it up. I clean the toilet bowl and lids, and then put a gel cling in the bowl. I wipe down the counter and sink with wipes, including the faucet handles, toilet flusher, and door knob (because #gross). I spray down our mirror and wipe down the front of all of the cabinets as well. I switch out our bath towels and hand towel for fresh ones (this happens more than once a month), and finally, I scrub down the tub and shower (my least favorite cleaning task).
4 | Vacuum Floors
At this point, everything is clean except for the floors. I save this for last because that makes sense logistically, but also because I hate cleaning the floors with a passion, and by this point I am motivated to finish my whole-house clean so that I can eat lunch and relax. First, I use my dust-buster to get dust/cobwebs/dirt/whatever from all of the corners and other hard-to-reach spots in our home, both on the floor and ceiling. Then, I vacuum. There's nothing much to say about this–I just pull out my vacuum and run it over all the floors, moving the two area rugs to clean both under them and on top of them. Because I have a dog, this takes quite some time. (Though he doesn't shed, he tracks in so, so much sediment, dirt, grass, and leaves for such a small little guy!)
5 | Clean Floors
Finally, I spray cleaner down and then mop all my floors. I work my way from the bedroom and bathroom into the entryway, then the laundry room and kitchen, then the dining room and living room areas, and finally to my desk. I then sit down and work while the floors dry, soaking in the sights and smells of a beautifully cleaned home!
6 | Take Out Trash & Final Check
Once the floors have dried, I take out our trash (I just dump the bathroom trash and desk trash into our kitchen trashcan and take that out!). I then make sure that everything is put away–all cleaners, wipes, vacuums, etc. I adjust the area rugs so that they're in the proper positions, and ensure that everything is just so. If I need to, I'll wipe down a mirror or other surface a second time, but usually everything looks great!
7 | Celebrate!
By this point, I'm exhausted but satisfied. I enjoy my clean home and celebrate with a yummy lunch and big glass of water or iced tea! If they're not already lit, I usually light some candles to add some extra sparkle!
Cleaning Supplies
Because I would want to know what supplies I used if I were reading this post, I'll include them with links below! (I bought my microfiber cloths and shower scrubber at Target, so these aren't the exact ones that I have–they're extremely similar, though! I also buy my white vinegar at the grocery store and get the generic brand–it's cheap!)
So, that's how I keep our home nice and clean! What does your cleaning routine look like? Do you use any of the same products or supplies? If you don't usually do a whole-house clean, and you decide to try my cleaning routine, let me know how it worked out for you! 🙂