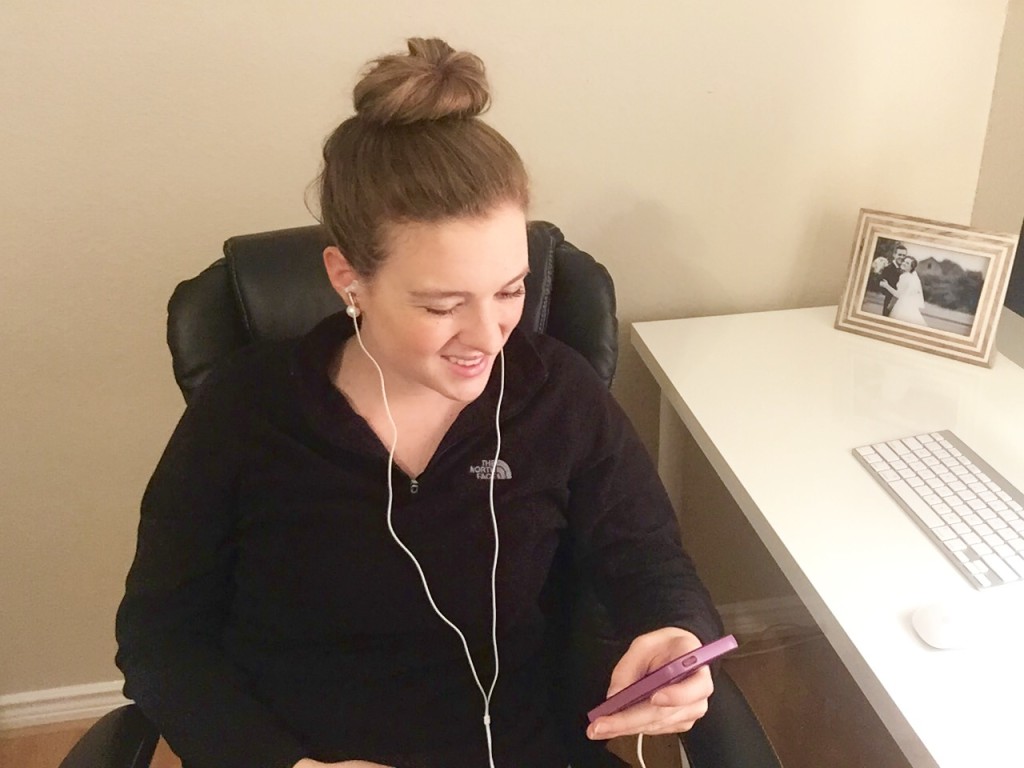 I spend a lot of time at home during the day. It is, after all, where I work and live. Though I truly enjoy the peace and quiet of working on my own (with Charley at my feet, of course!), I absolutely love to listen to podcasts throughout the day, especially while I'm doing housework. For me, podcasts are a great way to stay entertained but also on task. (The TV is much too distracting when I'm trying to get something done!) The best thing about our tiny apartment is that I can stream a podcast to our bluetooth speaker in the kitchen and hear it in any room!
Almost every morning as I clean up after breakfast and then again around dinnertime, when I'm straightening up and cooking dinner, I listen to podcasts. Today, I'll share a few of my favorites (in no particular order!).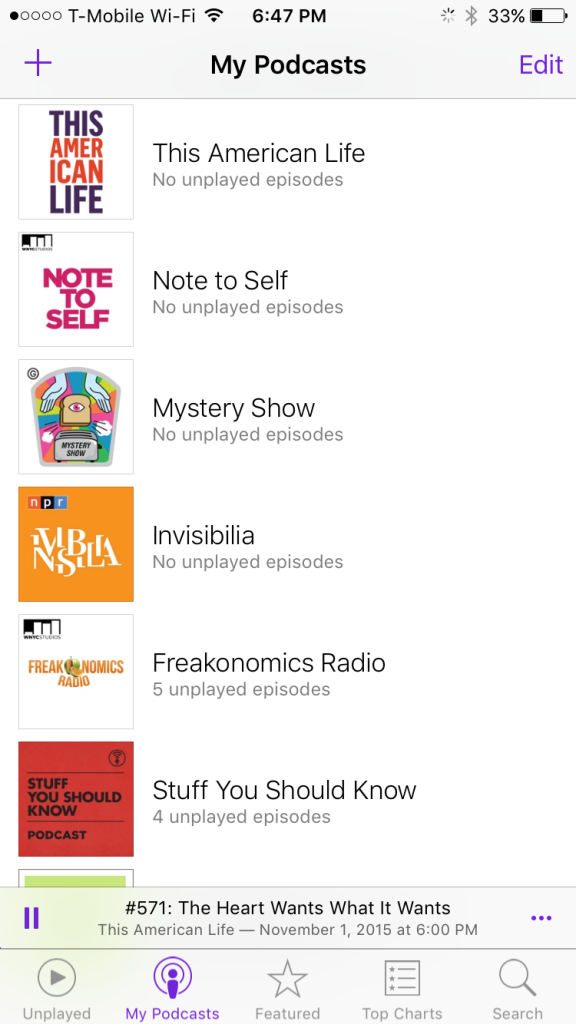 1 | This American Life
If you listen to podcasts at all, you probably listen to This American Life. (If not, you definitely should!) It is excellent, beautifully done, and totally fascinating. The only thing that gets me through Mondays is the new episode of This American Life that airs each Sunday (plus a big cup of coffee!). The podcast presents a compilation of stories surrounding one topic each week, with different people and reporters presenting them. For example, last week's episode was called "The Heart Wants What It Wants" and shared stories about unlikely love, like a man who plans on proposing to a woman who probably won't accept, another man who wrote letters and sent money to a scammer posing as a woman for years, and a woman who falls for the cop who arrested her. Each episode is about an hour long–but it always goes by much too fast!
2 | Note To Self
Though Note To Self episodes are relatively short, at around 30 minutes each, I really enjoy every one. This show covers the human side of technology, and addresses topics like whether it's ethical for parents to share photos of their children online, online relationships that go awry, or the cost of ad blocking on popular sites. The host of this show is a down-to-earth, professional, and relatable woman who asks the right questions as she interviews scientists, researchers, and everyday people for her show.
3 | Mystery Show
Though this is a new podcast, with just five episodes, I already love it so much! Mystery Show is hosted by a quirky woman named Starlee who loves solving mysteries. Her mysteries, however, aren't serious, life-shaking ones. They're everyday curiosities like how an old New York Blockbuster closed and disappeared overnight, what a really bizarre random California vanity license plate means, or how tall Jake Gyllenhaal really is (my favorite episode, by the way–I couldn't stop laughing! The episode is called "Source Code" if you want to listen to it!). Season two of this show is in the works according to the Mystery Show Facebook page, which is great news!
4 | Invisibilia
This is a fascinating podcast. As the name suggests, it focuses on the invisible forces that change and shape human behavior. Whenever I turn on an Invisibilia episode, I become so enthralled in the stories that I lose all track of time. Episodes include Entanglement, which tells the story of a woman with Mirror Touch Synesthesia, Fearless, which explains what would happen if fear were removed from our lives, and The Power of Categories, which talks about how significantly categories define us everyday. If you're at all interested in psychology or human behavior, you'd love this podcast!
5 | Freakonomics Radio
You've probably heard of the Freakonomics book, and maybe even the movie, but did you know there was a podcast, too? Some episodes are more interesting to me than others, but overall, I really enjoy it. The tagline on the podcast is "discovering the hidden side of everything," and that's exactly what the host does each week–take everyday things and break them down to economics. It's really interesting–like the most economically effective way to reduce crime in cities, the four best ways to "fix" a down-and-out high schooler, or why parking is one of the most expensive "free" aspects of our country's infrastructure. If you're insatiably curious like me, you'll love it.
6 | Stuff You Should Know
This podcast dives deep (like, really deep) into things that you've probably never given a second thought to–like how passports work (and where they originated), how wine fraud works, or how animal imprinting works. Each episode vets out the topic of the week in insane detail–from how things began, to how they developed (and why!), to what people were/are involved, to what the state of said topic is today. As with Freakonomics Radio, some episodes are more interesting to me than others. The hosts of this podcast can sometimes lose me because their episodes aren't scripted at all. They individually research the episode topic, and then discuss it on air. This can make for a really genuine podcast, but sometimes it can feel random and unplanned. Just a head's up! You should scroll through the episode feed and listen to one you're interested in–see what you think!
7 | Homemakers By Choice
After I left my job in Austin, moved North to the Denton area, and became a full-time stay-at-home-wife and blogger (read that story here), I set out to find a podcast that would support me in my new role as a homemaker. I found this one, and though I wasn't sure about it at first, I have really grown to love it. The woman who hosts the show, Donna, is a 70 year old devout Christian woman with a retired husband, a grown daughter, and many grandchildren. She is so extremely different from any other podcaster I've ever listened to (or even heard of!). I mean, really, how many grandmothers do you know who put out a podcast every single day? Though I was hesitant at first due to her unique voice (figuratively), after a few episodes, I really fell in love with Donna. She's like a grandmotherly mentor who covers topics from communicating with your husband, to meal planning efficiently, to studying God's word each day, to parenting small children (#yesIlistentothose #cantwaittobeamom), to organizing your home. Truly, it is a podcast for homemakers. I feel so affirmed in my role as a wife when I listen to her, and so encouraged by her sage advice and wisdom. Plus, her episodes are short–just 15 minutes (or so) each–so she's great to listen to on the way to the grocery store or as I fold laundry.
Because I listen to podcasts every day, I'm always looking for new ones! Do you listen to any podcasts on my list? Anything that I should check out? I would love to hear your suggestions! 🙂