Wedding Recap Month is over! I meant to get back to my daily Monday-Friday posts yesterday, but, well, that didn't happen. Now, I'm back in the game!
You know how they say that love grows best in small places? Well, I'm here to tell you that it's true! Love DOES grow best in small places. Riley and I live in a 773 square foot (which is tiny in Texas!) apartment in the middle of nowhere…and neither of us have ever been happier!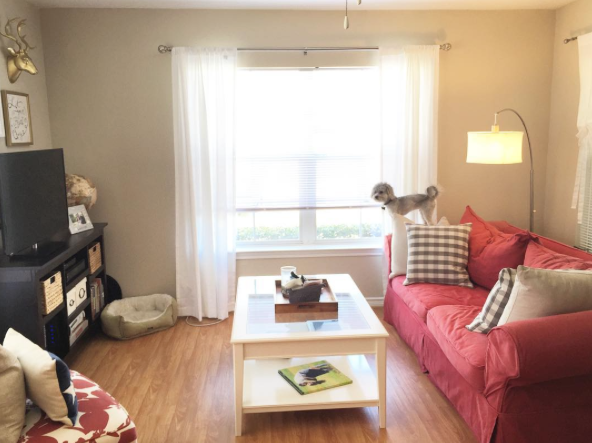 I wanted to take a video tour of our apartment because 1) I love seeing where other people live and I thought some of you may feel the same way, 2) I want to remember where we lived during our first year of marriage, and 3) I know that someday, I'll wish for the simplicity of this time in this place, and somehow a video keeps a memory alive forever.
Got 7 minutes and 51 seconds? Watch our home tour below, or watch it on YouTube here.
Our home is small, simple, and mismatched. The cabinets and countertops are old; the walls are all an off-white or tan. We overlook a parking lot, sunflower field, and another apartment building. Our bathtub is shallow but we never run out of hot water. The living room is always a little too hot and the bedroom is always a little too cool. We have a huge master closet and it's full of wedding gifts that we can't store anywhere else. Some days I think our home looks like an IKEA showroom. We don't have it all, but we have our love, we have each other, and that's enough in this simple, tiny first home.
Love does grow best in small places.