This year was awesome. I can't say for sure that it was my favorite year of life to date, but I'd say it's a super fierce competitor in the Blair's Best Year of Life running.
Here's what went down this year:
I was hired at my first full-time job.
I was laid off. (Huge blessing in disguise!)
…and just 10 days after being laid off, I was hired to work at the amazing church I currently attend! Suffice to say that God had bigger plans for me than being the Marketing Coordinator at a small startup (although I learned a heck of a lot in that position). Details in an upcoming post–promise. Thank you, genuinely, for your prayers and support.
Here's what I accomplished this year:
This year, I let go of fears that held me hostage in the past.
This year, I took leap of faith after leap of faith–and I was caught by the Lord every time.
This year, I kept my New Year's Resolutions. (Although I am realizing now that I never blogged about them.)
This year, I trusted myself more.
This year, I found confidence in my abilities and strength in the woman God has shaped me to be.
This year, I released years of harbored resentment.
This year, I kept promises I made to myself years ago.
This year, I lived a life I am proud of.
This year, I stopped trying to be perfect.
And most importantly, this year, I fell even more in love with Jesus. I learned to love His people, trust His word, and reflect Him more.
And here's my manifesto for 2014: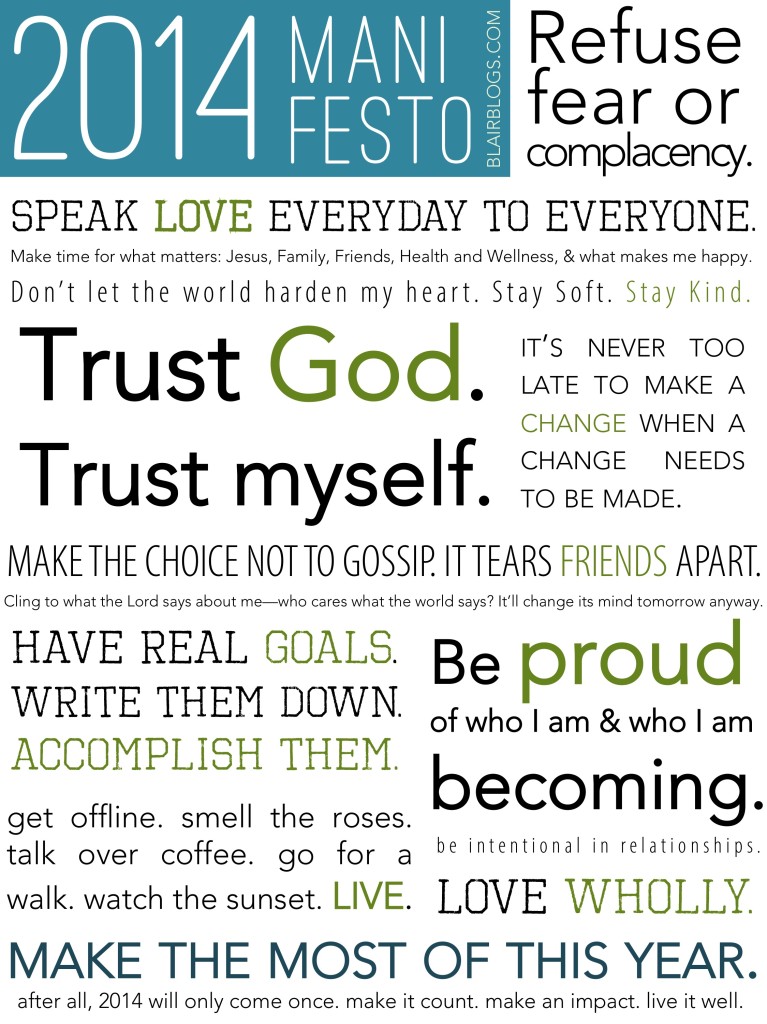 Happy New Year, friends. May 2014 be a beautiful year of growth for you.