This past Tuesday began like every other Tuesday for the past six months, except for a few extra steps in my morning routine thanks to my new ball of fur, Charley. I woke up, took Charley out, put on an outfit and makeup, straightened up the apartment, and checked my email before I headed out the door for work. I was feeling unusually introspective and quiet that morning. Whereas I always watch the news as I get ready and listen to the radio on the way to work, I chose complete silence instead.
Upon arrival at work, I chatted with my co-workers, opened up my company email, and started my day. As a proud member of the Party Planning Committee, I ironed out the last few details for the holiday party, potluck, and gift exchange that was to be held Wednesday. I received a meeting invite for a quick 30-minute marketing team get-together at 11am. Thinking nothing of it, I worked until 11am, and then made my way into my boss's office with my laptop, notebook, and pen in hand, joining the three other marketing team members and my boss.
While we typically make small talk for five or ten minutes prior to "getting down to business," today was different. I easily pick up on others' energy, and my boss, who is warm and friendly, was strangely quiet and serious. She begins with, "This is not going to be an easy conversation…" My mind immediately jumps. It's said that we can only see things through the filter of our reality and past experiences, and this was definitely true on Tuesday. Not having been in the working world for even a year, I assume we're getting "in trouble" as a team. Perhaps we sent out the wrong email. Maybe we didn't meet our Q3 goals, or we're far from meeting those for Q4.
"After today, the marketing team, including me, will be moving on," my boss explains. "The company is being restructured, and there's just not the need for a marketing function," she goes on. Starting to cry, she quietly whispers, "I am so sorry. I did everything I could to prevent this."
Complete silence falls over the already-hushed room. If one of my eyelashes had fallen out, I would've heard it hit the plush carpet under my chair. I finally understand what she's saying–that we're all being laid off. Her tears trigger my own. The woman on my right, a kind, highly intelligent woman, rests her forehead on the thumb and pointer of her left hand, which is resting desperately on the armed chair she sits in. The man to my left stares blankly out the window. Only the fun-loving, light-hearted woman two seats to my right speaks. "When did you find out?" she asks our boss.
"I had no idea until 9:30pm last night. There was no writing on the walls, or I would have given each of you a fair warning," she says earnestly as she looks at her desk. "This has been the most fun I've had in my 20 years working in marketing. You all have been amazing to work with, and I have no doubt that you will find employment very quickly. Let's use our networks and hold each other up during this difficult time."
Another long moment of pregnant silence, and our meeting is over. "I'm going to meet with all of you one-on-one today. I'll start with Blair." My three co-workers leave the room. My boss immediately gets up from her desk and throws her arms around me. "I'm so sorry, Blair, I'm so sorry. But I promise it will be okay. You have so much to offer, you are smart, passionate, and a joy to work with. You'll find something even better, I promise."
I allow the hot tears that had been welling up in my eyes for the past few minutes to fall, unashamed. I grab a tissue out of a box on her desk, and mumble, "I…I…I'm just shocked." She empathizes, truly she does–I mean, she's in the same predicament as well. I look up at her, and ask "Who will be left?" Tears stream down her face as well. "Almost no one. Upwards of 80 percent are being laid off as well." A few more words are exchanged, and I gather my belongings. "I have to go home, I…I just can't be here right now." She looks at me, replies kindly, "Do whatever you need to do. Unfortunately, though, you'll need to clear out your cube by the close of business today." I agree, walk to my cubicle, grab a few items, and hurry to my car.
The sobs start. I take a deep breath and call my mom. She's in a meeting and doesn't answer. I try my dad next. He answers the phone, and I suppress my emotions enough to explain what had happened. He responds, gently, appropriately. Empathizes, but reminds me that it'll be okay…that there's something better in store for me…that life will most certainly go on. That he and my mom will support me until I'm back on my feet. We talk until I'm just a few minutes from my apartment, hang up, and the tears continue. I text my mom and best friend, and call my boyfriend. Everyone reacts with the same air of support, love, and peace. I start to feel the dark cloud lift as more and more people remind me of what I already know is true–that God has not abandoned me, and that He will provide.That the Lord has a much better plan than I have for myself. I feel a tiny flame of hope ignited deep in my soul. It is but a spark, but I feel it anyway.
After a few hours, I return to my office building to clear out my cube. At the last minute before I leave, I decide to bring Charley with me for emotional support. "What are they going to do, fire me?" I think, darkly. Plus, with the massive quantity of people being laid off, I figure everyone could use some animal therapy. He lays comfortingly in my desk chair as I pack up notebooks, papers, photos, and a few other items. Each person who walks by my cube plays with him and cuddles him. I leave, heavily, but glad that I brought sweet Charley–he made the process tolerable, and helped lift the overall spirit of the office.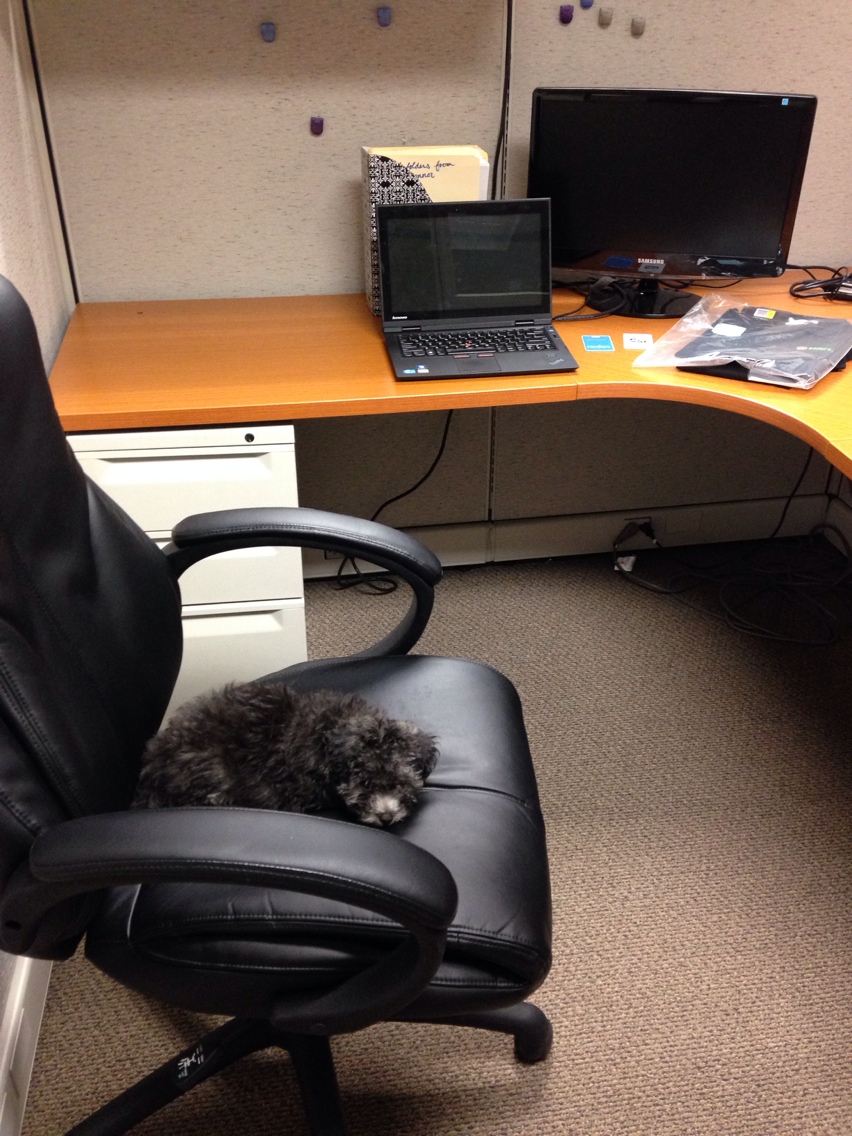 Post cube-cleanout, Erin, a member of my Austin pseudo-family (who are really long time family friends), calls me and asks me if I'd like to come to dinner or if I'd rather be alone. I thank her and agree to dinner–it just sounds better than sitting alone in my apartment. I arrive, and am greeted by Erin's parents and her two adorable daughters. I laugh for the first time all day at Kyan, Erin's crazy two-year-old, who is singing "eenie-meenie-miney-mo" at the top of her lungs. It's refreshing to smile and the dark cloud of sadness lifts a bit more as the tiny flame in my soul thickens.
I drive home, and am greeted happily by my black fur baby, who just knows. He lays on the couch beside me, and sweetly puts his paw on my leg as if to say "It's going to be okay." We watch TV together, and I decide to post a Facebook status chronicling the day's events–because I don't ever want my friends on Facebook (or my blog readers) to think that my life is perfect or that I have it all together, and also because I need prayers and support. I am deeply humbled to see the unexpected and overwhelming response of encouragement and prayer from my social community. Friends who I haven't spoken with in years message me, share verses with me, and generally reassure me of my God and my future. Darkness lifts even more, flame increases all the more.
Suddenly, I feel incredibly nauseous and vomit for the first time in probably 10 or 12 years. I feel much, much better (too much information? Sorry–but you asked for it by reading this much already!). After taking Charley to my apartment's dog park (which we both love), I washed up and brushed my teeth, climbing in bed with him snuggled next to me. Falling asleep that night, I am full of conflicting emotions. Anxiety and peace. Nervousness and self-assurance. Desperation and hope. Sadness and gratitude.
And so, now that you've read 1,409 words about one shocking day in my life, I feel compelled to say thank you for your support and kindness. Here's what I'm clinging to at present:
I am not the first nor the last to be laid off…many people make it through this, and I can too.
I am surrounded by wonderful family and friends, and I am allowed to rely heavily on them for support during this time.
I may have had a plan for my future, but it wasn't meant to be. What is meant to be will be better. "Many are the plans in a person's heart, but it is the Lord's purpose that prevails." -Proverbs 19:21
God knew that I would walk through this difficulty, so He put a puppy in my life for comfort and purpose.
I have not one single reason to be ungrateful…there are always a million reasons to praise the One who gave me life, wrote my plan, and walks with me through it all.
All that said, I would deeply appreciate prayers for positivity and peace and meaningful employment.