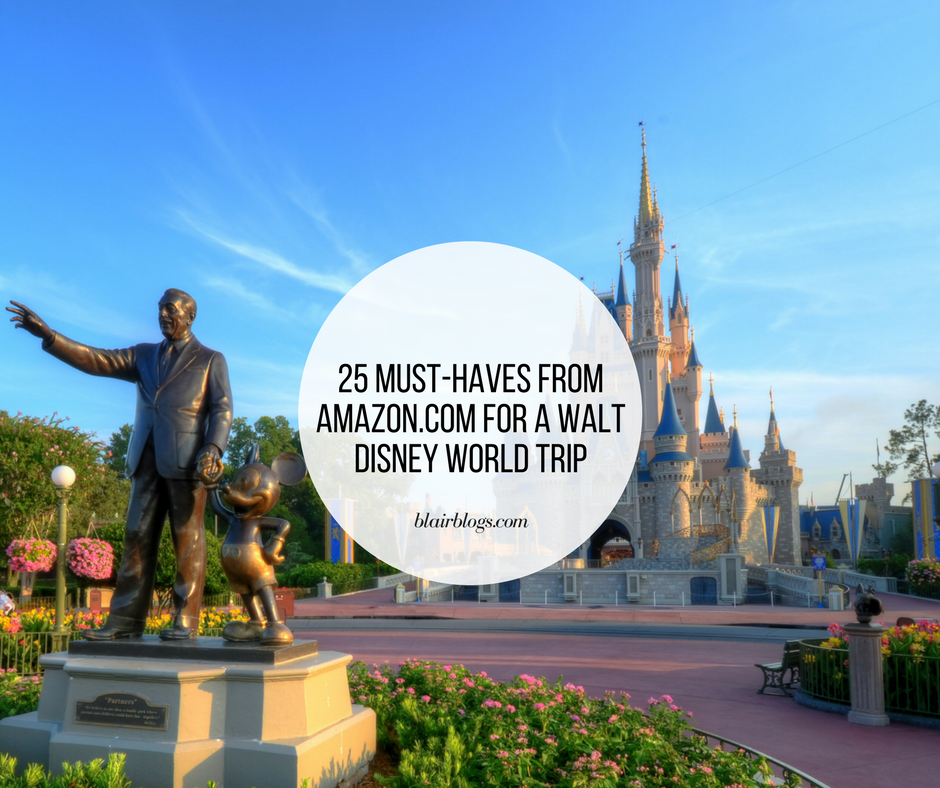 Before I depart for any trip, I shop on Amazon. This is partially because I'm lazy and prefer online shopping to real-life shopping, partially because Amazon prices are usually cheaper than their in-store counterparts, and partially because I live in the middle of nowhere and don't feel like driving 45 minutes one way to Target.
Disney trips in particular require a bit of thoughtful shopping beforehand. Today I'm sharing the 25 must-haves I've bought from Amazon before past trips to the happiest place on earth! This is not intended to be a comprehensive packing list. There are many more items you may consider packing; this list contains my Disney trip must-haves that may be worth purchasing online.
As always, any Amazon links I share are affiliate links. This means that the price of the item won't change for you, but I receive a small commission of the sale which helps me keep my content free and my site up and running. Thanks!
Great Park Bags
When you're in the parks touring all day, a comfortable park bag that's the right size for you and your family is essential. Whereas some people like a small bag with only the absolute necessities, many prefer something larger that can hold more. Here are my three favorite park bags–small, medium, and large.
1 | Dooney & Bourke Nylon North/South Triple Zip – small
This tote is very small and only holds a cell phone, small wallet, and chapstick. I love using it for evenings in the parks when I don't need a lot with me and want to be able to pop on and off rides without wrangling a large bag.
2 | Baggallini Hobo Tote – medium
This bag is medium-sized, and works great for days at the park when a few "extras" are necessary. It can hold everything that the small tote can hold, plus a water bottle and lightweight jacket or sweatshirt. I reach for this bag often when my husband and I are touring.
3 | The North Face Classic Borealis Backpack – large
This is a backpack, and it's large enough to hold everything the medium bag can hold, plus another water bottle or two, another sweatshirt, a change of clothes, a change of shoes, etc. We use this backpack on days when we want to bring a change of clothes (like if the weather/temperature is going to change, we plan on riding a water ride, etc.), when we want to bring snacks, or when we plan on shopping and want to carry our merchandise with us.
For the Parks
What you choose to bring into the parks will vary greatly by your trip agenda, your party, your preferences, etc. Today, I'm offering a sampling of different items you may purchase online to keep in your park touring bag.
We bought this autograph book and take it with us whenever we know we'll have a character meal or interaction. For someone like me who isn't theatrical at all and struggles with character interactions but also wants photos, an autograph book is gold. It gives me something to do when I'm meeting a character and is a great souvenir!
5 | Canon G7X 
This camera is expensive, but it is aaaaaamazing. The photos it takes are gorgeous, and videos are HD and crystal clear. I love it! It's small and lightweight, too, and the battery lasts a long time, making it the perfect Disney park companion. If you're in the market for a camera, I highly recommend the G7X.
You can ask any quick service location in Disney for a free cup of water, but if you'd like a water bottle that's more portable, these collapsible ones are great. I like filling mine with water at our resort in the morning, drinking it on the way into the parks (gotta get hydrated early), and then folding it up in my bag until I want it later. Being flat and weighing almost nothing, these collapsible water bottles are great options for Disney days.
The last time we visited Disney was in January, so the weather was cool and these weren't necessary. However, if you're visiting pretty much any time in the spring, summer, or fall, you can expect hot temperatures. I highly recommend toting a personal portable fan with you to keep you cool (and more relaxed) when you're waiting in line or waiting to watch a parade.
8 | Plastic Ponchos
So unattractive and yet so necessary. You can buy these in the parks and pay $8-9+ each, or you grab them on Amazon for $2 each. These fold up tiny and are easy to pop in your bag and can help keep you dry on water rides or in the likely event of a Florida thunderstorm or rain shower. (If it rains during your trip, pop on your poncho and wait out the storm! Many guests will leave and the park will be empty!)
This is critical. Aside from using your phone for all of the normal things (taking photos, social media, texting, calling, etc.), you will also use it for the My Disney Experience app, which allows you to make Fast Pass+ and dining reservations on the go, check wait times, see when parks are opening and closing, and more. We used this portable charger every single day of our trip–I can't recommend it enough.
Comfortable Clothes
You cannot underestimate the amount of walking you'll do every day on a Disney vacation! We walked between 10 and 20 miles each day of our last trip. Because of that, you'll want to make sure that you're wearing very comfortable clothes and shoes. Here are some of my favorites:
I am most comfortable in leggings (when it's cool), and I love these! They're affordable, thick (not see-through), and very comfortable. I loved wearing these throughout my Disney trip in January!
11 | Nike Tempo Shorts
My favorite comfortable shorts are these Nike Tempo shorts. They're breezy, lightweight, and not too short. I wear them all throughout the summer and wore them almost daily during our Disney trip last May. I highly recommend these. (They hold up well, too! I've had some pairs for 6+ years!)
12 | Comfortable Bras
Women, don't forget to purchase comfortable bras! When you're moving all day in the heat, you will be sorry if your bra is uncomfortable. My favorite comfortable-but-supportive bras for Disney are this one or these. I've worn both on Disney trips and have been very happy with them.
13 | Comfortable, Supportive Shoes
What kind of shoes are comfortable is completely subjective to the individual wearing them! Personally, I wear Asics or Nikes when I'm touring in Disney. I know many people who love wearing Chacos, and others who prefer wearing lightweight shoes like Crocs. My best shoe-related recommendation is to bring at least two comfortable pairs of walking shoes that you can alternate through so as not to rub the same spots on your feet all week.
Comfort Care
Let's face it: walking miles and miles each day in the Florida heat and humidity can yield some uncomfortable results, like sore muscles, blisters, and the like. Make sure to stock up before your trip with "comfort care" items to ensure that you and your family can focus on having fun instead of dealing with discomfort.
14 | Dr. Scholl's Moleskin Plus
I've used Moleskin since I was a lacrosse player back in middle school, and it is perfect for Disney trips! I have incredibly sensitive skin, even on my feet, and Moleskin acts like a protective barrier in my problem spots where I'm prone to getting blisters. I didn't bring this on our first Disney trip and hugely regretted it when I had painful blisters covering both feet by day three; on our last trip, I used it every day as a preventative measure and it worked amazingly well. This is a must-must have!
15 | Band-Aid Blister Gel Guard Bandages
In the case that you do get a blister, these bandages are awesome. They have a thick gel layer that cushions your skin and relieves discomfort. At such an affordable price, I highly recommend packing a box of these and popping at least one or two in your park bag each day!
16 | Gold Bond Friction Defense Stick
This is exactly what the name suggests–a friction defense stick! You can use it wherever you may want to reduce friction, with the most common application site being the inner thighs (this evokes a mental image of Napoleon Dynamite preparing to run, hah!). Skin rubbed raw from friction can be so uncomfortable that it can ruin a trip, so bring a tube of this to be on the safe side.
17 | GoTubbs for medication (or individual packs of medicine)
I love these little tubs all year round, but they're particularly helpful for Disney trips. I fill one with pain meds, one with stomach meds, and one with allergy meds and carry them with me while we tour. I cannot tell you how often we use these (especially the ibuprofen) throughout our Disney days.
18 | Biofreeze
I regularly use Biofreeze to manage my chronic back pain, and it's also a great companion on Disney trips. It helps soothe sore muscles, so it's great to rub in after a hot shower at the end of a park day. Highly recommend!
Disney Books
We love reading Disney books at any time, but we spend extra time with them before our trips as a way to build anticipation. (I also love watching Disney vlogs on YouTube!) On our last trip, we tucked a few of these books in our suitcase and referenced them throughout our trip–we'll definitely do that again!
19 | Hidden Mickeys
This book is a "field guide" for hunting down all the hidden Mickeys scattered throughout Disney World. We read this in the mornings while we were getting ready in anticipation of the parks we were planning on visiting that day. It was fun to search for Mickey heads while walking around or waiting in queues.
20 | The Hidden Magic of Disney World
We adore this book! It's fascinating to hear the back stories and behind-the-scenes facts of the various parks, rides, and lands. We thumbed through this heavily before we arrived in Disney, and it truly made our trip even more colorful. Highly recommend.
21 | The Hidden Magic of Disney World Trivia
This book is the companion to the one above, but it's trivia. This is a fun book for long plane rides or car rides!
22 | The Unofficial Guide to Walt Disney World 2017 
You can find all of this information for free online, but it's nice to have everything in one compact book that you can hold in your hands. I used this extensively during the early planning stages of our first trip and enjoyed referencing it when choosing restaurants for our last trip.
23 | Birnbaum's 2017 Walt Disney World: The Official Guide
Ditto everything mentioned in the explanation above.
For Kids
We don't have children, and I am sure there are 100 more items to add to this spot, but below are two that my Disney friends with kids have mentioned time and time again.
Bitbelts are small silicone bands that slide on Disney Magic Bands to keep them securely on wrists. Adults can wear them too, but they're particularly recommended for kids who regularly fiddle with their Magic Bands, causing them to come loose. We witnessed three or four families in a tizzy after one of their children lost his/her Magic Band on our last trip! Bitbelts to the rescue!
Disney has excellent protocol in place should kids get separated from their parents, but this extra layer of protection has been highly recommended by my Disney-loving friends with kids. It's a bracelet that allows parents to write their family information as well as any medical/allergy information for their child on the inside. The outside reads "If I'm Lost: Please Look Inside," keeping information discreet but available in the event of an emergency. Another similar option are Child ID Safety Tattoos.
// What do you buy on Amazon in preparation for your Disney trips?
Related: A Handful of My Best Disney World Tips + Disney Vlogs/Planning Videos Playlist on YouTube +Walt Disney World Vacation Recap (Part I) + Walt Disney World Vacation Recap (Part II)
Thank you for reading/watching! You can find me online on Facebook, Instagram, Pinterest, Twitter, and YouTube. If you'd like to be alerted whenever I publish a new post, you can follow me on Bloglovin' or subscribe via email. Take a look at my Etsy shop where I sell tees, totes, sweatshirts, and pillow covers! Are you a blogger too? Check out my Blogger Mentorship Program.