In case you missed it, check out a written recap of the first part of our trip here; part I vlog here.
Saturday, January 28th
On Saturday, we arrived at Hollywood Studios about 30 minutes before the park opened. Once they began letting people into the park (though not on any attractions yet), we got some Starbucks coffee and breakfast and sat outside on a patio watching the park fill up while we ate. The last time we visited Hollywood Studios we were wholly unimpressed. I was particularly disappointed because MGM Studios (its old name) was my favorite park when I visited as a kid! Because of this, we went into this day with relatively low expectations, and though Hollywood Studios still doesn't have a lot to do in comparison to the other parks, we had fun! (Both Toy Story Land and Star Wars Land are being built in HS; we can't wait!)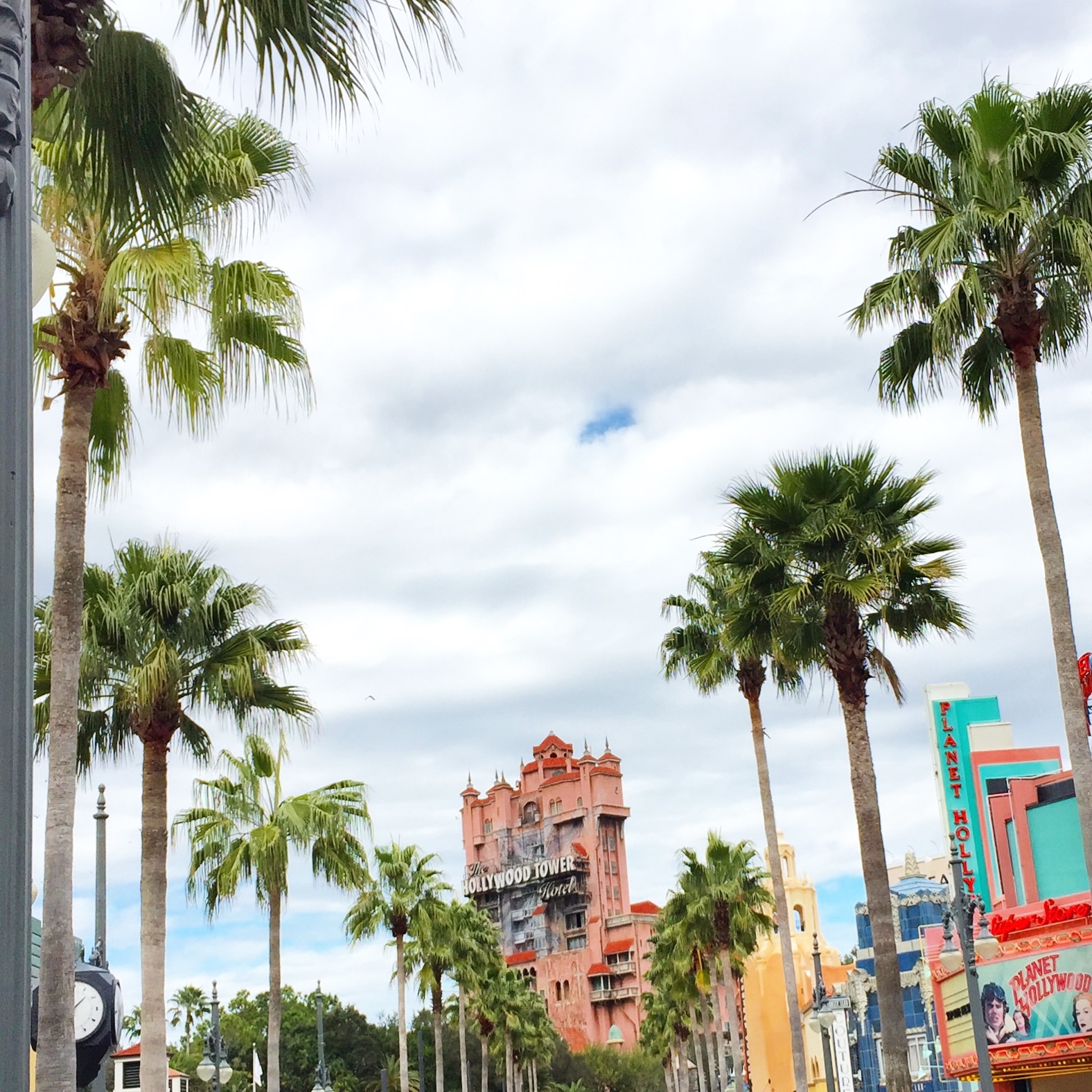 While we were visiting, we saw Beauty and the Beast: Live on Stage, the Frozen Sing-Along Celebration, and Voyage of the Little Mermaid. All three were wonderfully entertaining, and since they were longer, seated shows, this morning ended up being pretty restful. Of course, we also rode Rockin' Roller Coaster and Tower of Terror.
For lunch, we had reservations at Sci-Fi Dine In Theater in the park, which is a restaurant themed to look like a drive-in movie theater. It was adorable! We were seated at a table that looked like a car and got to watch a movie while we ate. I'm telling you, the theming in Disney is unbelievable. Our meal was delicious, too!
After lunch, and more exploring, we headed directly to Epcot for our dinner reservation at Teppan Edo, a hibachi grill in the Japan pavilion. I think this was my favorite meal of the entire trip! The meat, veggies, and noodles were delicious, and for dessert, I got green tea ice cream–I have no words. It was amazing! After dinner, we walked around Epcot for just a few minutes before retiring to our hotel for bed. Since we didn't take a midday break, we were beat!
Sunday, January 29th
We awoke on Sunday to pouring rain, but that didn't stop us! We put on our raincoats and went to Epcot, hoping to catch an empty park to explore. And an empty park we found! It was perfect. We went to the France pavilion for breakfast (ham and swiss croissants and cappuccinos), and then sat inside the French bakery and enjoyed the quiet morning.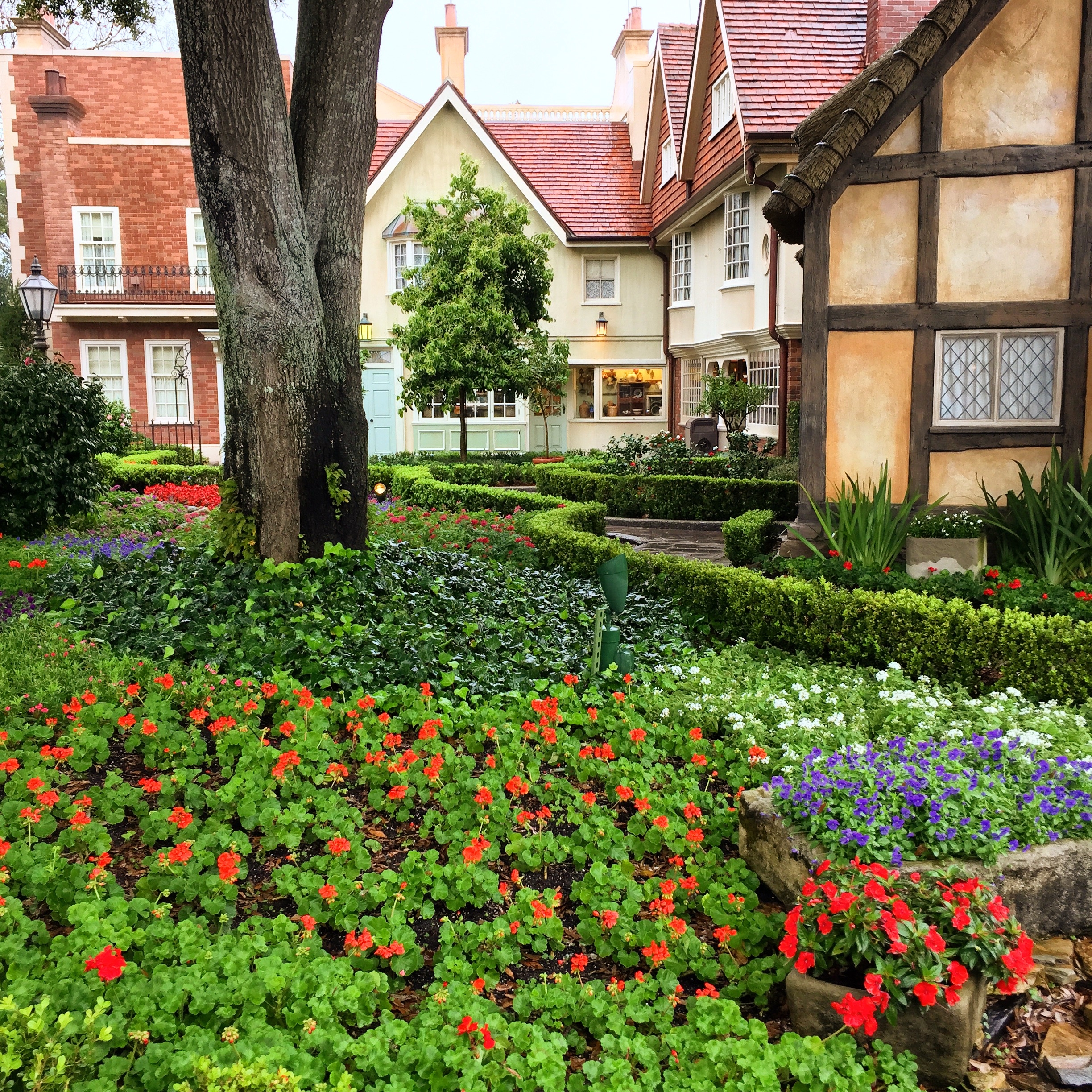 Once the rain died down, we meandered around the still-empty and extra-beautiful park. After another hour or two, we were cold and tired, so we went back to our hotel to shower and rest before dinner. Our dinner reservation was at California Grill, which is a restaurant on the top floor of The Contemporary. We had drinks, flatbread pizza, sushi, salad, and hot green tea to end our meal. The view was incredible and our meal was equally memorable.
After a leisurely dinner, we rode the monorail into Magic Kingdom and spent the evening walking around, riding a few rides, watching the fireworks, and browsing the shops. The park had very low crowds and was absolutely lovely to meander through. This evening–a slow, beautiful meal paired with fireworks and Magic Kingdom fun–is a fond memory that I revisit often.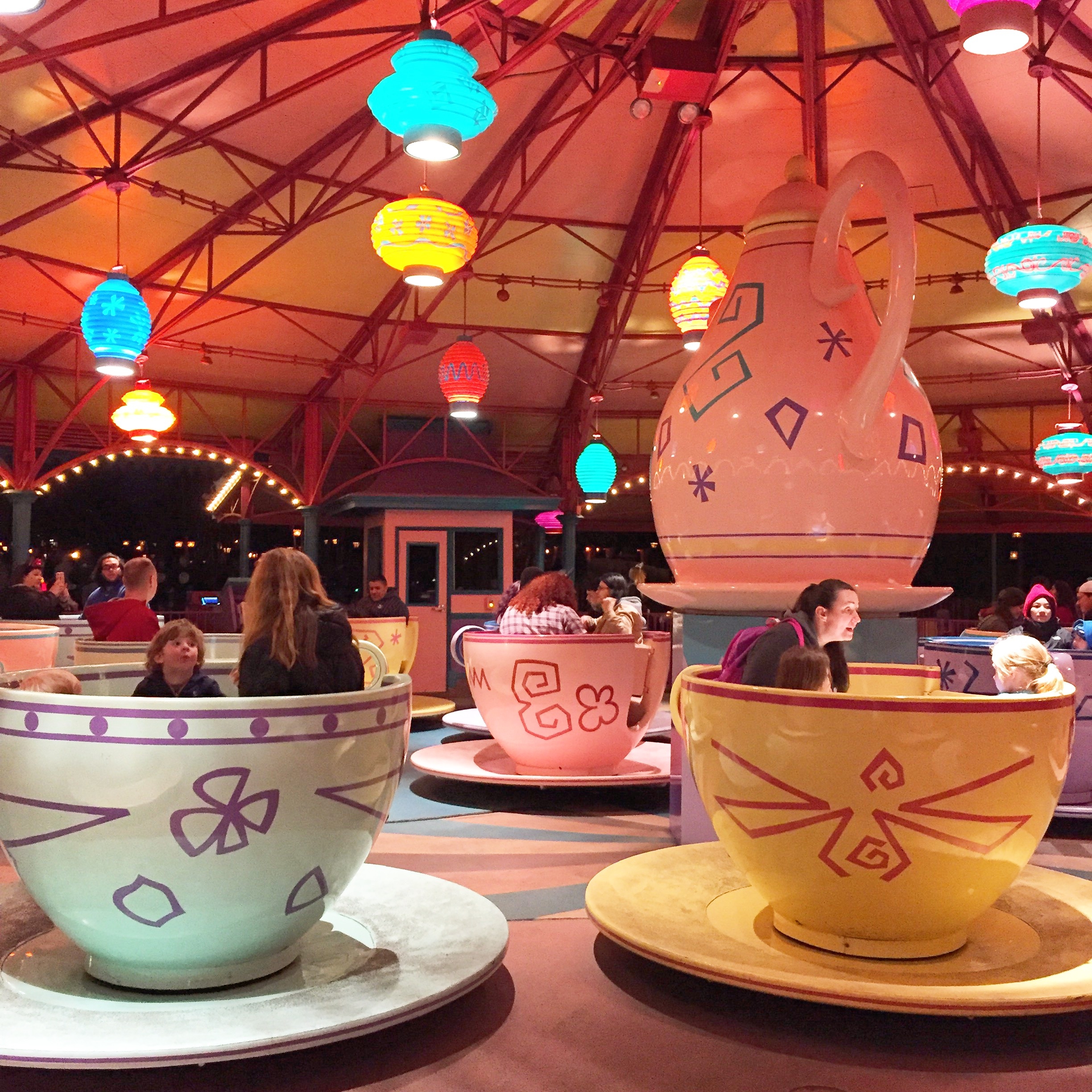 Monday, January 30th
Monday was our last full day, so we started it bright and early in Magic Kingdom! We went to Gaston's Tavern for breakfast and got LeFou's Brew (frozen apple juice with toasted marshmallow syrup–sounds strange, tastes delicious) and a cinnamon roll to share, before exploring the Swiss Family Robinson Treehouse and Tom Sawyer Island.
For lunch, we went to Be Our Guest (the restaurant in Beast's castle) for the second time on our trip, and had a great lunch of sandwiches with a "Grey Stuff" cupcake for dessert, which is a cookies and cream cupcake that we both love. After lunch, we continued to walk around Magic Kingdom, rode the People Mover (low-key, super fun ride!), Space Mountain, and a few others before dinner. I also got a Dole Whip Float, which is my top favorite Disney treat–it is so, so good! If you like pineapple, you'd love it!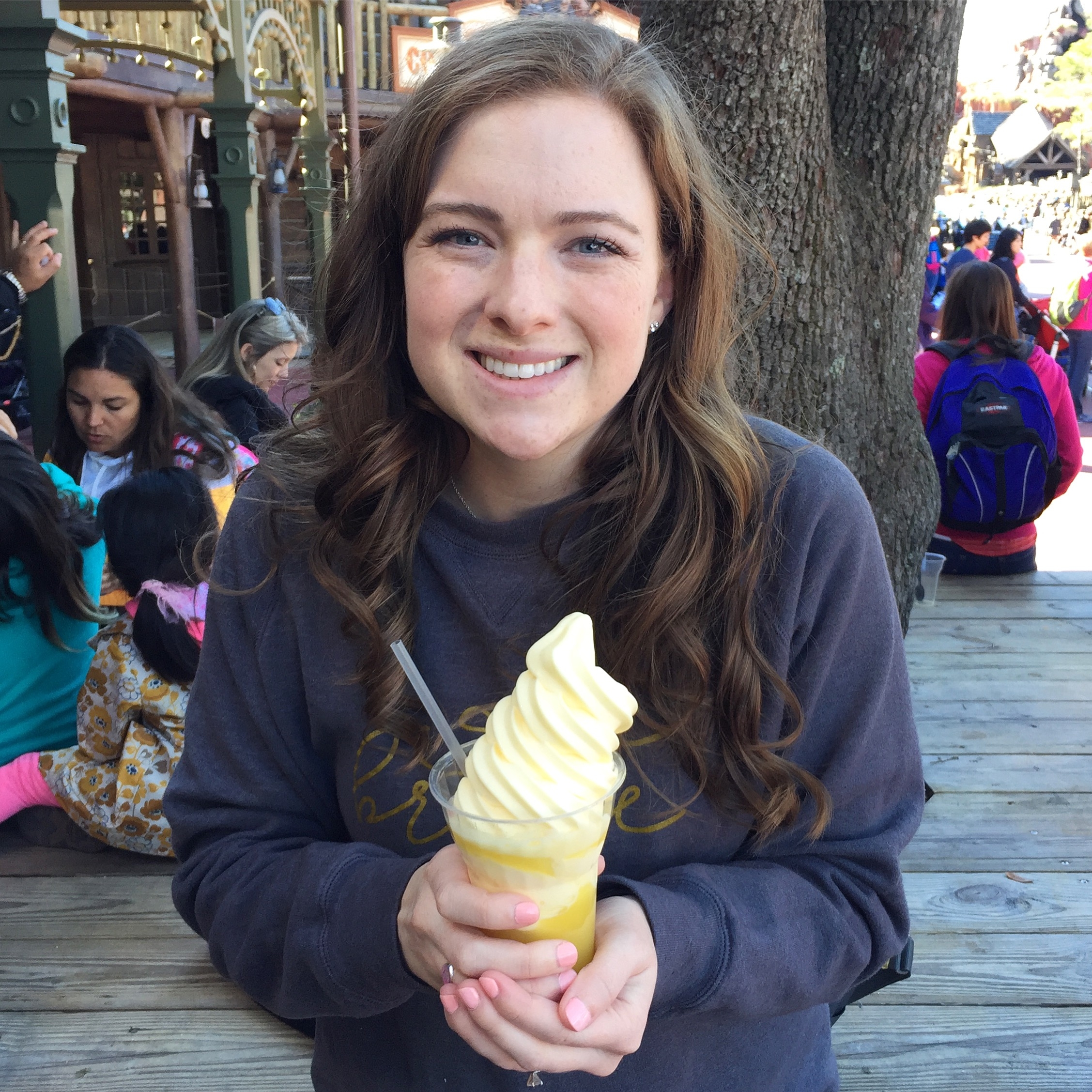 For dinner, we went back to 'Ohana at The Polynesian hotel, which is where we dined on our first night. We loved it so much that we switched our reservation from a restaurant in Epcot so that we could go back to 'Ohana! The food, atmosphere, and service were awesome once again! Because The Polynesian is across the lake from Magic Kingdom, we were able to watch the fireworks from our dinner table (the restaurant had the fireworks music piped in). I don't know what came over me, but I started crying during the fireworks! It was definitely a happy cry, and because my emotions caught me off guard, I started laughing hard while tears were still streaming down my face. Laugh-crying is one of my most favorite things–do you know what I mean? 🙂
Sunday, January 31st
We awoke around 6am on Sunday to get our luggage squared away and to get checked out of our hotel before spending the day in the park. After we got ready for the day, left our luggage with Bell Services, and checked out of our hotel, we headed to Magic Kingdom for a pre-opening breakfast reservation at…you guessed it!…Be Our Guest. Again. 😉 It's delicious and I can't get enough of that ballroom! Before we sat down to eat, Riley wanted to try to pull the sword out of the stone. It didn't budge, but apparently it does from time to time, so he had to give it a shot!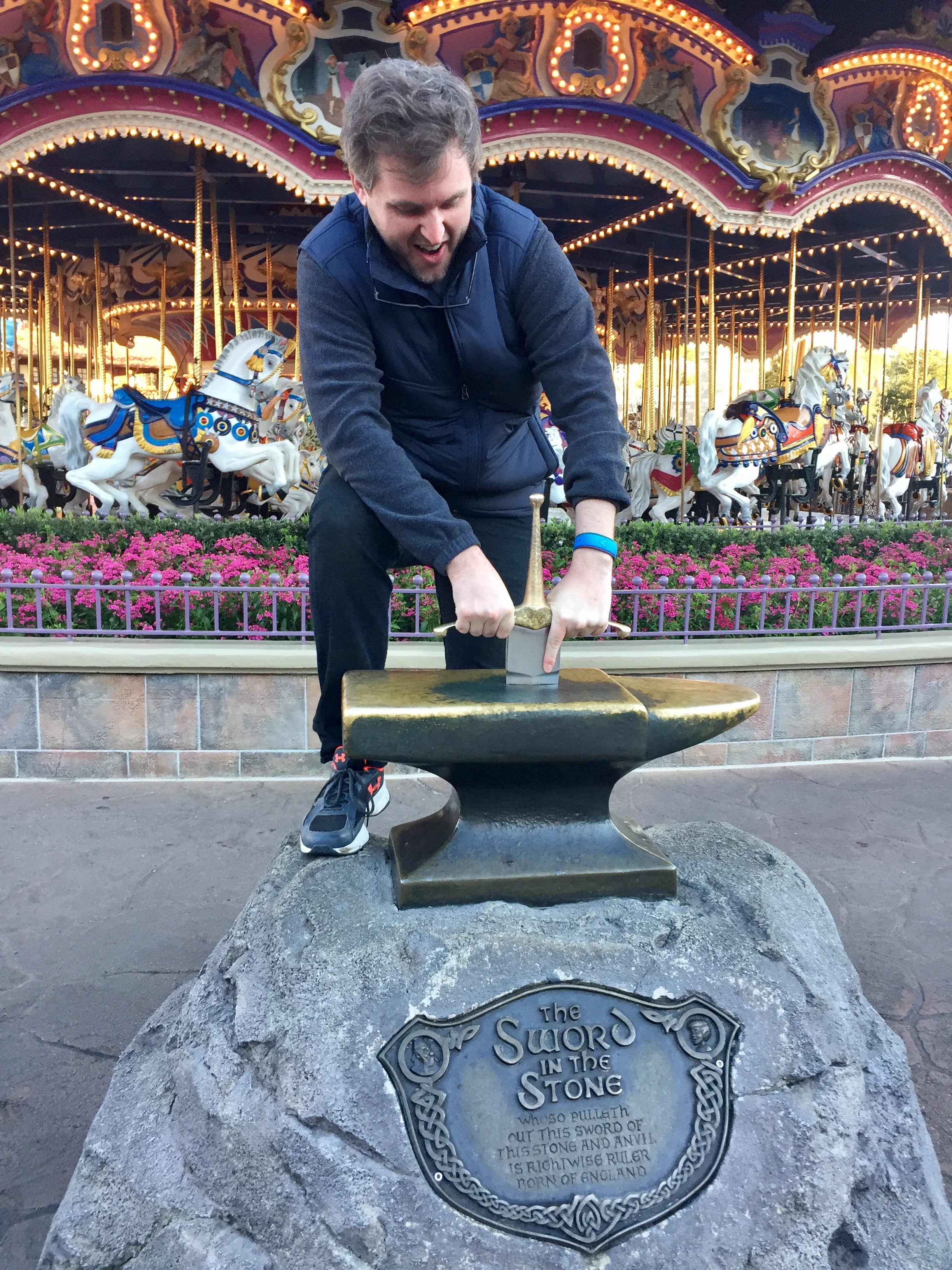 After breakfast, we rode some of our favorite rides one final time, like Space Mountain, Seven Dwarves Mine Train, and Journey of the Little Mermaid. We walked around Main Street for a while, picked up a couple of Starbucks drinks and a Mickey soft pretzel, and soaked in our last minutes of gorgeous Florida sunshine. (I get Very Berry Hibiscus Refreshers from Starbucks all summer long–they're my favorite–but this time, I tried coconut milk instead of water in mine. It was delicious, I highly recommend if you're looking for a hydrating, refreshing, creamy drink!)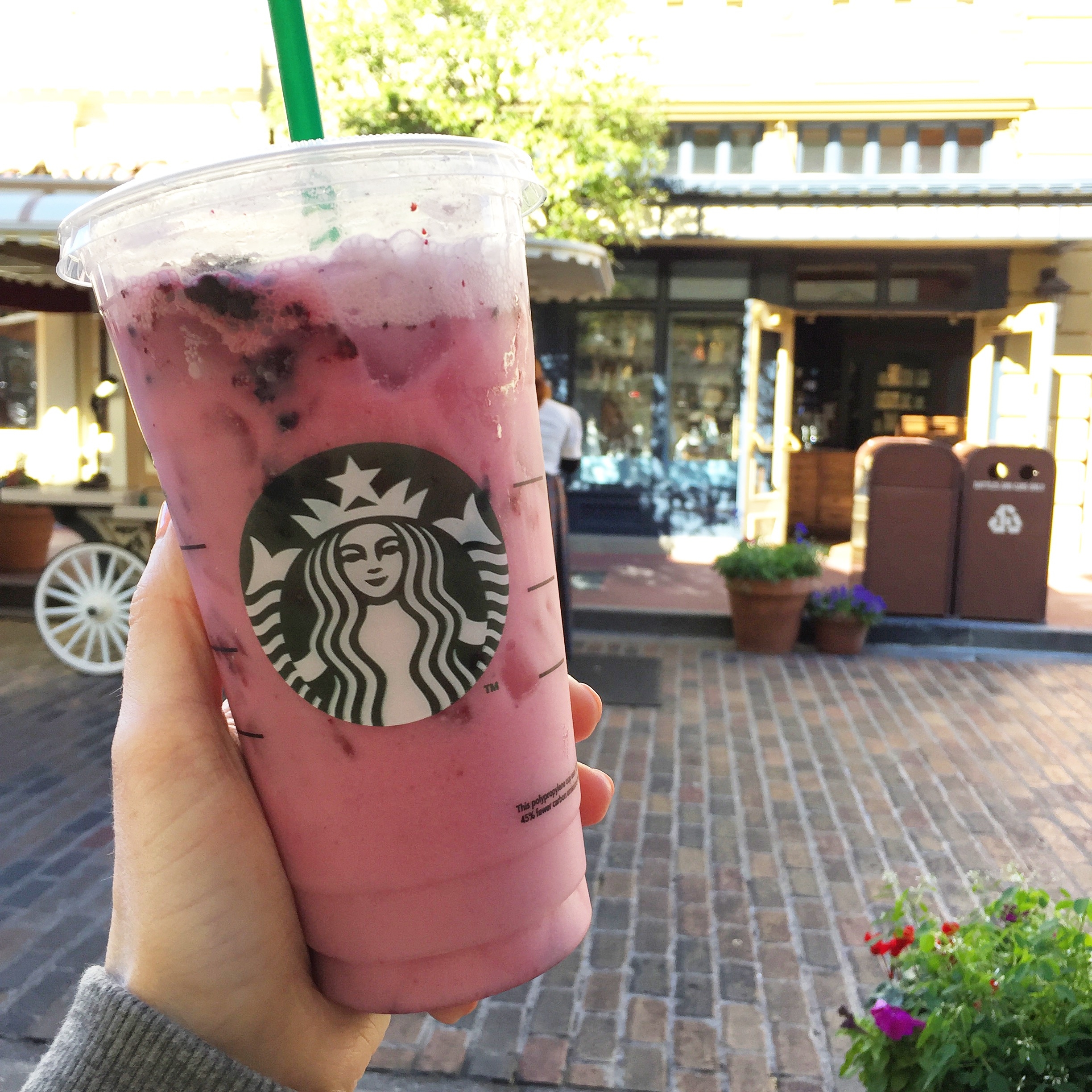 We also made sure to duck into our favorite little alcove on Main Street to recreate a photo that Riley took of me on our last Disney trip! I think we'll make it a tradition each time! (Both photos below.)
Around 3:00pm, we left Magic Kingdom for the last time on this trip. It was bittersweet–we could've stayed for another week, but we had such sweet memories to carry home with us! Once we were back at our hotel, we picked up our luggage, boarded the airport shuttle, and started on our long journey home. We pulled in our driveway around 12:30am–whew! We were exhausted, but so happy!
Walt Disney World Vlog | Part 2 (Jan. 28-Feb. 1, 2017)
If you're interested, check out my vlog (part two) below or on YouTube here! 🙂 (Part one here!)
I hope you enjoyed seeing glimpses into our lovely vacation! There was much joy in spending time together as husband and wife, celebrating life. Our time away was the perfect ending to January, a month full of renewal and newfound peace for me personally. (I really, really look forward to sharing more about this soon.) Thank you, as always, for your support and love–I appreciate it more than you know.
// What's your favorite Disney restaurant? As you can see, we ate a lot while we were on vacation. I thought all the walking counteracted it, but the +4 lbs. on the scale when I got home told the real story! 😉 #worthit
Thank you for reading/watching! You can find me online on Facebook, Instagram, Pinterest, Twitter, and YouTube. If you'd like to be alerted whenever I publish a new post, you can follow me on Bloglovin' or subscribe via email. Take a look at my Etsy shop where I sell tees, totes, sweatshirts, and pillow covers! Are you a blogger too? Check out my Blogger Mentorship Program.