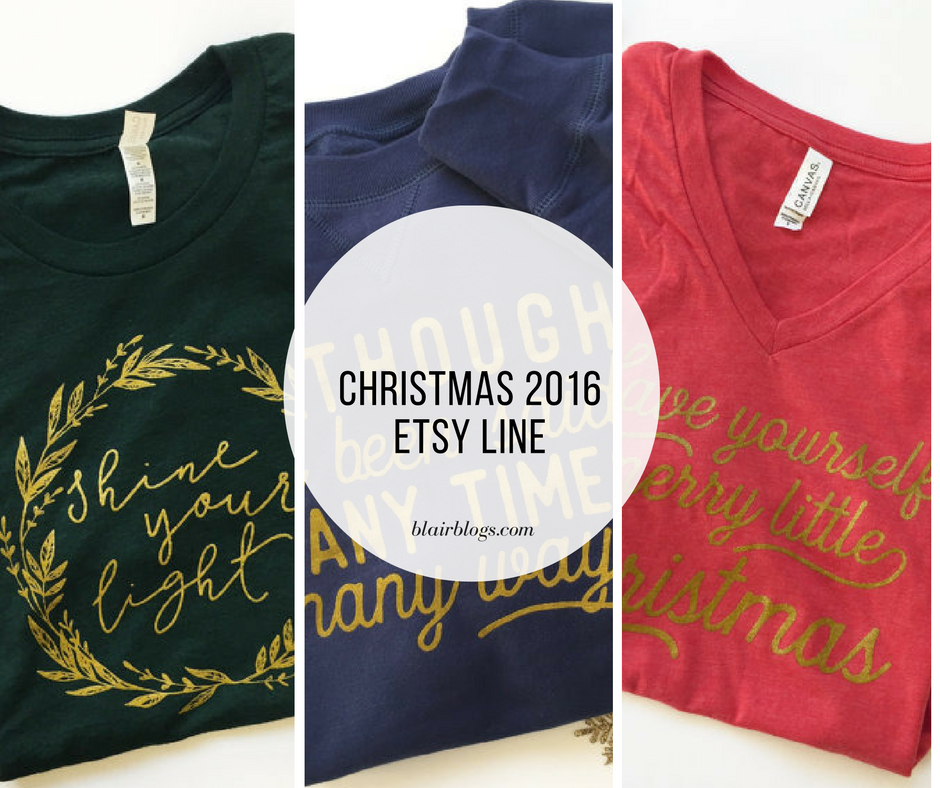 Back in March, when I opened my Etsy shop for the first time, I was already talking about designing a Christmas line. Since then, I've launched a spring line, a summer line, and a fall line, and here we are, in early November–my dream of a Christmas line come true!
Like most people, I cherish the last two months of the year. Thanksgiving is cozy and delicious, Christmas is memorable and special, and both my husband and I celebrate our birthdays in December. We have a lot to look forward to at this time of year!
To add to the cheer of the season, I've created four Christmas designs, which can be printed on v-necks, crewnecks, sweatshirts, and now throw pillow covers!
Design #1: Have Yourself a Merry Little Christmas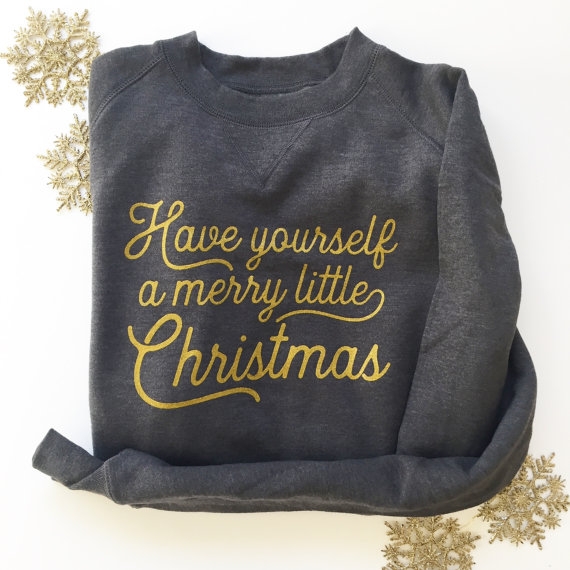 Have Yourself a Merry Little Christmas is my favorite Christmas song (The Carpenters' version), so I knew from the start that I wanted a design with these words. I love the timeless, almost-retro vibe and kind sentiment of this design.
(Have Yourself a Merry Little Christmas tee listing / Have Yourself a Merry Little Christmas sweatshirt listing)
Design #2: It's the Most Wonderful Time of the Year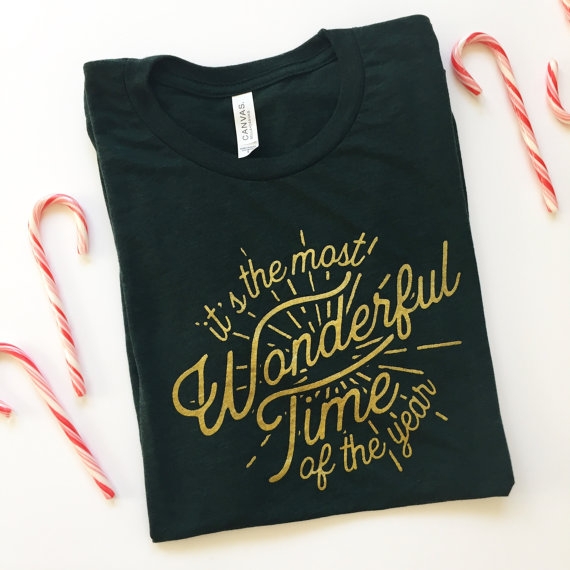 It is, isn't it? There's really no explanation necessary here! (Love the sunburst so much!)
(It's the Most Wonderful Time of the Year tee listing / It's the Most Wonderful Time of the Year sweatshirt listing)
Design #3: Although It's Been Said Many Times, Many Ways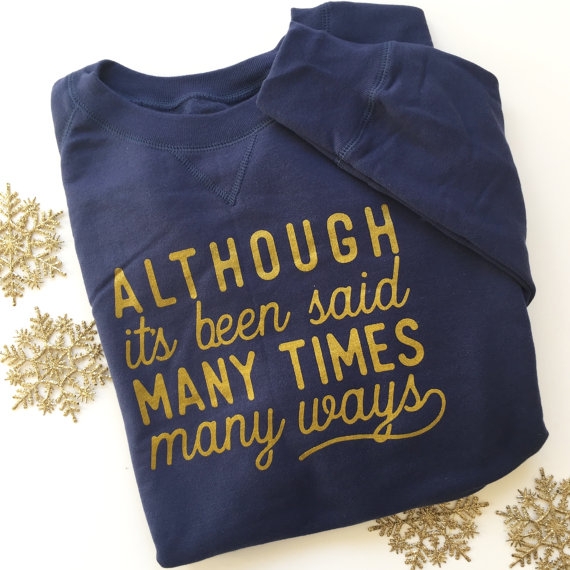 Some more great Christmas song lyrics on a shirt! 😉 I contemplated several different verses of this song to design, but I love the way these words are subtle and a little sneaky. Unless you know the song, the design doesn't make sense–it's a less "spoon-fed" holiday design, if you will.
(Although It's Been Said tee listing / Although It's Been Said sweatshirt listing)
Design #4: Shine Your Light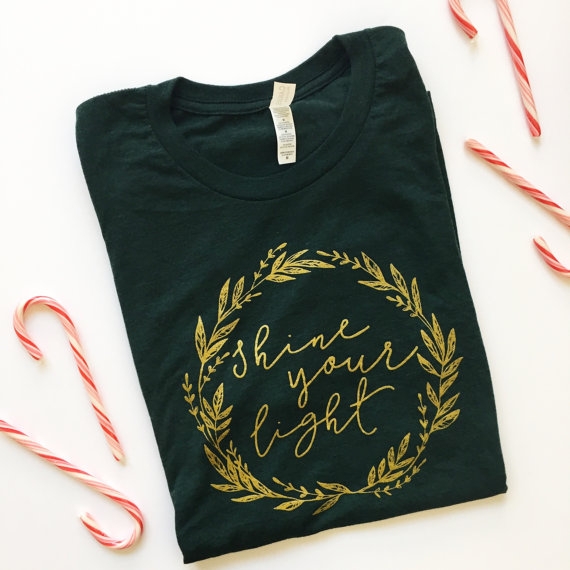 My last design is "Shine Your Light." I wanted one option that didn't scream CHRISTMAS!, so that it could be worn throughout the year, but was also a nod to the warmth of the holiday season. And with that, this design was born!
(Shine Your Light tee listing / Shine Your Light sweatshirt listing)
New! Pillow Covers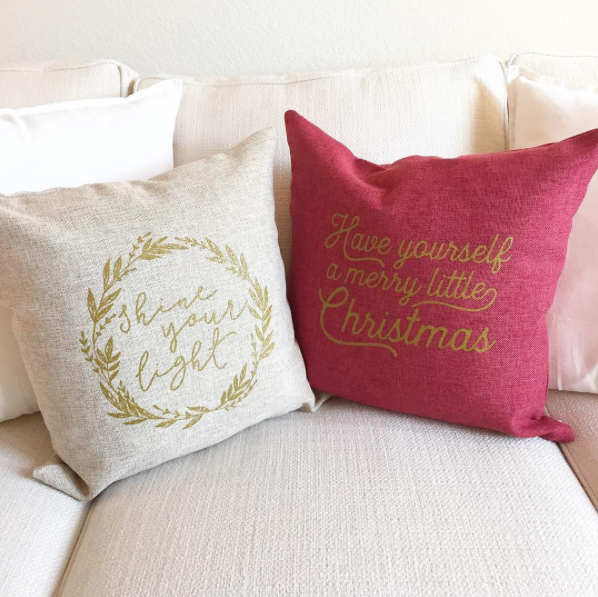 I'm also now selling red and tan linen-style pillow covers in all four designs! They're perfect for your bed, living room, or family room! So festive and happy. Below are the listings for each:
Sizing and Order Information
There is sizing information on each Etsy listing–if you have questions, head over to my Etsy shop, click on the item you're interested in, and read the "Shirts & Sizing" section. If you have further questions, send me a message and I'd be happy to help you decide which size will suit you best.
My shop is unique because every item is completely made to order–I don't keep inventory. Because of this, I am able to print any design on any garment! If there's not a checkout option on Etsy for you to order what you want, just check out with the garment that you want and add a note at checkout with the design you'd like.
For example, if you want Say Yes to Adventure on a vintage navy sweatshirt, choose a sweatshirt listing (it doesn't matter which one), select vintage navy sweatshirt and your size, and then add a note at checkout that reads "SAY YES TO ADVENTURE INSTEAD OF HELLO FALL." If it's clear what you're ordering, I'll print what you've requested and send it over. If I need clarification, I'll send you a message! Either way, you'll end up with your custom order! 🙂 If you have questions, let me know.
Coming 2017: Spring Line! Stay tuned.
Make sure you follow my shop on Instagram for updates; new designs will be available next spring!
Thank you for reading! You can find me online on Facebook, Instagram, Pinterest, and Twitter. If you'd like to be alerted whenever I publish a new post, you can follow me on Bloglovin' or subscribe via email. Check out my fun tees in my Etsy shop and listen to my weekly podcast about simplifying life, Simplify Everything! Are you a blogger too? Check out my Blogger Mentorship Program.