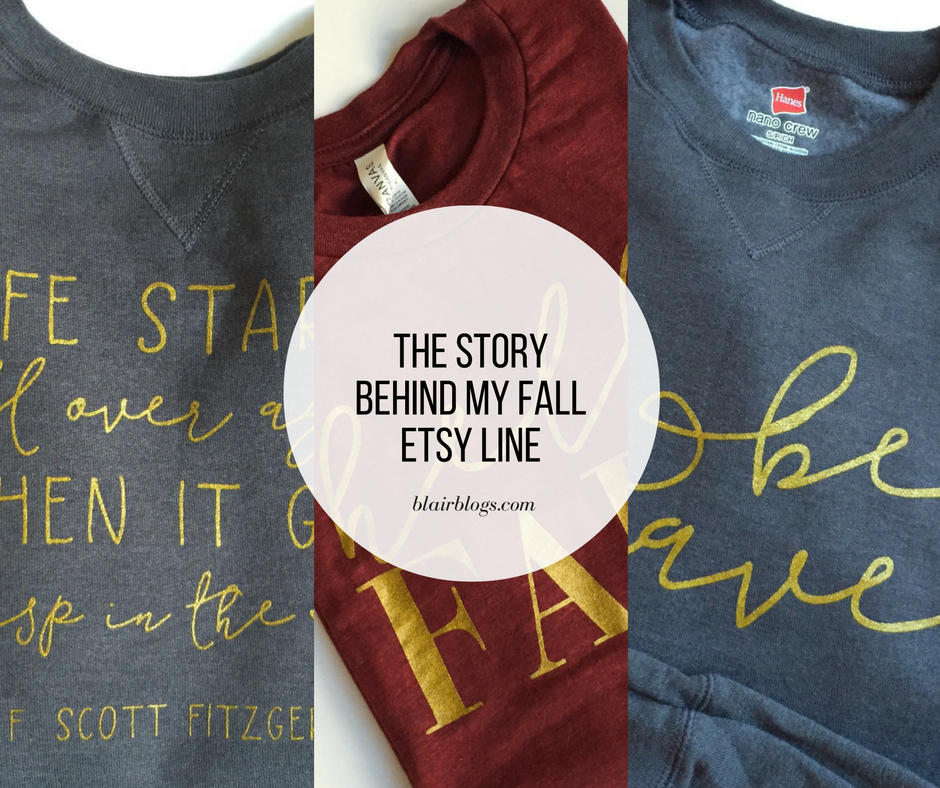 I launched my fall Etsy line on September 9th, which includes three new designs and two new garments! I'll get to all that in a moment, but first I must say, once again, that selling on Etsy is deceivingly time-consuming. This is my third launch to date (spring launch, summer launch), and each time I'm shocked at how much time and energy it takes to bring just a few items to market. (And all the Etsy makers said amen!)
Almost immediately after I launched my summer designs in early July, I began to research and work on my fall ones. I have learned that it takes about two months to finalize designs for launch, and knowing that I was aiming for an early September launch, I jumped in right away.
I keep a note on my phone where I store design ideas when they come to me (I do the same thing for blog posts and podcast episodes). I had about eight solid ideas when I sat down to comb through them and decide which to design and sell. This process alone took about a week! Each night, after dinner, I'd hole up in my office and mock up designs using different fonts and styles, and then look through them one-by-one until I was able to eliminate some. I did this over and over until I was left with three designs: Hello Fall, Crisp in the fall… (an F. Scott Fitzgerald quote), and Be Brave.
Design #1: Hello Fall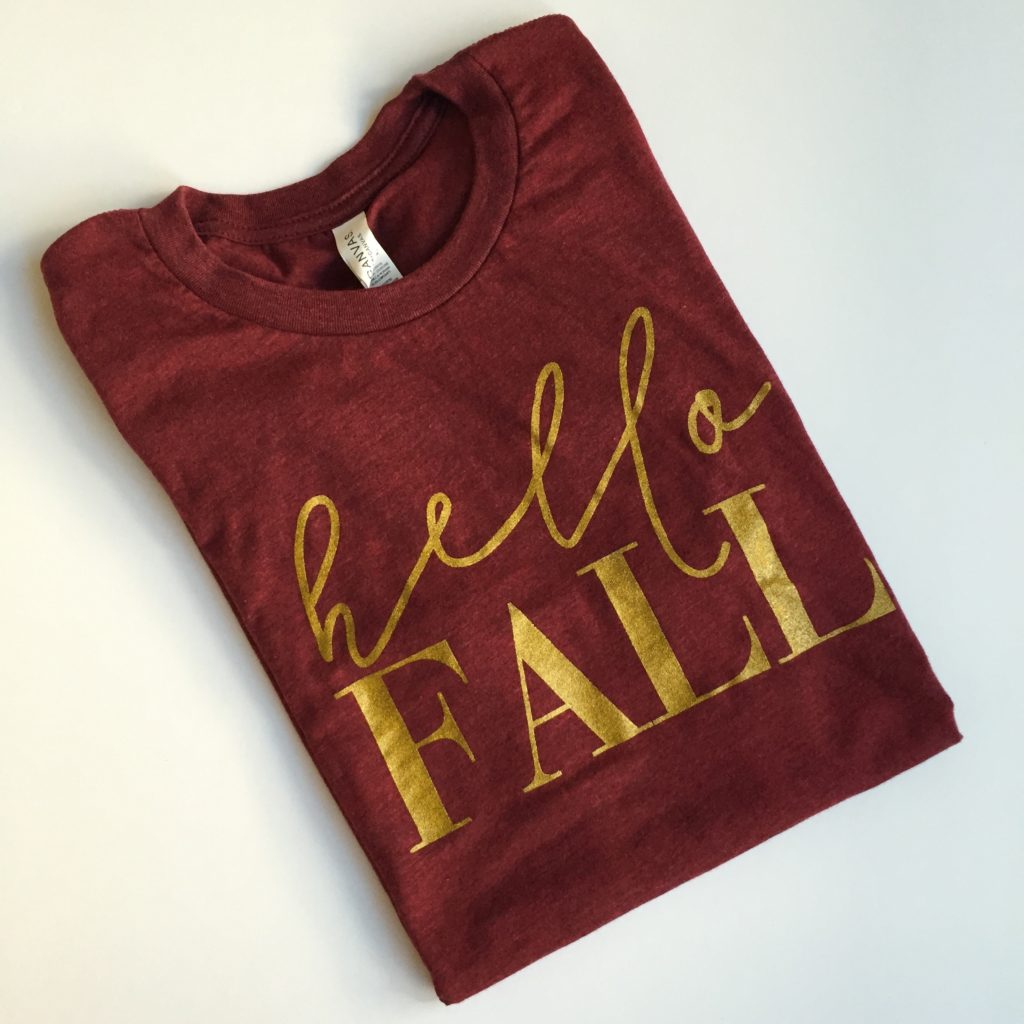 Did you know that this Thursday is the first day of fall? I'm not usually a "fall person" (because it marks the end of summer, my favorite season), but this year I've been surprisingly thrilled to welcome the cooler weather! I love this design and think it would be adorable paired with a cardigan, jeans, and boots–what a perfect outfit for the day at a fall festival or pumpkin patch! It can be printed on any garment in my shop, including crewnecks (maroon crewneck pictured above), sweatshirts, v-necks, or tanks.
(Hello Fall tee listing / Hello Fall sweatshirt listing)
Design #2: Crisp in the Fall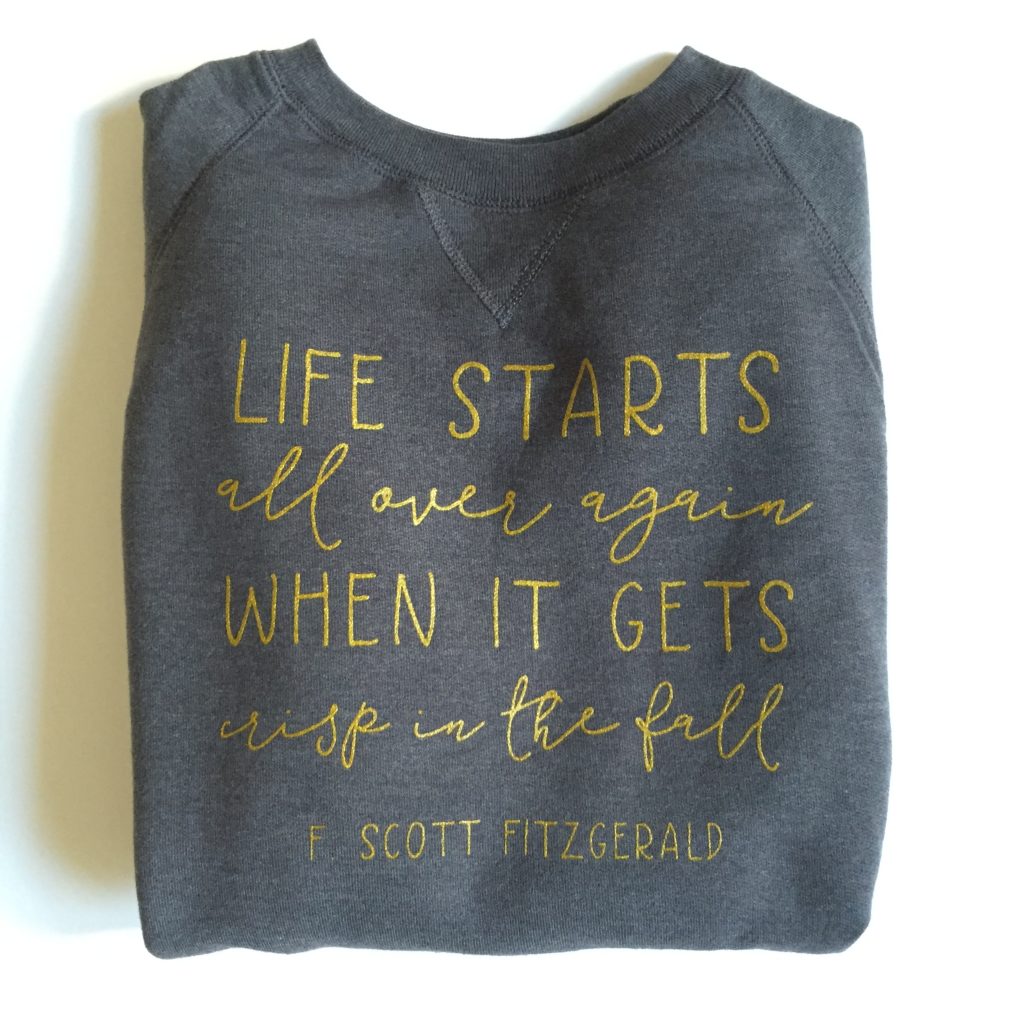 This quote was written by F. Scott Fitzgerald and is an excerpt from The Great Gatsby, one of my all-time favorite novels. And it's true, isn't it? The autumn season certainly does feel like a second new year. I love the feeling these words evoke when they're strung together! This design is pictured on a charcoal heather sweatshirt above, but as always, it's available on any garment in my shop. (This has been the fall bestseller so far!)
(Crisp in the fall tee listing / Crisp in the fall sweatshirt listing)
Design #3: Be Brave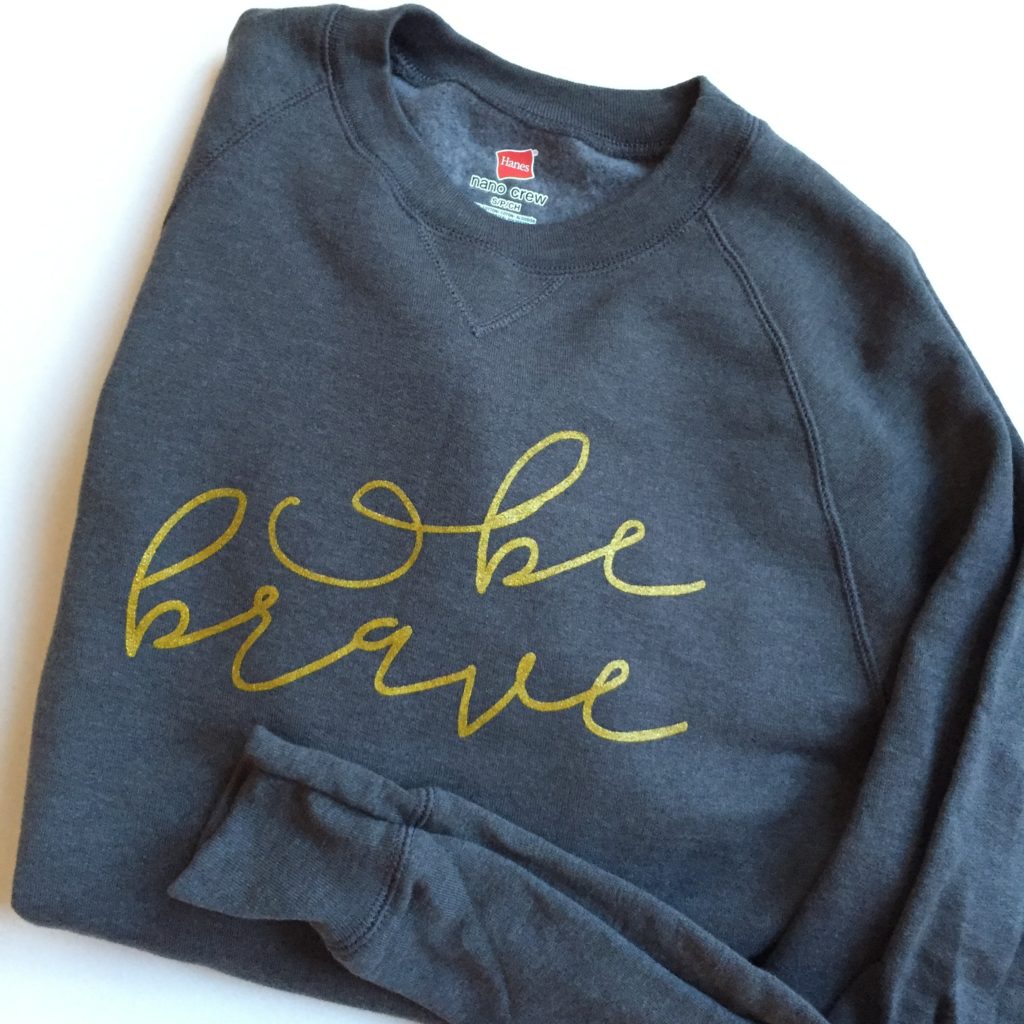 I've been working on a Be Brave design since I first opened up my Etsy shop back in March! I've fiddled with it countless times with different fonts and styles, but could never get it just right…until now! The meaning behind these words has been important and challenging in my life (more about that here), and I love the idea of wearing them as both personal reassurance and an encouragement to others. Again, this design is shown on a charcoal heather sweatshirt but can be printed on any garment.
(Be Brave tee listing / Be Brave sweatshirt listing)
New Garments!
I am offering two new garments in my shop to accompany the fall designs: crewneck tees and sweatshirts. The crewneck tees are made from the same super soft and comfy tri-blend material as my v-necks and tanks…you will absolutely love the way the feel! And the sweatshirts are made out of a nano fleece material; they're perfect, soft, and cozy without being bulky or shapeless.
Crewneck color options: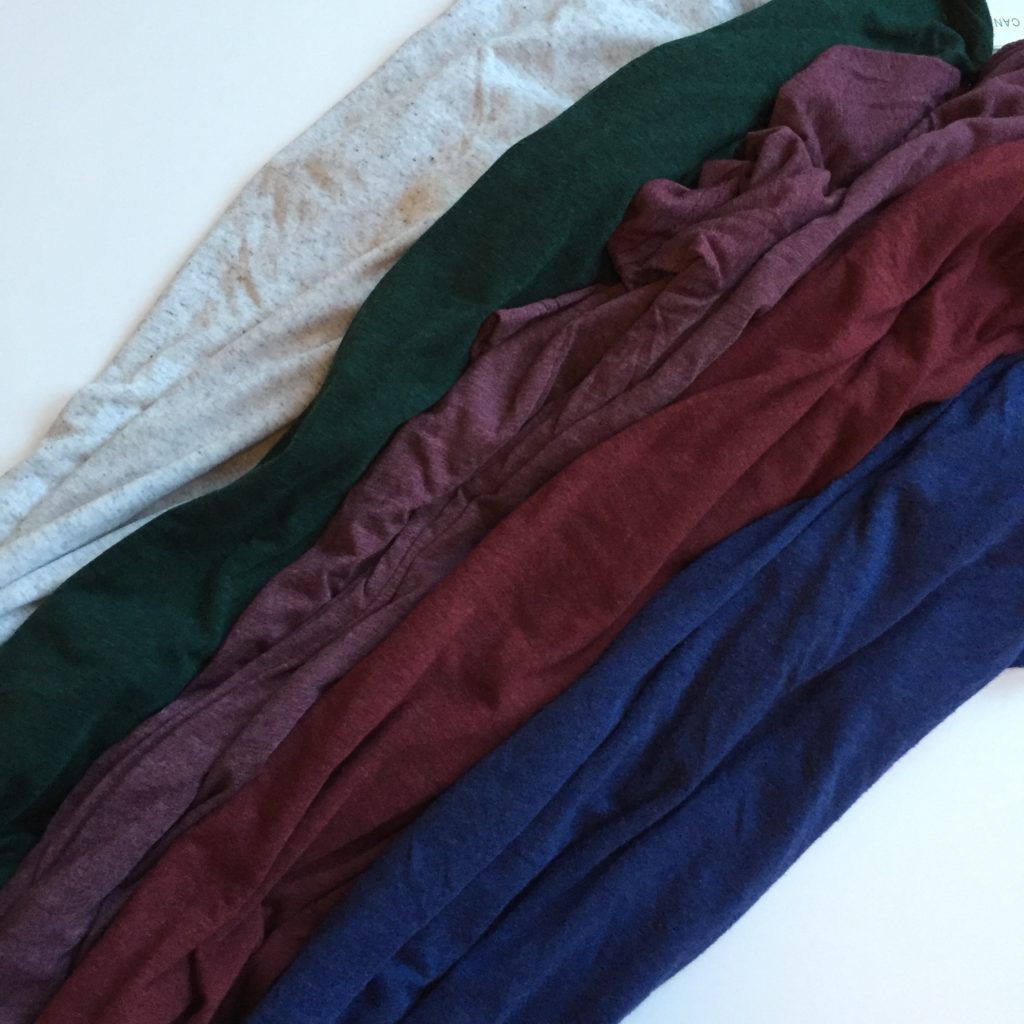 From top left to bottom right: light grey, emerald, berry, cardinal, navy.
Sweatshirt color options: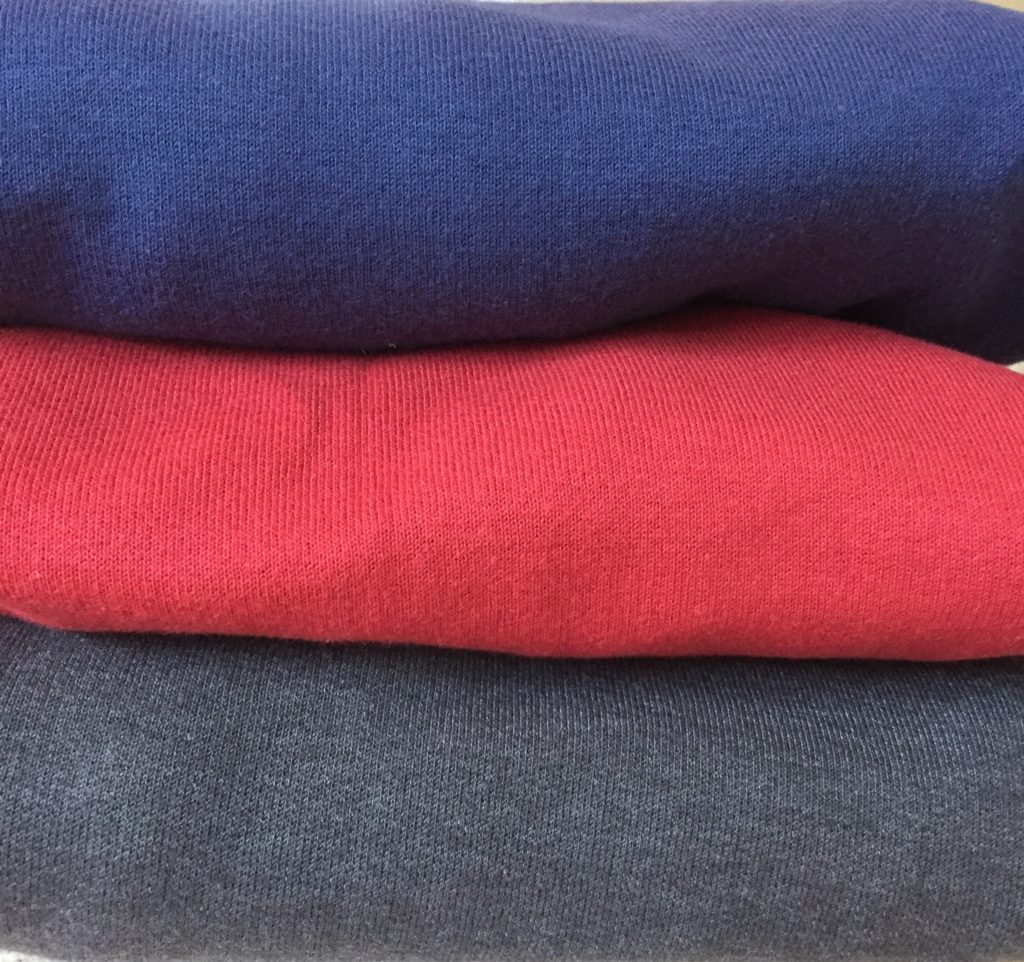 From top to bottom: vintage navy, vintage red, charcoal heather.
In addition to these two new garments, I'm still offering my v-neck tees in oatmeal, white, grey, red, and navy, and my tanks in white, mint, teal, coral, and pink. With a total of nine designs and 19 different garment/color options, there are 171 combinations total! That's a lot of choices–I love seeing what combinations my customers order! 🙂
Sizing and Order Information
There is sizing information on each Etsy listing–if you have questions, head over to my Etsy shop, click on the item you're interested in, and read the "Shirts & Sizing" section. If you have further questions, send me a message and I'd be happy to help you decide which size will suit you best.
My shop is unique because every item is completely made to order–I don't keep inventory. Because of this, I am able to print any design on any garment! If there's not a checkout option on Etsy for you to order what you want, just check out with the garment that you want and add a note at checkout with the design you'd like.
For example, if you want Say Yes to Adventure on a vintage navy sweatshirt, choose a fall design sweatshirt listing (it doesn't matter which one), select vintage navy sweatshirt and your size, and then add a note at checkout that reads "SAY YES TO ADVENTURE INSTEAD OF HELLO FALL." If it's clear what you're ordering, I'll print what you've requested and send it over. If I need clarification, I'll send you a message! Either way, you'll end up with your custom order! 🙂 If you have questions, let me know.
First Day of Fall Sale!
Tomorrow (Sep. 22nd) is the first day of fall! To celebrate, I'm offering a special coupon code on Instagram for 20% off your entire order! Woo hoo!
On some orders, that will equal free shipping (or very close to it); on others, it will be a huge discount, especially if you purchase more than one item–you can grab whatever you've had your eye on! This is the biggest sale I'll hold for the rest of the fall, so be sure to take advantage of it if you're interested! To grab the coupon code, and for all the details, follow my Etsy shop on Instagram @BlairLambDesign.
Coming Soon: Christmas Design
Stay tuned, a Christmas design will be released in November! 😉
Thank you for reading! You can find me online on Facebook, Instagram, Pinterest, and Twitter. If you'd like to be alerted whenever I publish a new post, you can follow me on Bloglovin' or subscribe via email. Check out my fun tees in my Etsy shop and listen to my weekly podcast about simplifying life, Simplify Everything! Are you a blogger too? Check out my Blogger Mentorship Program.