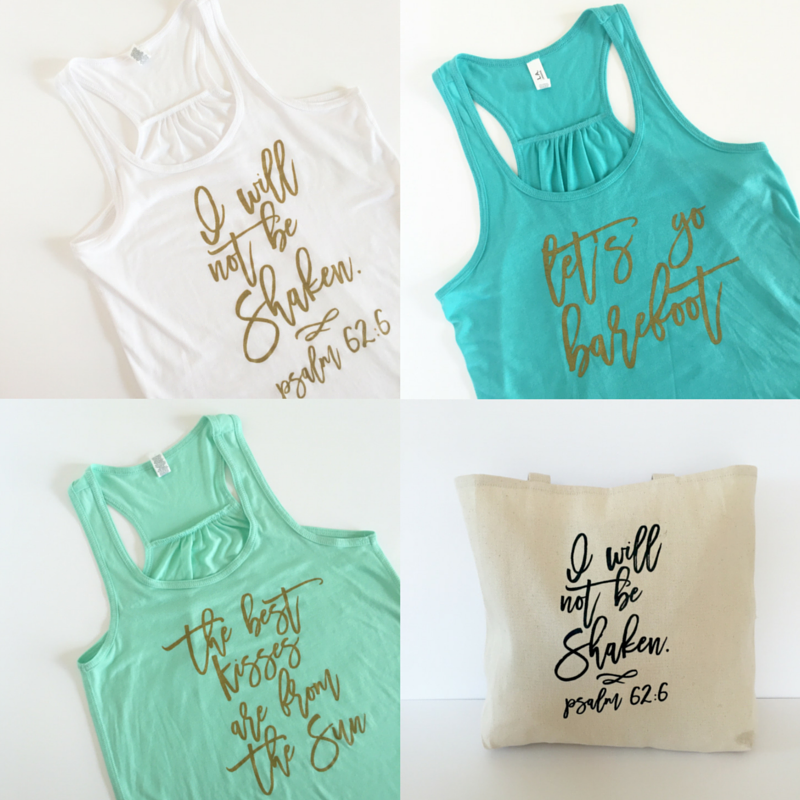 I launched three new tank designs and a canvas tote on my Etsy shop last Thursday! Though it's been a lot of fun, the process of designing and selling on my Etsy shop is, well, a process. (And a time-consuming one at that!) Today I'm going to share a behind-the-scenes look at my summer line!
Shortly after opening my Etsy shop for the first time back in March, I started thinking about adding more designs and styles to the collection. Starting out with only three made my shop very manageable, but I knew I wanted to add more options over time. In late April or early May, I started ordering tank top samples.
Just like choosing my original v-neck tees, choosing tanks was a huge undertaking. I know it sounds straightforward and simple, but in reality it was anything but. I wanted super soft tanks (like my tees) in a variety of bright, summery colors that could be screenprinted on, were lightweight and comfortable, and were flowy instead of fitted. Additionally, they needed to come from one of the two suppliers I work with and be widely available in my local warehouses. It was like finding a needle in a haystack!
My husband Riley and I ordered tank after tank, each one failing for one reason or another. Some were too tight. Some were itchy and uncomfortable. Some were shapeless and masculine. Some didn't come in bright colors. Finally, we found the tanks I settled on. They're perfect–flowy and soft, bright and fun, and very comfortable.
Once we had the tanks chosen, I had to pick five colors. With so many options, I went around and around on choosing colors that were 1) summery, 2) well-liked, and 3) would look good with gold ink. I finally settled on white, mint, teal, pink, and coral (which reads more like orange). The white because it's neutral and an easy go-to for anyone who doesn't love bright colors, the mint and teal because they remind me of the beach, and thus summertime, and pink and coral because they're bold and fun.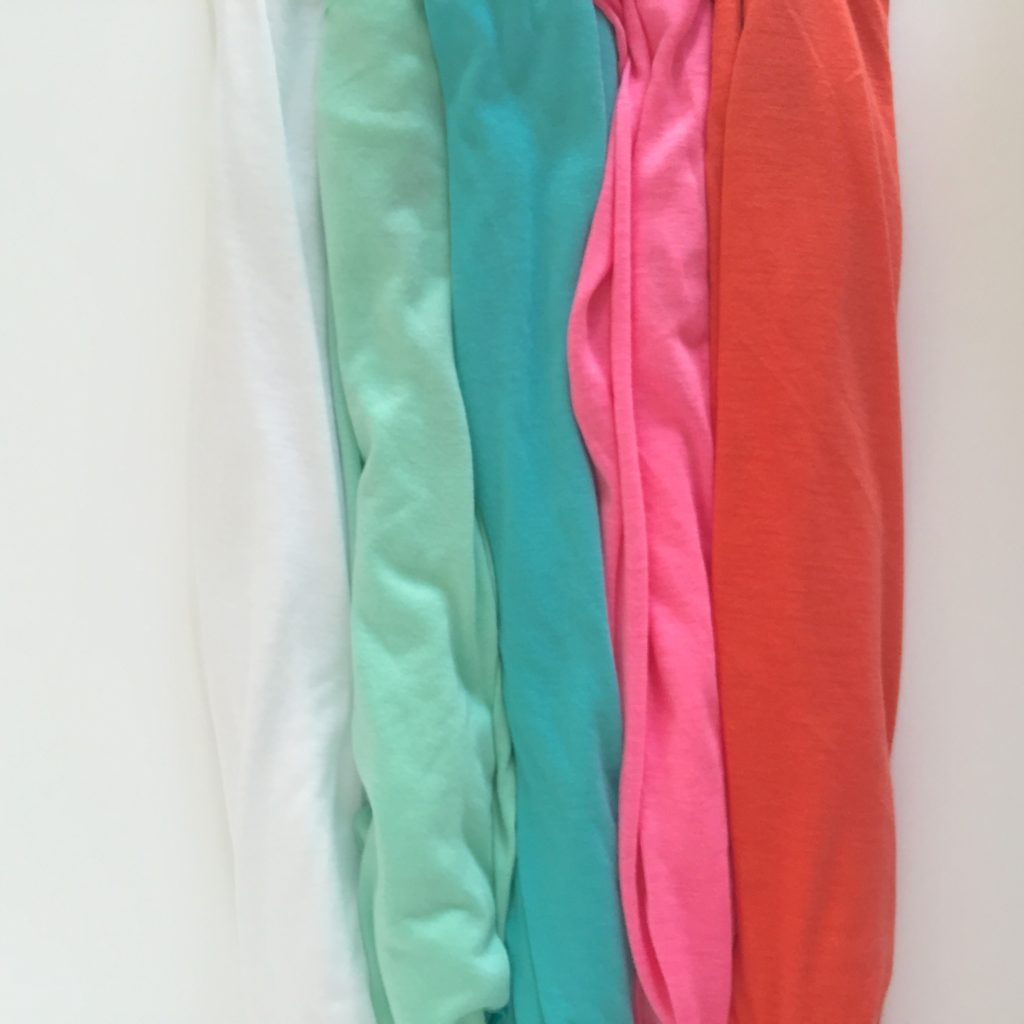 The back of these tanks have a subtle but pretty ruching along the seam, which adds both a feminine touch and creates the flowy look that I was going for.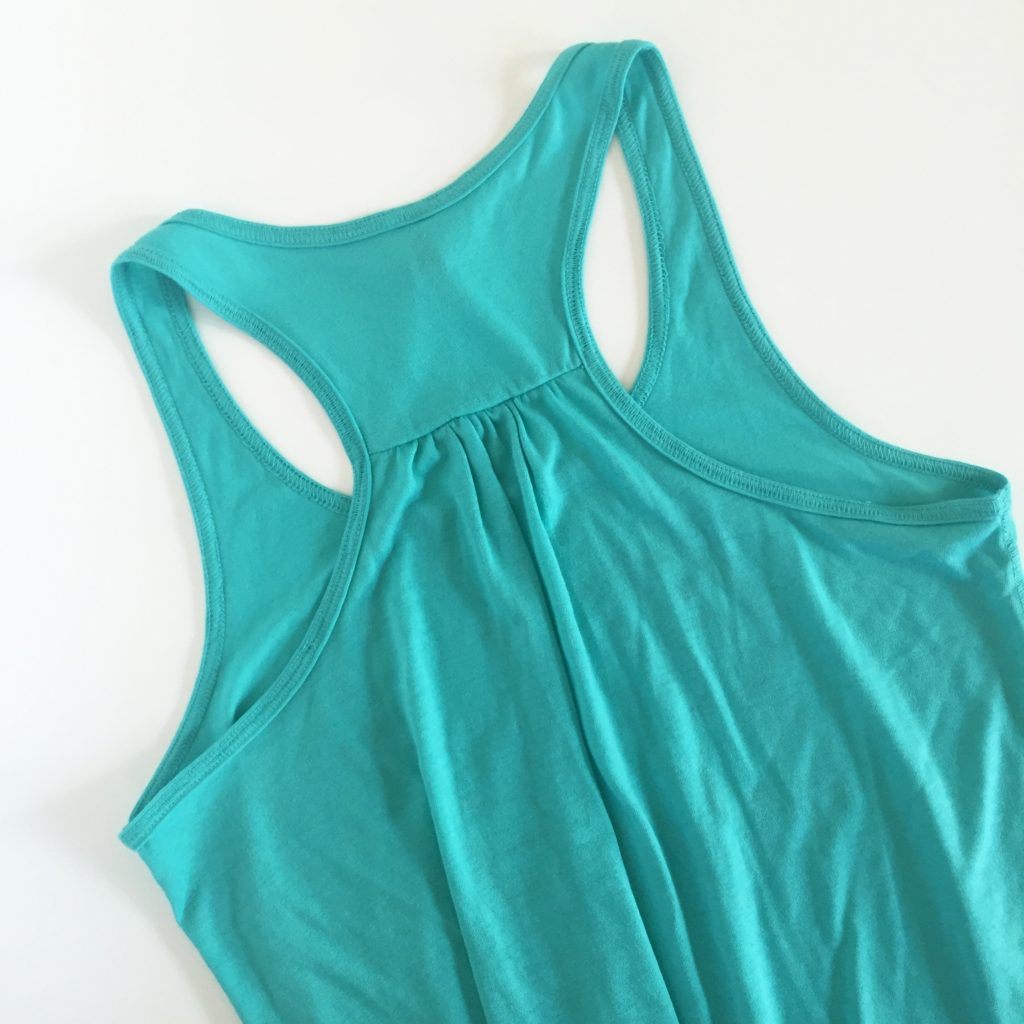 Next came the designs. This is a really exciting, but time-consuming step. I keep a running list of shirt design ideas in the Notes app on my phone, so whenever inspiration strikes I can jot my ideas down. But sorting through half-thought-out ideas and figuring out which ones made sense for summer tank tops took a while. After tossing out a few ideas, there were four that I loved, but I only wanted to launch three in the summer since that's how many I launched in the spring. A bit of hemming and hawing and I decided to bump the fourth design to my fall line!
My final designs were: let's go barefoot, the best kisses are from the sun, and I will not be shaken, which is part of Psalm 62:6. I'm a big fan of bare feet because they usually mean I'm at the beach, lake, or pool, so I thought "let's go barefoot" evoked feelings of summer warmth and freedom. "The best kisses are from the sun" was inspired mostly by my freckles! As a little girl, my mom used to call my freckles "kisses from the sun," so whenever little kids ask me what "those dots on my arms" are, I always tell them the same thing. Beyond my freckled sisters, I love that this saying alludes to being sunkissed. Is there anything better? Finally, my last design is "I will not be shaken (Psalm 62:6)." I cling to this verse and love it dearly. It brings me strength and hope and I love the image of standing strong in the face of uncertainty, fear, or pain.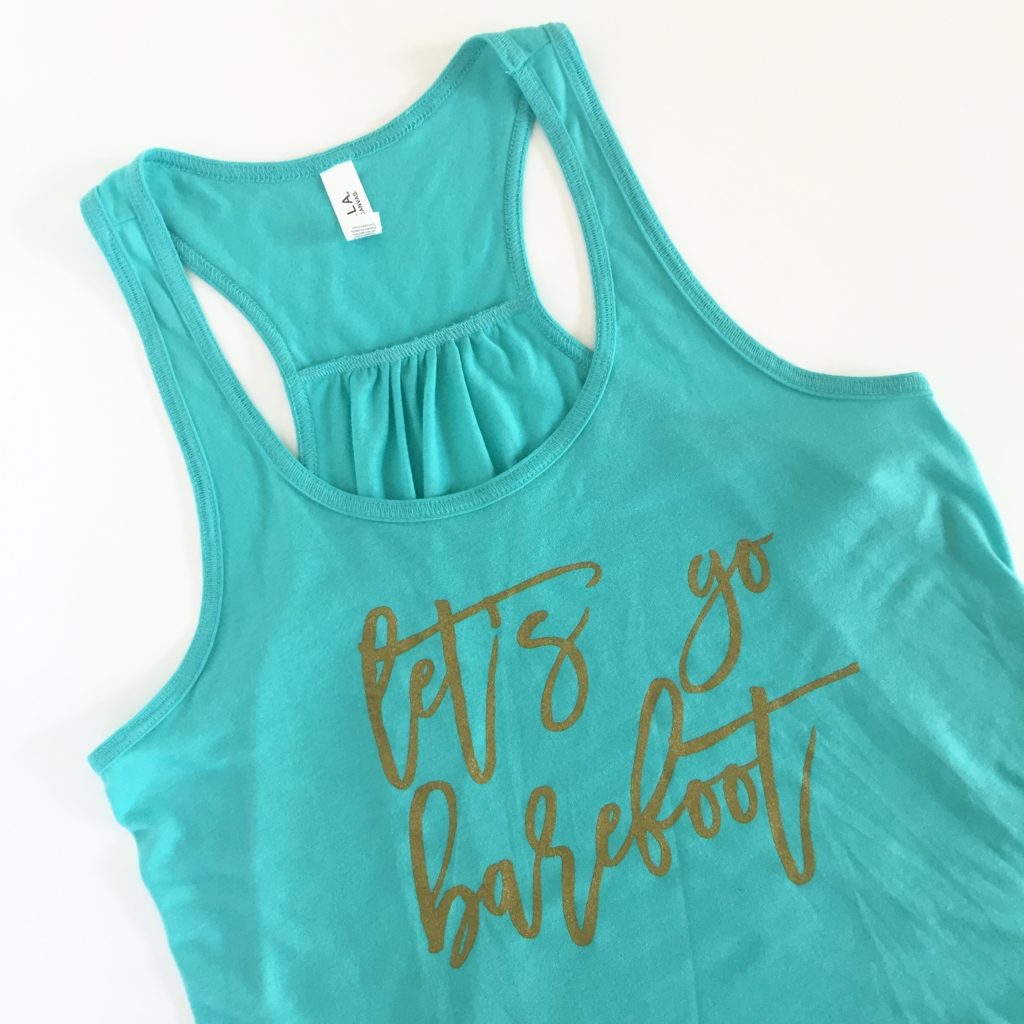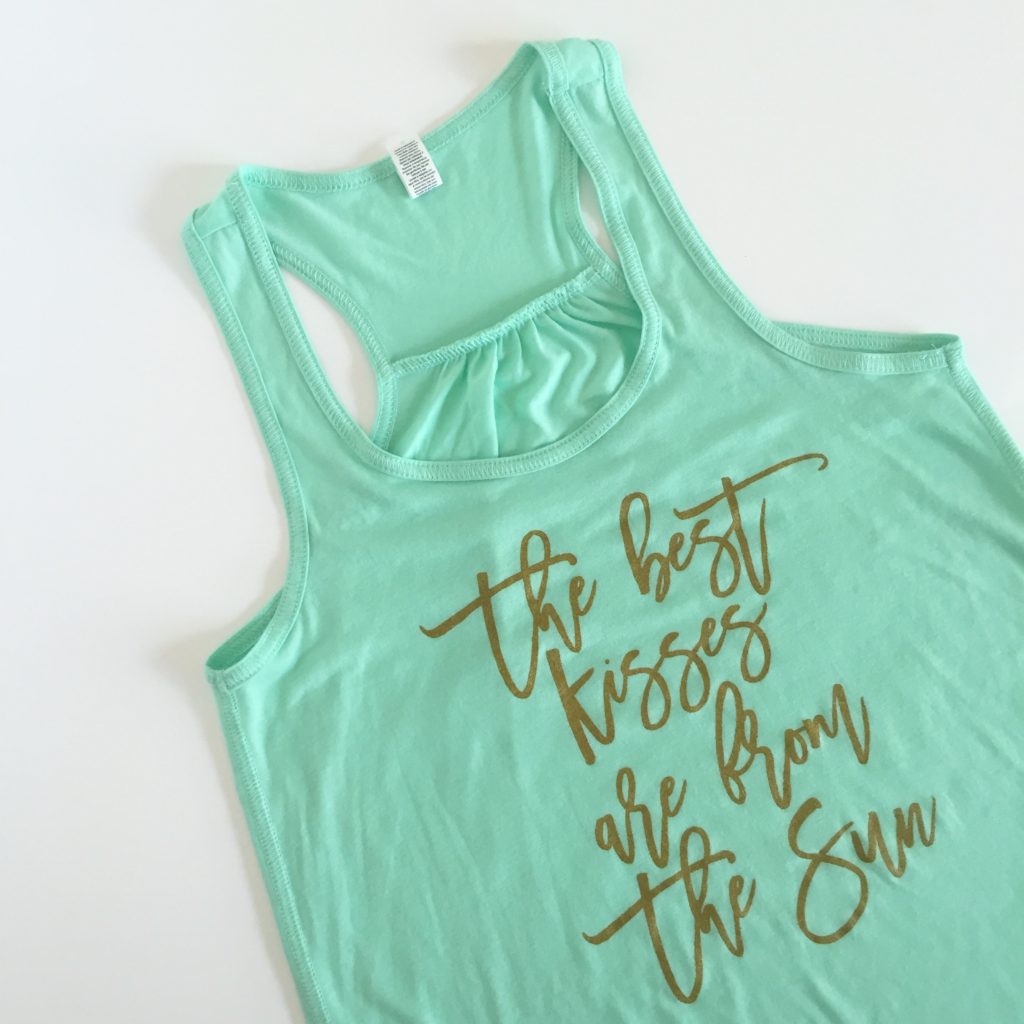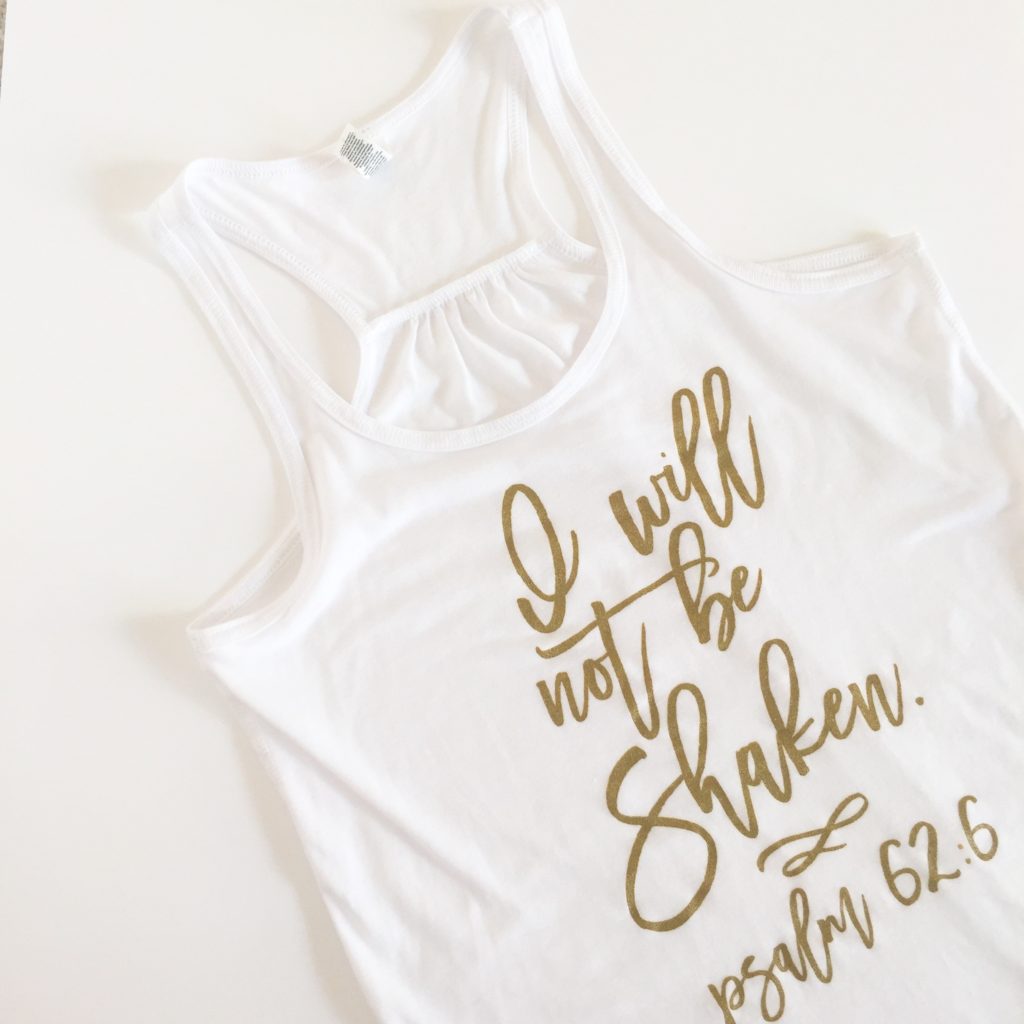 Once those designs were finalized, I was ready to move forward, print samples, photograph them, create Etsy listings, and get ready to launch. I threw a wrench in my own plans when I decided at the last minute to create a "I will not be shaken" canvas tote bag as well to include with the summer launch. I wanted something aside from clothing, and I loved the idea of a tote; thus, the "I will not be shaken" canvas tote was born.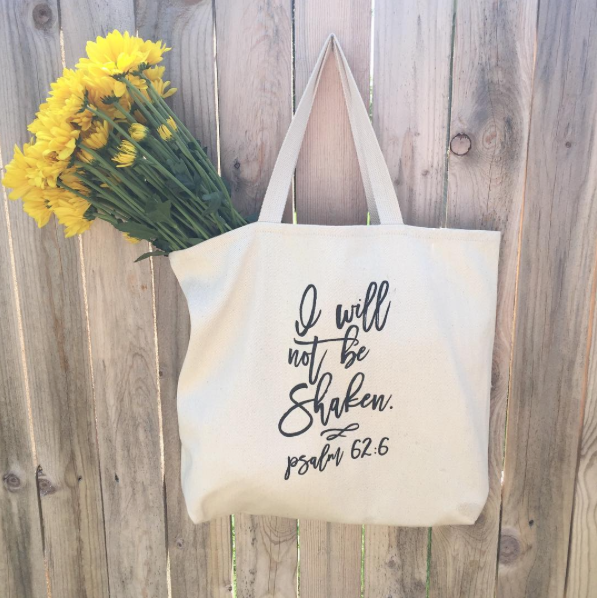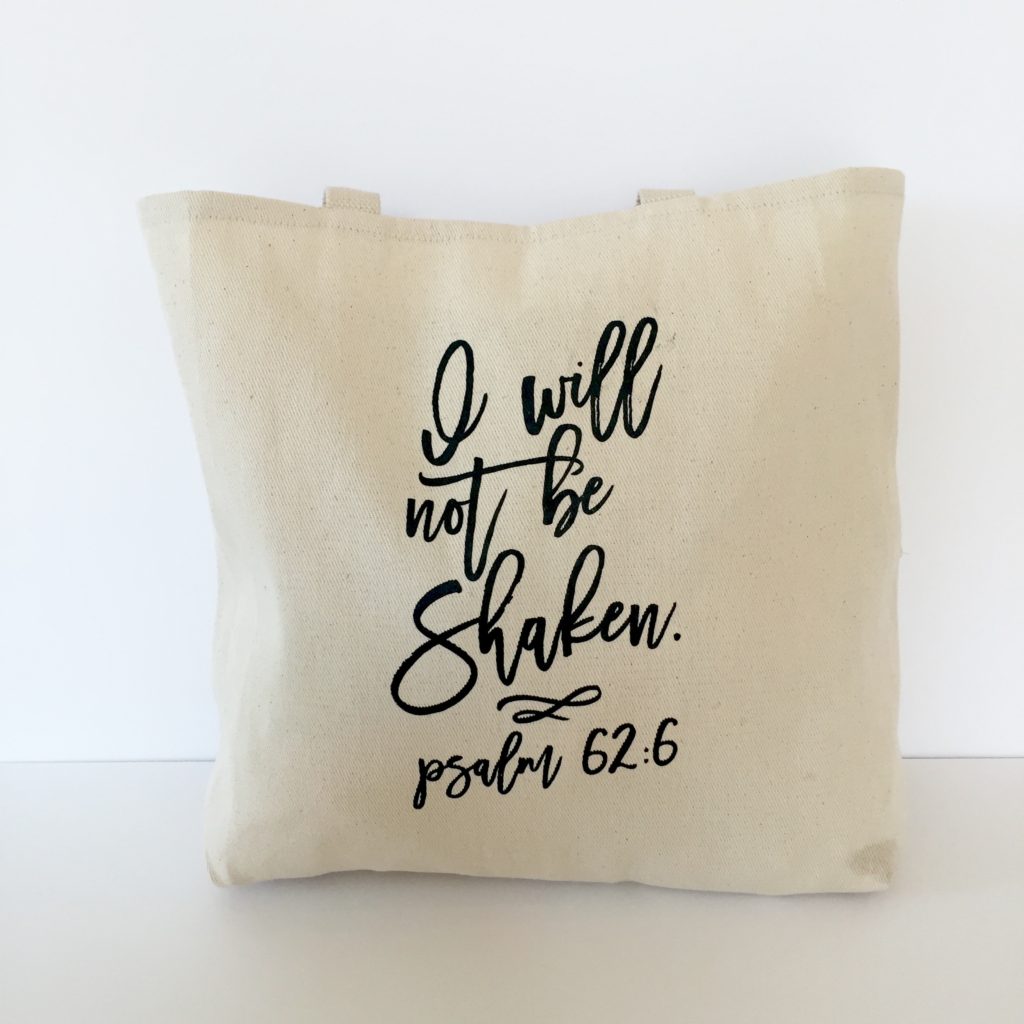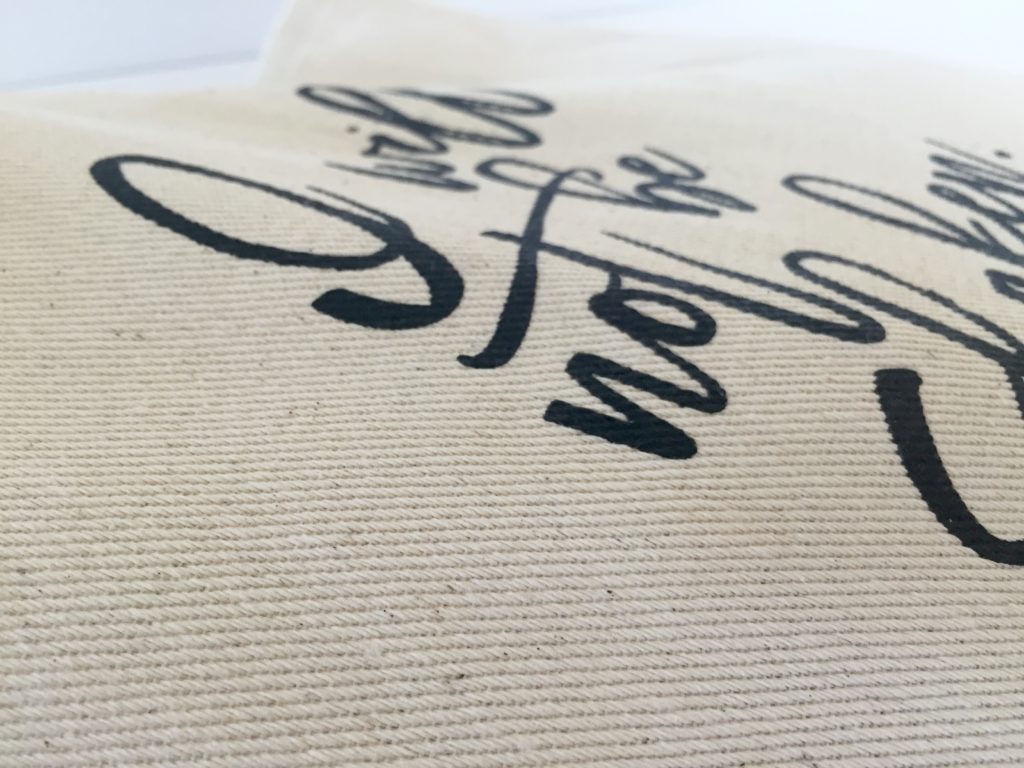 After my husband (who's a screenprinter) made me some samples and I took a few photos, I was able to launch the summer line! It's been fun to hear from customers how they plan on wearing their new tanks–some have told me they're wearing them to the beach, some to workout, and a few bought their tanks to wear to music festivals. I think they're cute wherever they're worn 😉
I learned a lot this time around, which will no doubt help me with launching future designs in the fall and beyond. This venture has been uniquely challenging and uniquely rewarding, and I'm really enjoying both aspects of it.
If you want more details on my tees, tanks, or tote, you can visit my Etsy shop!
// Have you had any experiences of bringing a product to market? What was your experience?
Thank you for reading! You can find me online on Facebook, Instagram, Pinterest, and Twitter. If you'd like to be alerted whenever I publish a new post, you can follow me on Bloglovin' or subscribe via email. Check out my fun tees in my Etsy shop and listen to my weekly podcast about simplifying life, Simplify Everything! Are you a blogger too? Check out my Blogger Mentorship Program.