My Weekly Cleaning Routine
via Clean Mama, with one change
Monday: clean bathrooms + wash towels
I plan on sharing a post for the rest of the days of my cleaning routine over the next four Thursdays (I'll combine Friday and Saturday into one post); today, I'm kicking this series off with bathrooms, which I clean on Mondays.
Note on clothing laundry: I get a lot of questions about clothing laundry, so I thought I'd address it upfront. I wash our clothes in small loads (we have an HE washer that auto-senses load size and uses the appropriate amount of water) two or three times a week as needed. Spending an entire day doing laundry bums me out, so I prefer to do one load start-to-finish a few times a week! As noted above, I wash all towels on Monday and all sheets on Saturday.
My Easy 8 Step Bathroom Cleaning Routine
1. Prepping the bathroom(s)
Remove everything from vanity, bathtub ledge, floor, back of toilet, shelves, etc.
Remove all towels from all bathrooms
2. Towels
Collect towels
Wash in hot water
Dry on high heat
3. Mirror and Vanity
Spray glass cleaner on mirror
Spray bathroom cleaner on vanity
Wipe down mirror
Wipe down vanity
4. Bathtub
Spray around bathtub ledge
Wipe around bathtub ledge
Wipe hair/dust out of tub
Sprinkle tub scrub into tub, turn on water for a few seconds to form a paste
Scrub inside of tub
Do one final wipe-down
5. Shower
Spray shower walls
Scrub/wipe shower walls (I only scrub twice a month)
Sprinkle tub scrub into shower, turn on water for a few seconds to form a paste
Scrub shower floor
Wipe down shower floor
Spray shower glass
Wipe shower glass
6. Toilet
Clean inside of toilet thoroughly
Wipe down toilet thoroughly
Flush cleaning solution
Do one final wipe-down, focusing on toilet handle
7. Floors
Vacuum floors (use dust-buster or vacuum hand attachment for hard-to-reach areas)
Mop floors
8. Final touches
Return clean towels to bathroom(s)
Return all items to their proper places
Enjoy!
Note on spot cleaning: Though I only deep clean on Mondays, I spot clean both bathrooms as needed throughout the week. This usually just means wiping down the vanity once or twice!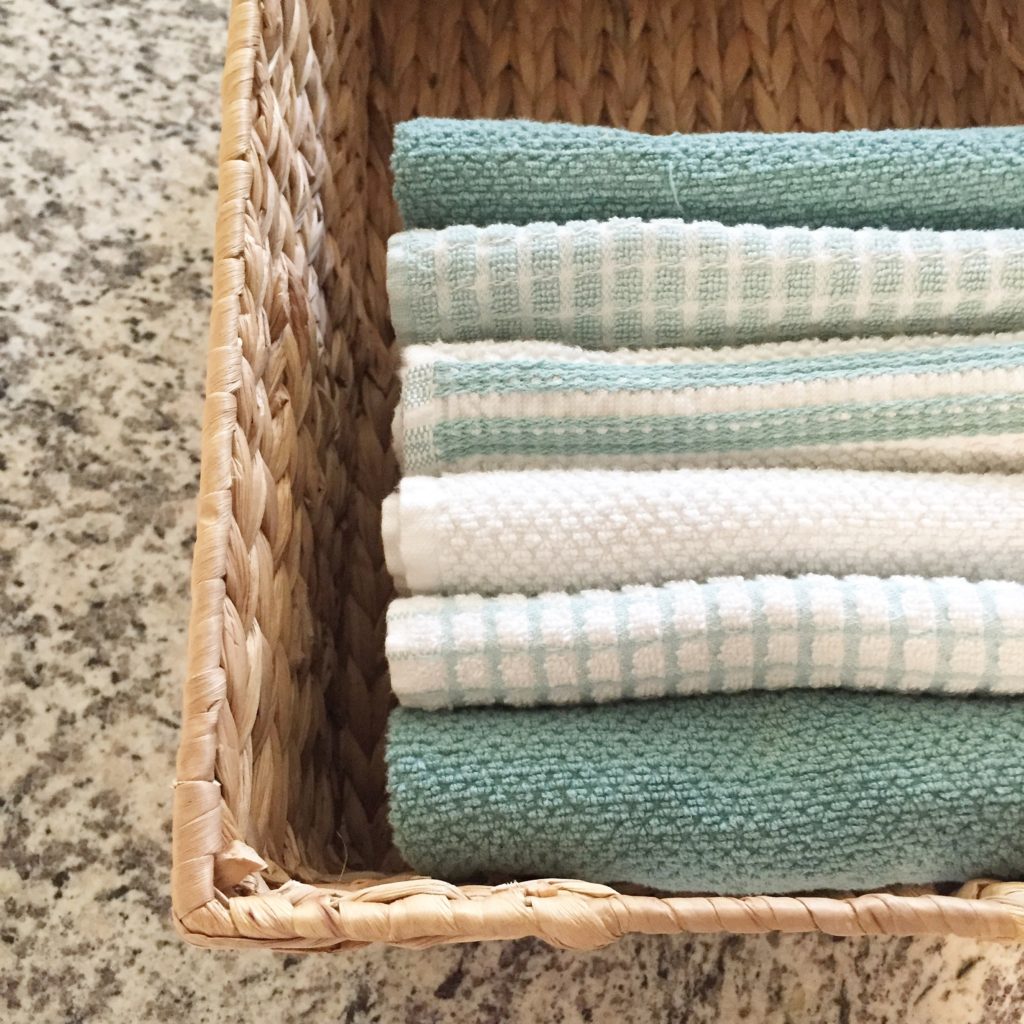 For more details, and to watch my cleaning routine in action, you can watch me clean my bathrooms below or on YouTube here.
// How do you clean your bathrooms?
Thank you for reading! You can find me online on Facebook, Instagram, Pinterest, and Twitter. If you'd like to be alerted whenever I publish a new post, you can follow me on Bloglovin' or subscribe via email. Check out my fun tees in my Etsy shop and listen to my weekly podcast about simplifying life, Simplify Everything! Are you a blogger too? Check out my Blogger Mentorship Program.
Related: My Updated Cleaning Routine + The One Change That Made It Click + Cleaning Routine Series: Dusting (Tuesday) + Cleaning Routine Series: Vacuuming (Wednesday) + Cleaning Routine Series: Wash Floors (Thursday) + Cleaning Routine Series: Catch-All and Wash Sheets (Friday and Saturday) + 9 Benefits of a Clean Home