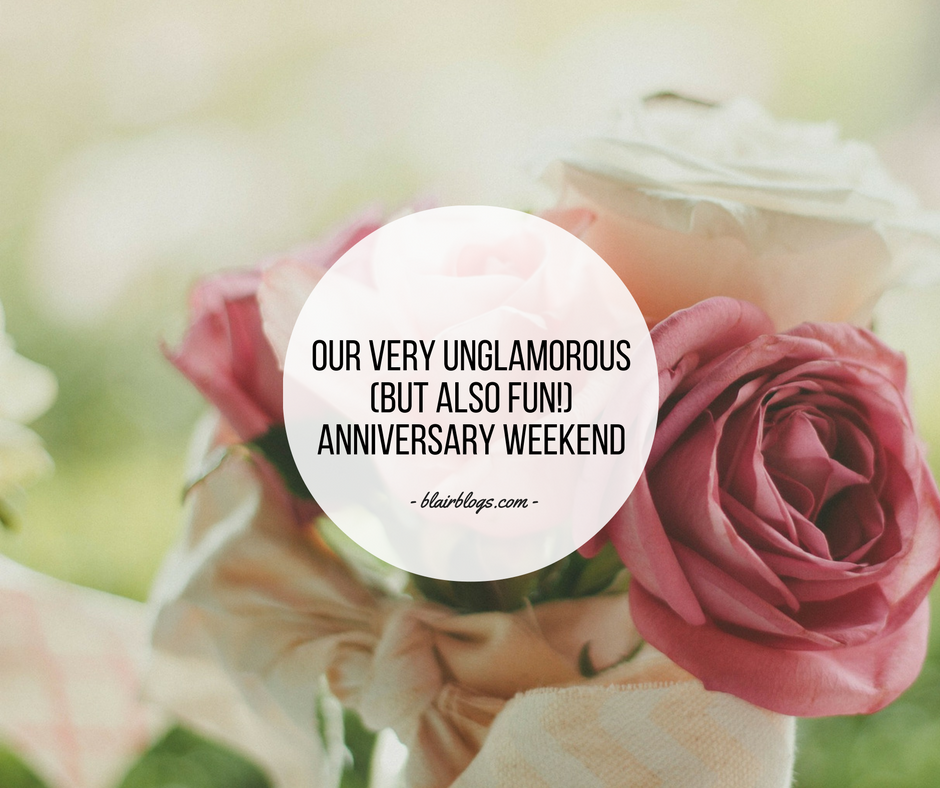 If you're looking for glamour, keep looking. Our anniversary weekend had three hours of glamour–the rest of the time was about as sweaty and unglamorous as possible. 😉 Here's the story:
We ordered a bedroom set on the fourth of July–everything (two nightstands, a dresser, a book shelf, and a bed) was meant to arrive within a week. A week came and went and we still hadn't received anything.
A week after that, still no furniture in sight, I called Target and learned that that the nightstands and dresser had been so severely damaged in transit that the shipping company had to return them before they ever arrived. What the shipping company had failed to do was notify us or the company we ordered from. You know, anyone who would be able to remedy the situation.
I was told that some of the items had been discontinued since we'd ordered them, so we were out of luck. Not believing this (it had only been a couple of weeks!), I went online and reordered the furniture myself–which was very much in stock.
A few days after this phone call, we received the book shelf, undamaged (we later learned it wasn't shipped by The Worst Company; more on that later). We assembled it and set it up in our room–it's the only piece of furniture from the initial purchase that we have today. Foreshadowing.
Before I jump into this saga, I must note that early Friday afternoon was lovely–we went on our weekly coffee date and had a gorgeous bouquet of flowers delivered as an anniversary gift from my family!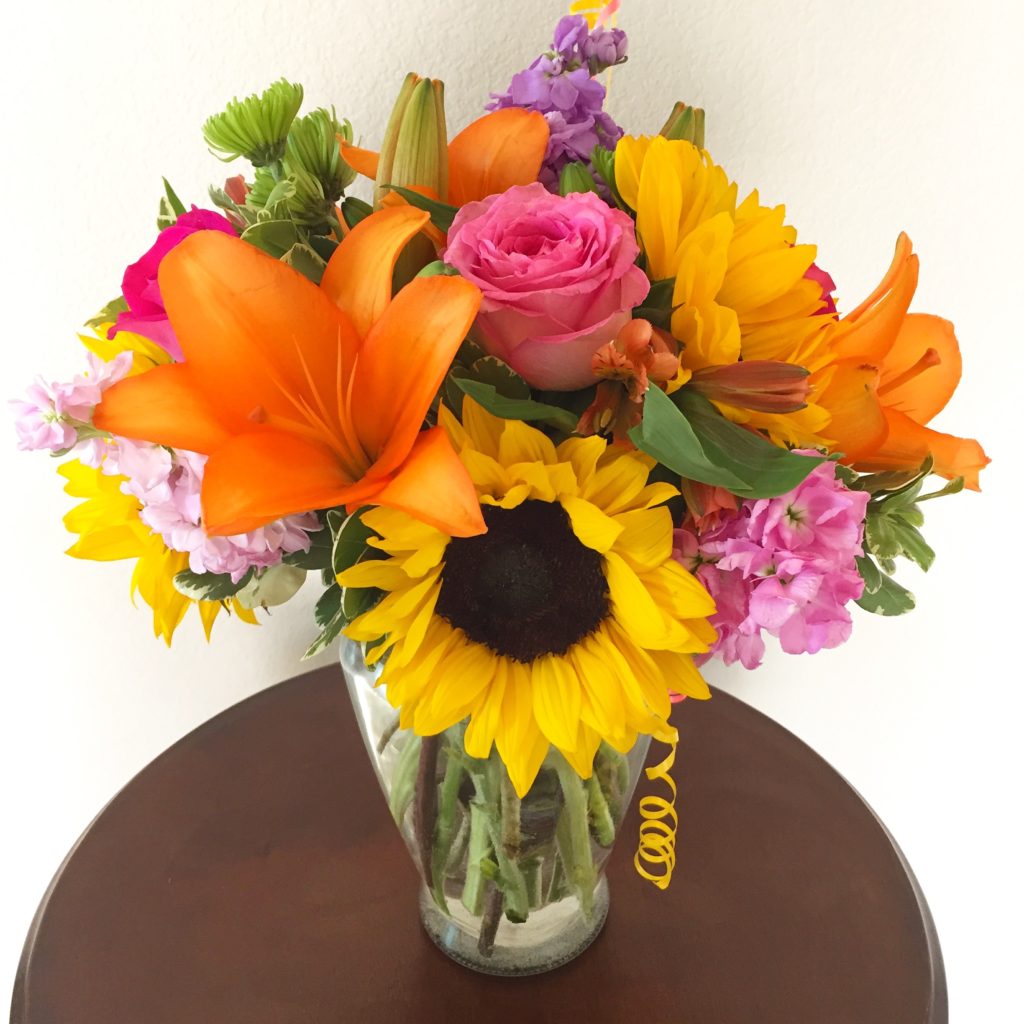 Now, Friday night. We finally received our nightstands and dresser last Friday night, the kick-off to our anniversary weekend. When we put together the nightstands, we noticed some damage, but nothing that would warrant going through the hassle of a return. Then, the dresser. It was a straight up nightmare.
First of all, it was literally 130+ pounds of thick, heavy wood. Secondly, every single piece of it was damaged in some way. Still, we decided to put it together (mostly because we'd already unboxed it) to see what we were working with. Only we couldn't put it together because there was so much damage and nothing fit together! When we tried to close the drawers, each one overlapped the one above and below it. It was a joke. A 132 pound, cumbersome, frustrating joke. I do not have photos of this because I was decidedly not in "blogger mode," but below is a photo of one of the dresser sideboards, just so you can get an idea of what I mean by damaged.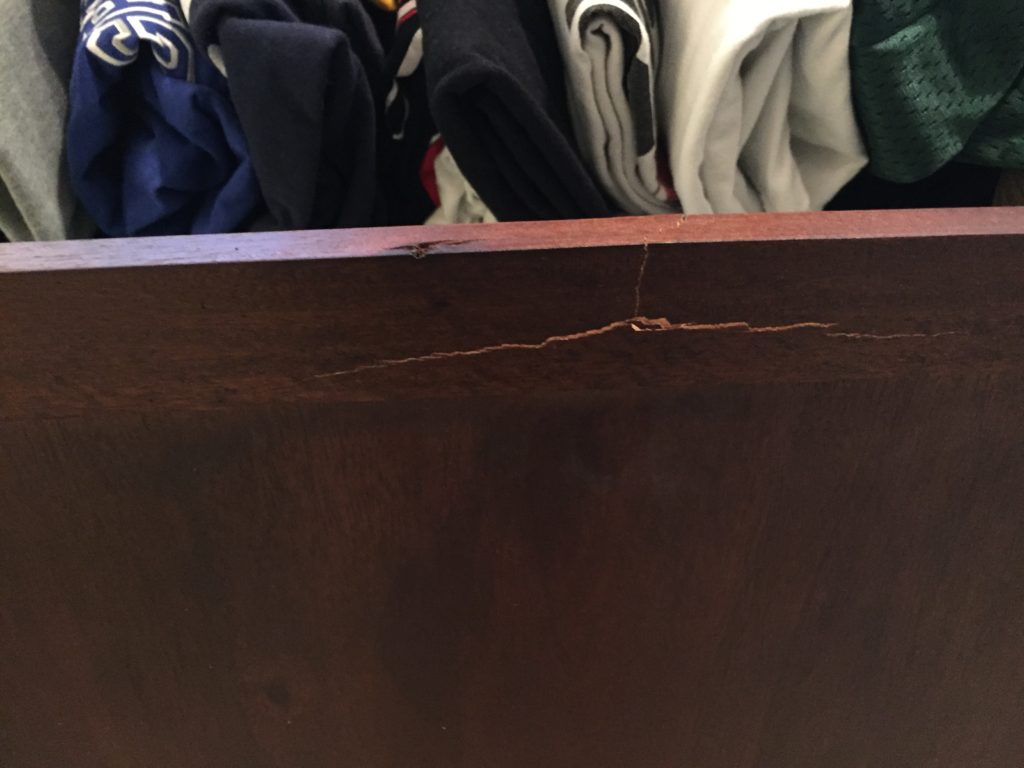 When I called Target, I was told they could offer me a $30 gift card for the damage to "buy wood glue." Let me clarify: You're telling me that all you can offer me is a $30 gift card for furniture that arrived three weeks late, completely damaged, and totally un-assembleable? Oh, and it's cumulatively hundreds of pounds–and we're responsible repackaging it, loading it, and returning it? Right.
Our anniversary weekend was glamorous from the start, can't you see? (I was, and always am, as kind as possible to customer service agents. I know it's not their fault that my items arrived damaged and they're often not able to do much about it. But also? $30 is a slap in the face. For the record, we ended up with a $75 gift card after I explained our situation again. Still a slap in the face, but less painful.)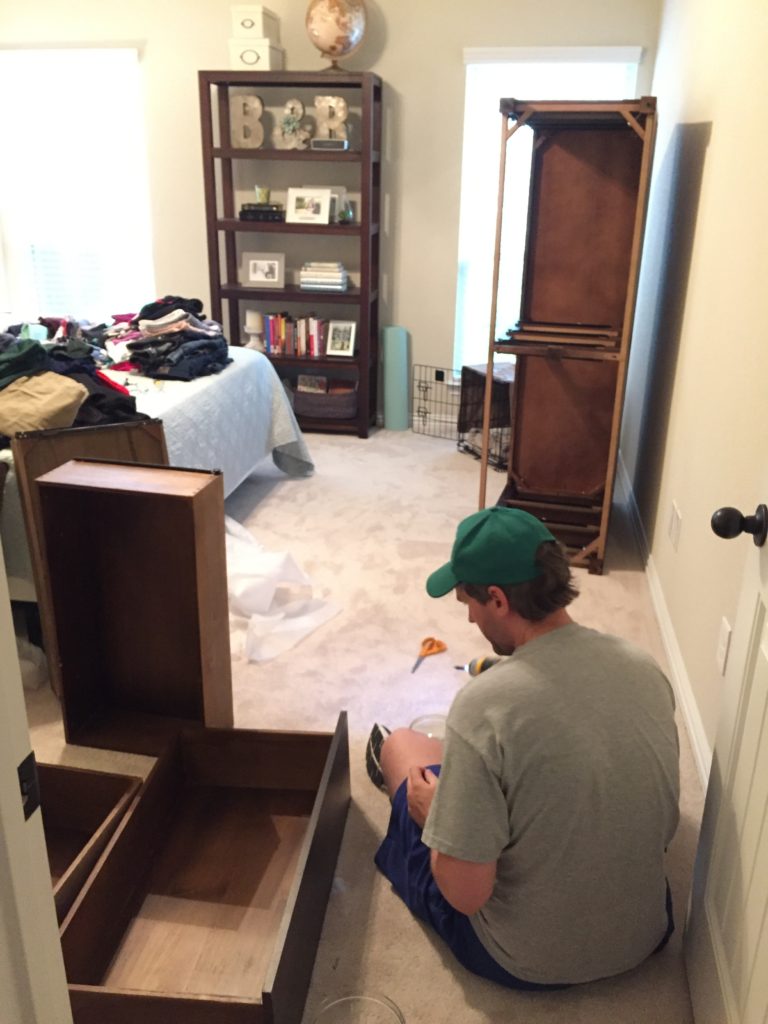 Friday night around 7pm, Riley and I sat in frustrated silence as we tried to figure out what to do next. Clearly we had to return this furniture…but how were we going to do that? It was massive and heavy and all half-assembled and damaged. (And all of the boxes were ripped apart into oblivion.) Oh, and we [still] have a king-sized bed frame coming that we'll have to return, too.
We put all this mess on hold and went out to dinner so that we could make a plan and eat something. We had burgers at Chili's with a heaping side of frustration and annoyance.
Waking up on Saturday, we decided to tackle the much-dreaded chore of loading up all of this massive furniture and returning it. When I say that I almost lost my entire mind and Jesus on Saturday, I'm not exaggerating. It was 400 degrees, everything weighed triple what I could ever lift with my back, and both Riley and I were already in very unpleasant moods because we shouldn't have to deal with this. When I spend thousands of dollars on furniture, it should arrive on time and in tact. If it's not in tact, I should not be held responsible for returning it. Amen. (What if we didn't have a truck?? We would have to rent one?? Seriously?)
After hours of work and buckets of sweat, we had everything loaded up and secured for the 30 minute drive (or so we thought). Our drive took twice as long because the enormous boxes that were packed with parts and pieces of the furniture, though secured to Riley's truck, were blowing up in the high winds/high speeds and threatening to fly into the windshield of the car behind us. Our anxiety was sky-high and both of us were supremely OVER. IT.
Then, we pulled into Target. Now we had to unload these nightmarish pieces, plead our case, show the damage, and try to get a refund. The individuals who helped us do the aforementioned steps were incredibly kind, gracious, apologetic, and lovely. Thank God for Texans. There should be a rule that only Texans can work in customer service–the world would be so much happier, I can promise you that.
We learned from the kind folks at Target that there is a company that Target.com uses for oversized orders, and, to put it lightly, it's the worst company ever. Apparently everything arrives late (check), damaged (check), or not at all (check). (We later corroborated this story online and found literally thousands of complaints against this company.)
By this point, it was Saturday afternoon around 2pm. We were hot, tired, hungry, and we no longer had the promise of a bedroom set, though we'll still have a massive and heavy king-sized bed frame arriving, which we'll also have to return (oh joy!). We agree to go to IKEA because we. are. so. sick. of. not. having. bedroom. furniture. We wanted something more "adult," but by this point, we did not care.
Four hours in IKEA, we purchased two nightstands and a dresser, and I found a bed frame online from another company to order. Done and done. What. Ever. When we finally got home on Saturday, we were exhausted beyond belief, our house was a disaster zone of shipping materials and giant cardboard boxes and half-drunk cups of water and everything else, and we had yet to do even one fun/enjoyable thing to celebrate our anniversary the next day.
We stayed up late putting together furniture before leaving it and going to bed around midnight. When I awoke on Sunday, our anniversary, Riley handed me a beautiful letter first thing that made me laugh and cry and forget about our hellish past two days. I gave him a card, too, and we got showered and dressed and drove downtown to the Four Seasons for a fancy anniversary brunch.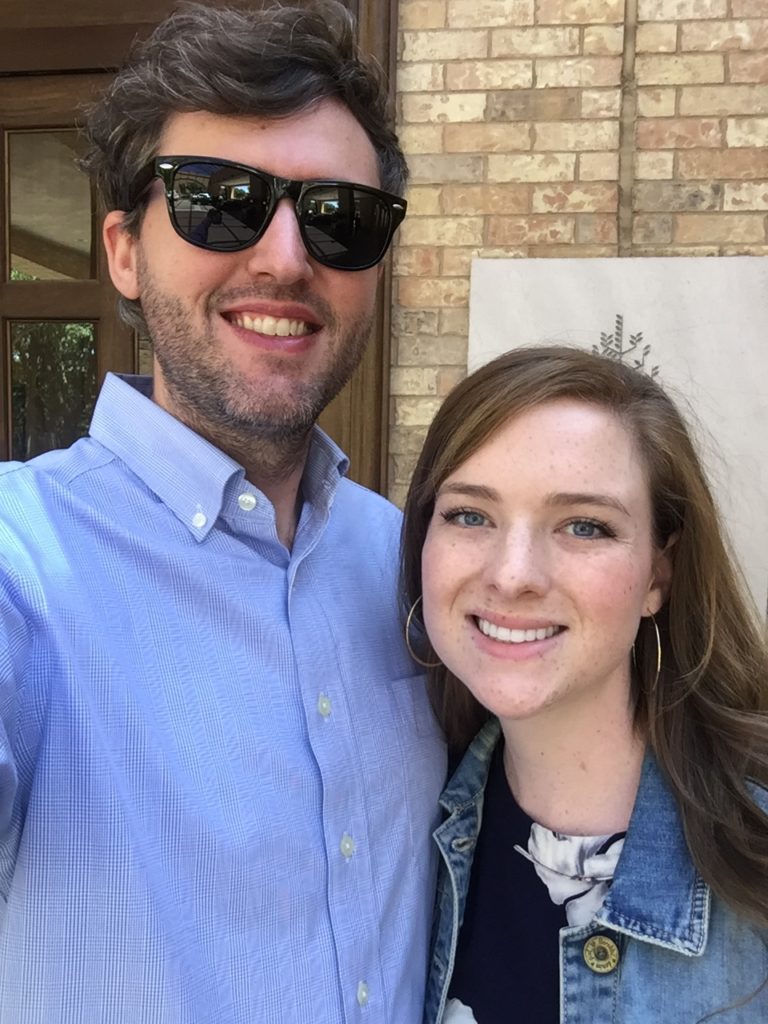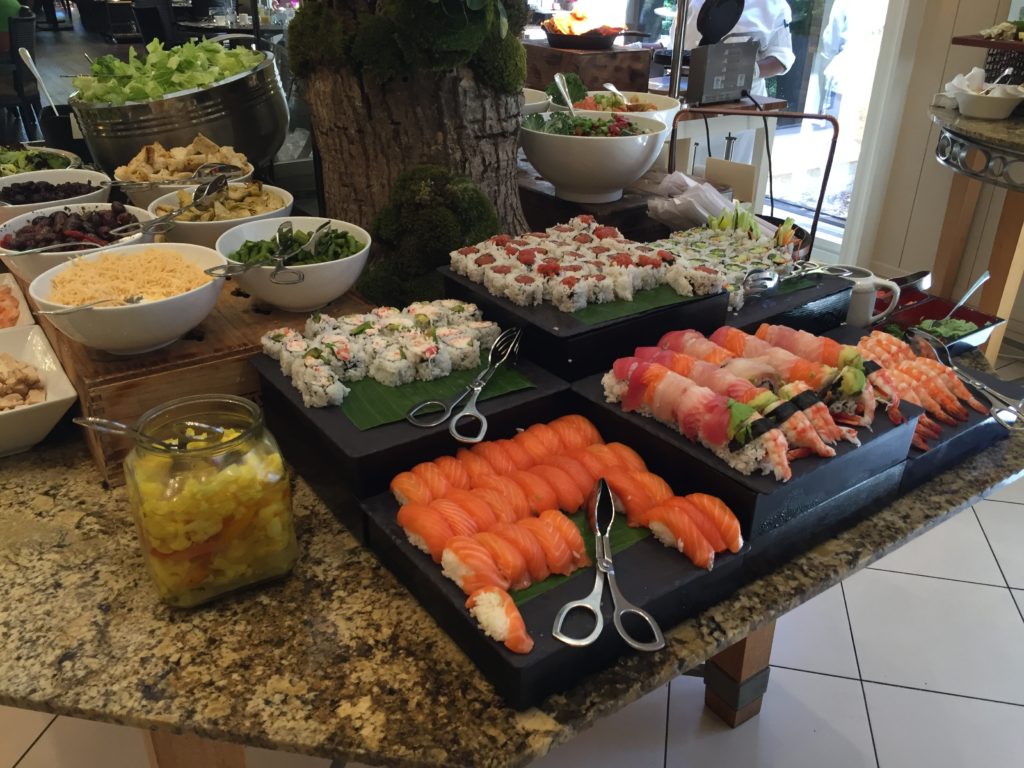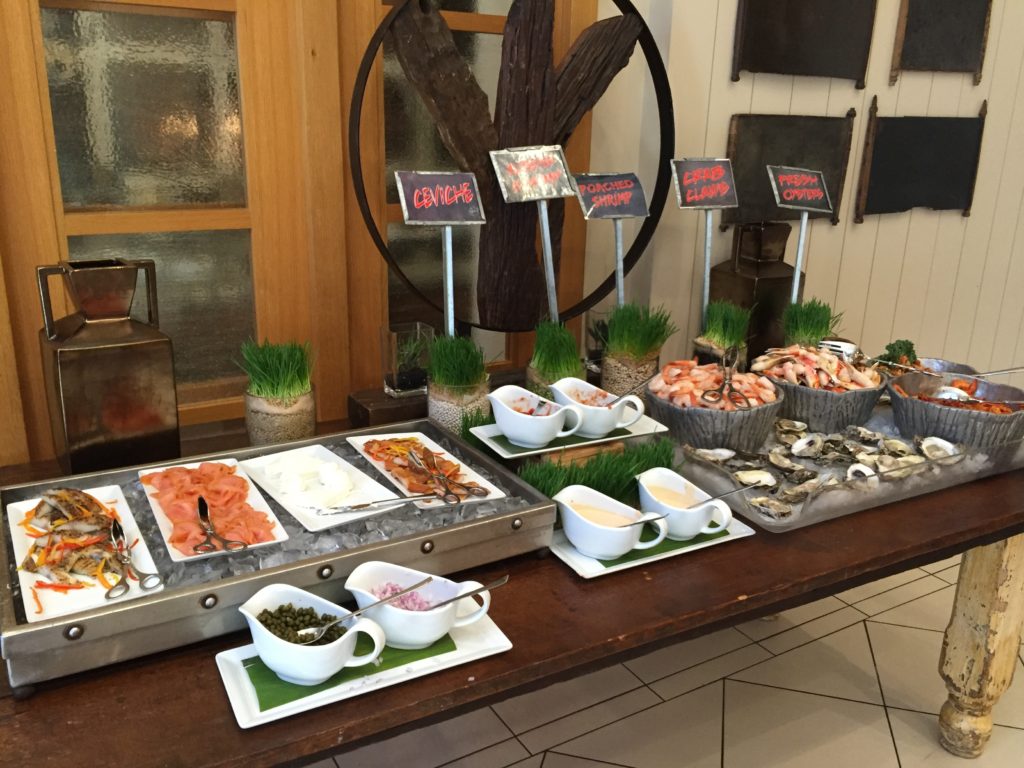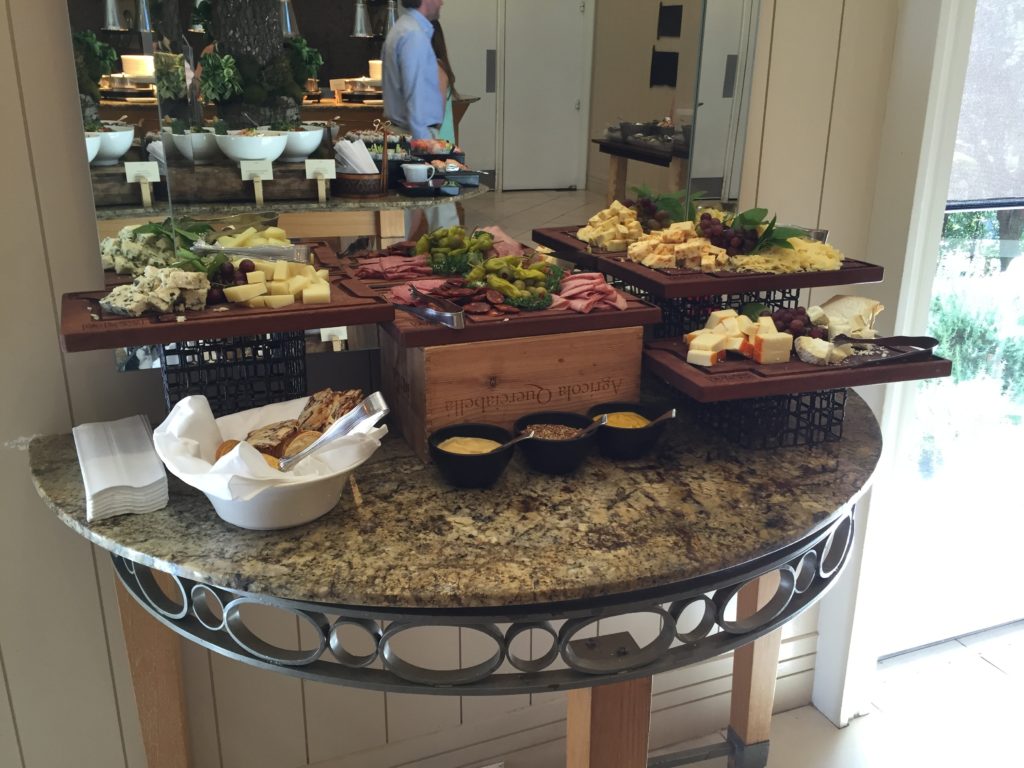 It was gorgeous, it was delicious, the level of service was unparalleled. We were congratulated by every staff person and were given a special Happy Anniversary chocolate plate as well as complementary valet parking. Our morning at the Four Seasons was divine and exactly what we needed to celebrate our sweet day. On the way home from brunch, we stopped by the bakery that baked our wedding cake last year and picked up a pre-ordered mini version of it to enjoy (mini version of the flavor, not the design).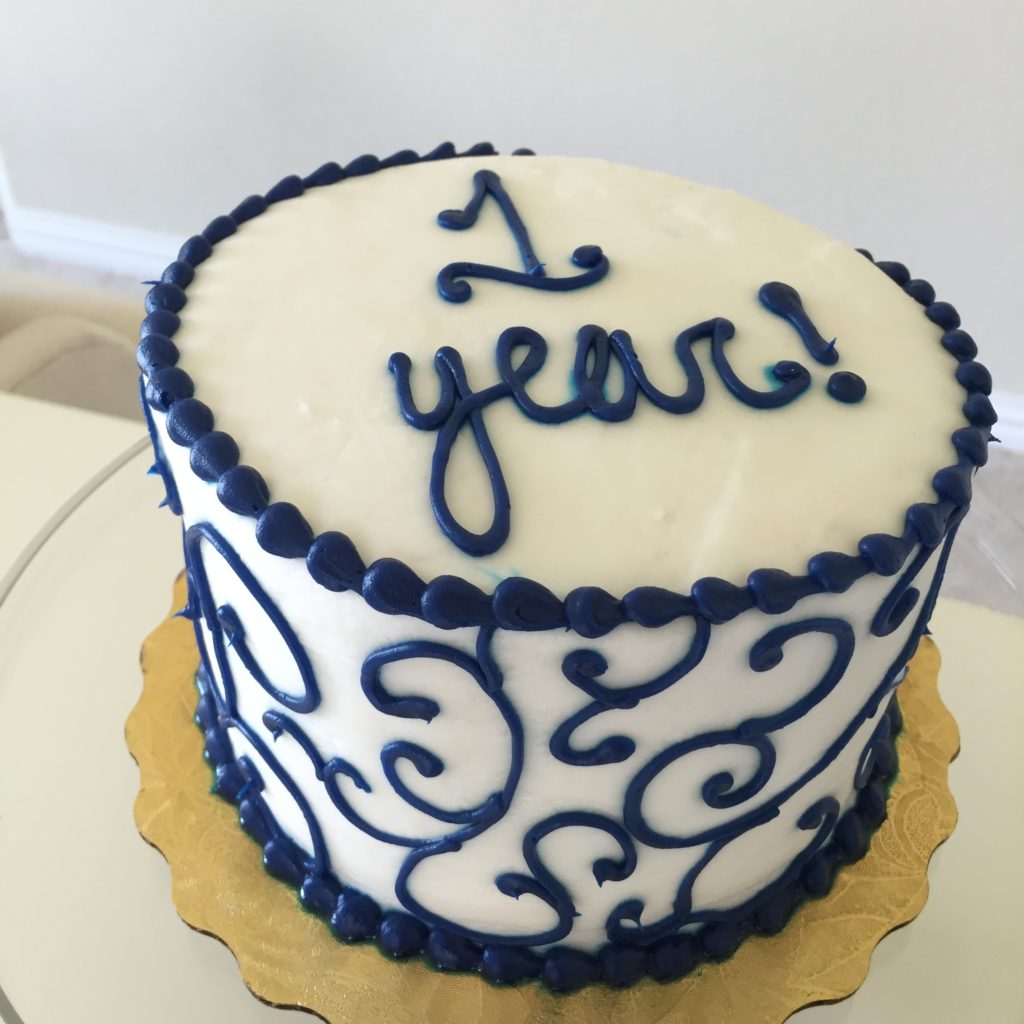 Once home, we took a long nap in our still messy and disastrous house and reminisced about our wedding day and past year. We watched our wedding film, I cried (obviously), and then fed, happy, and well-rested, we tackled the rest of this massive bedroom furniture project. We put everything together from IKEA, set up our room, and cleaned up the house.
Around 8pm, Riley's sisters and mom came over. We had a champagne toast and cake and we laughed about the ridiculousness of the past few days. This family time was the perfect end to our chaotic weekend and a lovely way to cap off our anniversary.
All that to say, our first anniversary was a truly enjoyable day that I'll look back on with fondness. However, the days leading up to it were some of the most logistically frustrating of all time and there will be no fondness for miles when I think back on them.
Today, we still haven't received our bed frame, which we will not unpack, but immediately return in its box. Obviously. We'll likely move the book case, which no longer matches anything in our bedroom, into one of our guest bedrooms. (Stay tuned to see what our bedroom looks like now and what we're doing with our second spare room in a new Making a House a Home Vlog tomorrow.)
Moral of the story: do not order oversized items from Target.com ever, for any circumstances, no matter what. Also a moral of the story: marry someone who you love so much that you can make it through messes with laughter and eye rolls instead of screaming and ugliness.
// How did you celebrate your first anniversary? Was it as lively as ours? Have I convinced you never to order large furniture from Target? (Please say yes to the last one!)
Thank you for reading! You can find me online on Facebook, Instagram, Pinterest, and Twitter. If you'd like to be alerted whenever I publish a new post, you can follow me on Bloglovin' or subscribe via email. Check out my fun tees in my Etsy shop and listen to my weekly podcast about simplifying life, Simplify Everything! Are you a blogger too? Check out my Blogger Mentorship Program.