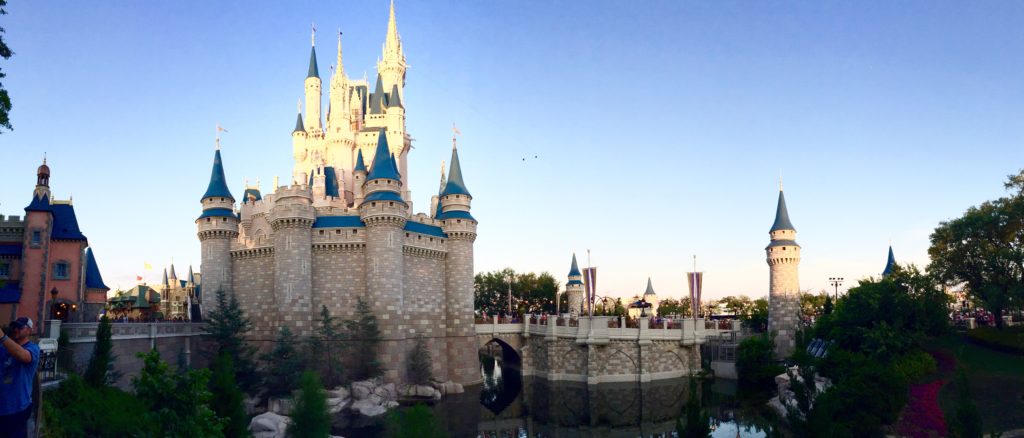 Yesterday I posted part one of our Walt Disney World trip recap; today is part two! Let's get right to it.
Thursday
Thursday was our second day at Universal/a planned rest day. We knew that after flying out at 6am on Thursday, then going to a Rehearsal Dinner that same night, then attending a wedding on Friday, then flying to Orlando and touring parks on Sunday, Monday, Tuesday, and Wednesday, we'd be tired and would need a rest day. Yes. We were right. (I literally took zero photos this day, so I don't have any to share! Oops!)
So, we slept in until 10am or so (every other day we were up by 6:15am) and then made our way to Universal Studios/Islands of Adventure for a few hours. We only rode a few rides and ate lunch, and then we went back to our hotel to nap. Everything I had read to prepare for our trip had encouraged a rest day in the middle of the week, and I am really glad I took that advice. We napped for almost four hours that afternoon…and that was after a good night's sleep!
Our bodies were just tired by this point. In fact, I woke up feeling a little under the weather on Thursday, which I'm sure was because I had pushed my body to its limit for too many days in a row. By that evening, though, we were feeling well-rested and went to Disney Springs (the new name for Downtown Disney, which is like a boardwalk with restaurants and shops) for the evening. We ate dinner at Earl of Sandwich, which was delicious, and then shopped a little before heading back to the hotel.
Friday
Friday was our last day in Disney, so we got up early for another round of 8am breakfast reservations at a charming restaurant in Magic Kingdom called Crystal Palace. We had a lovely meal and then headed out to explore the park. Because we had gotten so much in on Monday, there was nothing that we really had to do on Friday. This made our day relaxed and wonderful–we walked around, explored, shopped, rode some of our favorite rides a second time, tried some new snacks, etc.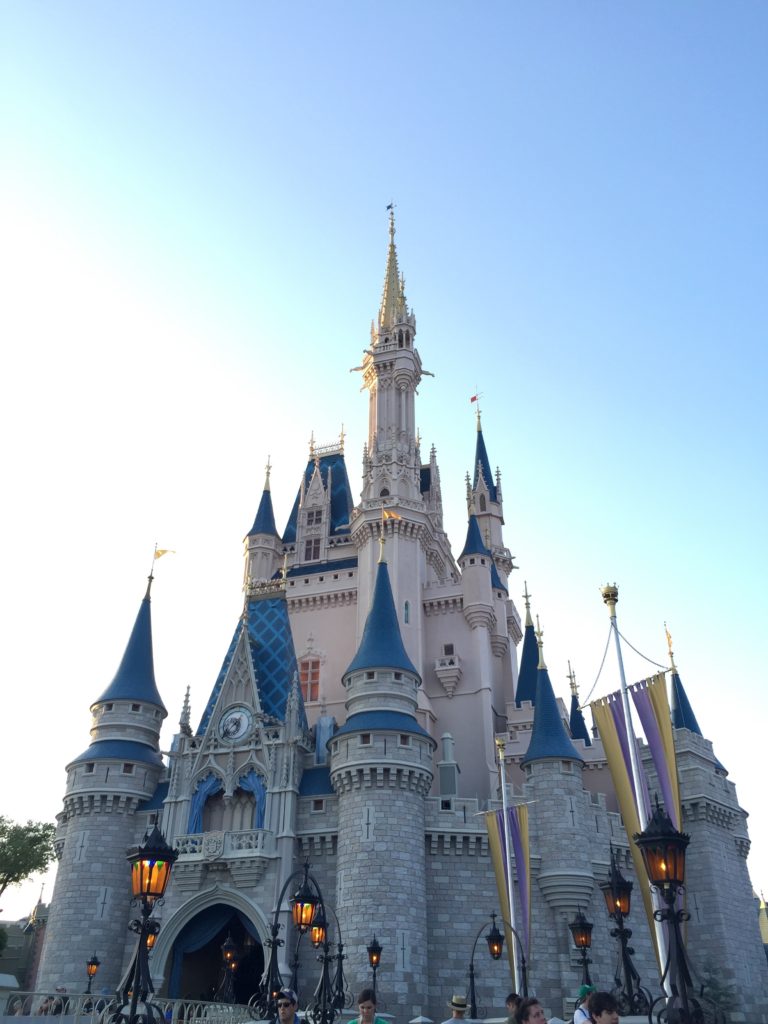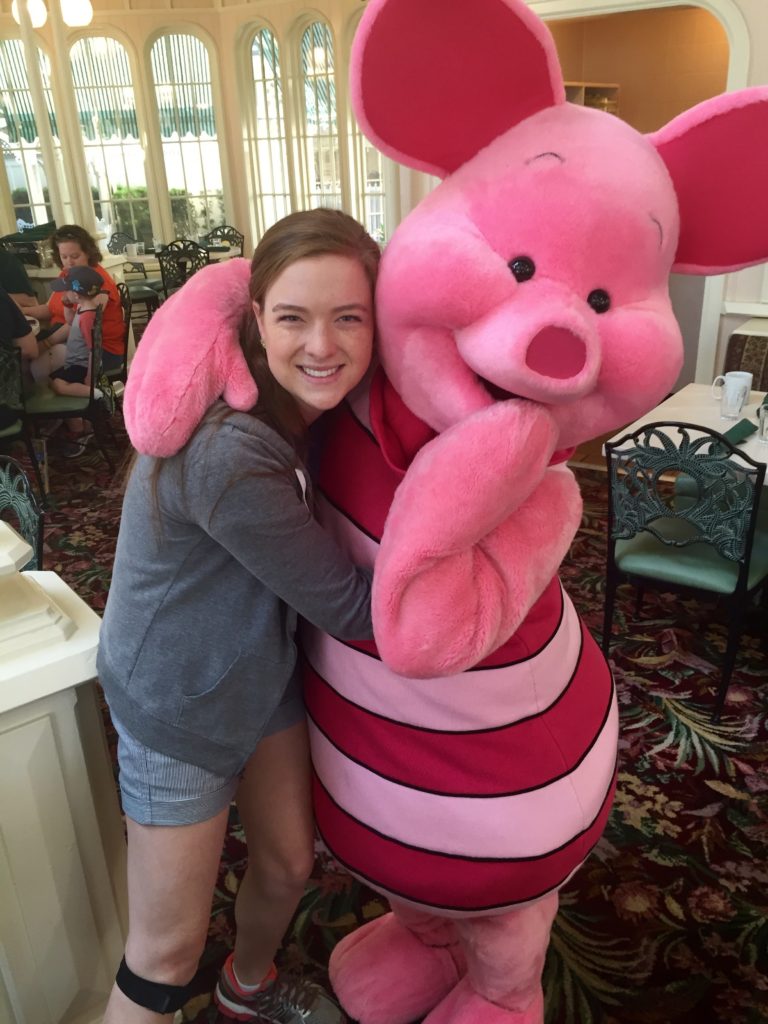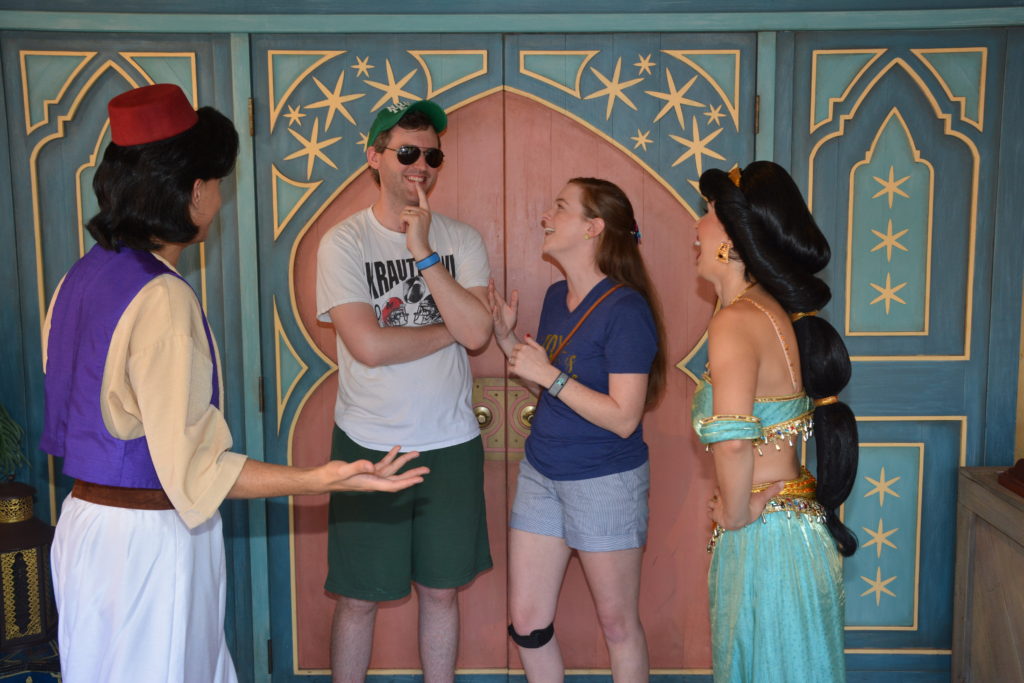 Around 1pm, we went back to the hotel for an afternoon break. Friday was the hottest day of our trip, and we knew we needed to rest and relax if we wanted to make it to the evening fireworks. We returned to the park around 4:30pm, which was good timing because we had dinner reservations at Be Our Guest, which is a restaurant themed to be like the Beast's castle, at 4:50pm.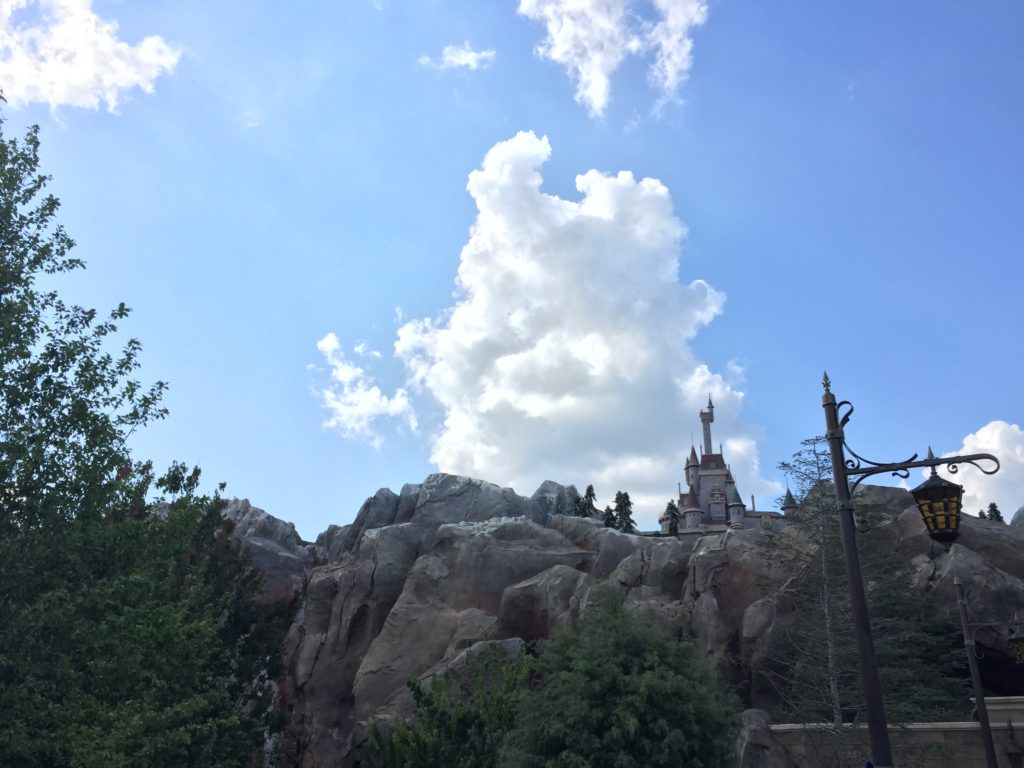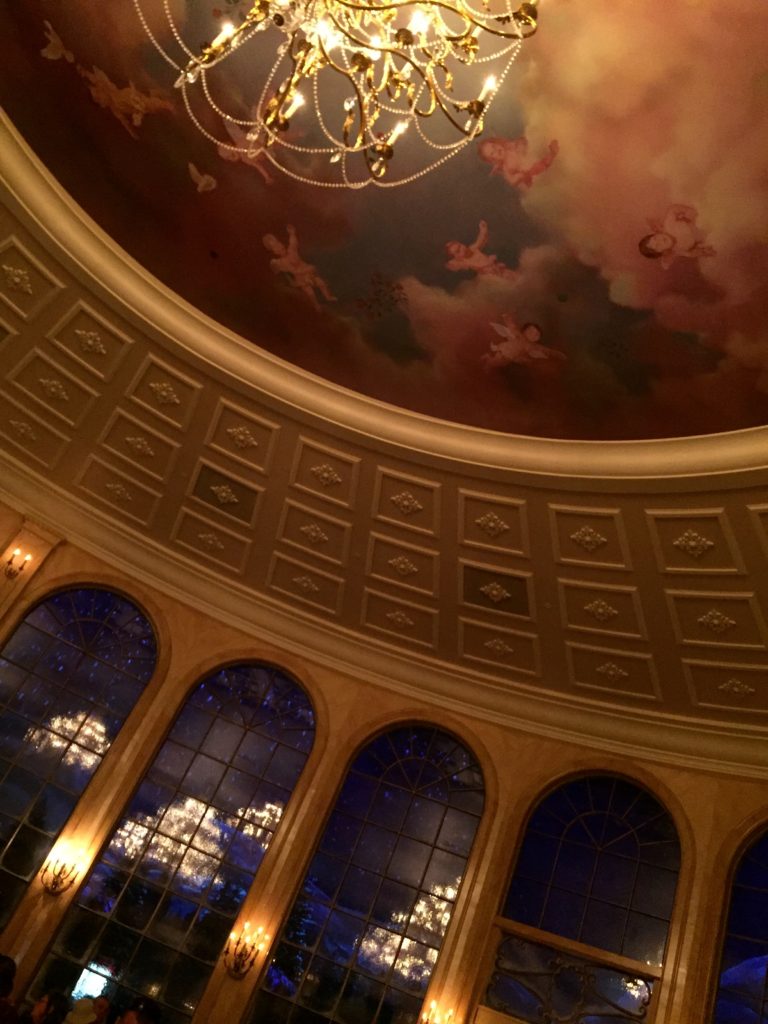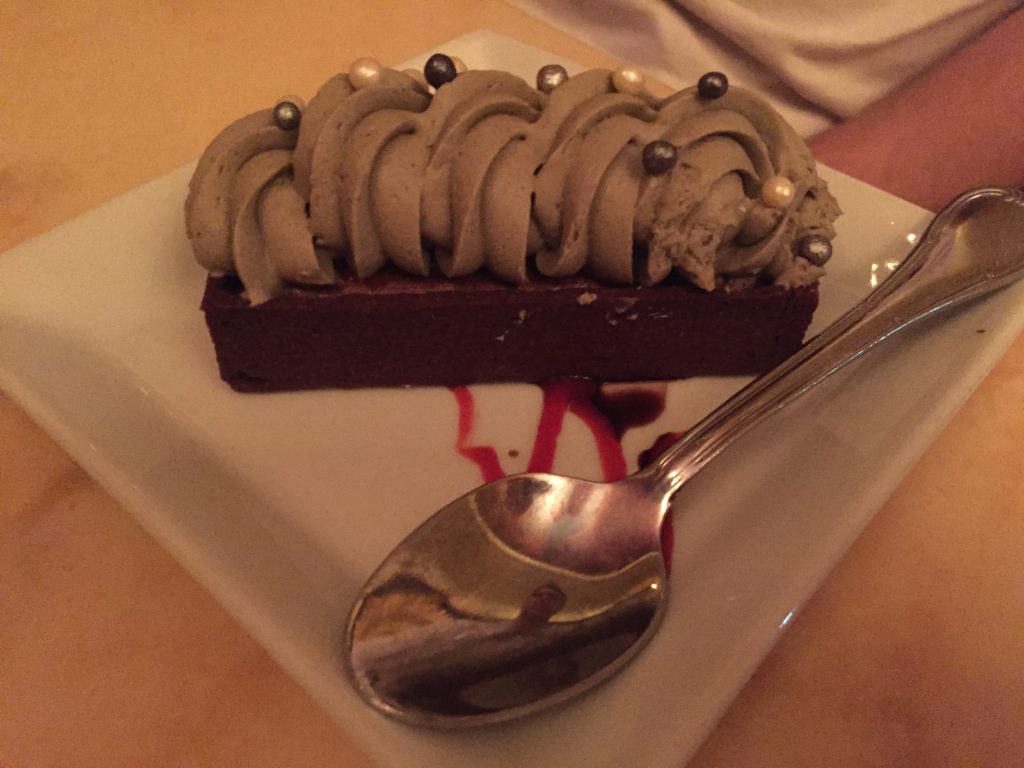 Dinner was incredible. Be Our Guest's theming is absolutely impeccable and beautiful in every way. Our meal was delicious, and dessert, which was "the grey stuff," was awesome as well. Every single detail of the restaurant reflected the movie; it was so immersive and neat. After dinner, we were able to explore the castle, see the enchanted rose, and take photos with the Beast.
There was a little girl in line behind us who was [rightfully] terrified of the Beast. Her mom continuously reassured her that he was just "a big teddy bear," but she was having absolutely none of it. I can't say I blame her! He's pretty scary! I mean, Riley's 6'4″ and he was at least a foot and a half taller.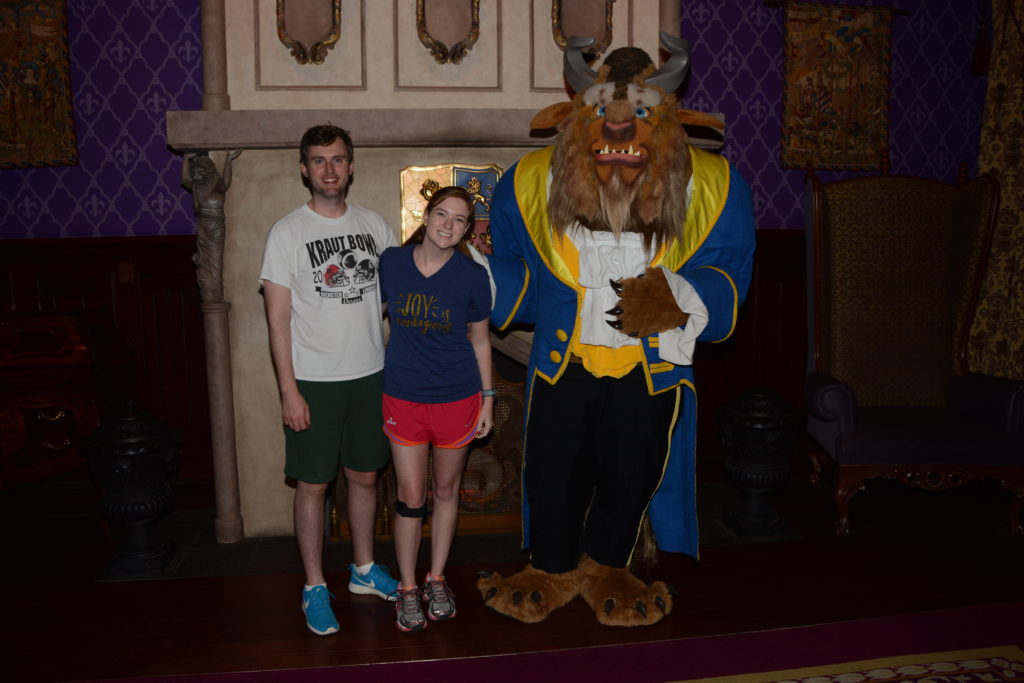 After dinner, we spent more time exploring Magic Kingdom and shopping before we watched Celebrate The Magic and Wishes fireworks. The park was open until midnight, but we ended up leaving around 11pm because we had done everything that we wanted to do, were satisfied and happy, and needed to pack before our flight the next morning.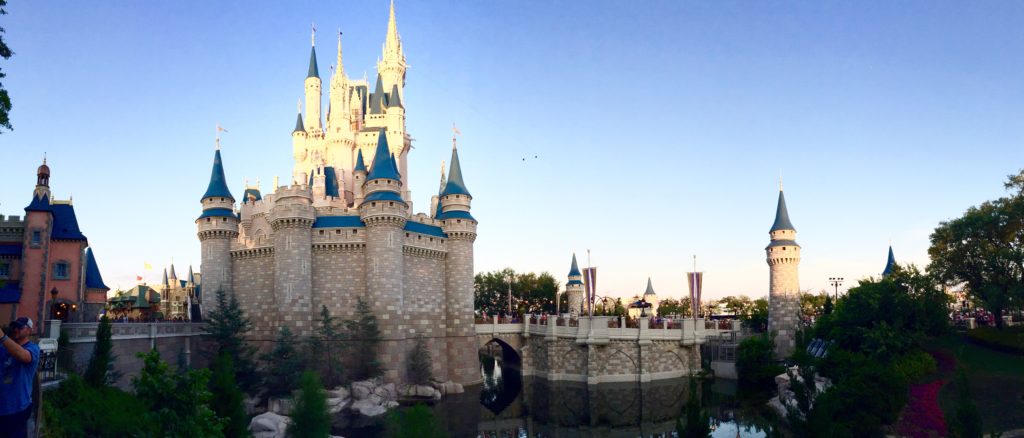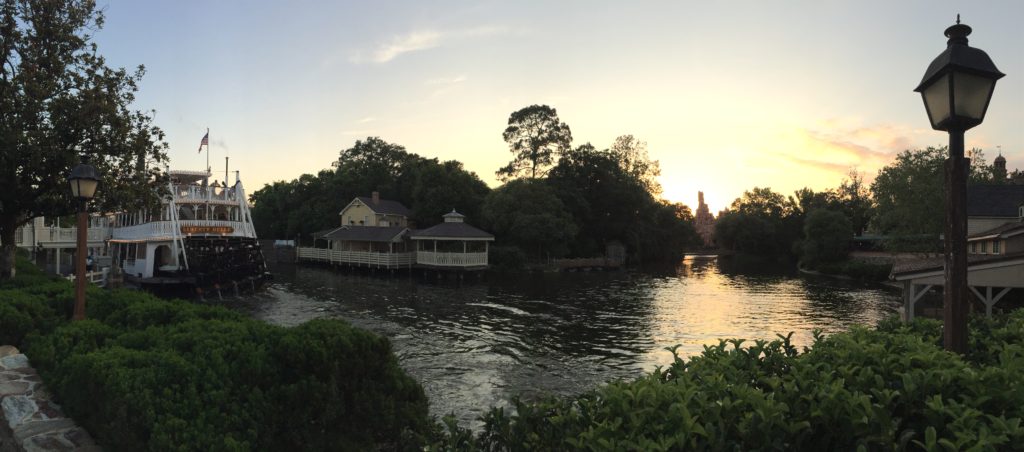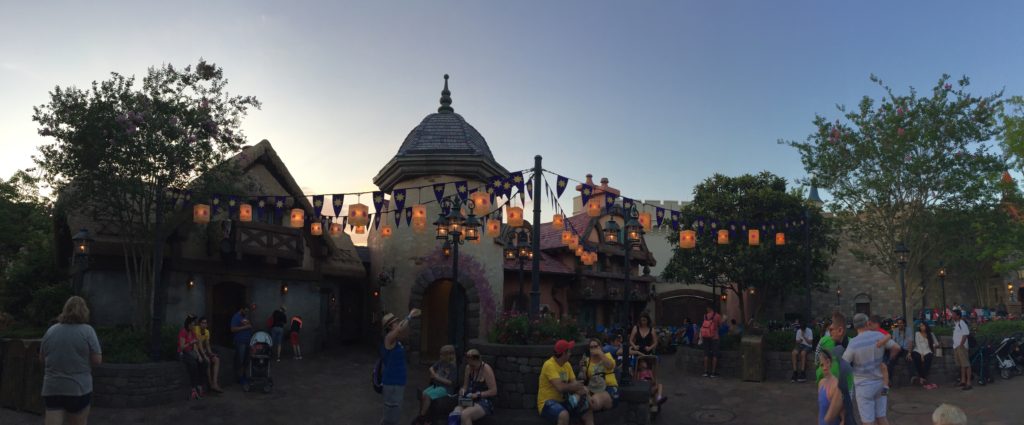 Dinner at Be Our Guest and fireworks turned out to be the perfect way to wrap up our trip. The weather on Friday night was beyond gorgeous, so we snapped lots of photos and tried to soak up our last moments of vacation together! What a great trip.
Saturday
On Saturday morning, we checked out of our hotel around 7:30am and drove to the Orlando airport, where we flew back to Dallas at 10:00am. Can I just say?–in my opinion, Orlando has the worst airport. It's just awful in every way. Lines are always, always ridiculously long. The layout of the airport is confusing and nonsensical. The monorail complicates everything. It's completely outdated. I don't get it! Literally hundreds of thousands of people fly to Orlando each year to visit; why not make it easier to navigate?
After the initial frustration, Riley and I got into several laughing fits at the airport's ridiculousness. Transitioning from an amazing vacation to navigating the Orlando airport was one of the most jarring transitions possible, so it became incredibly funny. Laughter–it makes everything better, doesn't it?
In fact, by the time we boarded our plane, we were so slap-happy that Riley pulled the Cinderella's Royal Table wand that we got at breakfast on Monday (which I had no idea had made it into his carry-on) and made me laugh so hard I cried. (Photo below!) He just sat there holding it, like it was the most usual thing in the world. I could not get it together!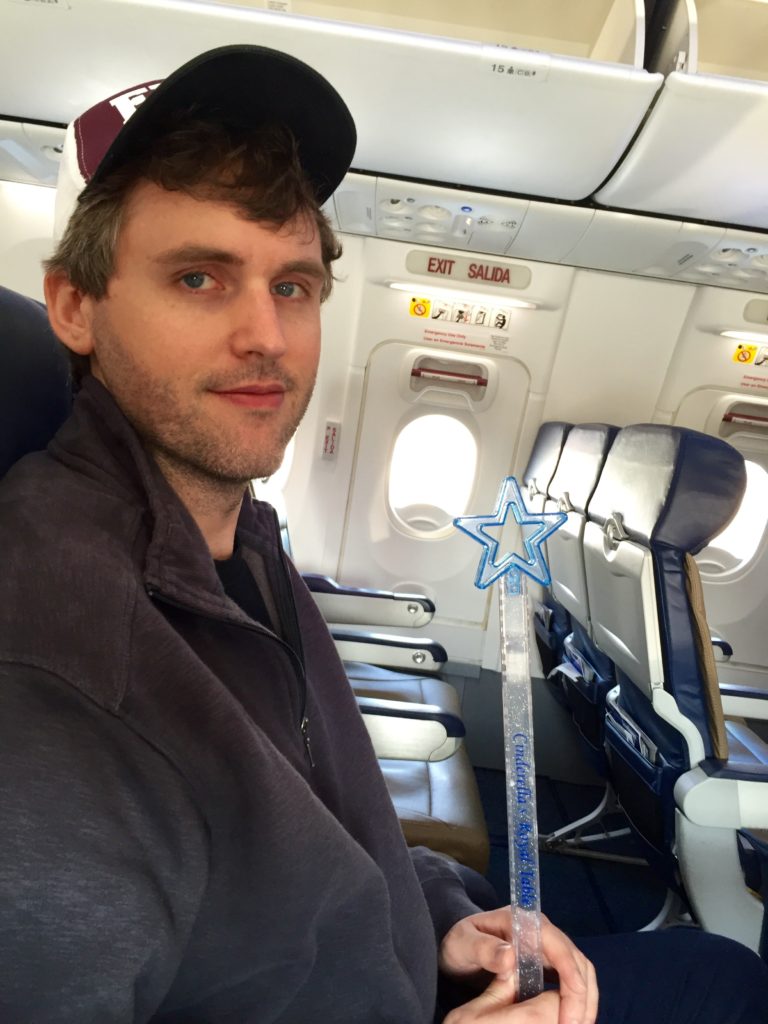 There's our Walt Disney World trip recap! We had an incredible time away and are so humbled and thankful that we had the privilege to go. Because this vacation was our Christmas gift from my parents, we snapped this shot for them (below), and sent it to them with a note. We both feel so overwhelmed with gratitude.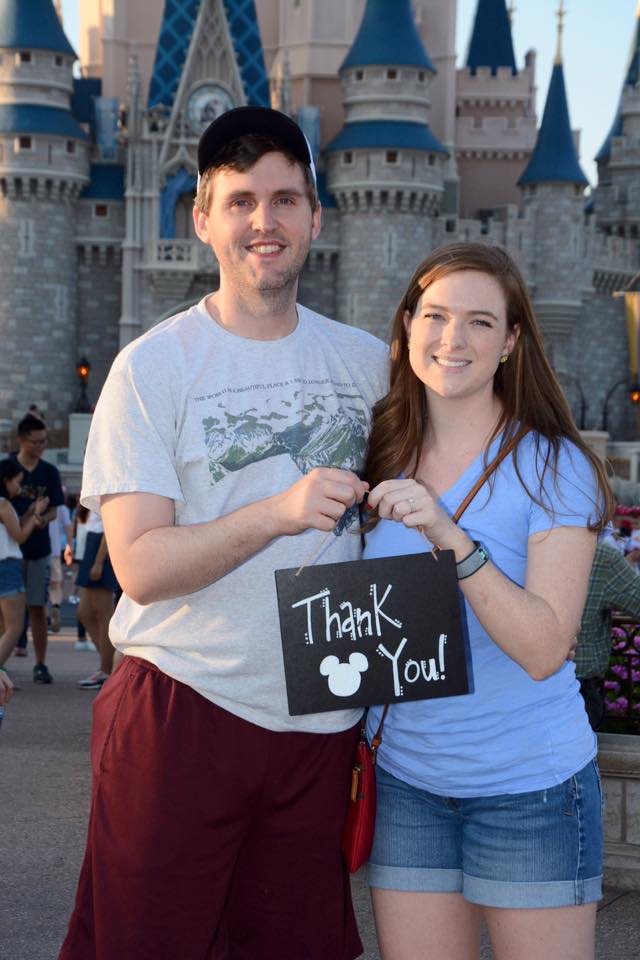 I'm usually quite wordy, so I'm pretty surprised that I was able to condense our trip into two relatively brief posts. I was going to tack on a summary of what we loved, what we'd do differently, what we wish we'd packed, etc. on to this post, but in an effort to keep this post centered around one topic and concise, I'll dive into all that tomorrow. On Thursday, I'm going to do a 9 Months of Marriage post, to continue the tradition (3 Months post here, 6 months post here). Stay tuned if you're interested & thanks for reading!