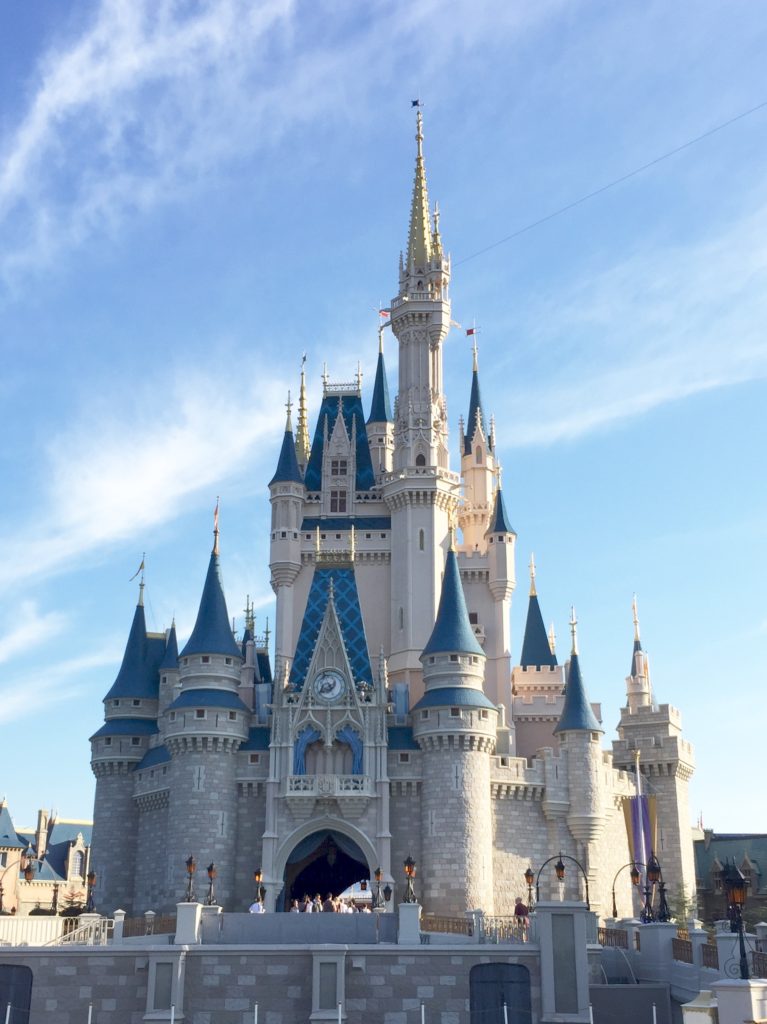 On Monday, I shared a recap of the first part of our trip, on Tuesday, the second part, and today I'm going to share my final thoughts and debrief the trip as a whole. While the other two posts were more for preserving memories, today's post will hopefully help you if you're planning a trip to Disney by hearing my conclusive thoughts and impressions. (If you're not a Disney person, check back next week for other content!)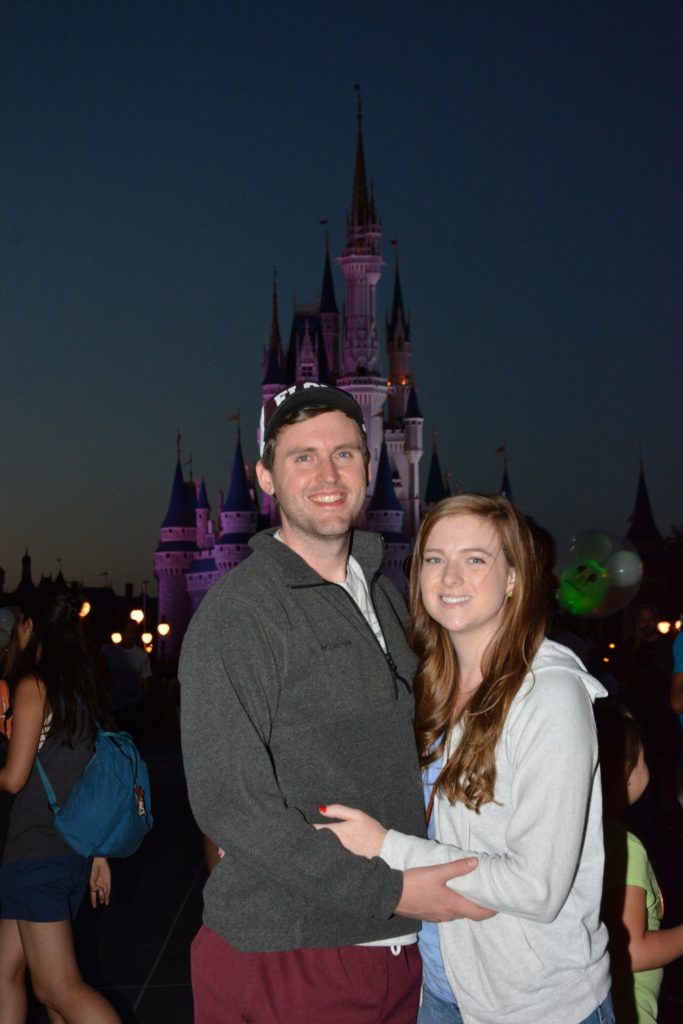 What it was like going as two adults
Clearly Disney's target demographic isn't adults without children. That being said, there were lots of other couples in Disney enjoying the parks without kids, like us. I can truly say that I enjoyed the parks infinitely more as an adult than I did as a kid, for a few reasons. First off, I was able to plan and tailor the trip to exactly what we wanted to do, see, and eat; I love to plan, so this was a big part of the fun for me.
Secondly, we appreciated the detailed theming so much more than we could've as children. As a kid, I remember thinking "Well, cool, that looks like Cinderella's castle," but as an adult, I was absolutely blown away by the details and thought that went into every single part of each park, ride, and restaurant. It really is so impressive.
Thirdly, when I was a kid, I didn't think twice about the food in Disney. As adults, Riley and I were completely impressed with all of our meals. They were really, really great, and we're both pretty picky about food. We so appreciated the excellent service and thoughtful touches at each restaurant and dining location–from our napkins being folded like roses at Be Our Guest (a restaurant themed like the Beast's castle), to being served "jungle juice" in Animal Kingdom, which was a delicious blend of three tropical juices. I drank approximately seven glasses.
Finally, we were able to spend our days exactly how we wanted to spend them. I'm the oldest child in my family, so as a kid, I was completely used to adjusting my schedule/preferences to accommodate my two younger siblings, especially on trips. (I had/have no resentment or issues with that, it's a part of being in a family!) However, on this trip, I was surprised at how much I truly enjoyed making decisions with Riley, just the two of us in mind. It was simpler and more enjoyable overall. Plus, being two adults, we were able to stay out late, when the weather is cool and the little kids have gone to bed, making the lines short and accessible. Nighttime was easily our favorite part of the day for this reason, and it's something we likely couldn't have enjoyed as well if we were with children.
What we packed vs. what we used
I packed a lot for this trip; you can watch my packing vlog and see exactly what we took here. Part of the reason why we had to bring four suitcases was because we flew to Baltimore before Disney for a wedding, which required formal attire, heels, jewelry, etc. I was a bridesmaid in the wedding, so I also had to think about a rehearsal dinner outfit for both of us, a "getting ready" outfit for the morning of the wedding, etc.
All that to say, we used almost everything we packed, which is pretty astounding. What we didn't use, I simply brought home and put back in our closet! This was the first time I've ever packed for Riley (I explain why in my vlog), and it turned out really well. I much prefer detailed planning and packing to him, so it generally makes more sense for me to do the packing in the future, especially since it worked out so well this time. (Plus, honestly, he's so easy to pack for. Athletic shorts and a t-shirt everyday, it doesn't get simpler than that!)
Anyway, a couple of things I wish I'd packed differently:
More zip-up hoodies or pullover sweatshirts–the mornings were chilly, so we ended up wearing these everyday. I wish we'd had a couple more because they felt dirty by the end of the week, especially since we had worn them while traveling to Orlando as well.
No tank tops for me–I packed a couple of tank tops, but I wish I'd just brought t-shirts. Reason being that my skin is incredibly sensitive to the sun, so the more clothes covering it, the better. I was diligent about sunscreen, so it wasn't a problem in the end, but all t-shirts would've been easier.
No dark-colored clothing–I hadn't really considered the color of my clothing when I packed. Overall, I chose light-colored pieces, but there were a couple of darker shirts that were simply too hot. Next time, I'd bring only light colors.
No laptop–I never bring my laptop on vacation with me, but since we were going to be gone for so long, I brought it this time. That was a mistake. I didn't need it (and didn't use it) and it was heavy and cumbersome to tote through the airport. Next time, I wouldn't bring it.
Things I'm really glad I packed:
Two pairs of comfortable shoes for each of us–it was nice to alternate shoes when our feet got sore, which was often because we were walking so much. I read this tip many times in preparation for our trip, and would recommend following it.
Sunscreen–both of us have incredibly fair skin, so we went through a lot of it throughout the week and always carried it with us in the parks. It was a lifesaver!
Liquid hand soap–I've never brought a pump of liquid hand soap on vacation with me before, though I know some people who religiously carry it with them to hotels. It was such a simple, small luxury to use normal soap instead of hotel bar soap when we washed our hands. At the end of our time away, we brought home what was left. Now the smell reminds us of our trip!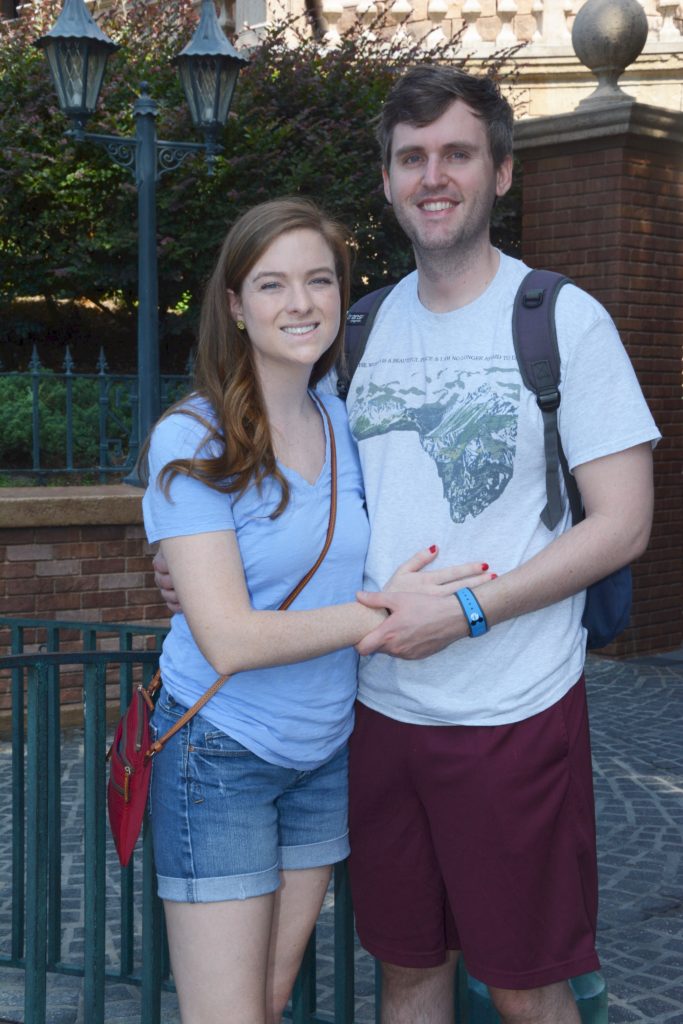 What we took into the parks
I mentioned in my "Pack With Me" vlog that I wasn't sure what we'd take into the parks each day. We each brought a backpack onto the plane as our carry-ons, and I also brought a small cross-body bag that I've had for years (this one). We ended up taking Riley's backpack and my cross-body, which was perfect. I kept everything that we needed to access often or quickly in my bag, like phones, credit cards, money, chapstick, park maps, etc., and Riley carried things like water bottles, sunscreen, ponchos, and our sweatshirts (which we usually took off mid-day). It worked out perfectly for us and is what we'd do again in the future if we returned.
What we wish we'd done differently
As great as our trip was, there is one thing I really wish we had done differently: I wish we had been more diligent about rest. We went into the vacation with a nap-every-afternoon mindset, since I'd read over and over again how critical it is to take an afternoon rest, no matter your age, when touring Disney. The heat, the crowds, the walking–they're really exhausting and will wear you out. But, we were so amped on adrenaline that we didn't take a break to rest on Sunday, Monday, or Tuesday, and we should have–on all three days. We ended up making it work by taking a long rest on Wednesday and Thursday, and a short rest on Friday, but we probably would've been more energized all week had we been more committed to resting throughout.
Part of the resting struggle was that we stayed off-site, about 20 minutes from the parks. Just leaving the parks takes about 20 minutes, plus a 20 minute drive, so the act of getting to the hotel usually took around 40-45 minutes in and of itself. This was a huge deterrent for us because it was a lot of logistical work and a huge time-suck. For this reason, we'd like to stay on-site if we visited Disney again in the future, mostly for the convenience factor (especially if we stayed at a resort on the monorail line), and for the other on-site perks as well.
A third and final thing that I wish we'd done differently is related to our reservations. I wish we hadn't made so many lunch and dinner reservations because we ended up canceling most of them. We loved having a sit-down breakfast every morning, but didn't like to stop in the middle of our day to go and eat. If we went again, I would book a breakfast reservation every morning, plus just one or two lunch/dinner reservations throughout the week. For the other meals, we'd plan on grabbing something from a quick service restaurant, which are plentiful and diverse.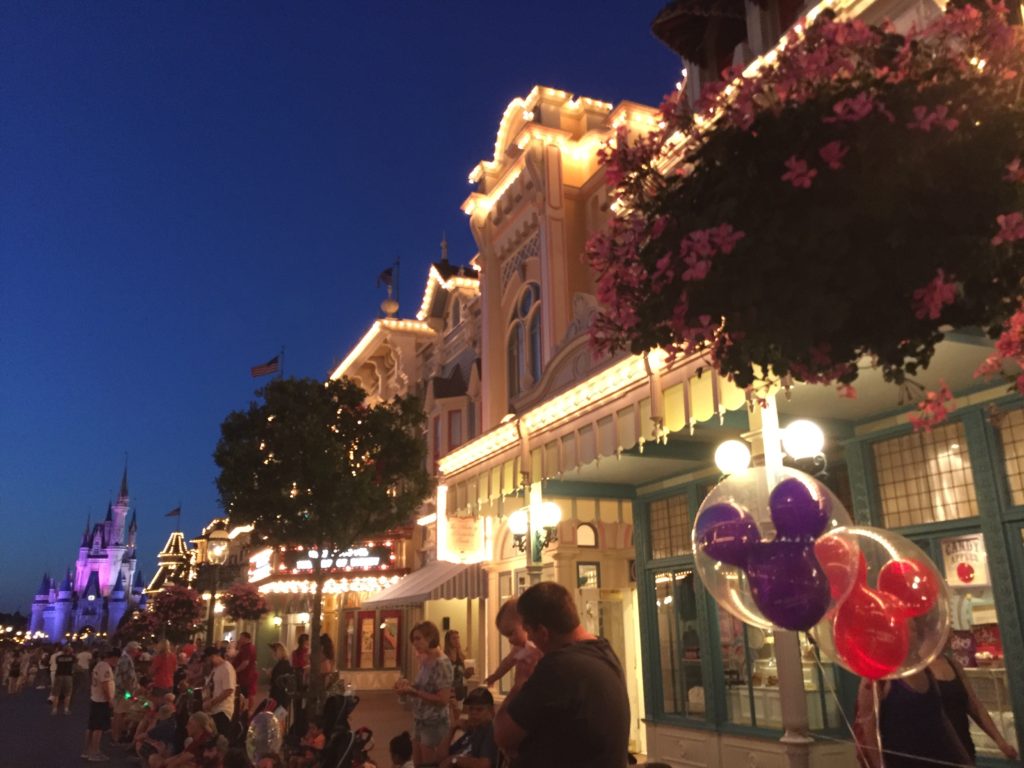 What we loved and would do again
As I mentioned above, we absolutely loved having early-morning breakfast reservations at 8am before the parks opened at 9am. If we went again, I would book breakfast for all or most mornings of our trip, simply so that we could have those reservations in advance. (We only had one of the four breakfast reservations in advance; the others, I made around 11pm the night before when early spots opened up, I assume because parents with tired kids cancelled them after staying out too late!)
Speaking of reservations, we would definitely eat at Cinderella's Royal Table and Be Our Guest again. Both restaurants were beautifully themed and offered a wide selection of delicious meals. Neither are inexpensive, but both are worth the price for the experience and meal, in my opinion. While we enjoyed every restaurant we tried, these two were our only must-do-agains.
This one is a bit of a splurge, but we opted to pay more for the "preferred parking" on Friday, since it was our last day in Magic Kingdom, our legs and feet were very tired, and we knew we were going to leave the park midday and come back in the evening. We normally wouldn't spend extra money on something so frivolous (regular parking was $20, preferred $35), but we actually got away with not paying for parking for two days in a row because we got to the parks so early, so we had extra budgeted parking money. (There was a sign on each parking toll booth both mornings that read something like "Please proceed to your destination–the toll booths are not open at this time.") Anyway, the preferred parking allowed us to park right next to the Ticket and Transportation Center in Magic Kingdom, which made getting in and out of the park much easier and much faster.
While we definitely wouldn't pay extra for preferred parking on every day of our trip, and don't think it's necessary at EPCOT, Hollywood Studios, or Animal Kingdom, I would consider spending the extra money if we self-parked at Magic Kingdom again (especially if we hadn't paid for a couple of days like this trip!). It saved us at least 30 minutes of walking time.
Final thoughts
Overall, we had a fantastic trip. My favorite thing about Disney was that we were able to be openly silly and laugh loudly and often throughout our trip! We laughed so hard we cried countless times…it was so much fun! Riley and I made lots of great memories that we'll cherish for years to come. We'd love to go back one day!
// What's the last trip you went on? What would you do differently/what did you love about that trip?