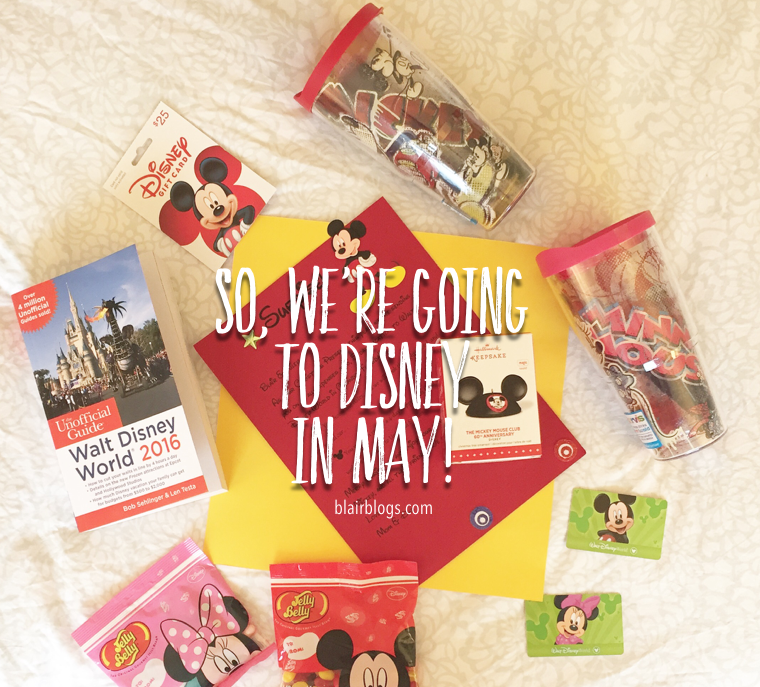 Maybe you saw on Instagram?! This year Riley and I were generously gifted a trip to Disney from my parents! (Hooray!!!)
We were SHOCKED. And ever since Christmas morning, I've been voraciously researching everything Disney so that we can make the most of our time in Orlando! Let me back up a little, so you can get the full picture of how incredible this trip really is…
Because we got married in July and were showered in unbelievably generous and thoughtful gifts from friends and family, we genuinely didn't need anything for Christmas. Additionally, as you already know from this video, our cozy home is small-small-small. Our storage space is completely maxed out and we are really only looking to get rid of things, not add things to the mix.
My mom knew all of this, so I assumed that she and my dad would maybe give us a gift card to a favorite restaurant or something similar? But Disney? We had no idea. And neither my mom (nor my dad) knew that I had been praying for the opportunity to go to Disney for months. God is SO cool.
You see, a few months after settling into married life and we started discussing future trip ideas for our one year anniversary. (We love trips!) I've been to Walt Disney World a couple of times, and Riley has been once, for one day, to Disneyland. On the busiest day in park history. (Literally, this is not an exaggeration.) His photos from that day look like my personal hell. (Luckily he still had fun!) People were absolutely everywhere and he recalls the lines being hours and hours long.
So, with that in mind, I brought up Disney as a potential destination. I just love Disney–it really is magical! Riley loved the idea too (especially given his previous less-than-magical experience), and we started planning a trip for the second week in May next year. The more we talked about it, the more we fell in love with the idea of a week-long Disney trip.
There were so many reasons why it made perfect sense. First of all, we knew that if we didn't go in the next year or so we would end up waiting for another 5-10 years (or more!) since we likely wouldn't go if I were pregnant or with an infant/toddler. Certainly Disney is incredible any way it comes, but there are so many awesome rides and restaurants to experience that would be complicated with a small child and his or her physical/emotional needs. For this reason, we were eager to have an adult-only Disney experience before our potential kid-centric trips of the future.
Finally, my childhood best friend gets married in early May in Baltimore (and I'm in the wedding party!), so we were already planning a trip to the East Coast then. May is an ideal time to visit Disney given the weather and crowds, and flights from Baltimore to Orlando are much more reasonable than flying from Dallas to Orlando. We figured we'd kill two birds with one stone–fly out for Olivia's wedding and then fly south for a week in Disney.
All of these reasons along with our building excitement meant hours and hours of intensive research and looking at flights and hotels and loosely planning our week of visiting each park! I really enjoy planning trips, so planning such a fun and special two-month-early one year anniversary trip was a blast.
Then. A real, intensive look at our financial goals and house hunt as well as what we'd have to seriously cut out in order to do Disney and stay on track. (#Disneyissoexpensive) And honestly? Moving has been hard enough–I want my creature comforts. I want to be able to go out to dinner with my husband or buy a cup of coffee from time to time. Cable TV has shamelessly comforted me with familiarity in the hard moments. But we couldn't have it all, and staying on track to buy a house and start a family was way more important to me than a trip, no matter how wonderful it would be. So, we cancelled our plans. Both of us were disappointed, but we knew we were making the right decision.
During this time, my mom and I had talked about the possibility of us going to Disney…and then, we talked when that possibility was off the table. What she didn't know was that I had been secretly praying for a way to make it work. I believe in a God who answers prayers and gives gifts to His children! (I've found that He often gives me things that don't have lasting/eternal significance so that I'll trust Him to deliver on big things that do.) I've watched God answer prayers that I've whispered in quiet all my life…everything from a puppy to an accountability partner to a friend coming to know Jesus to a God-fearing husband. So, for the past few months, I have been whispering brief prayers–if there's any way that Disney can work, please let it work. I scribbled in my journal, Disney? Is there any way we can still do Disney? I thought perhaps God would show us a way to rethink our finances so that we could responsibly plan our Disney trip, but there wasn't a lot of wiggle room. We've been saving for a house (update: which we eventually found!), so anything extra has gone directly into our home savings account.
As usual, He surprised me. My mom had apparently been thinking way more than I'd realized about this little dream of mine. She travels around the country most of the month for her job, so she accrues all kinds of travel points–for flights, hotels, rental cars, tickets, etc. She and my dad usually save them up for their own getaways, but this time they generously gifted the points to us.
Christmas morning came, and the very first thing my parents did was go downstairs to retrieve the only gift not already sitting under the tree. The two of them pretended to lift it together, like it was really heavy. I thought it was a video game console for my brother or something similar. Then, this big box was set in front of Riley and I.
We opened the box, and the very first thing I saw was a big Mickey Mouse sticker on the "Surprise! You're going to Disney!" scrapbook paper that sat on top of lots of fun Disney merchandise. I gasped and threw my hand over my mouth. "WHAT?!" Riley looked at me, confused. He asked if it was a joke. #thatwouldnothavebeenfunny
Suffice to say, we were STUNNED.
We jumped up to hug my parents and then sat in shock. A few more minutes of "Are you serious??" and we finally believed that we were actually going on our trip. Later that day, my mom casually approached us about sitting down together to book the flights and hotel room "when we had taken some time to look over our calendar and discuss the dates." Immediately, and almost in unison we replied, "We already know when! We had our whole trip planned!!"
And so, on Christmas night, we booked our seven day, six night answered-prayer-trip to Disney World. My parents were able to cover everything except for food on my mom's points, which is just amazing. So generous. We're thankful for them for so many reasons!
You can count on being updated often as we plan this trip-of-a-lifetime! 🙂 Here's to generous parents and a really awesome God!
// What do we have to do/see/eat while we're in Disney? (I'm especially interested in the eat category!)