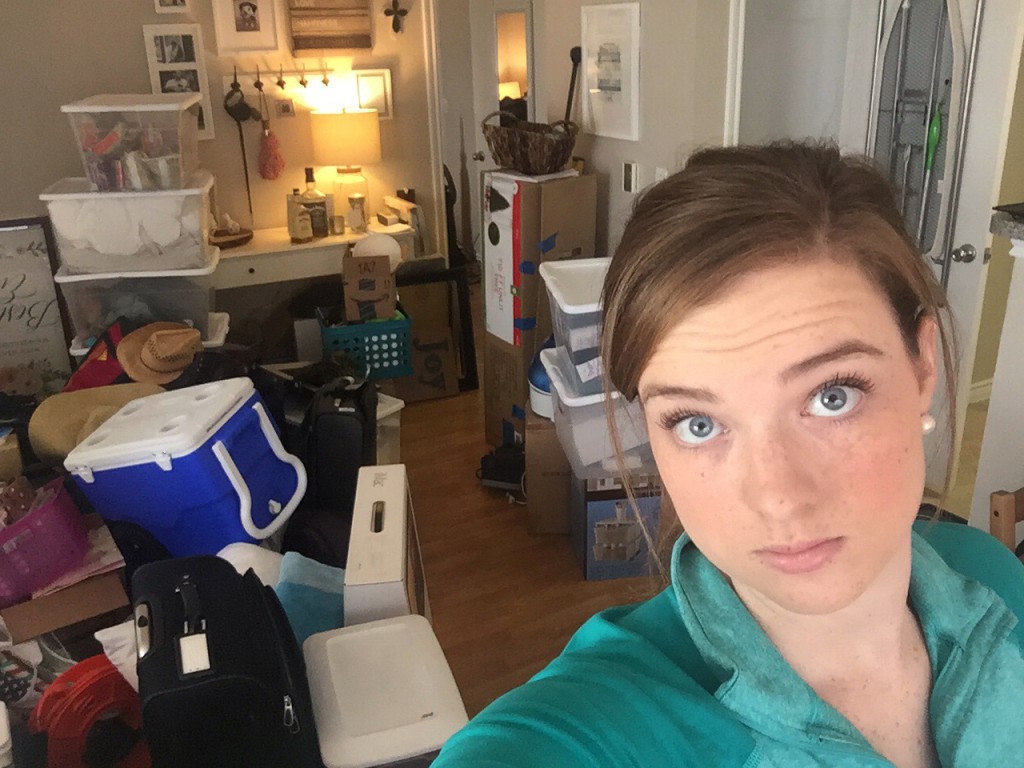 My feet are swollen and tired and I really just want a bubble bath and an extra long nap because I spent more than five hours cleaning out and organizing our master bedroom closet and the storage closet yesterday! (Plus another two hours cleaning up the rest of the house after everything was in shambles from the closet clean-up!)
I'll explain everything in my video below, but here's the basic back story: I moved into our apartment in mid-July, and Riley joined me once we were married, so we've been here for a little more than three months. Because the storage options in our apartment are really terrible (tiny pantry and that's it), we had been using our master bedroom closet (the only viable storage space) as our dumping ground for everything that didn't have a home…which was a lot. Wait until you see it. It is SO far from what I consider acceptable that I can barely even get through the part of the video where I show you the "before." I was laughing as I was editing it!
Anyway, two nights ago, our apartment complex left us a notice asking us to please remove all items from our storage closet (it has an outdoor entrance off our patio) so that maintenance could access a water line in it (or something like that). Once all of the junk from the outdoor storage closet was piled up in our living room, I decided it was finally time to bite the bullet and dedicate an entire day to cleaning out our master bedroom closet as well. I documented everything in my video below. (It's hilarious how worn out I look by the end!)
Take a look at my deepest, darkest organizational secret–and how I cleaned my act up! You can watch the video below or here on YouTube. (Wait until you hear what creepy crawly critter I found–EEK!)
…and that's how I spent my entire day yesterday! But, at least it's completely organized now, right? I would love for it to be organized and pretty, but with as little storage space as we have right now, utilitarian is all I can really hope for! I mentioned The Life-Changing Magic of Tidying Up at the end of my video (read my honest review here), and that book was a big driver in getting through my closets and cleaning them out (though I admittedly didn't follow the author's system exactly, I did get rid of a lot and really thought through what I was keeping–I hope to "KonMari" my entire apartment in the coming months!).
So…what do you think of my closet overhaul? Have you organized anything overwhelming lately? Getting these two closets back to functional and clean was an all day endeavor, but SO very worth it! I keep visiting my master closet just to soak up the joy of it! 🙂