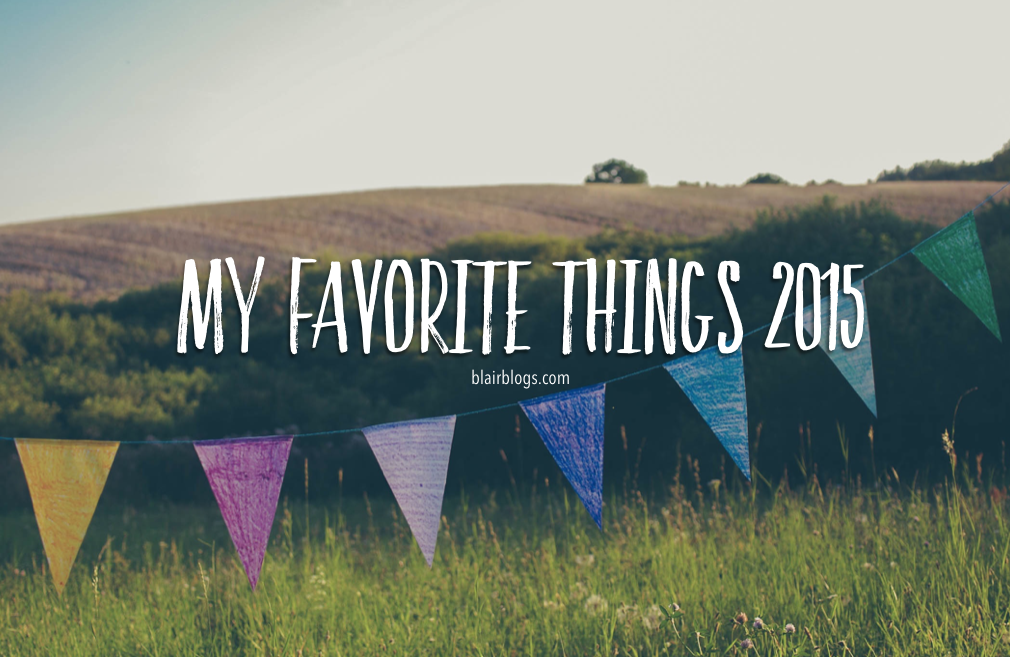 Though I can't believe that we're already wrapping up 2015, I love happy endings and fresh beginnings. This year has been packed full of change, joy, and challenges, and I'm truly thankful for all of it. That being said, I really look forward to the fresh start that 2016 will bring–our first full year as a married couple, the year we'll buy our first house together, and the year we'll really begin to settle into our new community and build relationships. It's so exciting!
Since this year is wrapping up, I'm going to share my favorite things from this past year. (I plan on sharing the important, heartfelt things (like my favorite memory, etc.) in another post–this one is more superficial.) I loved going over my friends' houses when I was a kid and living with roommates in college because I thought it was so interesting to see the items and products that other people use day-to-day; because of that, I'm sharing my own favorite things from 2015 today–in no particular order!
So, these are a few of my favorite things… (if you didn't sing that in your head, we can't be friends! 😉 )
Favorite Cleaning Product: Method Cucumber Spray I love the way this cleans, and it has a light non-chemical smell that's refreshing and nice. I use it to wipe down my kitchen multiple times a day!
Favorite Movie: Baby Mama This has been my favorite movie since it came out in 2008, and there hasn't been a movie yet that trumps it. Sure, it's just a goofy romantic comedy, but it is absolutely hilarious and so quote-able! (Embarrassing disclosure: I have two copies of Baby Mama, you know, just in case.)
Favorite Face Product: Thayer's Rose Petal Witch Hazel Now that I've been using this for months, I can't imagine ever not using it. The formula is alcohol-free, so it doesn't dry out my skin, but it evens out my skin tone and give my face a healthy glow that I've never gotten with other products!
Favorite Makeup Item: Arbonne Perfecting Liquid Foundation I hadn't used liquid foundation since I was a makeup-confused 14 year old until I bought this. It's full coverage, but very natural. I love the way my skin looks and feels when I use it!
Favorite Cup: Tervis Tumbler I've always loved Tervis Tumblers, but after receiving so many as wedding gifts, I've completely fallen in love with them. These are practically the only cups that Riley and I use when we're at home. They're the best!
Favorite Marriage Must-Have: Poo-Pourri There's really no appropriate explanation here…just that this stuff is the best! #especiallyina1bathroomhome #andyouhavetobrushyourteethafteryourhusbandgoespotty
Favorite Skincare Product: Fake Bake Flawless This was the year of engagement photos, bridal showers, and my wedding, so I wanted my super-fair skin to have a  healthy, warm glow. This is the absolute best self tanner on the market. It's easy to use and looks completely natural–plus it lasts for at least a week! I'm so obsessed with Fake Bake.
Favorite Book: The Life-Changing Magic of Tidying Up I know I talk about this book all the time, but it really is that good. You can read my full honest review here.
Favorite Storage Item: Klip It Juice Jug I make a pitcher of iced tea every other afternoon and pour it into this awesome jug. The seal on this container is top-notch, so our tea always tastes fresh and delicious. Plus, it's shatter-proof (which is important to us since we've already broken two pitchers since we got married), and its square design fits perfectly in our fridge.
Favorite Athletic Shoes: ASICS Gel Flux 2 I've worn ASICS for years, and I absolutely love my newest pair. Their arch support is the best I've found, which is critical for me given my scoliosis. I highly recommend these shoes!
Favorite Beverage: La Croix I am obsessed with sparkling water and La Croix is the best of the best! My favorite flavors are apricot and cherry-lime.
Favorite Chocolate: Lindt Intese Orange Dark Chocolate Most nights, after dinner, Riley and I grab a piece of chocolate (or seven) and enjoy it. This is my absolute favorite. Oh, my mouth is watering just thinking about it!
Favorite Crafting Tool: Silhouette Cameo I bought my Silhouette in January to use for wedding crafting…and it was well worth the investment! I made all of my wedding invitations with it, much of the signage and décor for our big day, as well as other fun projects throughout the year, like cards or gifts!
Favorite Coffee: Dunkin Decaf Both Riley and I love coffee, so I've tried many different blends and brews. Though I'm not super picky, my favorite at-home cup of coffee is Dunkin Decaf. (I can't handle a lot of caffeine, it makes me physically anxious!) Side note: this is decidedly not Riley's favorite.
Favorite Vitamin: Magnesium I plan on writing an entire blog post dedicated to my beloved magnesium, but suffice to say, this vitamin has changed my life. I take one pill each night and have seen a drastic change in my sleep quality, anxiety level, the intensity of my menstrual cramps…the list goes on. I'm a different person since I started taking magnesium!
Favorite T-Shirt: Thankful Tee I love this shirt so much. It's comfortable and soft, and it has the perfect message! I love it.
Favorite Hair Tool: Miraqueen This is by far the coolest hair curling tool on the market; I wrote all about it here.
Favorite TV Show: My Big Fat Fabulous Life (for laughter) & Scandal (for drama) Both of these shows have captured me for different reasons: My Big Fat Fabulous Life is light-hearted and fun, but also inspirational and sweet without being overly dramatic or out-of-touch (like, for example, the Kardashians), and Scandal has a fascinating, intense storyline that gives me my drama fix (though I always have to DVR it and watch it later so I can fast forward through scenes that are too much!).
Favorite Bag: Fossil Preston Crossbody in Espresso Riley gave me this bag as a birthday gift last year and it's the only bag I've used ever since. I absolutely love it in every single way and plan to continue to use it for a while longer!
Favorite Cell Case: Speck CandyShell Grip Case This is the case I have (in hot pink and aqua–which looks very different from the on-screen colors in the link), and it has survived multiple drops and fumbles. Plus, I like the bright colors because it's easy to find!
Favorite Headphones: Panasonic In-Ear Headphones in Silver These headphones were really cheap, but I use them all the time and adore them. Apple headphones really, really hurt my ears because the head of the headphone is too large. These have different sized squishy interchangeable rubber covers, so I customized my headphones to fit my ears! Love them.
Favorite Piece of Luggage: eBags 22″ Expandable Carry-On Riley and I traveled a lot this year, and we brought our eBags with us on every trip. They're the best suitcases ever. So durable, so well-made, so perfect for packing. Obsessed!
Favorite Hot Tea: Harney & Sons Vanilla Comoro This is a delicious black tea with vanilla, and yes, it's just as yummy as it sounds!
Favorite Perfume: Flowerbomb by Viktor & Rolf Flowerbomb has been my favorite perfume for almost eight years, and my favorite it stands. Just the perfect everyday scent if you ask me!
Favorite Hair Product: It's a 10 This stuff rocks. I'll buy it again and again. I love the way my hair looks and feels when I use it–frizz-free, silky, shiny, and easy to style!
Favorite Album: 1989 Riley is upset because this album wasn't actually released in 2015, but in late October of 2014. I get it, but it's still my favorite album this year–as in, I listened to it constantly! So, so catchy and fun! 🙂 I love T. Swift.
Favorite Undies: Aerie Vintage Lace Boybrief I have these in roughly 12 colors and wear a pair almost every day. They fall into the "cheeky" category, which means no lines. Praise! Plus, they're comfortable, feminine, and a touch sexy…which is the perfect undie combination in my opinion!
Favorite Dog Food (For Charley): Rachael Ray Nutrish Zero Grain I introduced this food to Charley when I was writing this blog post, and have bought it again and again ever since. He loves it, it's affordable, and it has high quality ingredients! Works for us!
Favorite Speaker: Bose Soundlink Mini I actually gave this to Riley as a gift before we got married, but now that we live together, I get to use it all the time, too. I listen to podcasts on it every day and play music while I cook dinner each night! This speaker has a great sound and I love that it's cordless, making it super portable!
Favorite Pen: Pilot Precise V5 These are pretty much the only pens I've used for seven years, and I will continue to use them until I find something better (which I don't think I ever will!). I use them for to-do lists, to journal, for notes and cards–for everything, all the time. There's one on my desk next to me right now!
Those are my favorite things from this year! I wish I could be like Oprah and send all of my readers each of these items! Maybe one day 😉
// What are some of your favorite things from this year? Do we share any of the same favorites?