As promised, September is officially Wedding Recap Month here on my blog! Today, it's all about the paper. You should know before you read this post that this aspect of the wedding was both one of my favorites and one of the most time consuming as far as decisions and execution. I have always had an affinity for paper goods, stationary, invitations, etc., so our suite and accompanying items were extremely important to me. I wanted all of our items to be cohesive without being too matchy-matchy…here's what we sent out!
Save The Dates


Right after we got engaged and booked our venue, we sent out our Save The Dates. (Tradition says to send out Save The Dates 6 months before the wedding; our engagement was just 7, so we sent them out right away.) Because our wedding was, for many, a destination wedding, we wanted to give guests ample time to book flights and make travel arrangements. I wanted our Save The Dates to give guests an initial feel of what the wedding day would be like. We therefore chose something classic and pretty, but with a twist of unique ("Save Our Date" instead of "Save The Date.") To save on postage, we picked a postcard design (also because we didn't need to include a lot of information). I love the way they turned out!
Wedding Invitation Suite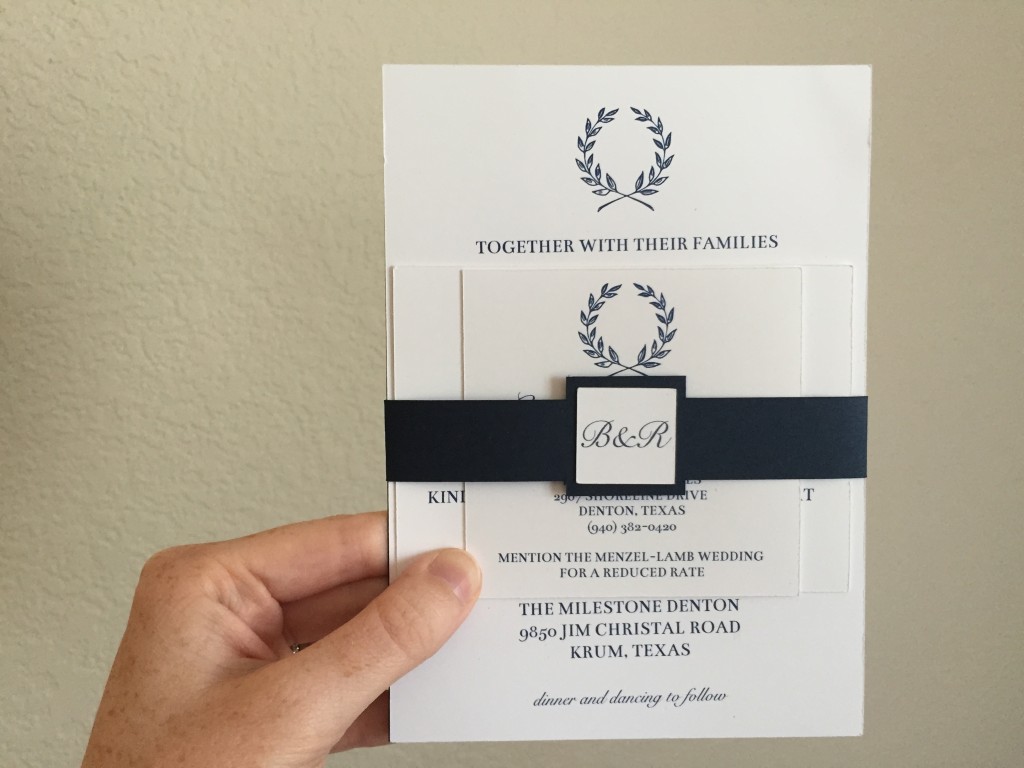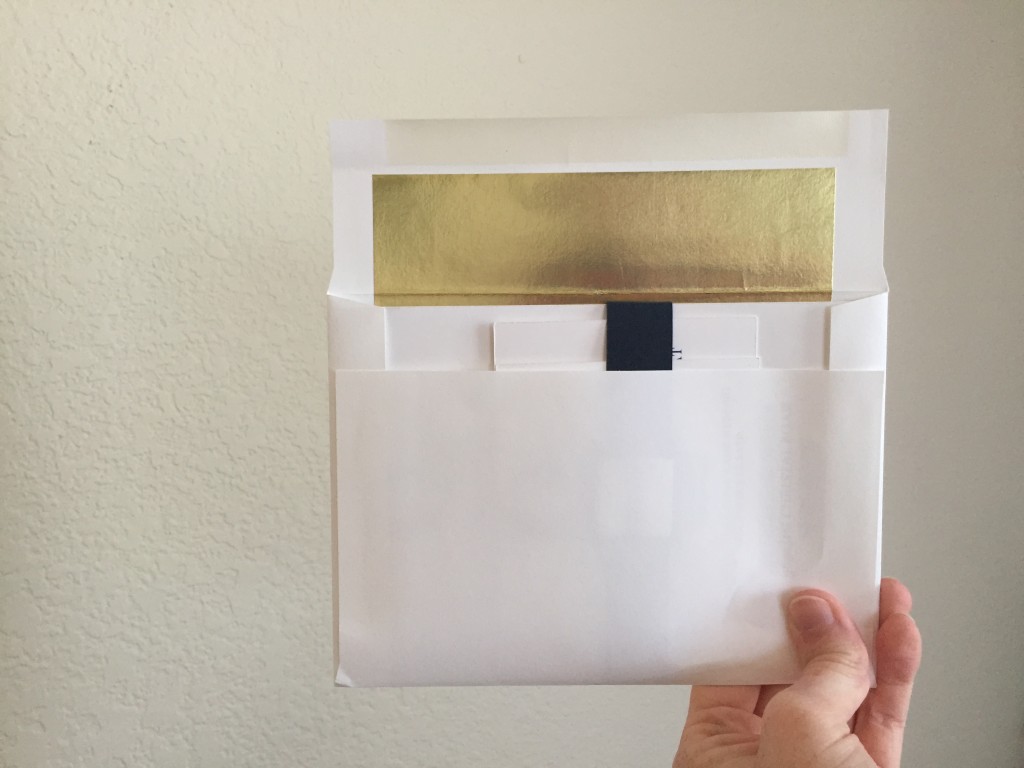 Our invitations were a labor of love, let me tell you. I searched high and low online for the suite that I wanted, but couldn't find anything I liked for a reasonable price. I wanted very clean, classic, and simple, navy and white, three pieces with a "belly band–" and refused to pay $8 a suite to get that. So, instead, I painstakingly printed, cut, glued, assembled, stuffed, addressed, and mailed every single invitation. If I had to guess how many hours I spent on my invitations, I would say at least 40 or 50!
But, I got exactly what I wanted and they were very inexpensive, so all is well that ends well! Plus, they all went in gorgeous gold foil-lined envelopes and only required one stamp since we did online RSVPs…even better!
Rehearsal Dinner Invites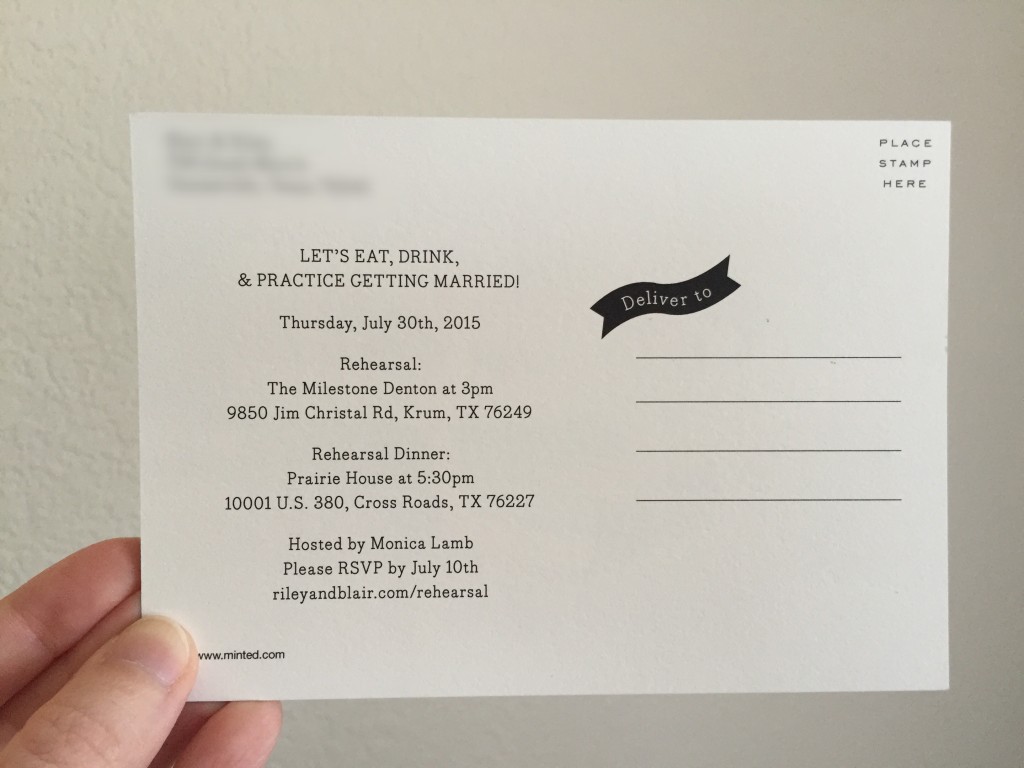 Because our wedding was meant to be classy and more formal, we decided that our rehearsal dinner should be something more down-to-earth and casual. We decided on an adorable country restaurant called Prairie House Restaurant and invited our invitees to wear cowboy boots, jeans, sundresses–whatever was comfortable! Since it was so casual, we sent our postcard invites and used one of our engagement photos for the front! And just for fun, here are some rehearsal dinner photos of my boo and my crew! 😉 (Clearly we drove Riley's truck, not his Prius, to the dinner!) Huge thanks to Riley's mom, Monica, for hosting such a special, beautiful, and fun event!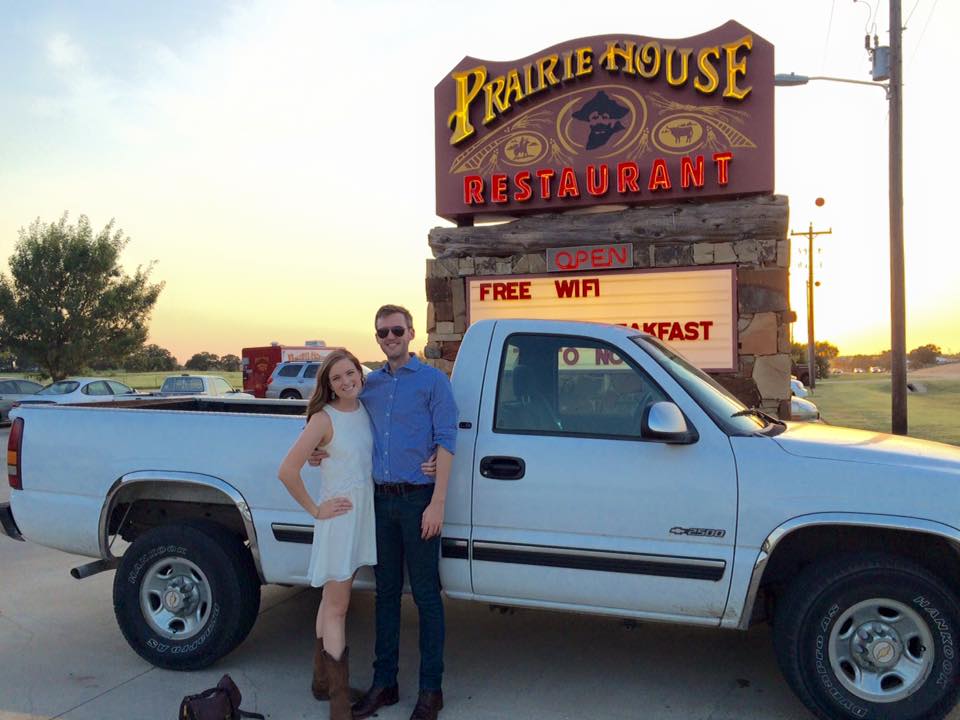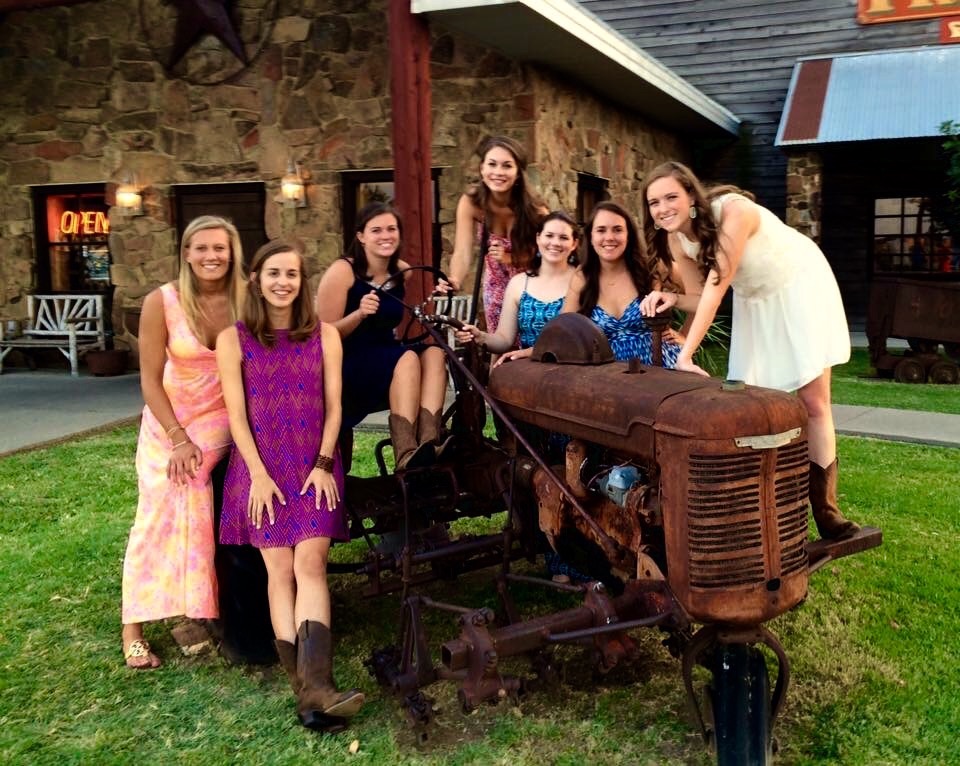 Wedding Programs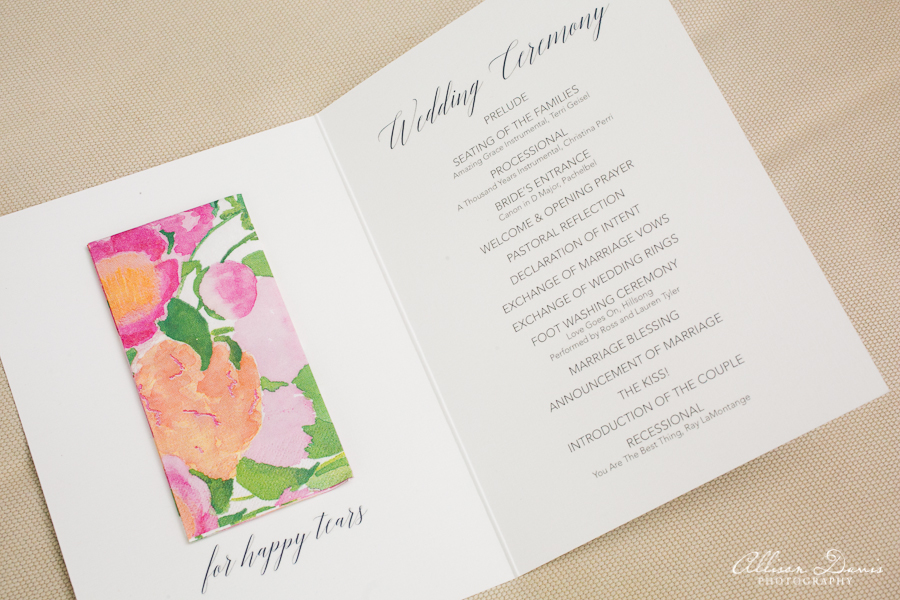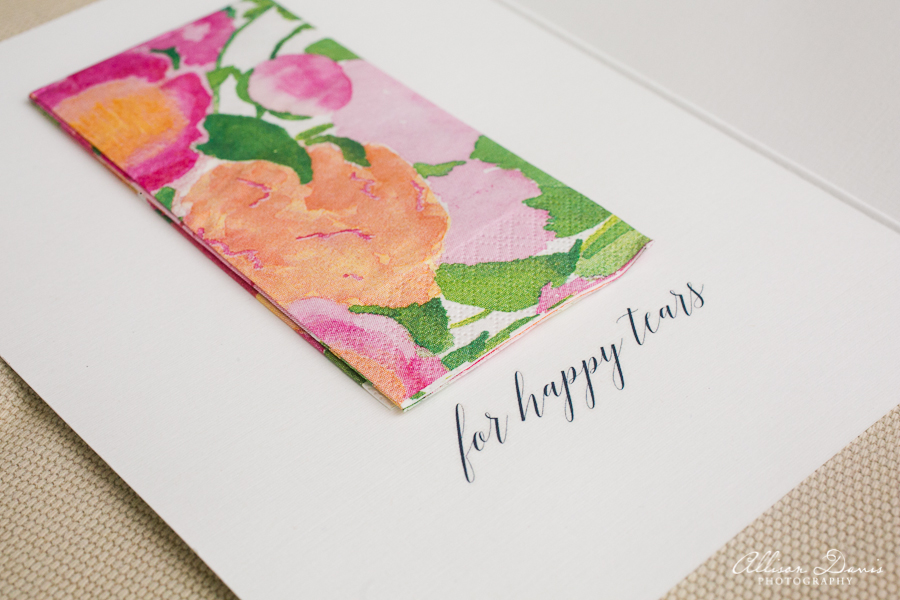 I absolutely loved designing our wedding programs. They were the style of all of the signage for our big day. I designed the program and then took the files to a printer, chose a thick linen paper, and had them printed. After I got them back, I affixed a printed tissue inside each program with a glue dot above the words "for happy tears." Our goal for our wedding was for it to be classic yet uniquely Riley and Blair–this program is definitely one of the ways we achieved the unique factor. I loved hearing people pull the tissues out of their programs during our ceremony!
Not pictured: the backside of our program, which had the names of our friends and family in our wedding party.
Signage At The Wedding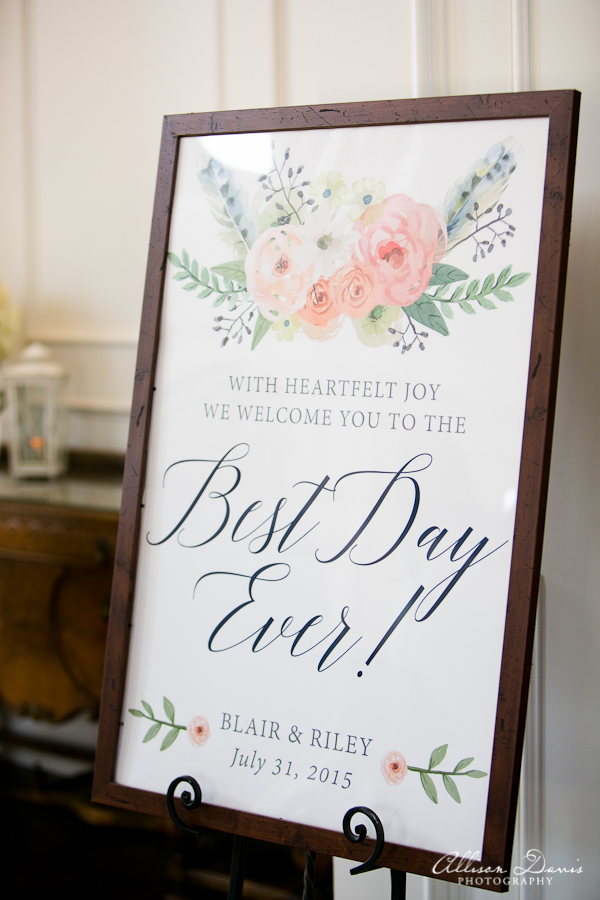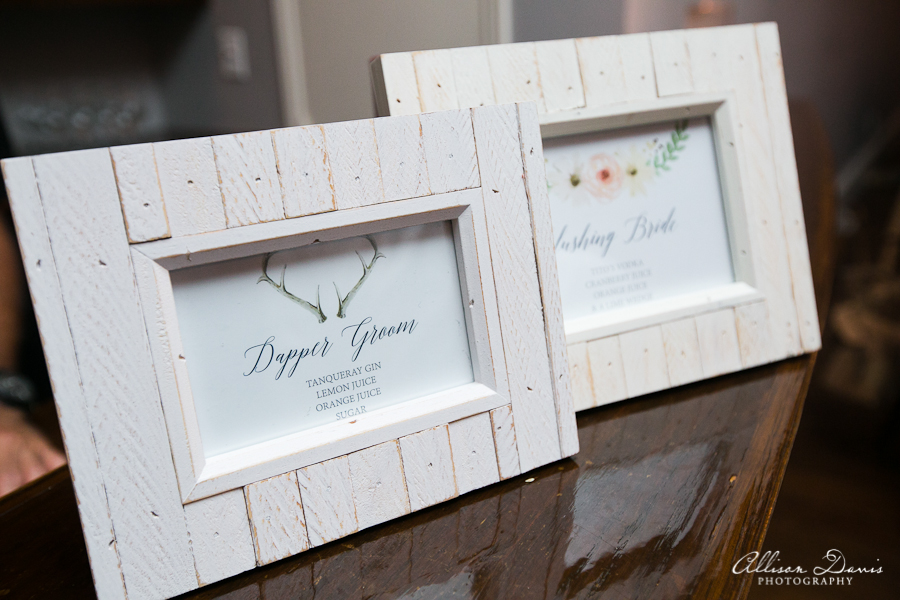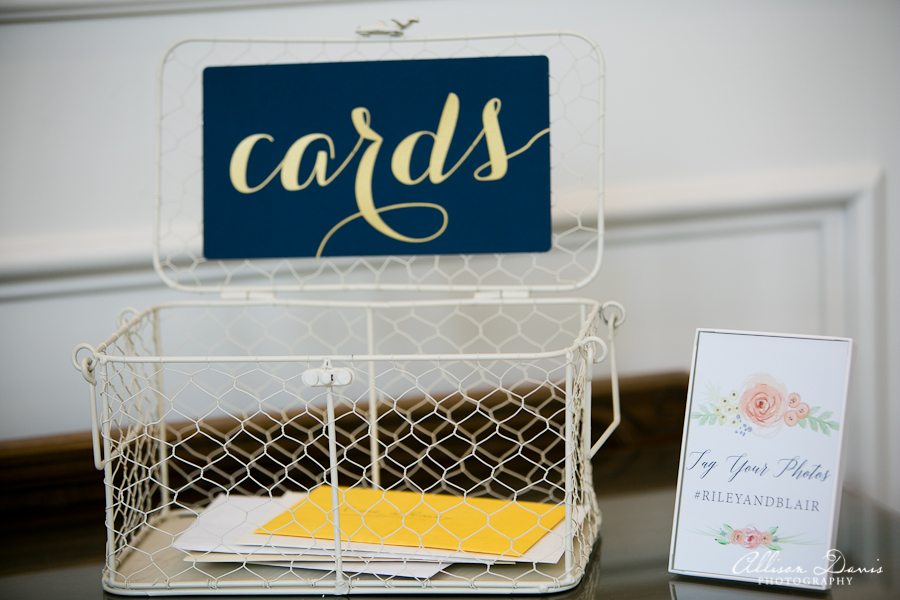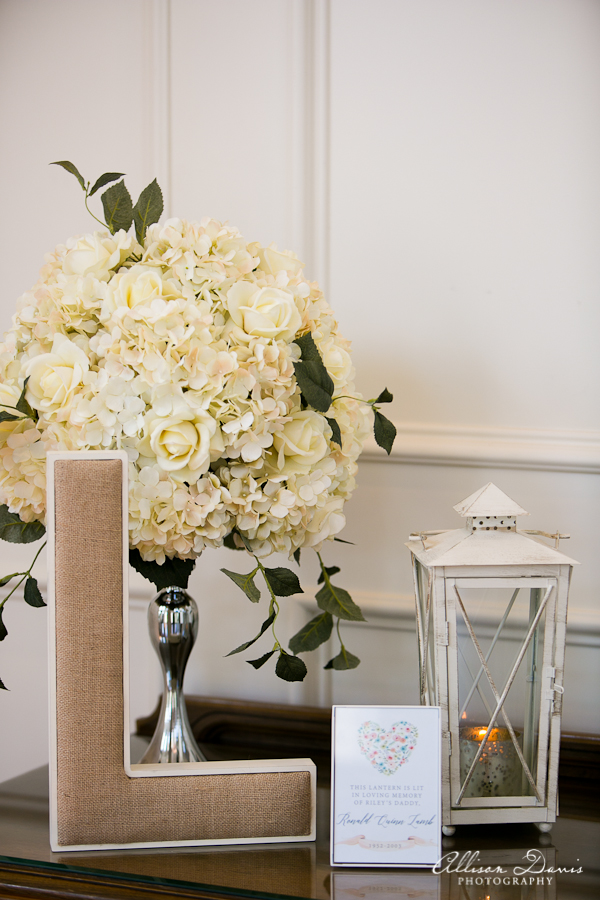 As you can see by the photos above, the watercolor flowers and script was used for all of our wedding day signage. I loved it so much–I thought it was so summery and pretty! I especially love the last sign pictured above, it read: "This lantern is lit in loving memory of Riley's daddy, Ronald Quinn Lamb." I'll go into more detail about that and other wedding day details in another post, but we were both so happy to honor Riley's dad on such an important day, knowing he was with us in spirit.
So, there you have it! Our wedding paper trail. Lots of time and DIYing, but so worth it in the end!
All photos with watermark are by the beautiful Allison Davis of Allison Davis Photography.