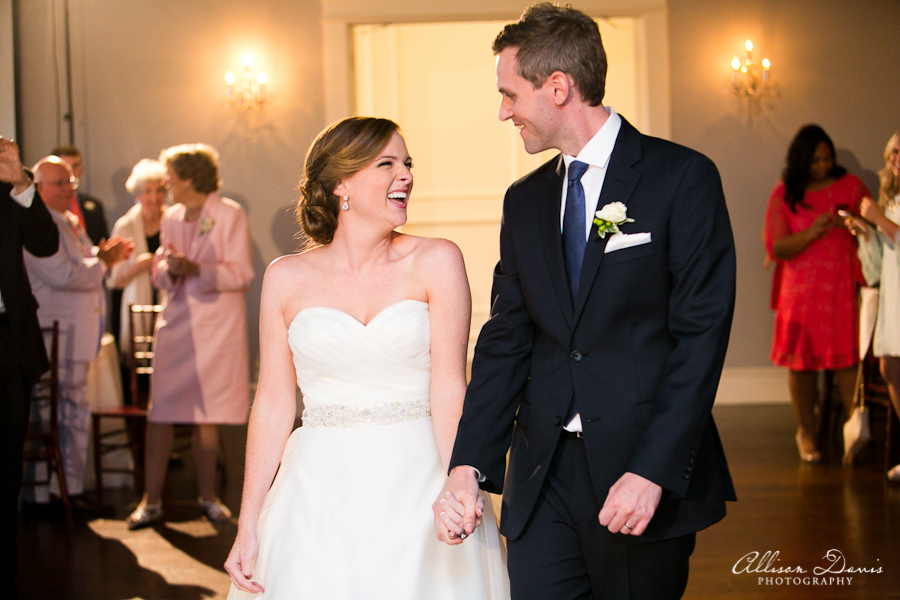 Our goal for our reception was that it would be comfortable and fun! We didn't want it to be too uptight and formal (that's just not us) while also maintaining the specialness (is that a word?!) of our wedding day. Today, I'll share details about each piece of our reception. For the order of events at our reception, see this post.
Décor
As far as décor, we kept it simple. Some gorgeous floral arrangements, navy and gold table numbers, lots of candles, and two awesome cakes. (Photos of all of this and a more detailed explanation of our reception space here.)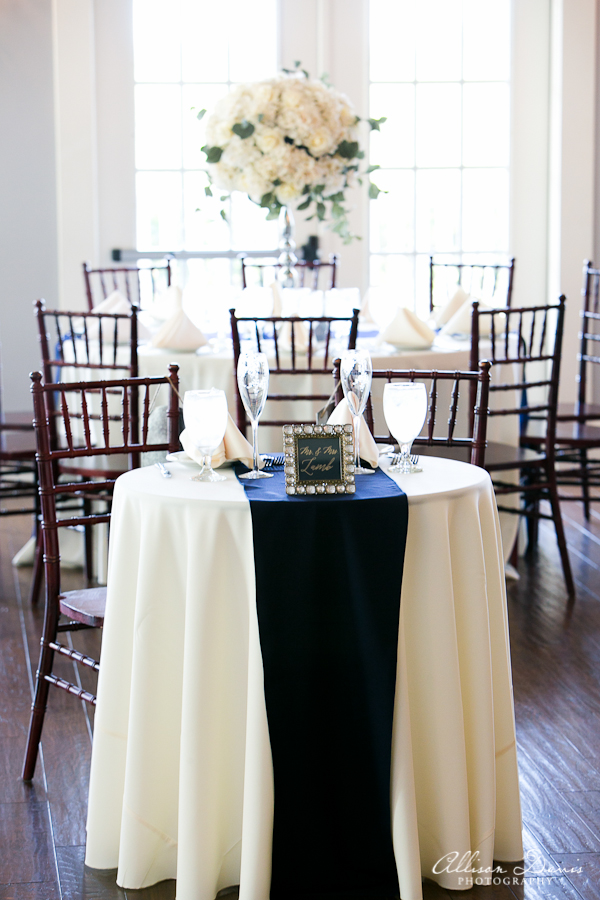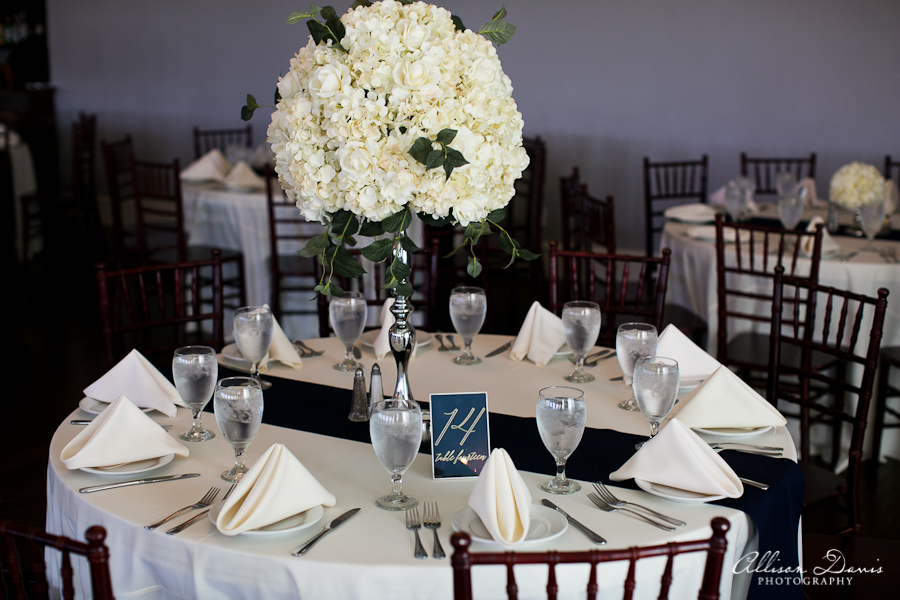 Song Choices
Music is such a great way to set the tone for any event, so we took extra care in choosing music that we love and wanted to hear at our reception.  In addition to the songs we chose below, we gave our DJ a detailed list of what songs we wanted played as well as a list of about 15 songs that we didn't want played, like the Macarena or the Chicken Dance. #no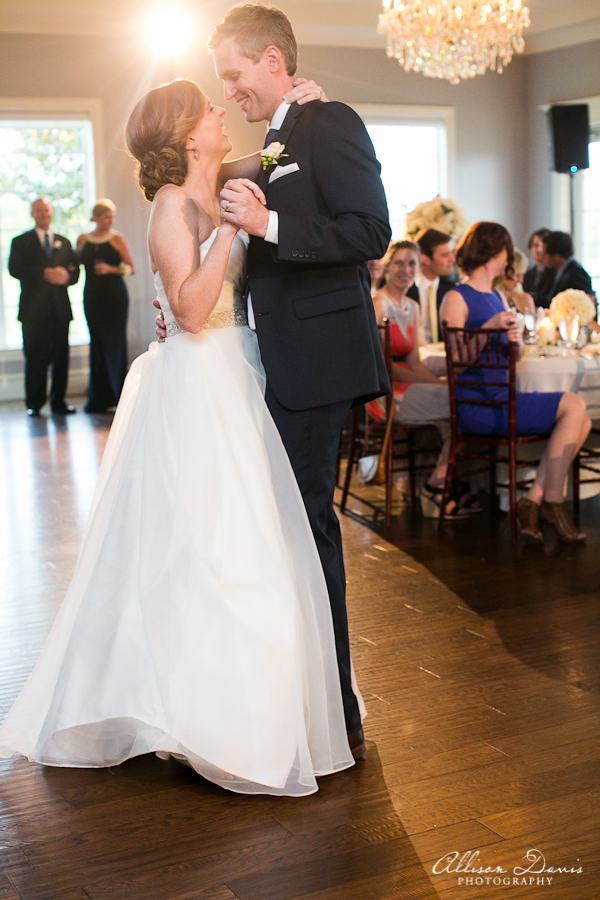 As far as special moments and dances, here were our choices:
Walk in/introduction as a couple: Style – Taylor Swift (We started the song at "You've got that James Dean…")
First dance: You're That Way – John Troast (I heard this song as a sophomore in college on my way to a concert and decided right then that it would be my first dance song one day!)
Father/daughter: You've Got A Friend – James Taylor
Mother/son: You've Got A Friend – James Taylor (The DJ invited Riley and his mom on the dance floor after my dad and I danced alone for about two minutes. Then the four of us danced together! It took the pressure off and worked out perfectly.)
Cake cutting: How Sweet It Is (To Be Loved By You) – James Taylor
Opening up the dance floor: Want To Want Me – Jason Derulo
Last dance (details on last dance here): Thinking Out Loud – Ed Sheeran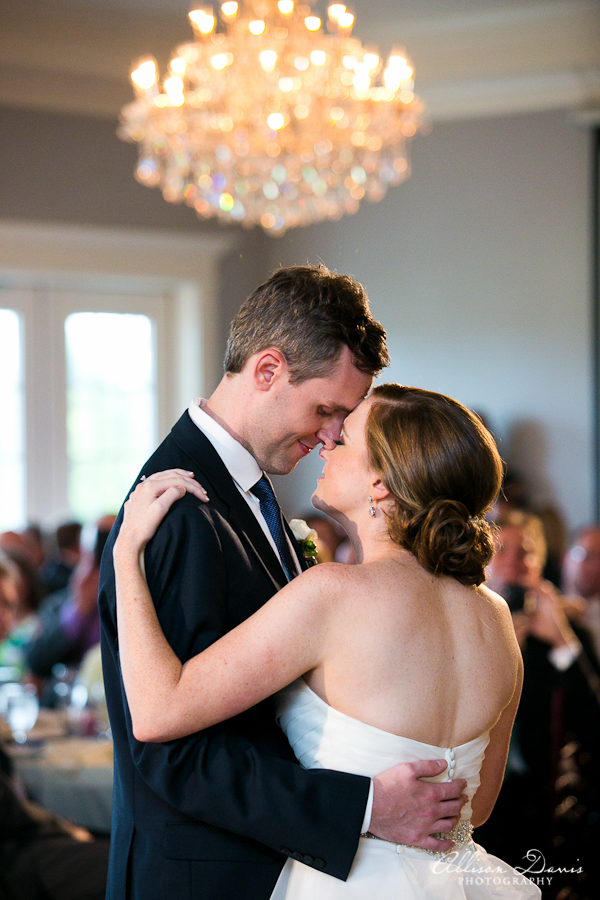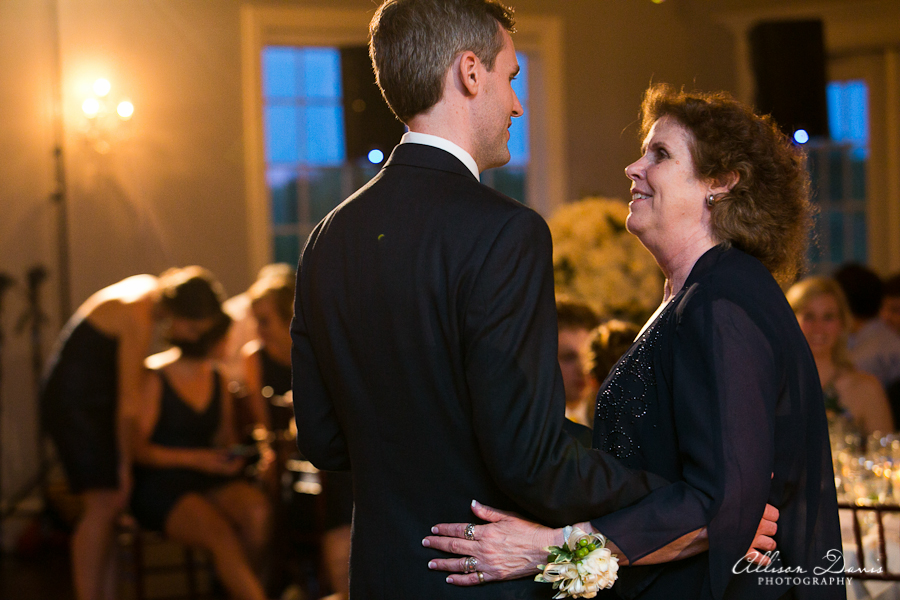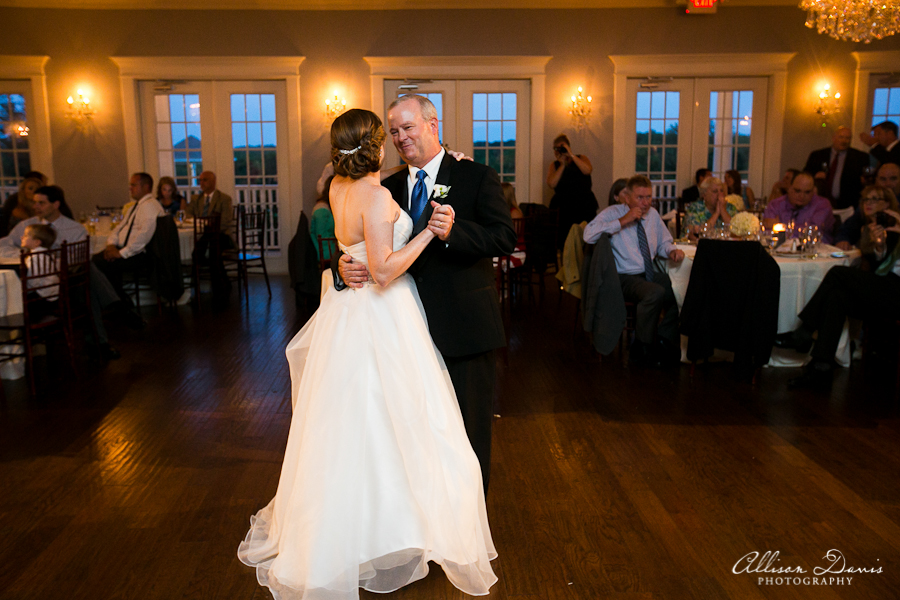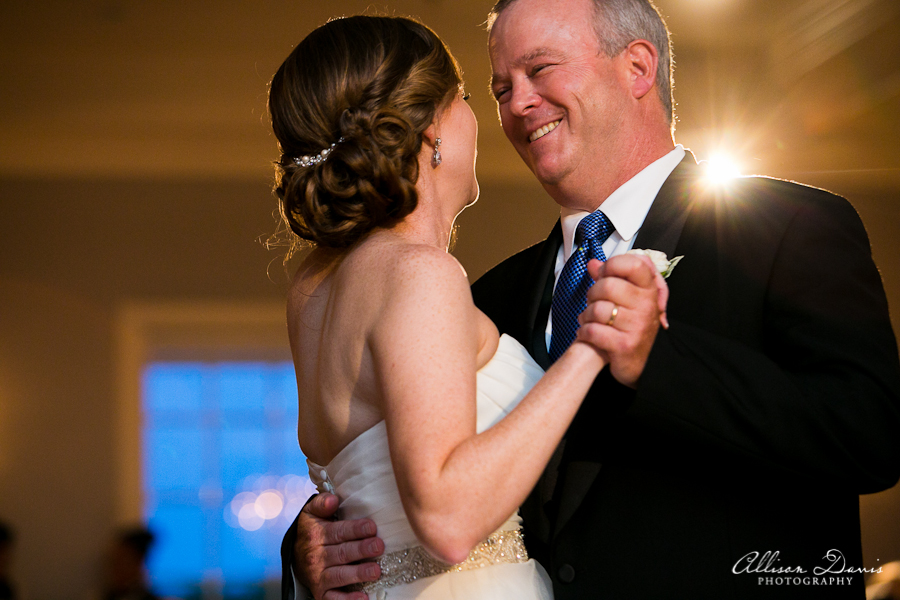 Cocktail Hour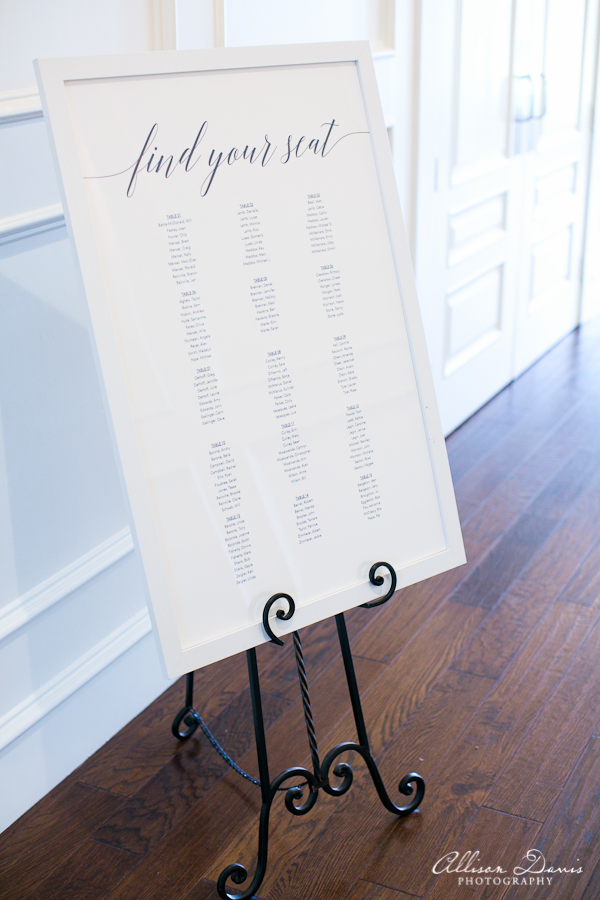 For the 45 minutes or so that Riley and I were tied up taking family photos and some couple shots, we held a cocktail hour. Our guests were free to grab a drink and some food as well as mingle and explore our gorgeous venue. They could also take a look at the seating chart and put their belongings down. For appetizers, we offered coconut chicken skewers with orange marmalade and tomato basil bruschetta with a balsamic glaze as well as an awesome 16 foot meat and cheese spread. (We got a to-go box with some leftovers to take with us and it was all so delicious!) We don't have photos of the cocktail hour because our photographer was taking the family photos and couple shots that necessitated it!
Dinner
Before dinner, my grandmother, Mimi offered a beautiful blessing for our meal. Then, the DJ invited each table, one at a time, to make their way through the dinner line. We opted for a buffet for a few reasons: 1) it was cheaper, 2) it's more casual, and 3) people could get whatever amount of each item they wanted, or opt out of a dish if they didn't like it.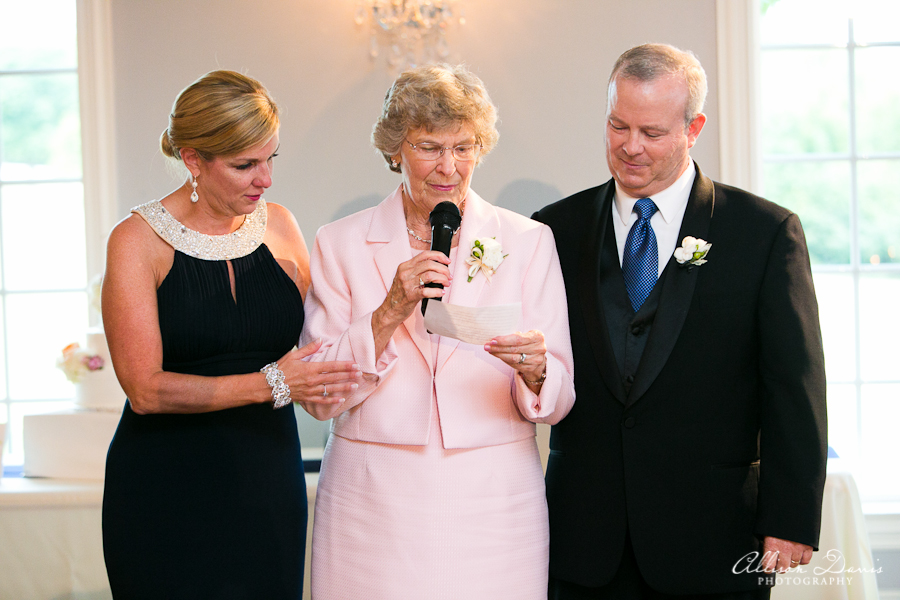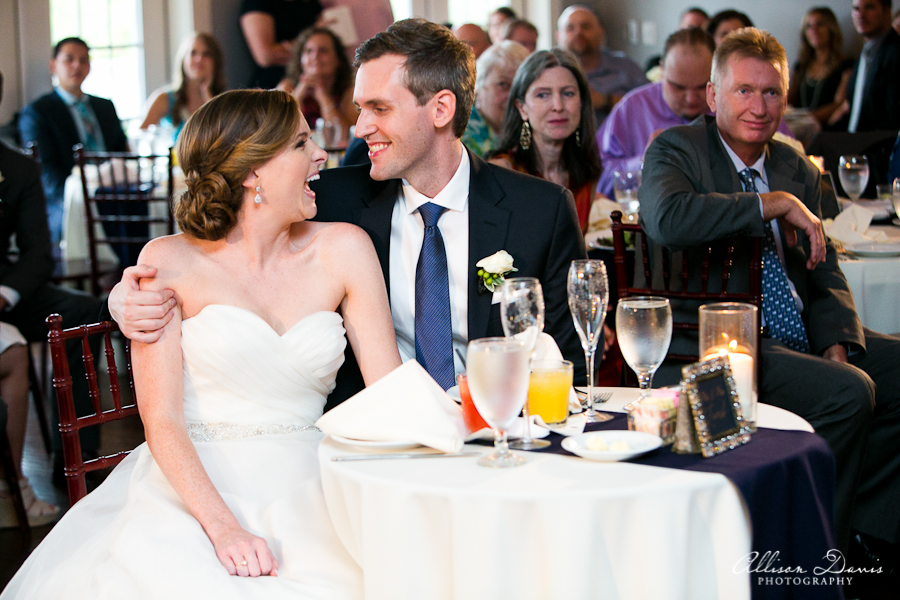 Our menu was a strawberry walnut salad with feta cheese and raspberry vinaigrette, prime rib (which I don't care for, but was really popular among the guests and Riley!), mashed potatoes, and lemon asparagus with blistered baby tomatoes. We also had huge bread baskets with all kinds of different bread options (like croissants, whole wheat rolls, French bread, etc.). We had vegetarian, gluten-free, and kid-friendly food available as well.
During dinner, we had a slideshow running in the background with photos of my childhood, photos of Riley's childhood, and then photos of our courtship and engagement. It was something fun for our guests to look at without being too front-and-center. We don't have any photos of dinner because it was our photographer's 20 minute break…that's okay, I'd rather remember my guests without food in their mouths!
Toasts
Towards the end of dinner, but while people were still eating, we began our toasts. We had three–my dad, my maid of honor, Ang, and Riley's best man, Matt. All three were brief, sentimental, well-written, and sweet! They were lovely and some of the things said still make me laugh today!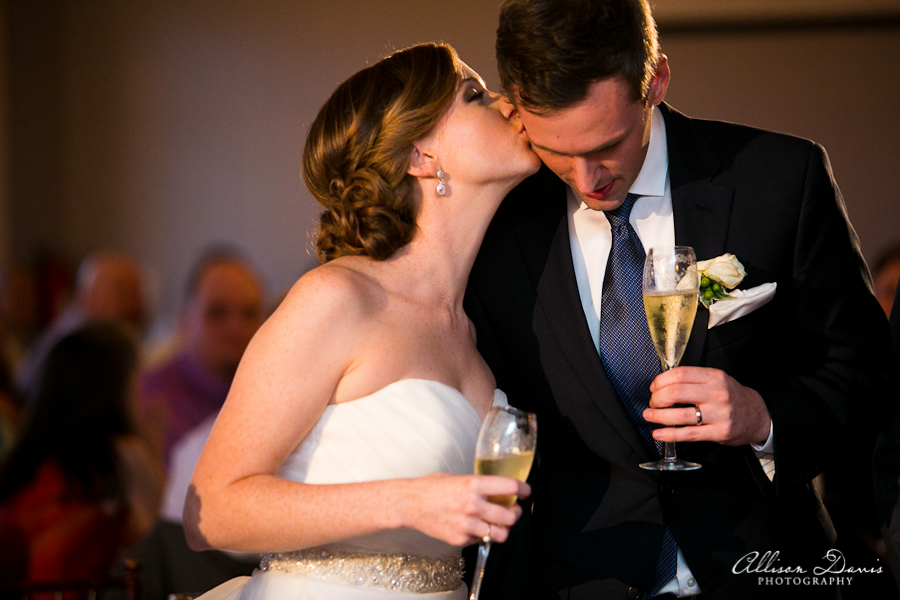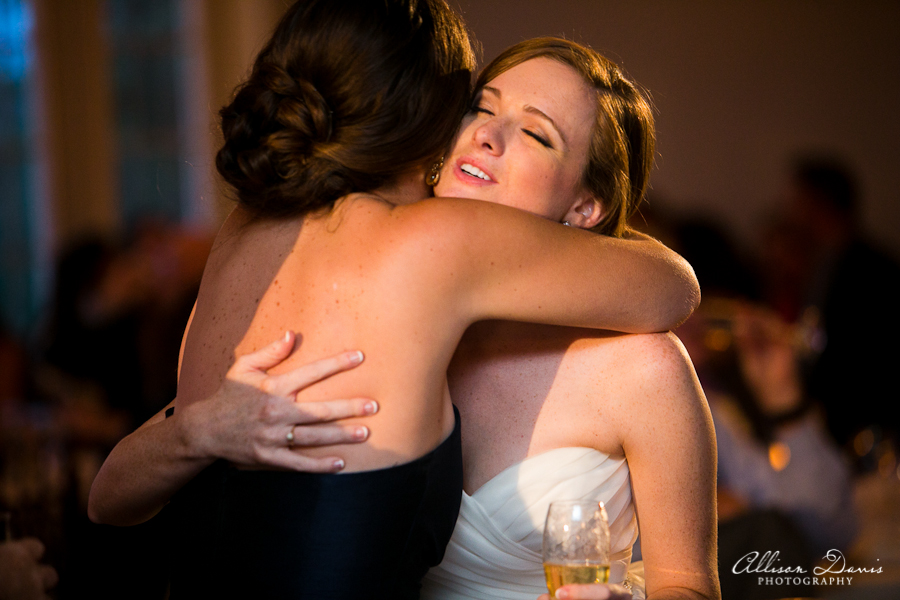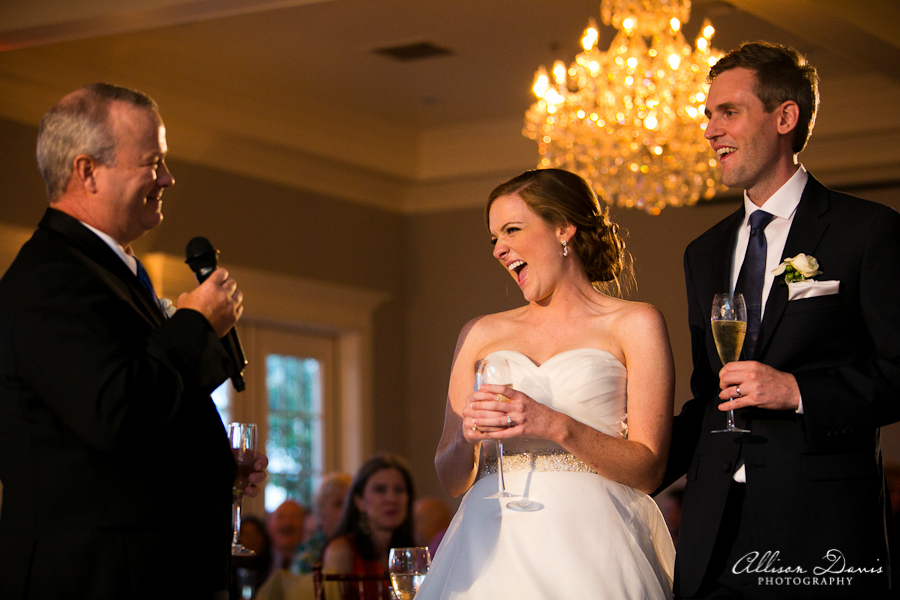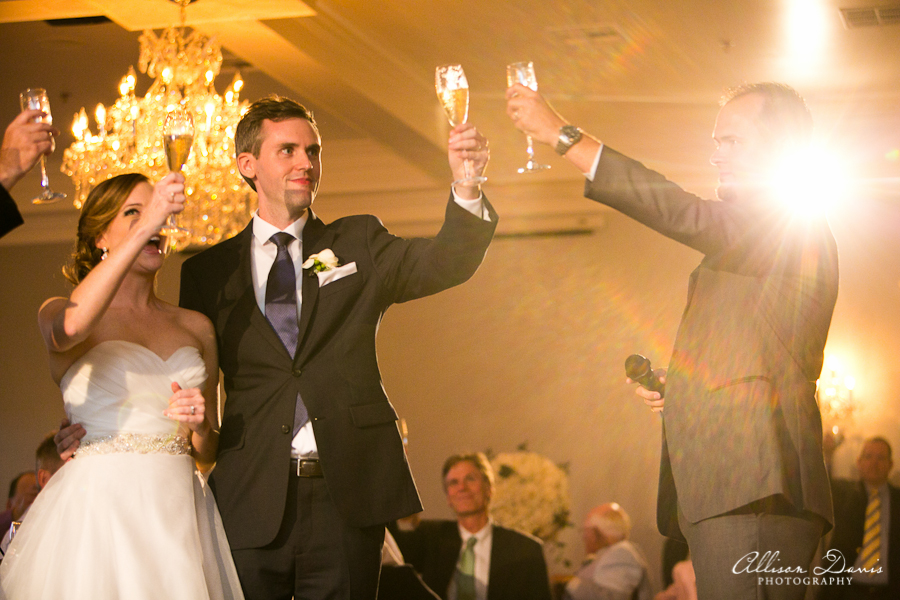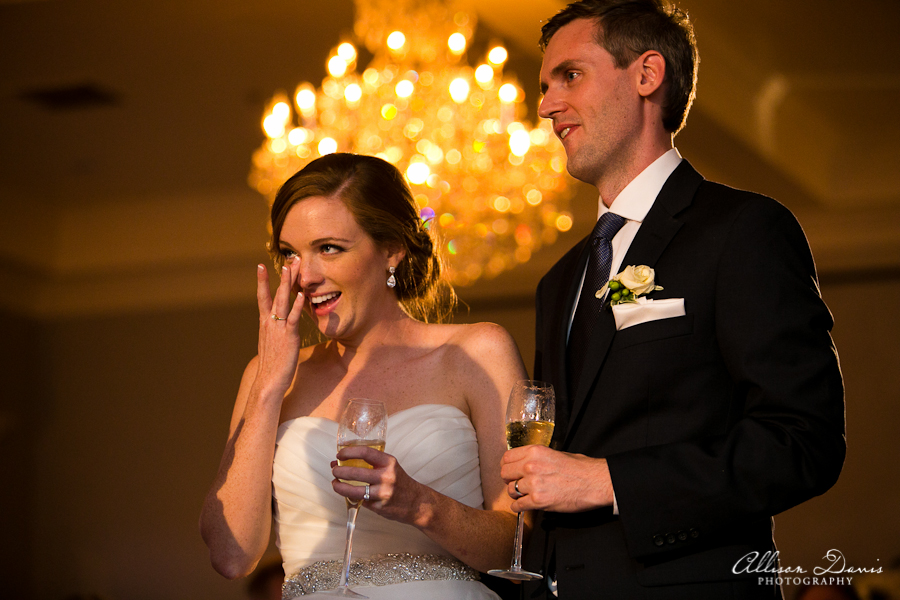 Cake Cutting
After the toasts were finished, we moved on to cutting our cakes. We had a groom's cake and a bride's cake (more on why here), and we laughed and cut our cakes without too much attention from our guests. Some friends and family who were seated close to the cake table looked on and clapped, but most were able to finish their meal and enjoy the company of their tables.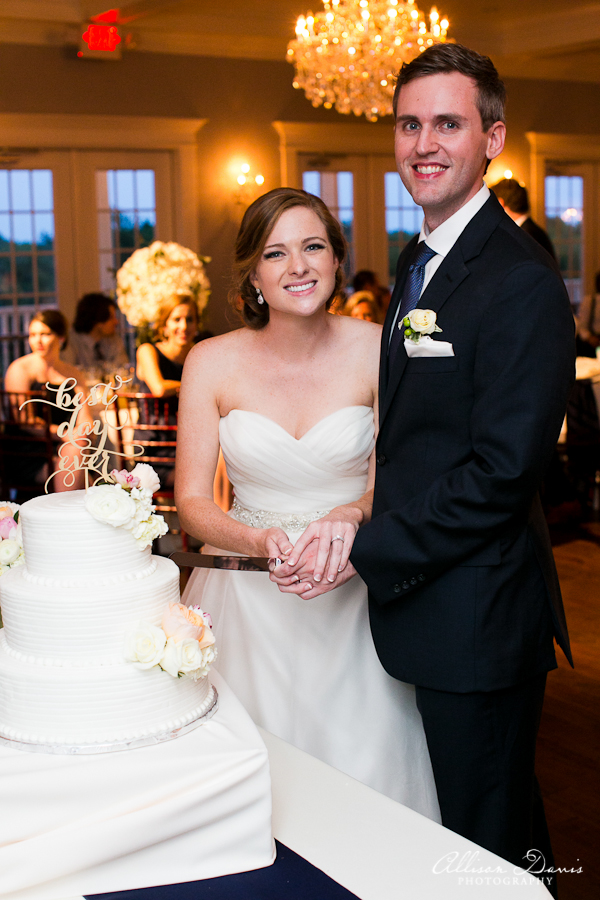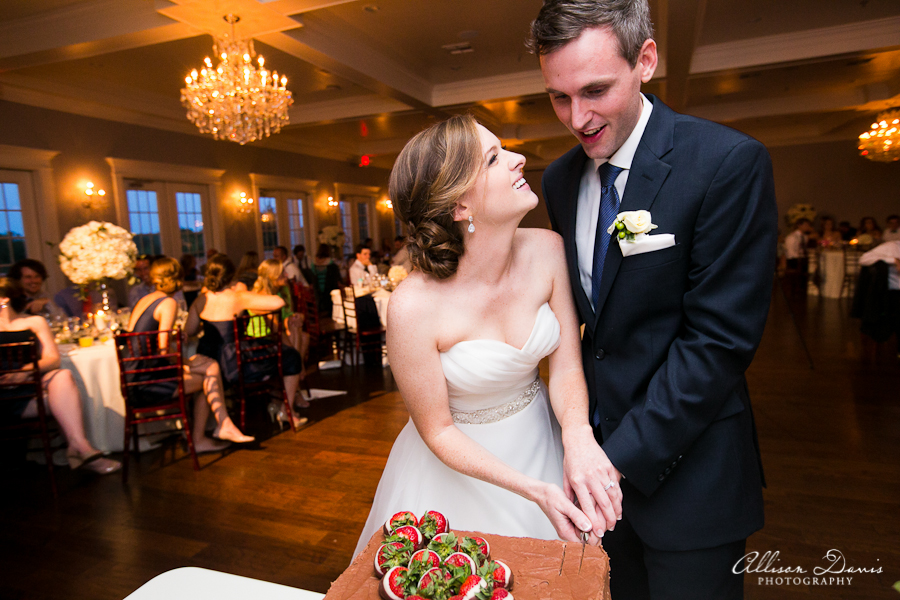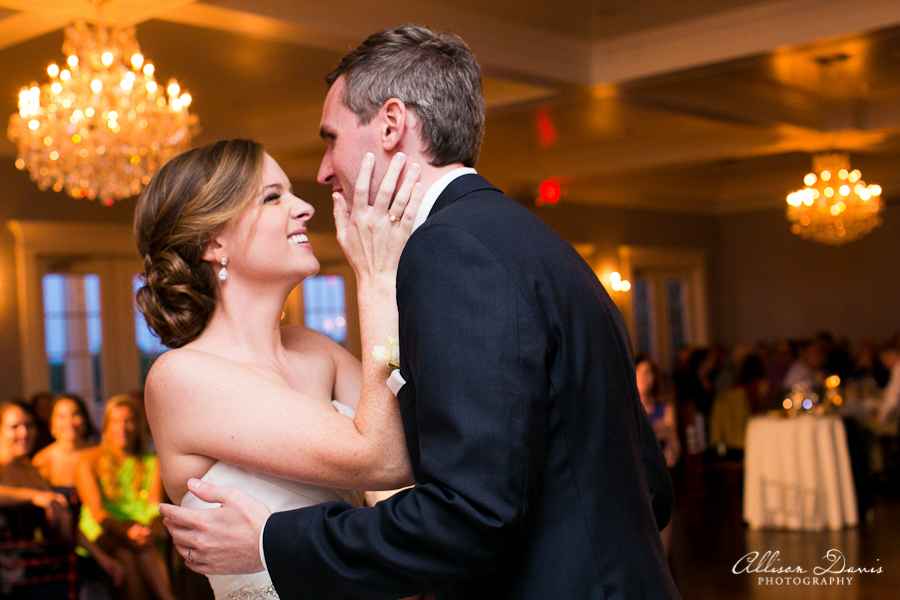 Soapbox sidenote: I don't like when DJs at a wedding constantly demand your attention for everything the bride and groom are doing. I understand that it's a wedding, but every move the pair makes doesn't need to be announced (in my opinion). "The bride and groom are finally eating!" "The bride and groom kissed!" "The bride and groom are cutting their cakes!" "The bride and groom are eating their cake!" Okay, we get it! For this reason, we only announced our entrance ("Introducing, for the first time, Mr. and Mrs. Lamb!") and first dance/father-daughter. People are looking at us anyway, no need to announce it all. #gettingoffmysoapboxnow
Mingling
Trying to mingle with guests is somewhat difficult…especially for someone like me who has some version of Smalltalkitis (deep rooted hatred for small talk!). I wanted to have real conversations with everyone who had flown in to be with us, but the reality is, that's just not possible with 140+ people. I had to master the art of gracefully entering and exiting conversations for hugs and "thank-you-so-much-for-being-heres" so that I could try to say hello to everyone. (Shout out to Sigma Kappa and college recruitment for teaching me the fine art of making small talk and transitioning from one conversation to another gracefully!)
Taking a photo with the group of people we were talking to was a nice way to remember the moment and also created a sort-of bookend to our conversation so that we could hug the next set of friends or family.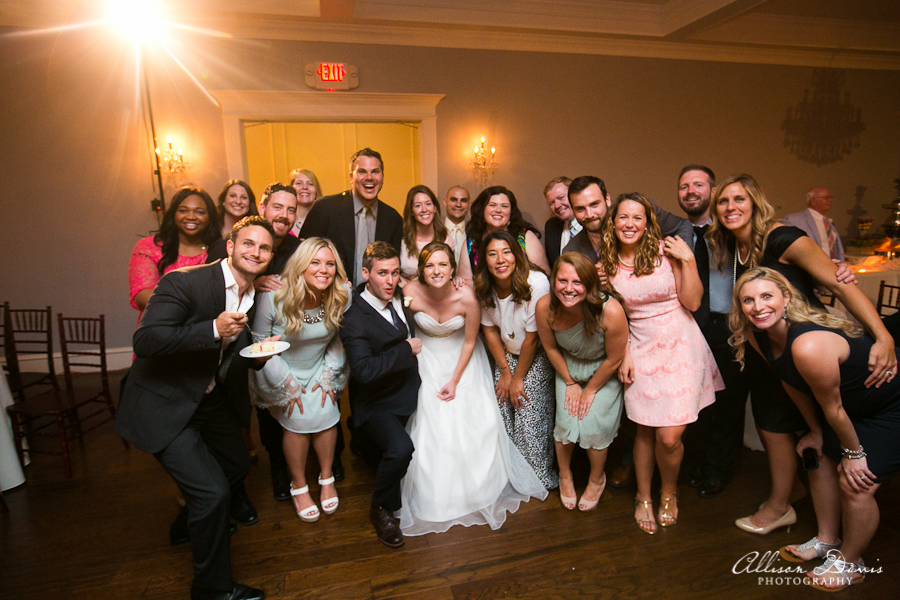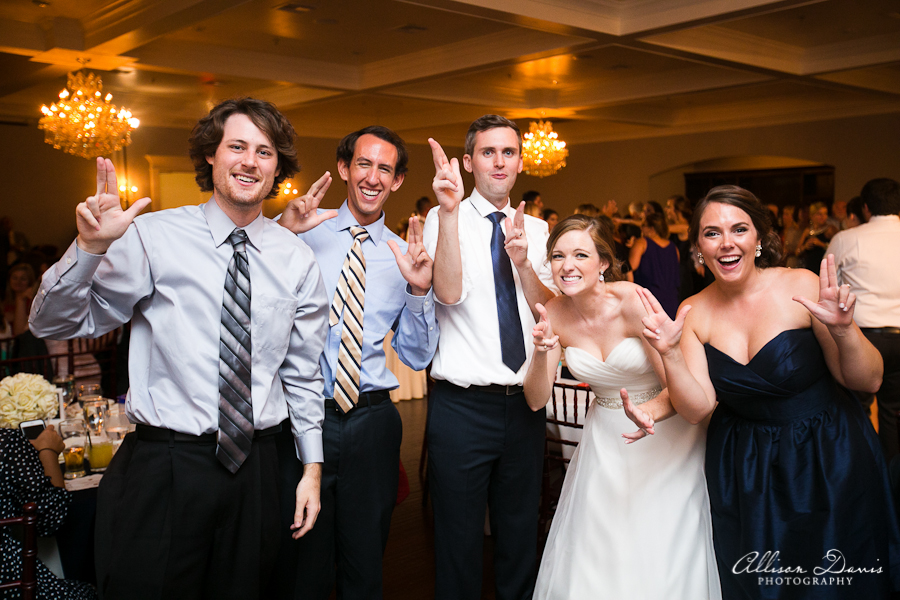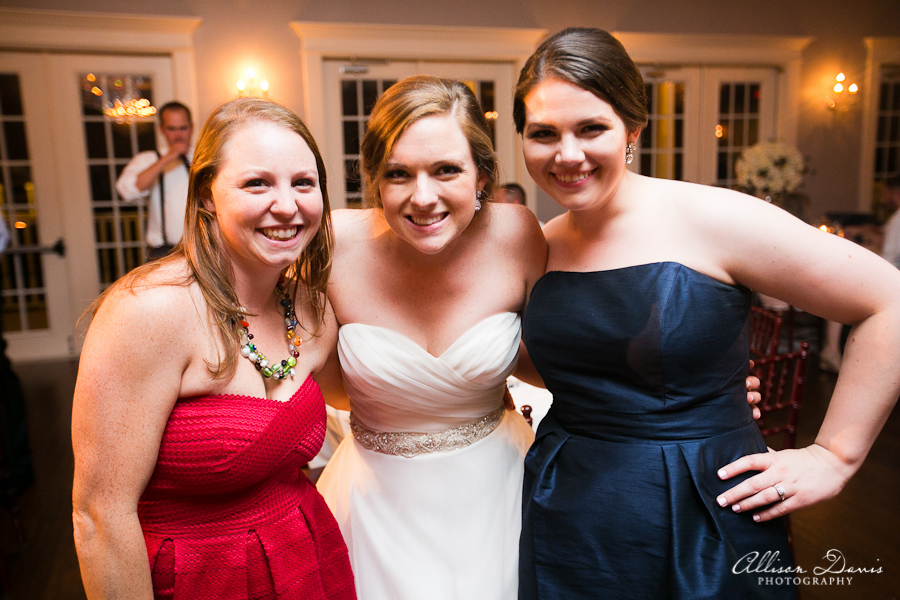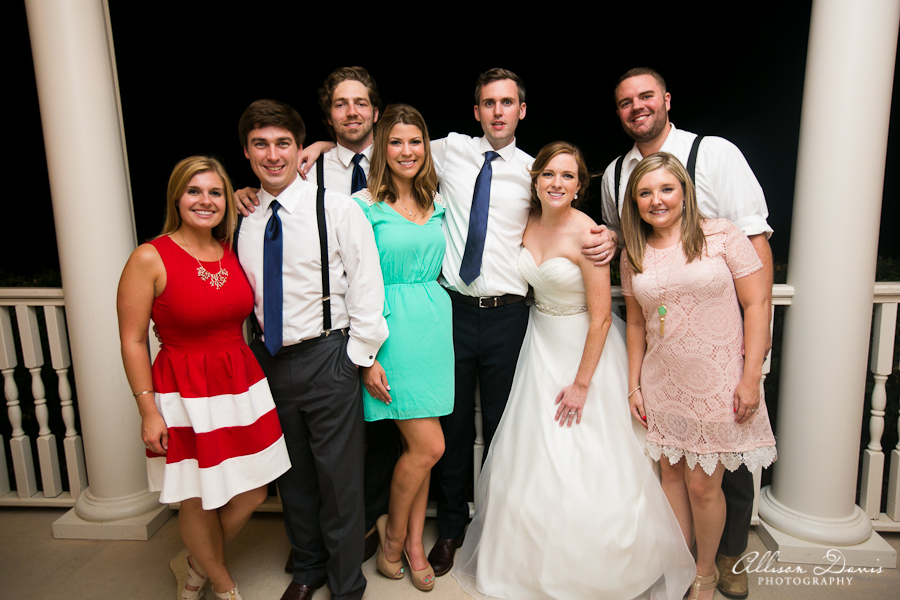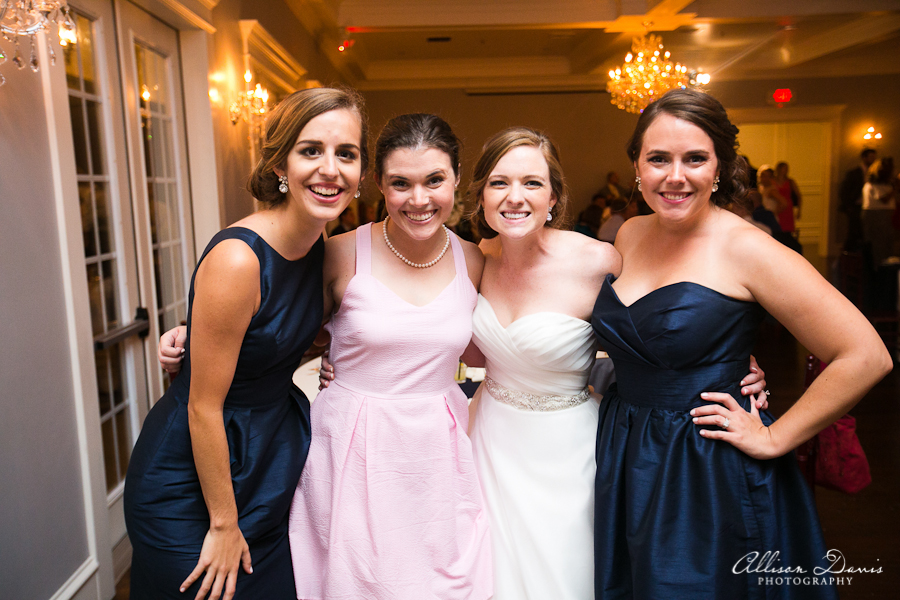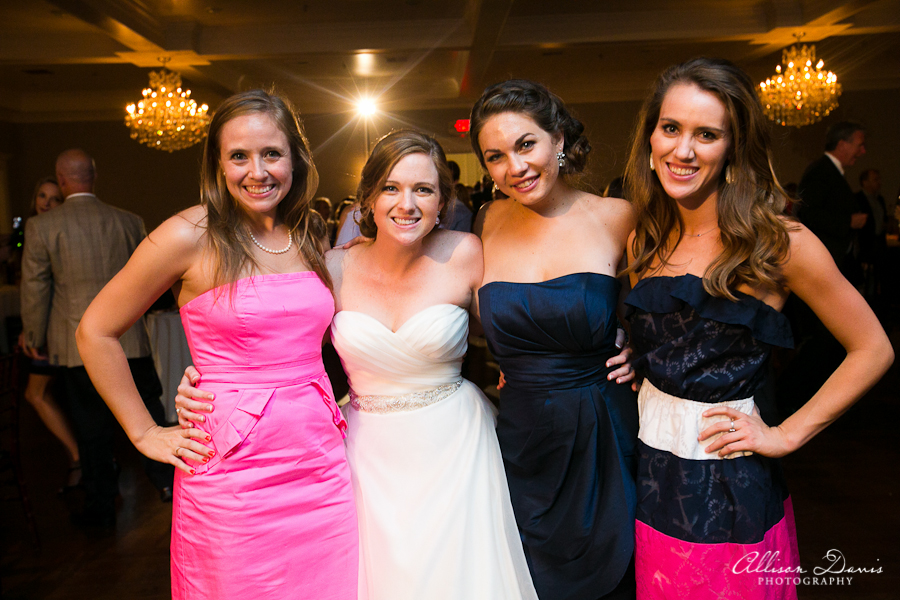 Thankfully, my parents hosted a lovely brunch the morning after our wedding for our closest family and friends so that we could actually hang out with them and have real conversations.
General Dancing
Our venue came with a wonderful wedding coordinator, Meghan, who helped us create our timeline and did everything on our wedding day from communicating with the florist and the baker to lining us up to go down the aisle. (Praise and hallelujah!) On our official timeline, the dance floor opening was called "general dancing," hence the name of this section. It makes me laugh every time!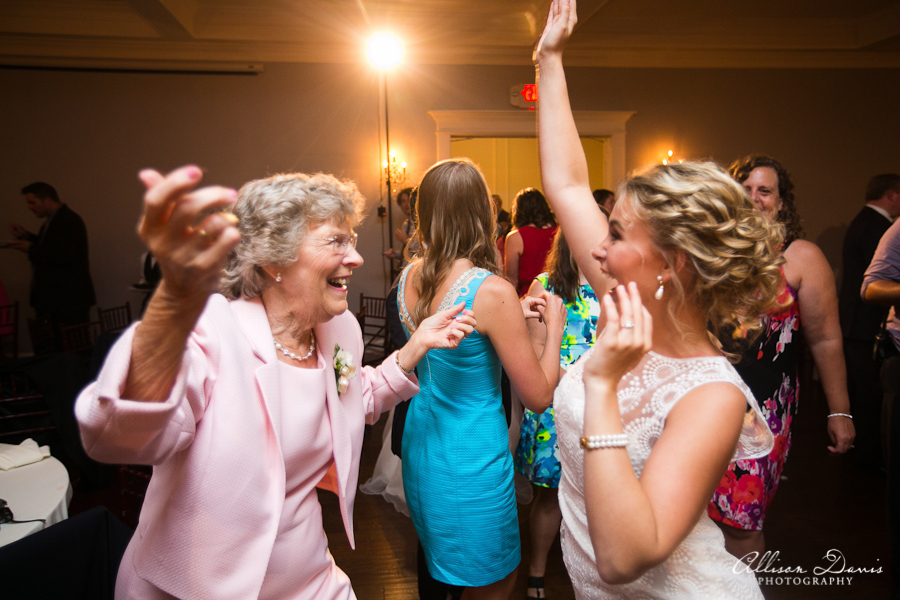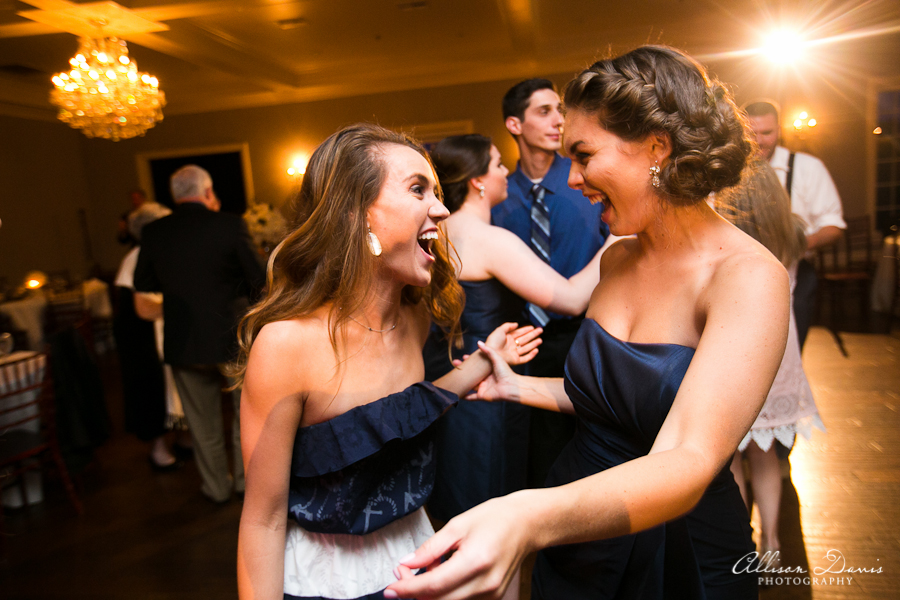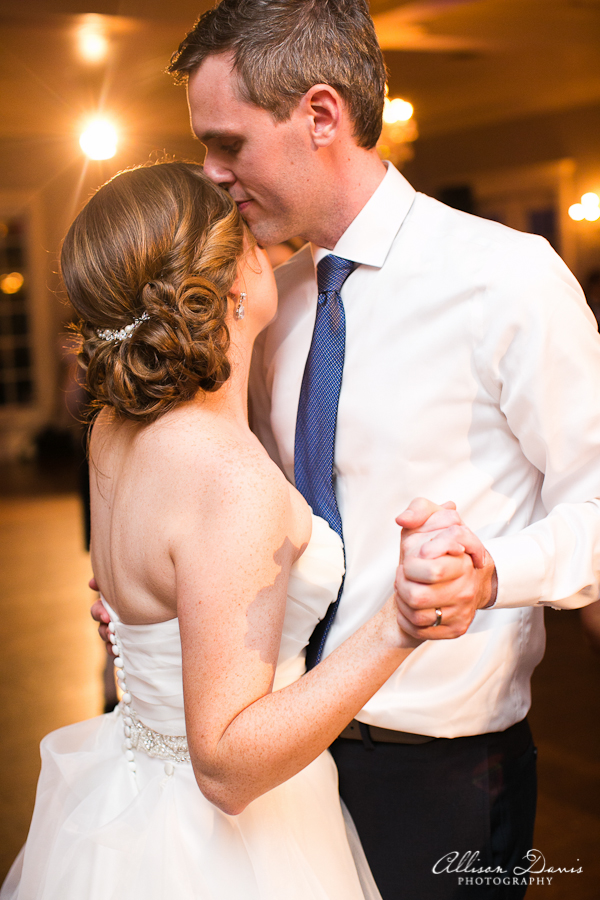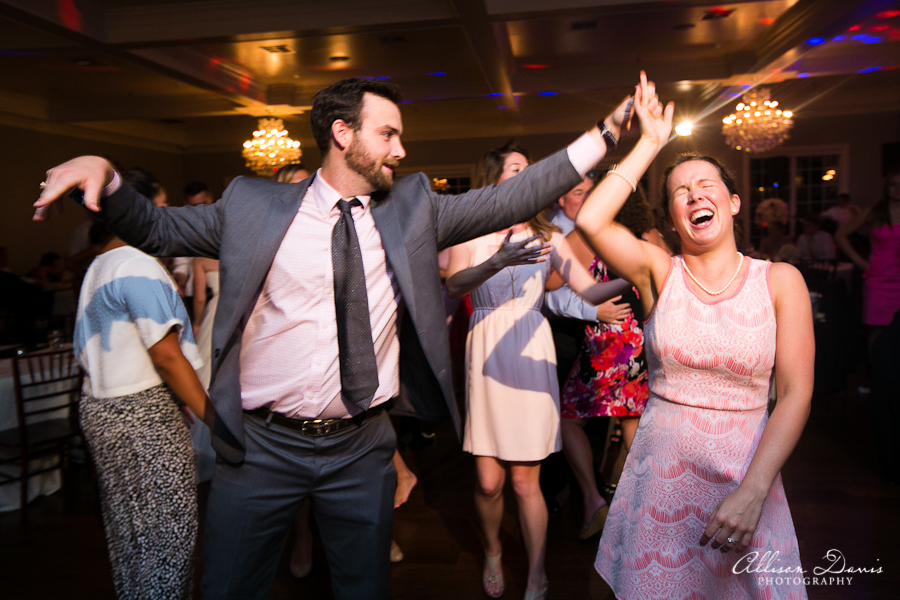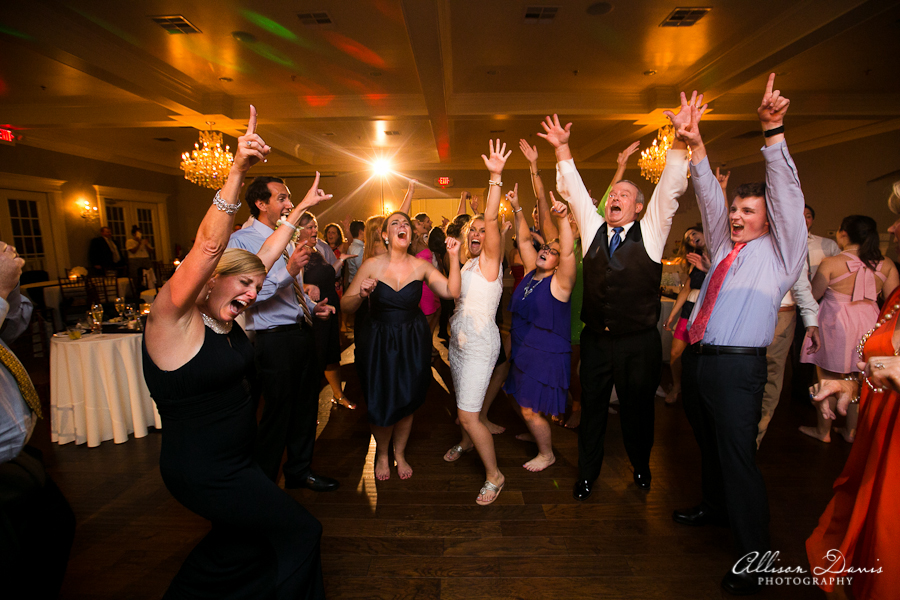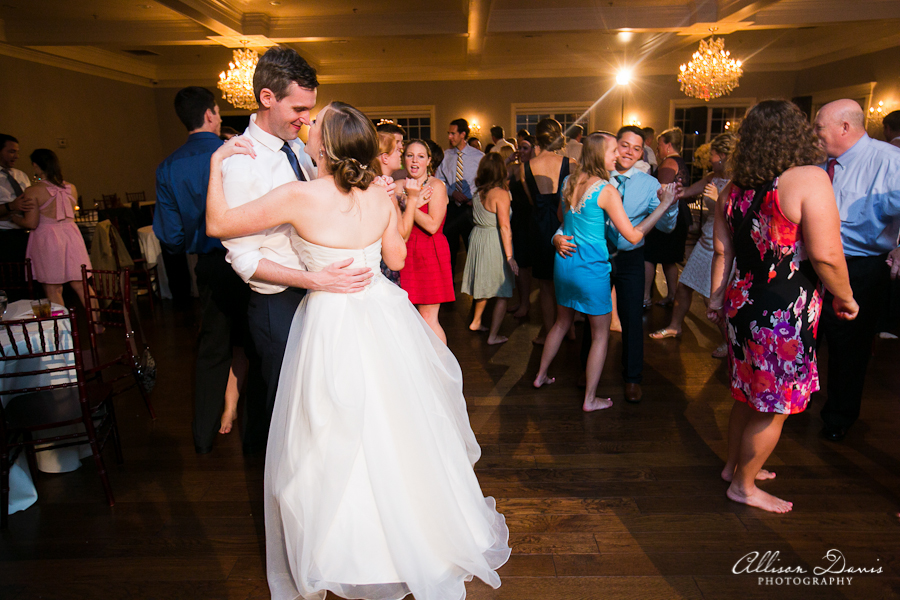 Because we were mingling and taking photos with dear friends and family, we didn't get to dance much. I was probably on the dance floor for just four or five songs–I've danced much more at other people's weddings than I did at my own! That was okay, though, because I was happy to mingle and hug the necks of all my people. (If you're getting married, don't approach your wedding day the same way you've approached being a guest at other weddings–it's really, really different!) (But really, really, REALLY awesome and fun!)
Sparkler Exit
I know it's the most quintessential wedding "thing" right now, but I didn't care. I LOVE sparkler exits. They're beautiful and magical and fun and they make for great photos. Plus, what a fun way to end an awesome day of getting married!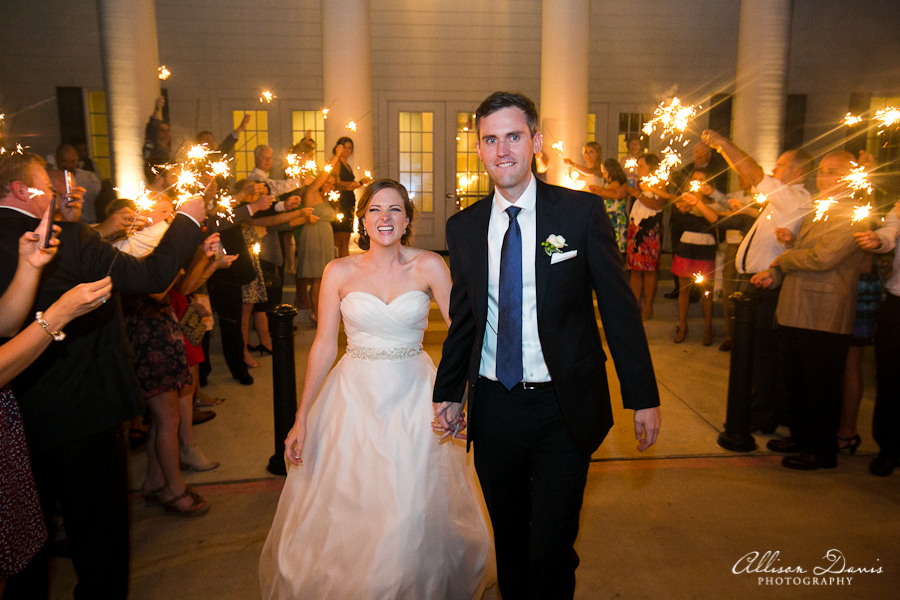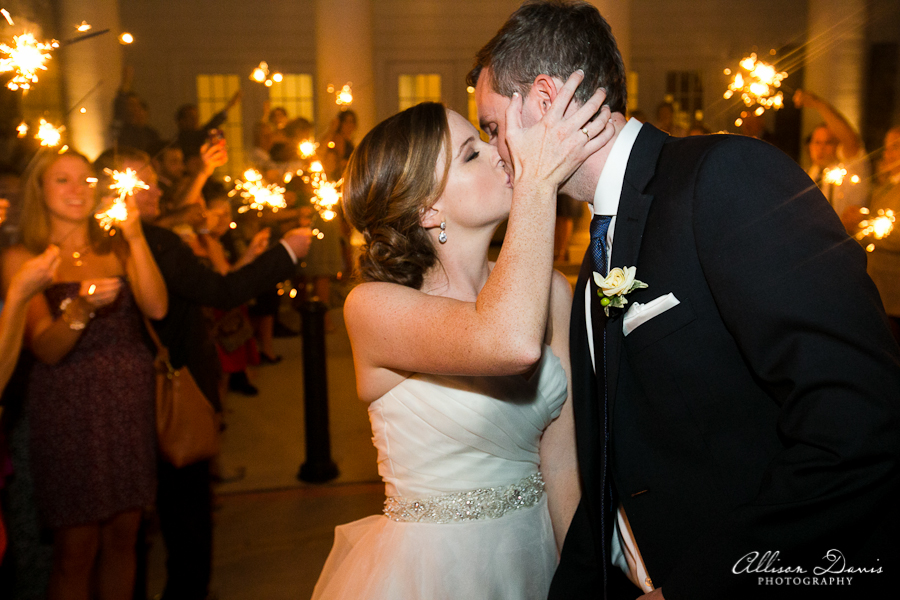 There's a recap of our reception! It was a super fun celebration of our beginning as husband and wife and were were so thankful for all of our favorite people who made the time to join us!
This post concludes Wedding Recap Month! The only post I have left is a Frequently Asked Questions post with regards to our wedding, which Riley and I plan on filming together in the next few weeks after we've gotten a few more questions/requests to expand on certain things. If there's anything you're dying to hear about or would be helpful for planning your own wedding, comment below and let me know! 🙂