Our venue, The Milestone Denton, was such a huge part of making my wedding dreams come true. (I wrote all about it and shared a photo tour here!) It allowed me to have the preppy, classic, East-coast-esqe wedding of my dreams in the heart of Texas! (More on not wanting a "Texan" wedding in Texas here!)
Guest Book
For our guest book, we decided to go a non-traditional route. We would never look at a book full of signatures, no matter how cute it was! I thought about what I actually would look at and was reminded that I've always wanted a globe in my home. I decided a "guest globe" would be perfect. We bought this globe from Amazon, threw six black permanent markers in a mason jar, and made a sign. Super simple and it's sitting in our living room–we look at it every single day!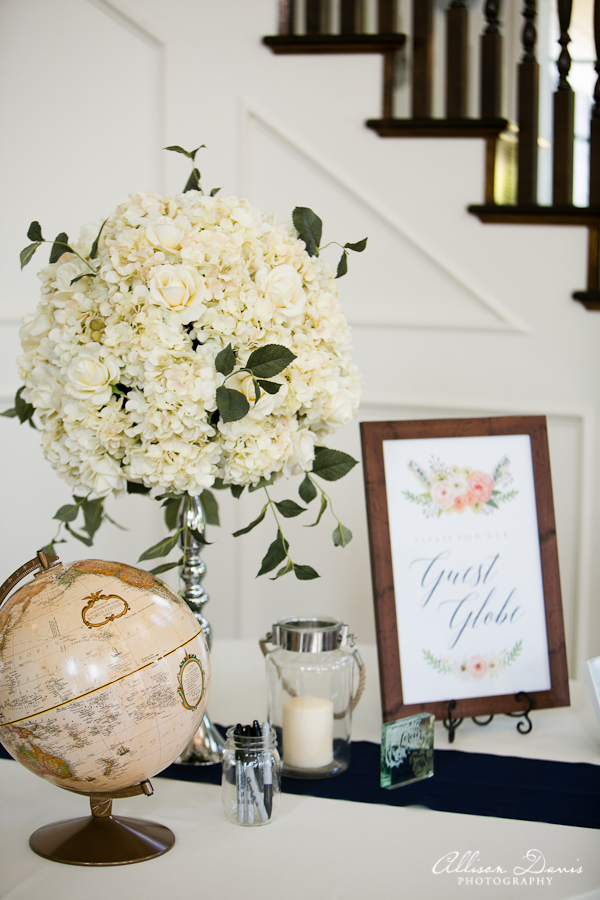 One of my friends gave me that glass plaque at my bridal shower with Ruth 1:16 on it, "Where you go I will go, and where you stay I will stay. Your people will be my people and your God my God." We thought it was the perfect verse for our guest globe table. (PS–We did light that candle! These photos were taken before guests started to arrive!)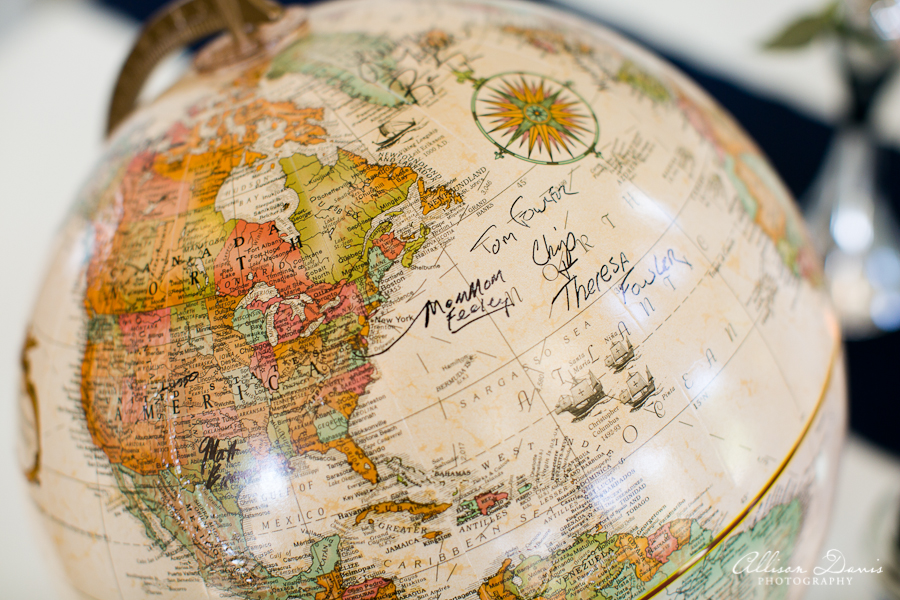 Above is a close-up of the some of the signatures on the guest globe! We had so much fun reading through them and seeing where people chose to sign. Some signed their favorite vacation destination, some signed where they're from, and some signed wherever there was space! We'll cherish our guest globe forever.
Ceremony Décor
For our ceremony, I wanted simple and beautiful. We put two big floral arrangements on either side of a large wooden cross, candles clustered down the aisle, and a "and the two shall become one" sign hanging in the aisle (that I painted and put together). (We roped off the aisle with the sign 1) because it's pretty, 2) to make the aisle feel special for our family, wedding party, and us to walk down, and 3) to eliminate the candle-falling-over-glass-shattering-fire-everywhere fear.)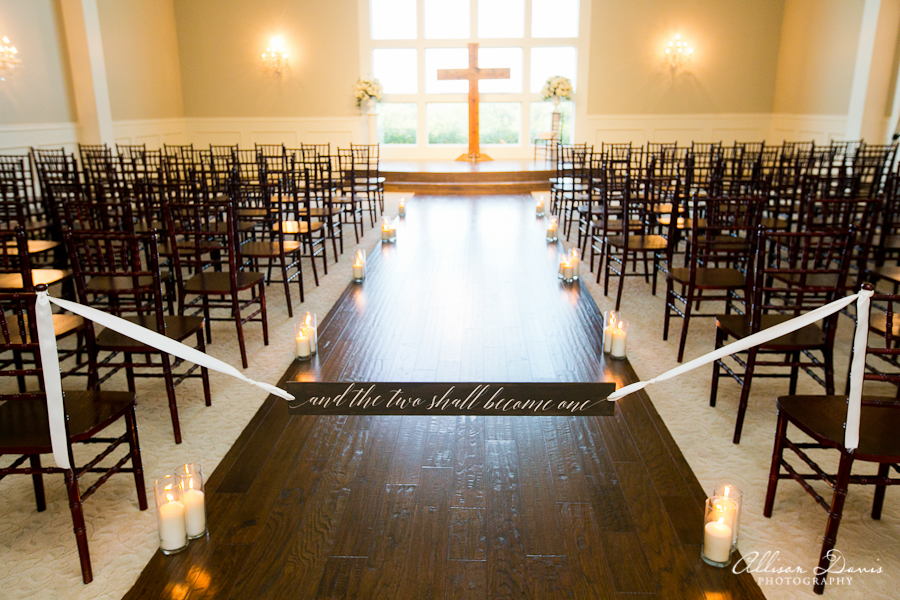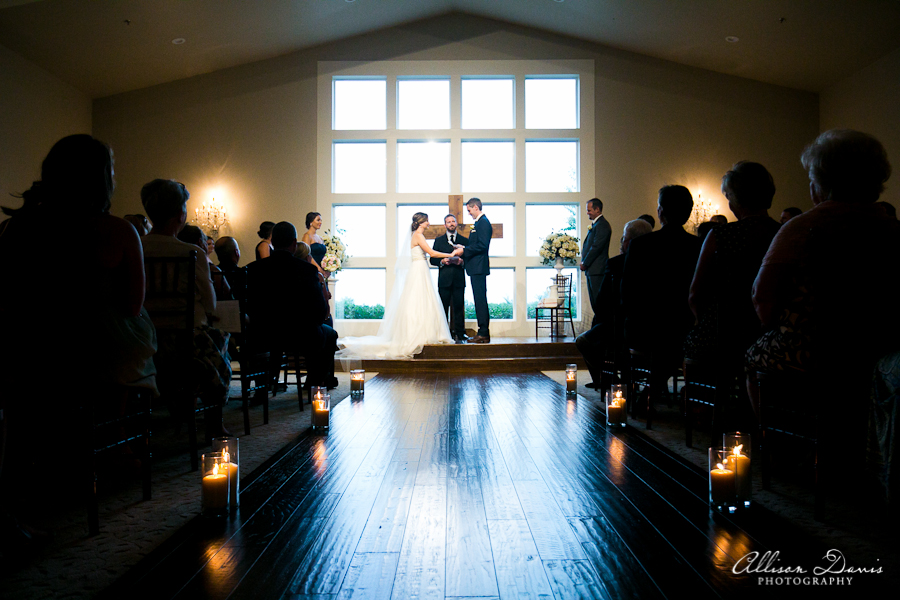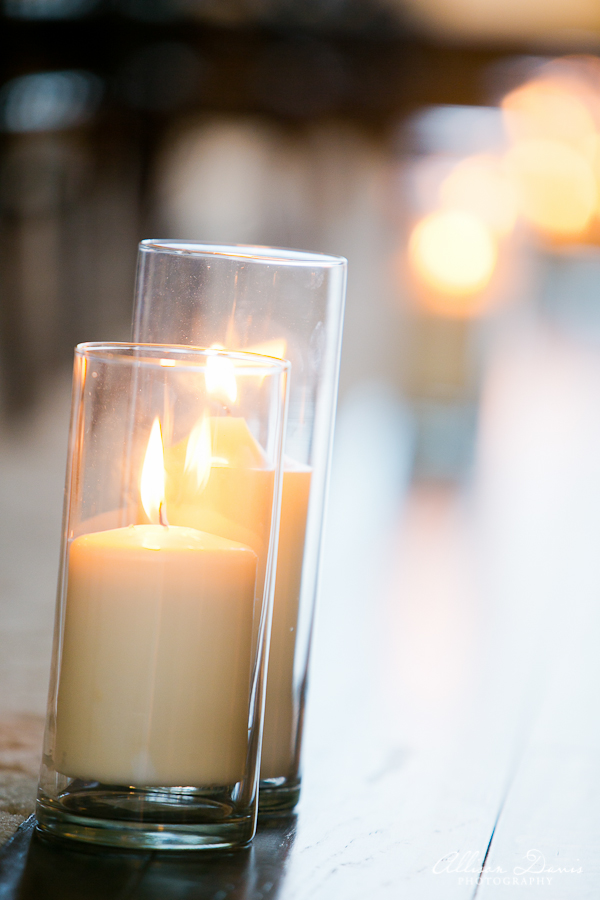 We also had a chair with a pitcher and basin on the stage for our foot washing ceremony; more on that in a future post. (It was my favorite part of our entire wedding day!)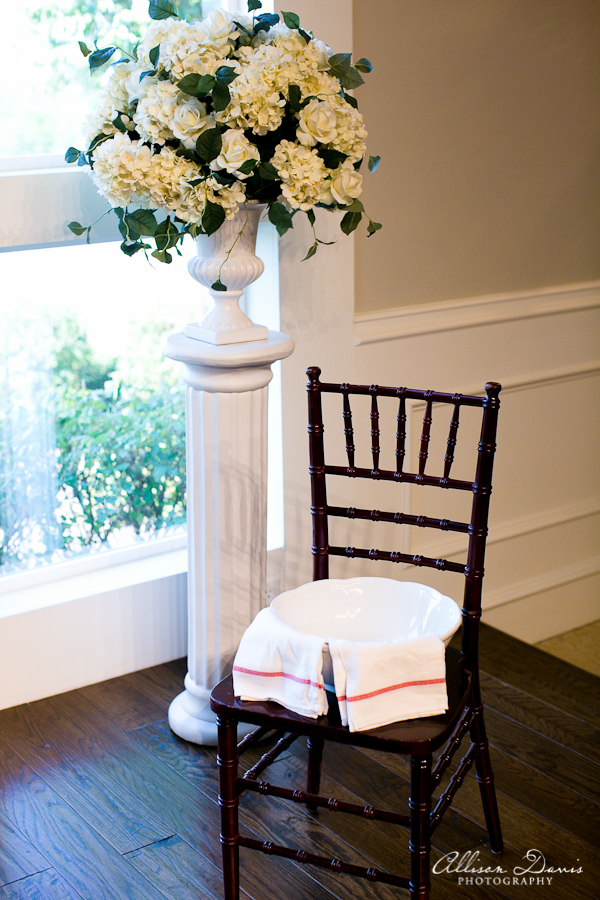 Here are a couple of teaser photos…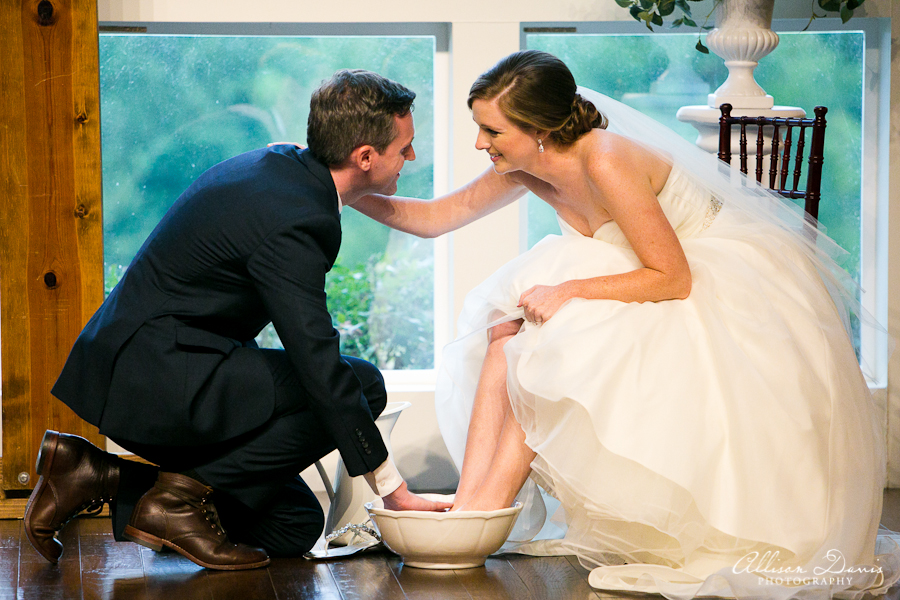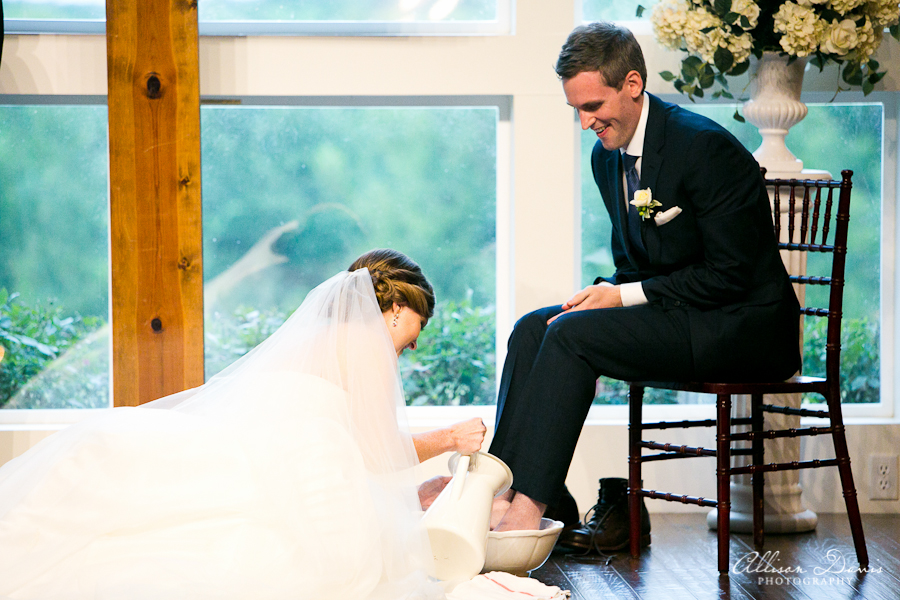 Reception Table Décor
For our reception, we alternated tall florals and short ones throughout our tables (which we added navy runners to). I bought cheap frames and used my Silhouette and a gold gel pen to write the table numbers on navy cardstock. Our wedding coordinator brought all of the ceremony candles and scattered them throughout the reception tables, so it had a warm glow as we ate, danced and celebrated…and that's it! That's all the décor we had. Thankfully, our venue was gorgeous on its own, so we didn't have to do a lot in terms of decorations for it to look pulled together and polished.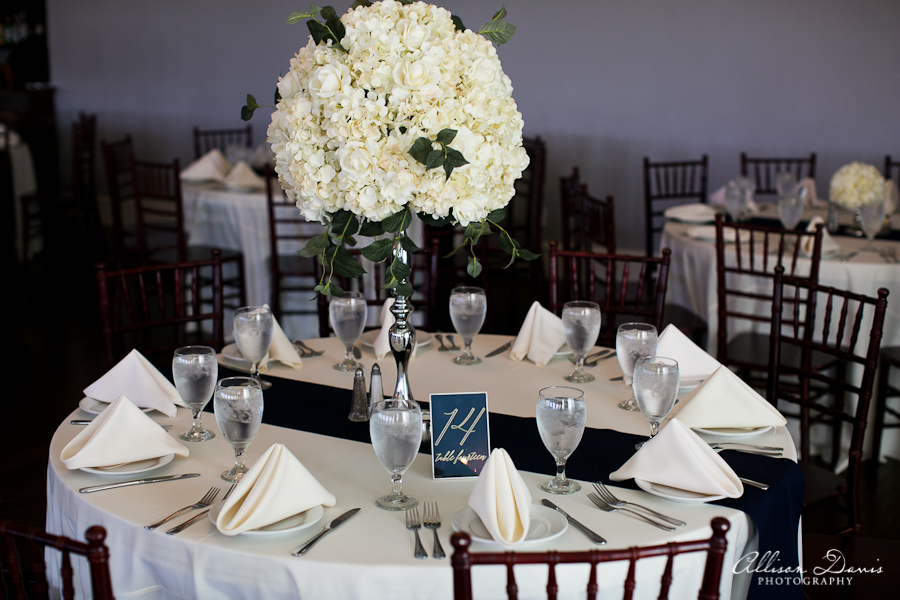 We opted for a sweetheart's table (in lieu of a head table) so that we could get some sweet time together to soak in our day. I used a special, sparkly frame for our names!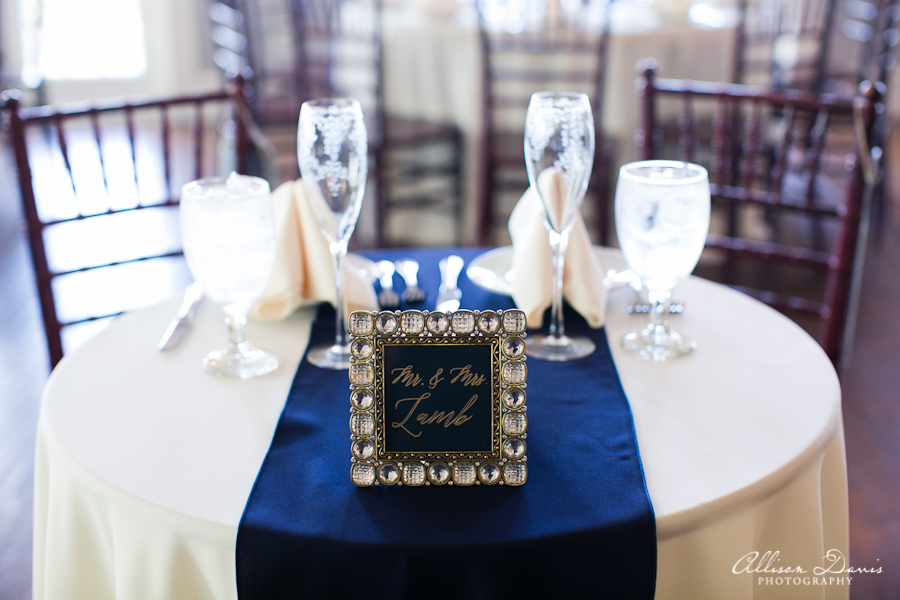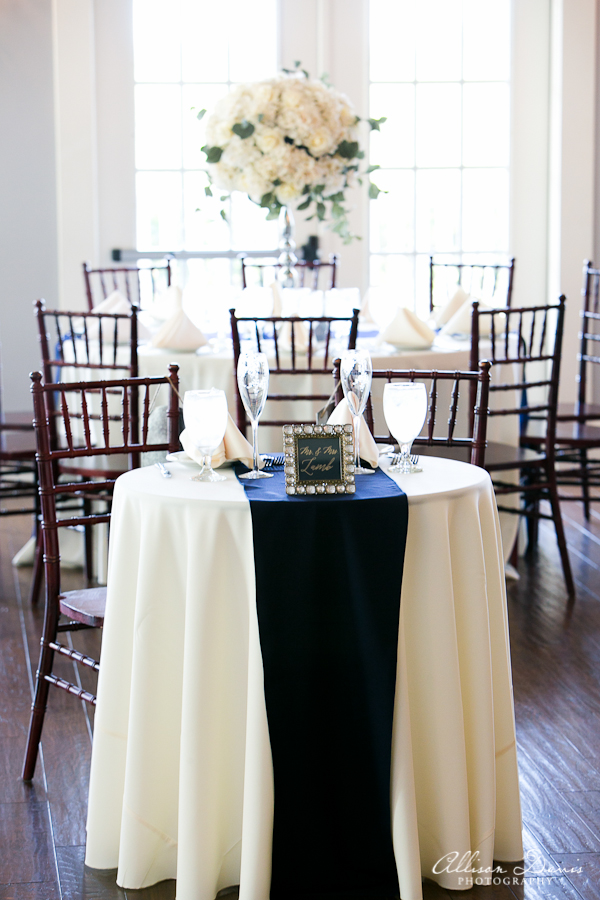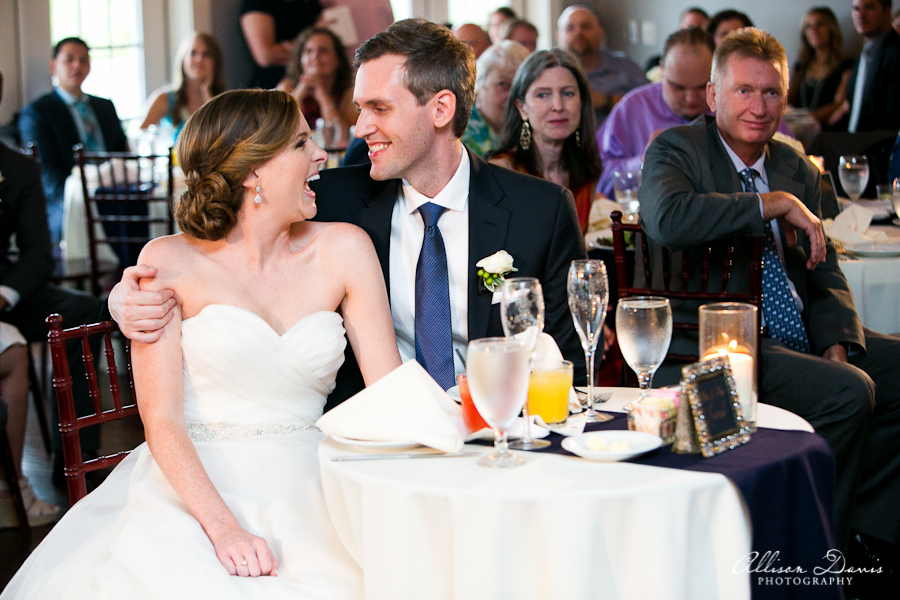 I made these signs (below) and we put them on the back of our two chairs. We say this to each other all the time, so it was perfect…one of us will say "I love you so much," and the other always responds, "I love you even more!" How's that for mushy gushy? 😉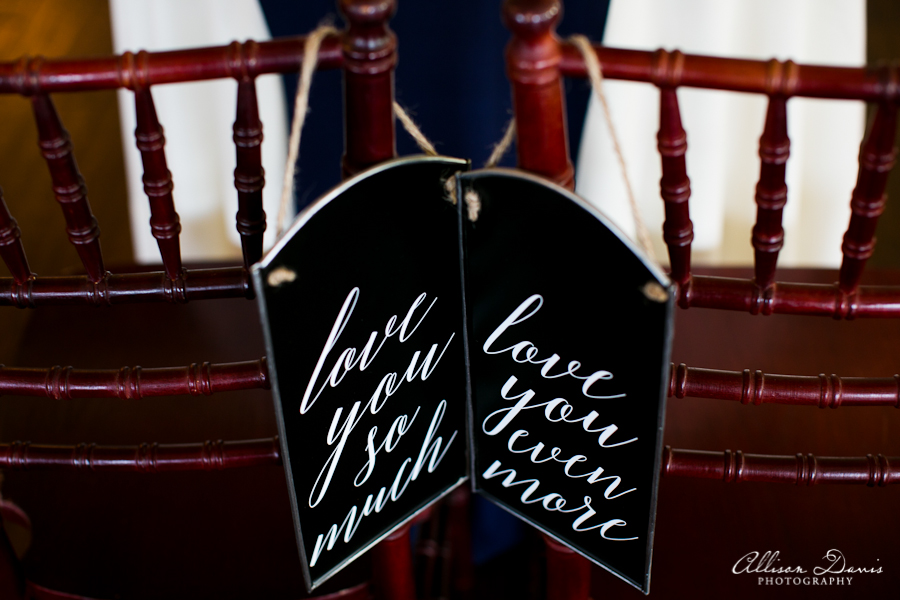 We also created signature bride and groom drinks that our guests could order. (We had an open bar, so guests could order whatever they wanted, but we though it would be fun to give suggestions of a couple of drinks we enjoy!) You can see what our drinks looked like in the photo above where we're seated at our sweetheart's table. Mine was orange/pink (on purpose, since I called it the "Blushing Bride") and Riley's was bright yellow/orange, just because of the ingredients, not on purpose!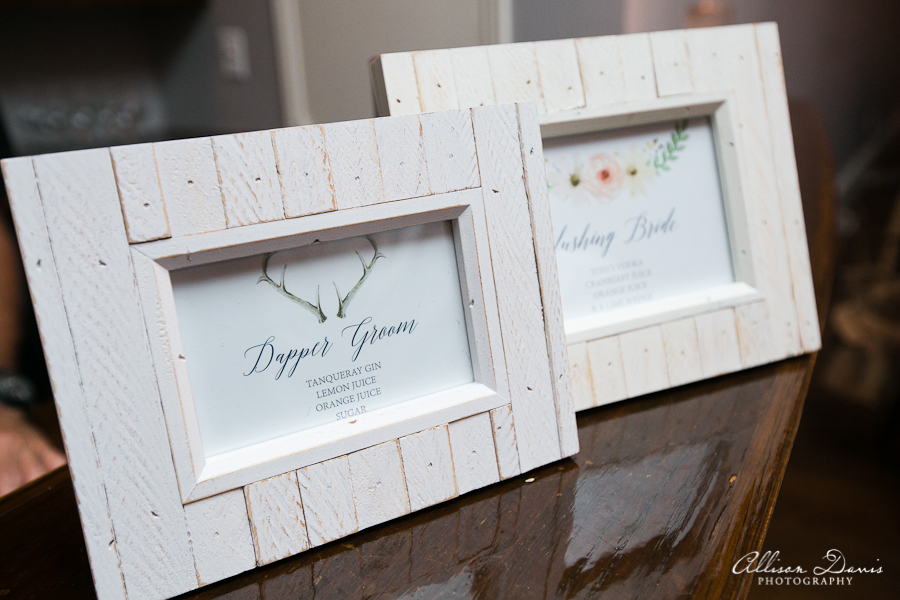 Signage & Lobby Décor
I love lettering, fonts, and signage! I was intent on making everything beautiful but also clear from our invitations and programs to the signs we put up around our wedding! Here are some signs and lobby décor we used to create a warm, loving environment (and to display necessary information!)…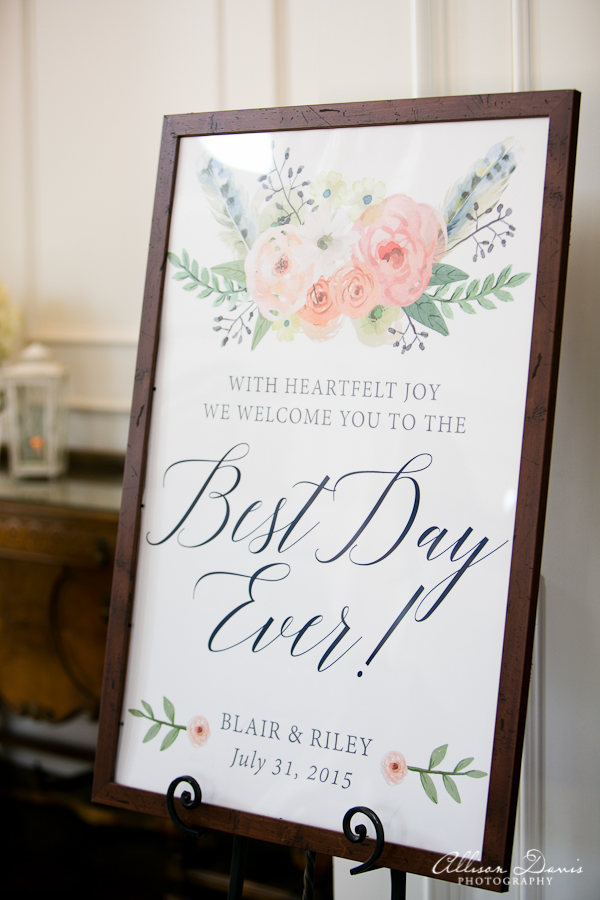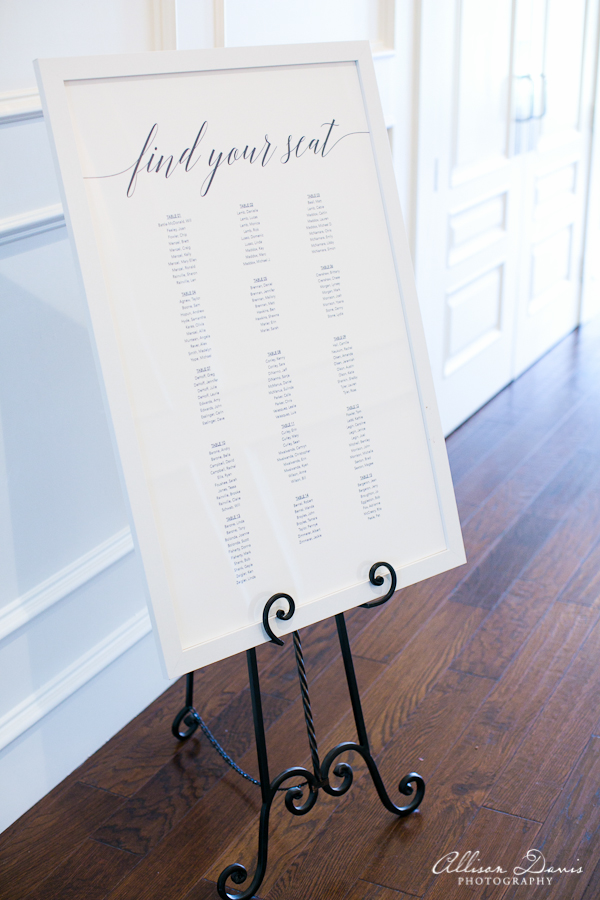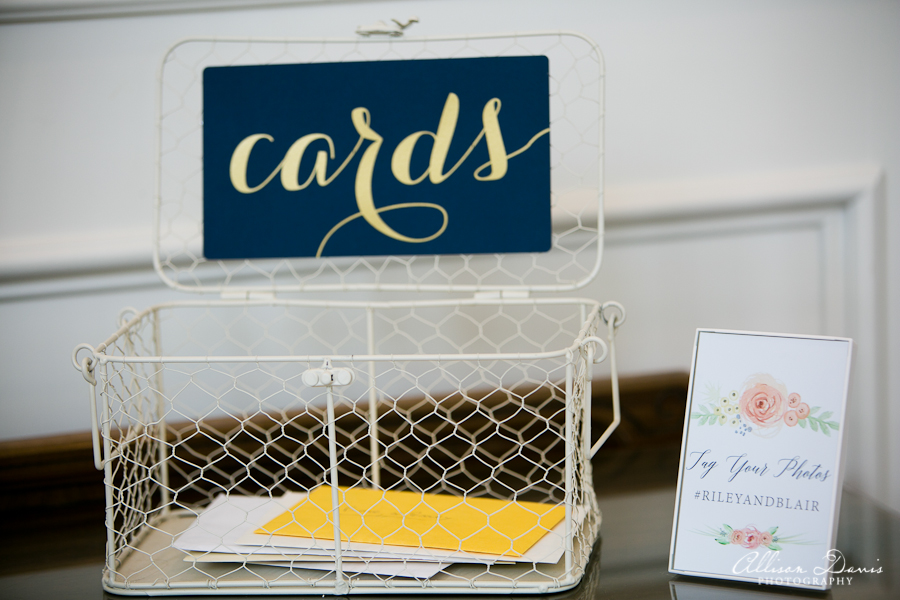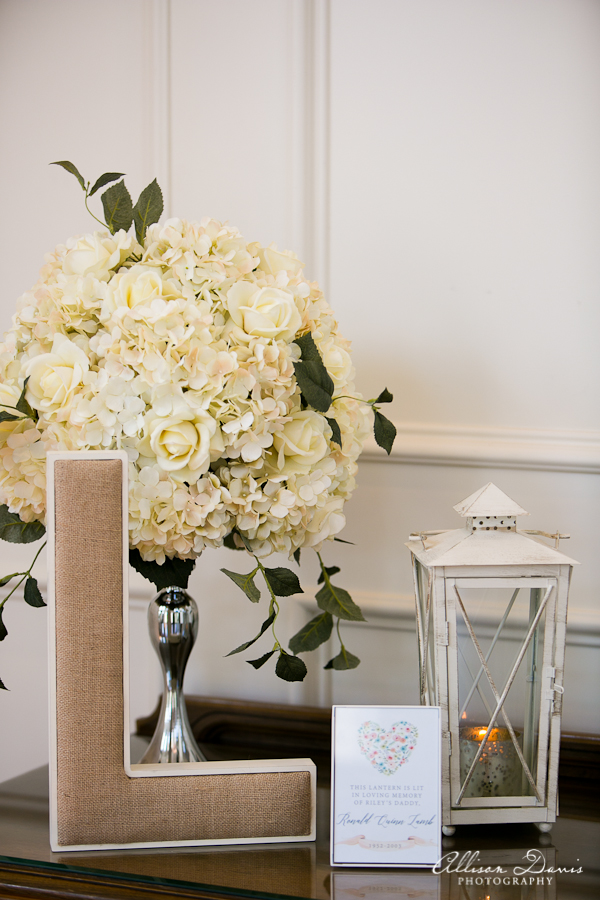 The lantern and sign above were very important and special to us. We wanted a thoughtful and memorable way to honor Riley's father on our wedding day, but we also wanted to make sure it was subtle as he was a quiet, gentle man and wouldn't have wanted something flashy. We decided that a lantern would be perfect, so I bought one at Pier 1 and placed a gorgeous candle inside it (the candle holder has an "L" on it, but you can't see it here…it was an engagement gift from one of my friends!), and created a sign. The sign read, "This lantern is lit in loving memory of Riley's daddy, Ronald Quinn Lamb," with his life years below his name.
We also had a book made full of our engagement photos for people to look through in the lobby seating area. It's always nice to have something for guests to do when they want to take a break from dancing!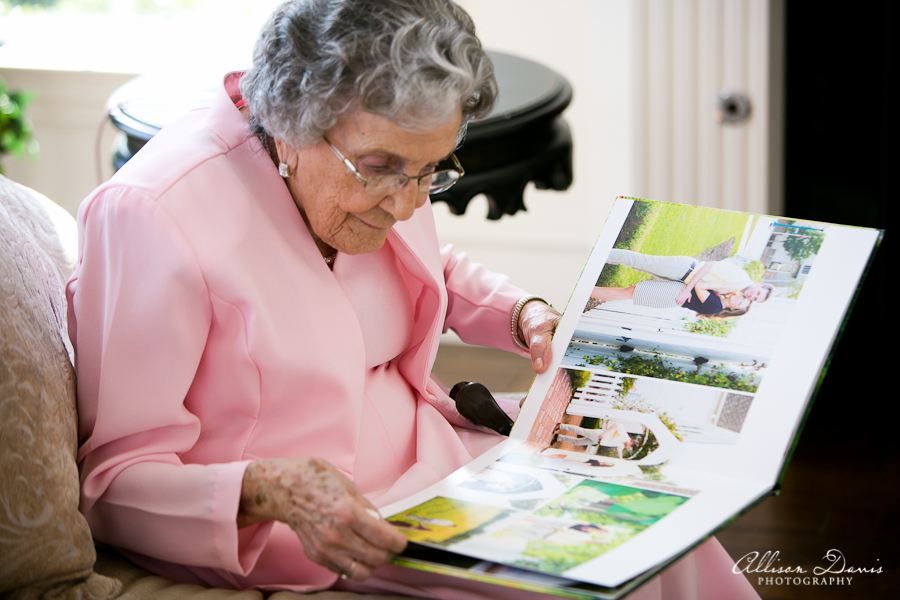 And, of course, Charley Bear had to be a part of our big day! I bought a huge box of dog treats, then wrapped up little bags full of them, and corralled them all in a basket. I made a sign that said "Charley got a daddy! Grab a bag of treats for your pup to celebrate!" to put alongside it, along with a sweet little wooden block that's painted, "All you need is love and a dog." I think guests got a kick out of this touch, and I felt great knowing my Charley was included!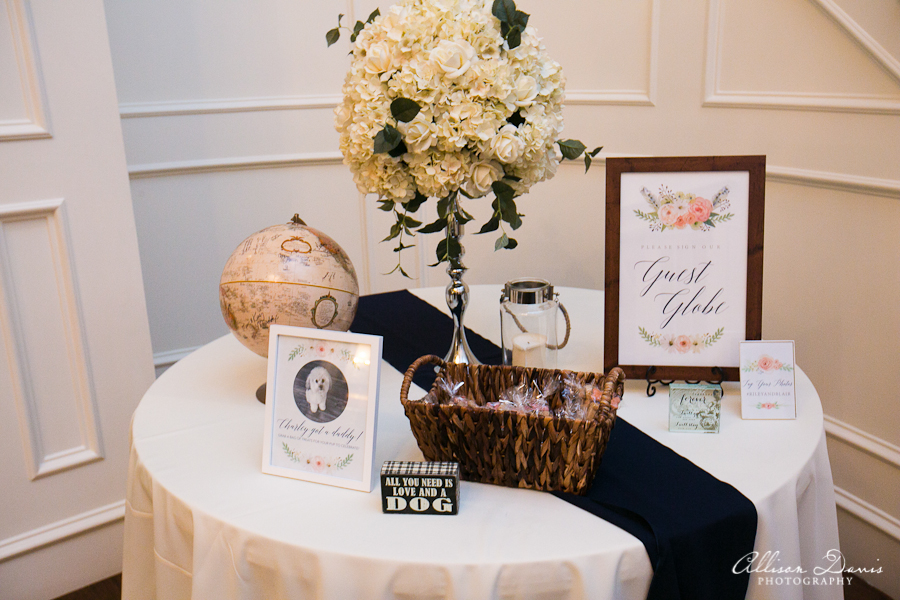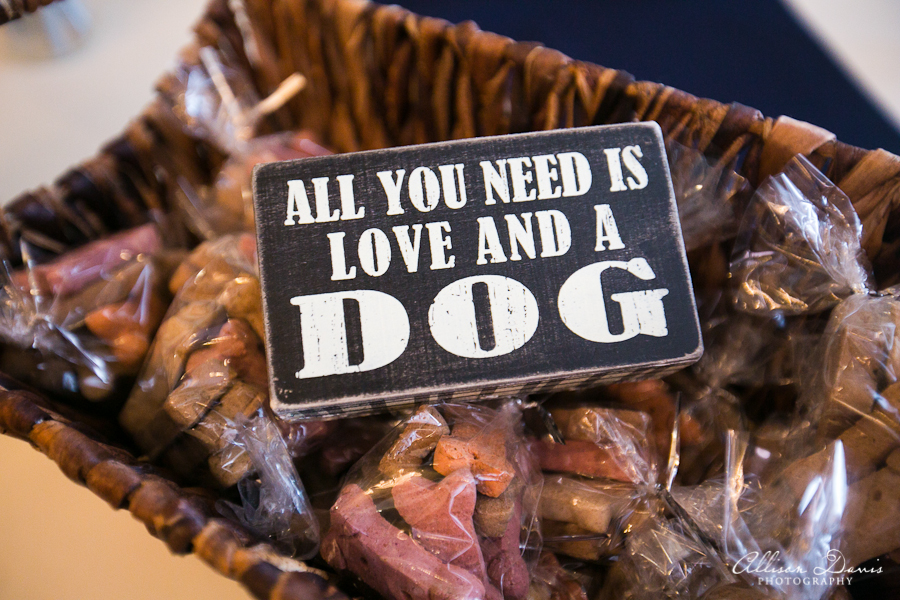 Finally, our flower girls' mom, Erin, hosted a bridal shower for me in Austin and made the adorable "B & R" below. She hand painted and distressed them and added the twine and flower accents. I loved them so much that I put them up on the mantle in the lobby on our big day!

Cakes
Last (but most definitely not least), are our cakes. Our venue's cost included both a bride's cake and a groom's cake, so we ordered both. (Had two cakes not been included, we probably would have just had a bride's cake!) It was really, really, really fun to taste a whole bunch of cake together and then each choose a flavor, filling, icing, and design for our own cakes. We decided to go with traditional white cake for my cake (with raspberry filling on two tiers and dulce de leche on the third), "pulled lines" for the icing design, some fresh flowers, and a super fun "Best Day Ever" sign from BetterOffWed's Etsy Shop.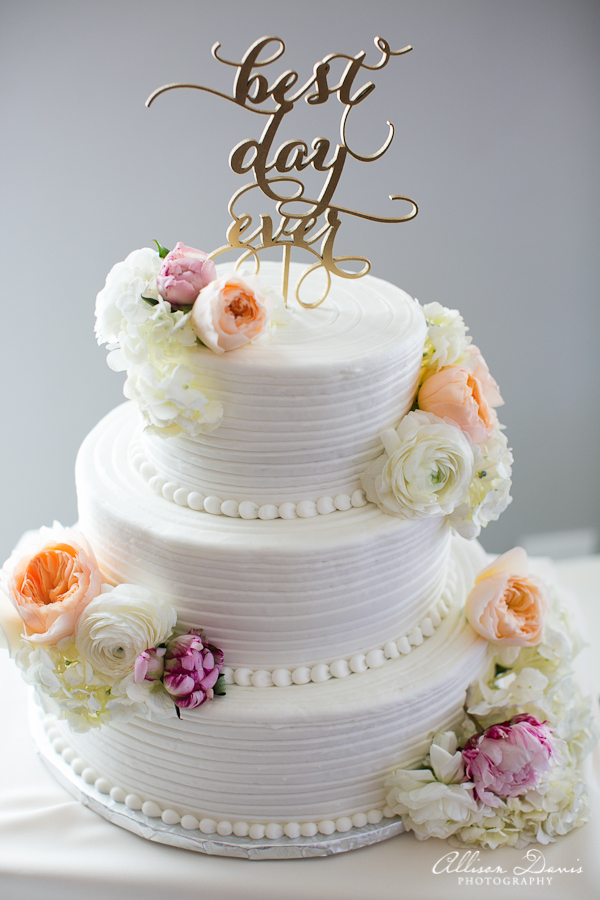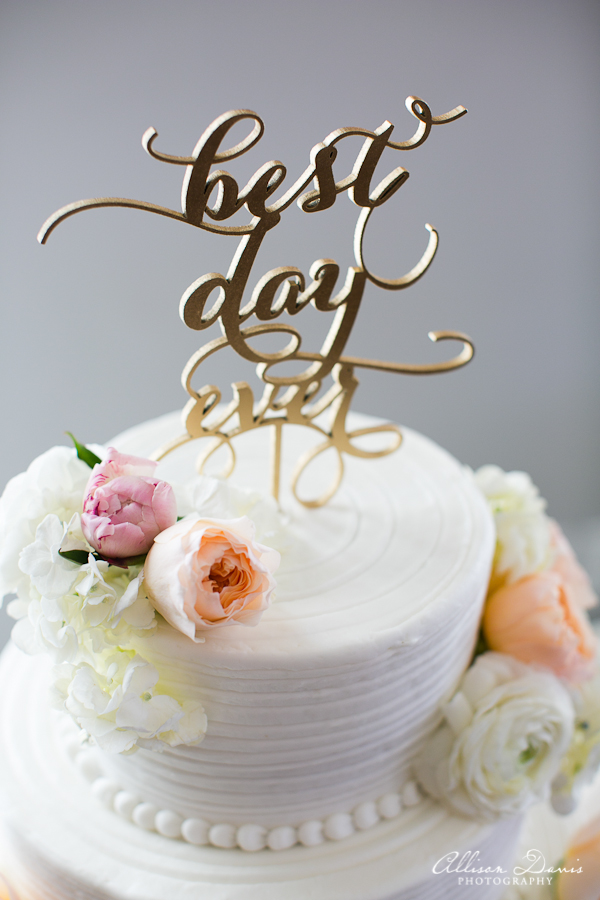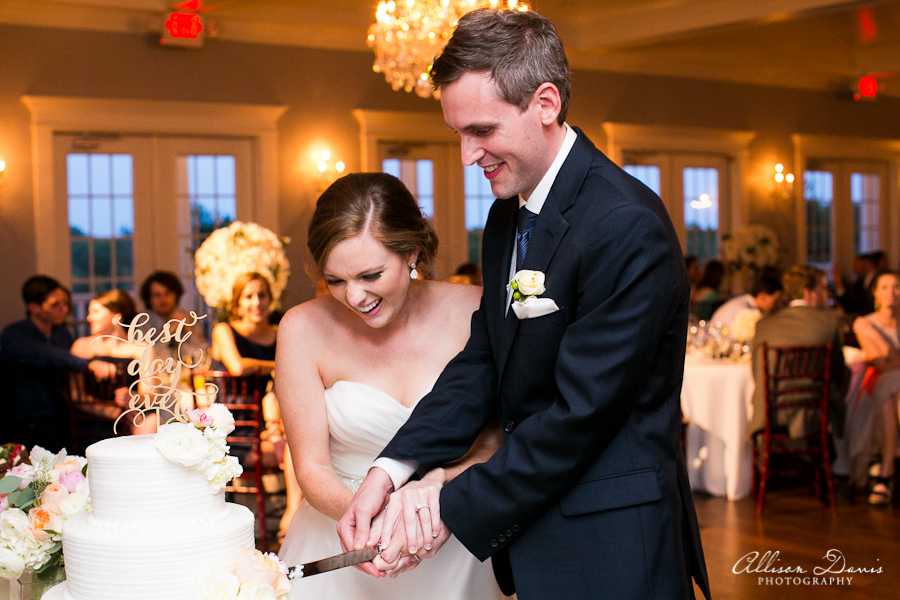 For the groom's cake, we decided on chocolate! (That way guests would have a choice between chocolate and vanilla!) Riley didn't want any design on it, just a mound of chocolate covered strawberries because he "hates cutesy groom's cakes." No one seemed to mind! 😉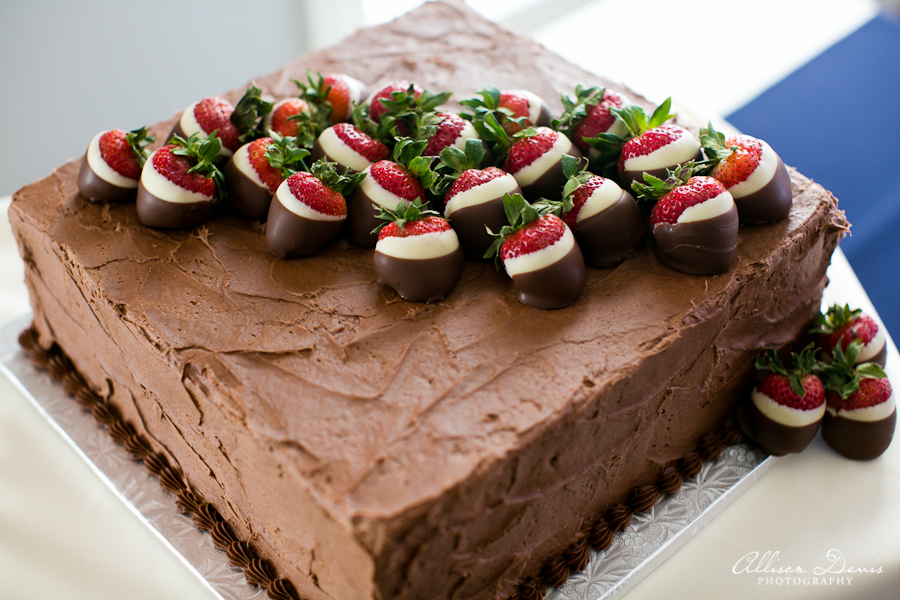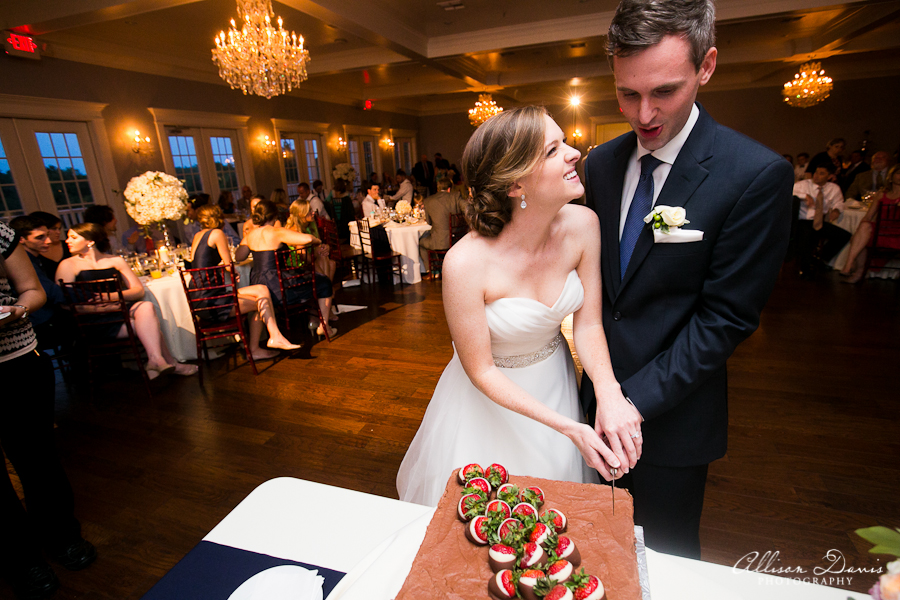 Cake cutting was so much fun! I didn't eat any of it though…I was so joyful and over-the-moon that I totally forgot to! (For what we did with our cake topper, check out my Instagram! Hah!)
There you have it–our venue décor and details! I hope you enjoyed a closer look at our wedding day! 🙂