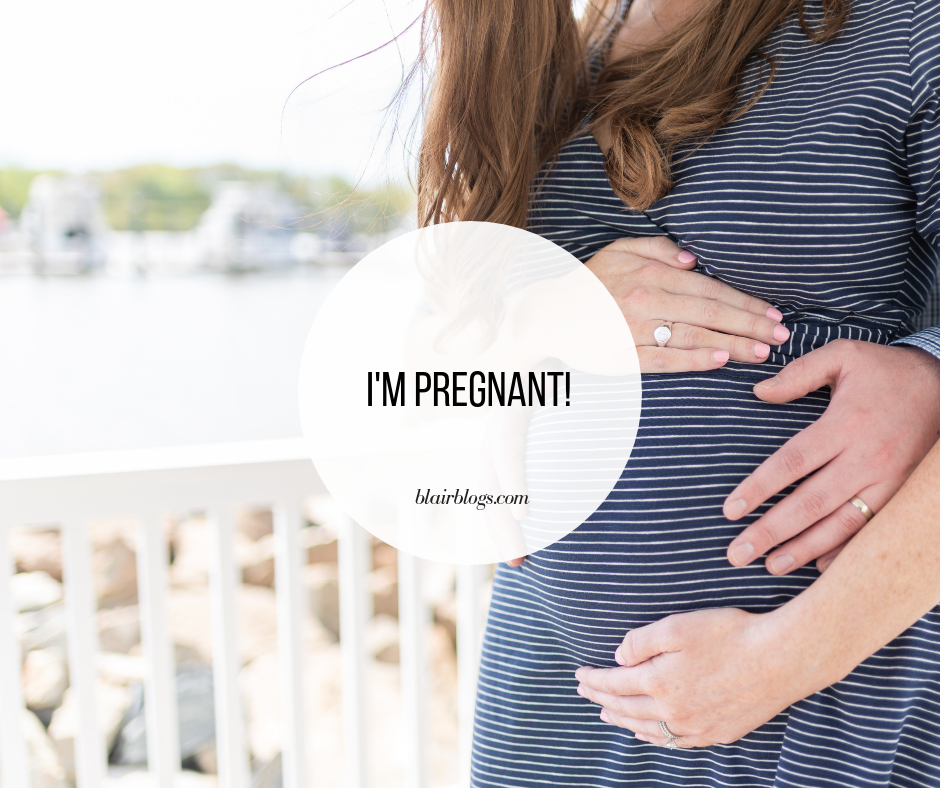 We have the best news to share: we're expecting Baby Lamb in October! This pregnancy is such a precious gift to our hearts and we are absolutely delighted as we prepare for the arrival of our much-loved baby.
As this blog has been a place of documentation for the past six years, it's only fitting to write a post celebrating our family growing! Today I'd like to share a little about our journey to this place.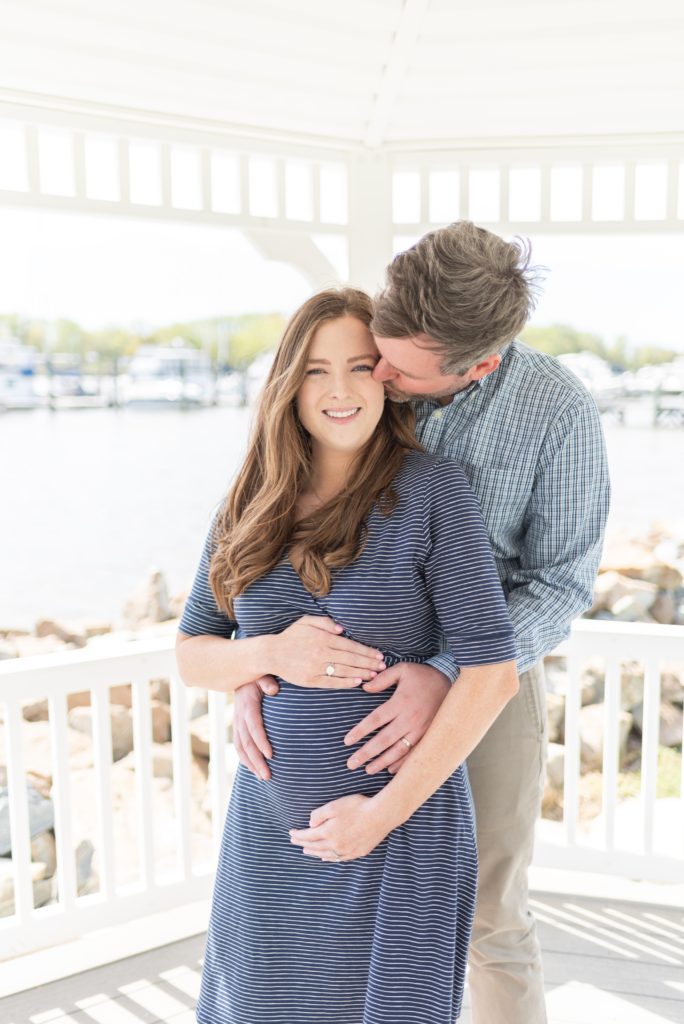 Our journey to conception
To be honest, when we began to try to conceive at the beginning of 2018, we both assumed that we'd see two pink lines in no time. Neither of us felt pressured to get pregnant right away, we just assumed that we would get pregnant right away. We walked into the whole "TTC (trying to conceive) journey" very casually; we've practiced the fertility awareness method for our entire marriage, and I pridefully assumed that my keen knowledge of my body and cycle would result in an easy, fast conception.
That was not the case. Months came and went, and my easygoing attitude toward TTC slowly began to get twisted into one of anxiety and sadness. I've heard it said that "there's no wait like waiting on a baby," and I can affirm this to be true in my own story. All the obsessively tracking and charting and temping…and then the "symptom spotting" during the two week wait…and then taking test after test and getting negative after negative…it is absolutely exhausting–mentally, emotionally, spiritually, and physically.
For about six months, I remained in relatively good spirits. I knew that it could take healthy couples several months to conceive and we weren't in a rush. Each month, my cycle would start and I'd think, "That's okay! Maybe next month!"
By the end of the year, however, I was absolutely crushed. We traveled to Maryland for Thanksgiving (where my side of the family lives), and I had planned all year on announcing our pregnancy in person to my loved ones then. (This sounds a little odd and obsessive now, but it was my reality then.) I constantly daydreamed about sharing our big news over Thanksgiving dinner. Each month I'd get a negative test, I'd tell Riley, "Just as long as we're pregnant before Thanksgiving!"
But that wasn't our story. Thanksgiving came and went, Christmas came and went, New Years came and went, and still no pregnancy. At the end of 2017, I had created a personal list of goals/plans for 2018. The first one? "Get pregnant!" When a full year lapsed and the calendar flipped to 2019, I felt so sad and disappointed. During this time, I totally threw myself into my work as a way to distract myself.
Finding rest in the midst of chaos
Due to our struggle to conceive as well as several other deeply challenging situations in our life, I began seeing a therapist in mid-September. I met with her weekly through February. Although I have zero shame related to therapy (I've been before), I kept my appointments completely private from family and friends. My Friday morning appointments were a place where I could come undone and share the gritty truth–some weeks, my one hour therapy session felt like the only place where I could be completely honest and voice the full reality of how I was feeling and what I was processing.
I went through a lot of tissues sitting in my therapist's office. My life felt totally out of control.
Wanting to be pregnant and not being pregnant is flat-out painful. I remember logging onto Facebook one morning during this time period and seeing the first EIGHT (no exaggeration) posts being pregnancy announcements from friends. I literally threw my phone across the room and crumbled to the ground.
Outside of fertility, there were several other areas of life where I was experiencing significant fall-out, specifically with regards to community. That's a story for another time, but suffice to say that the timing was truly a manifestation of "when it rains, it pours." I was wrestling through big, heavy emotions and felt like I didn't have a community to lean on anymore.
Getting off the roller coaster
After a year of riding the wild trying to conceive roller coaster, my therapist recommended something radical for the new year: get off the coaster. She encouraged us to stop trying, to take some time off, to heal. At first, I was completely averse to this idea. Letting go felt terrifying.
Then, one Sunday at church, a worship song was playing and I had my hand resting on my belly, praying for a baby. During that time, God filled me with an inexplicable peace that allowed me to let go. I can't think of this moment without crying; it was otherworldly. After months of feeling twisted in tight knots, I suddenly felt restful. For the first time all year, I truly let go. I was still sad and disappointed, but my tight grip loosened and I began to feel peace again.
It was right around the time of this experience that I felt called to let go of other areas of my life where I was holding on with a tight grip–namely, the different aspects of my work. The Lord (and my therapist) showed me how tightly I was holding these things. And for what? Slowly, I let that all go too. I stopped pumping out videos and blog posts, stopped accepting mentees, and shut down my Etsy shop.
I took a much-needed break. The type-A perfectionist in me was forced to sit down and shut up. I watched movies. I listened to light-hearted audiobooks. I cooked and baked. I sat in front of the fireplace for hours watching the flames dance. I let myself just be. No more tracking, charting, ovulation strips, or anything else. No more working 12+ hour days. No more stressing about other situations that I couldn't change. It all came to a sudden, holy halt.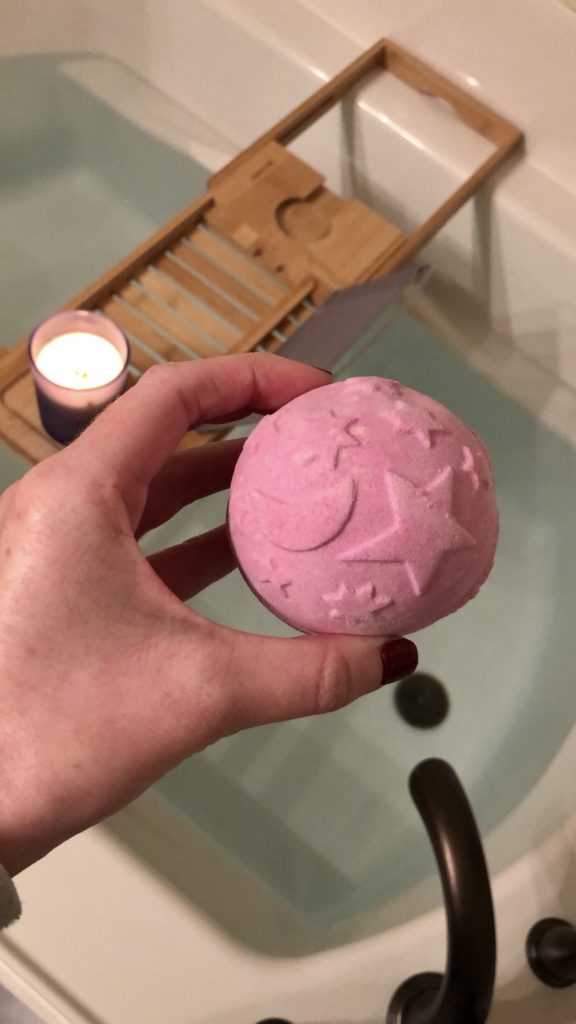 Letting people into our story
The loneliness and isolation that can surround infertility was, for us, by far the most piercing and difficult part. In such a private struggle, it's hard to know who to share with–especially since kind and well-meaning people can sometimes accidentally say insensitive things. Though I readily share pieces of my story online, what you see and read from me is curated–and sometimes, highly curated. (I guarantee the same is true for every other blogger/vlogger as well.)
By the end of 2018, however, it became clear that we needed to widen our circle and let others in on our struggle. We desperately needed the support. I began by reaching out to two of my online friends. Both have shared about infertility and miscarriage, so they were safe place to start. I knew they'd come from a place of understanding, which is exactly what my heart needed. We FaceTimed and texted and I am so, so grateful for their support. It was/is absolutely precious to me.
We sat down with our parents and shared our journey. Talk about a painful conversation. Both Riley's mom and my parents were deeply, deeply sad for us and also surprised that we were having a hard time conceiving.
We reached out to friends who we knew would partner with us in prayer and support us without judgement or fear.
Suddenly, our isolation transformed into a full-fledged support network. We had people praying for us every single day. We had people reaching out in love every single day. We had people encouraging us every single day. This changed absolutely everything.
Instantly, we saw how we didn't have to walk through the valley alone. Our friends and family began to shoulder the burden and cover us in prayer. Again, this changed absolutely everything.
New year, renewed joy
As we rolled into the the new year, we felt cautiously hopeful. After much prayer and consideration, Riley and I decided that it would be a good idea to schedule a fertility appointment. (I had previously been told to try for a full year before scheduling this appointment.) I didn't want to jump back onto the chaotic roller coaster of 2018, but I did want to rule out any obvious issues with my body that was hindering or preventing pregnancy so that we could begin to move forward peacefully.
It was also during this time that we began to map out our year. Deciding that we were no longer going to put our life on hold while we waited to get pregnant, we booked a big trip to Europe in the spring. We booked flights and hotels and began to map out our excursions and plans. (This trip has since been cancelled. I've never been so happy to cancel a trip in my life!)
My appointment was in early January, and though it was difficult, I felt peaceful in taking this step forward. Eventually, my doctor told me that there was nothing obviously wrong with me and that our next step was to get in touch with an infertility specialist who would test both of us further. We had a big trip to Disney World (our happy place) planned at the end of the month, so we decided to schedule that appointment after we returned home.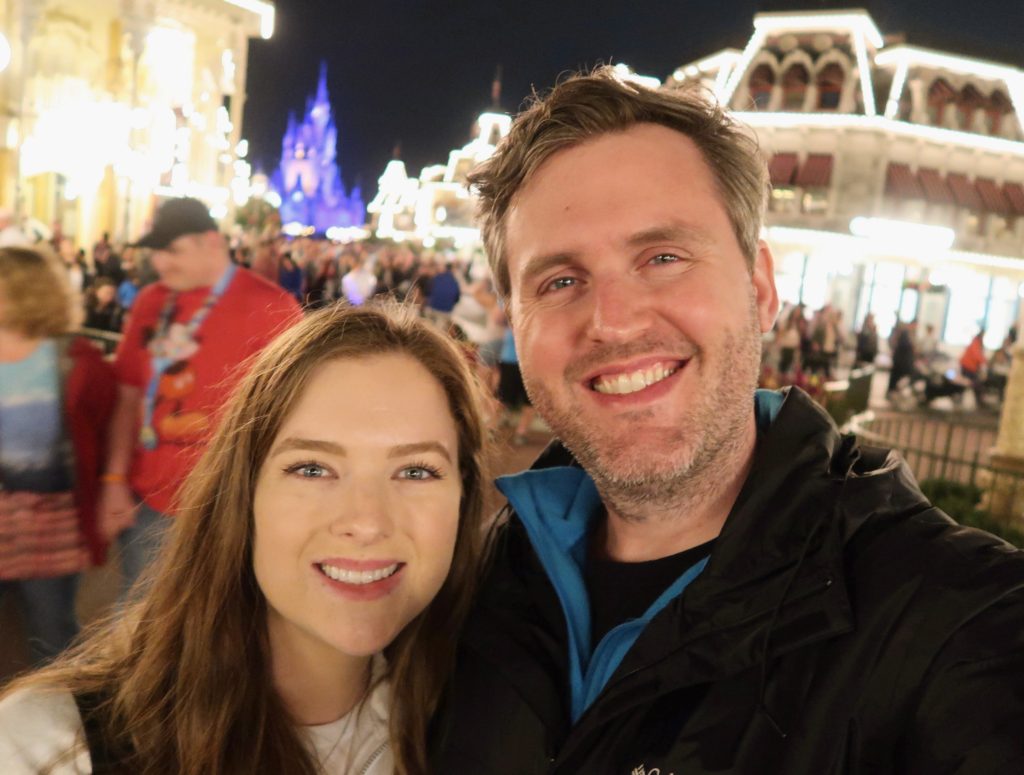 We went to Disney World and experienced joy and laughter and unexpected blessings and surprises that our souls so desperately needed. The healing effects of deep-rooted joy cannot be discounted. After our wonderful week away, we came home with happy hearts. I can't explain how grateful we were for this gift; it was such a relief to feel light after all of the heaviness of the previous months.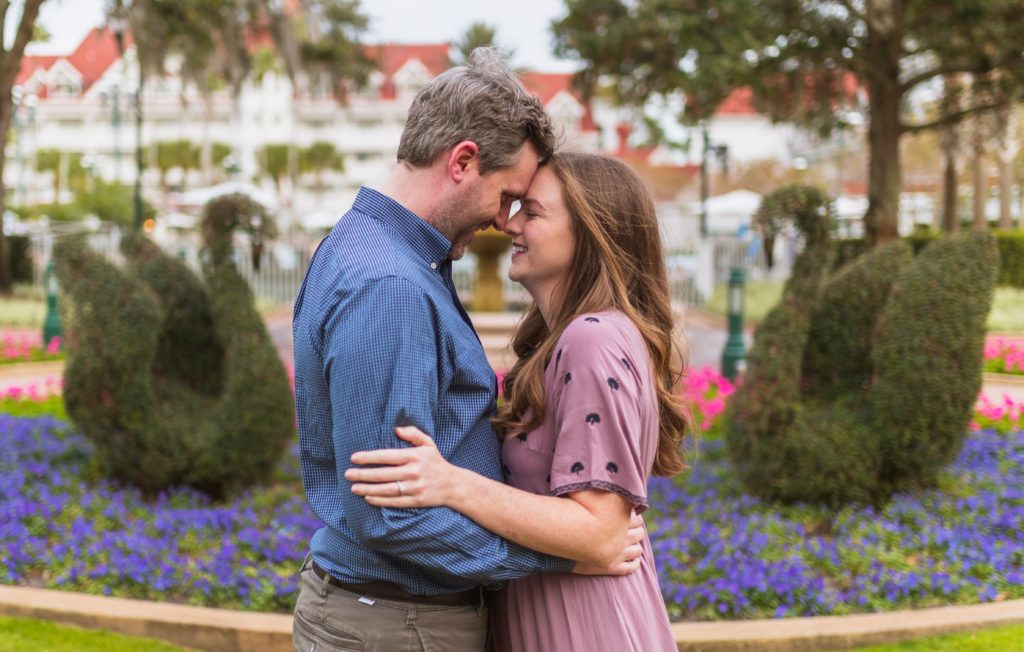 The surprise of a lifetime
After we got home from Disney, we settled back into our routine. Riley jumped back into his work and I reopened my Etsy shop and began to slowly create content again.
One evening, after settling back into real life, we decided to reopen the can-of-worms conversation that is trying to conceive. We discussed our options and next steps and made a plan for scheduling an appointment with an infertility specialist.
The very next morning, I woke up feeling exactly like my cycle was about to start. I kissed Riley goodbye, and then, as I stood in the kitchen about to take ibuprofen, I felt a strange pull to take a pregnancy test. My inner dialogue: Blair, go take a test. What if you're pregnant? You don't want to take ibuprofen! And then, This is so cruel. I'm not pregnant. I really don't want to see another negative test. And then, But what if you are? And finally, Whatever, I'll take a test.
I headed into our bathroom, took a pregnancy test, and set it down to process. I then walked over to the sink to wash my hands and brush my teeth. While I was brushing my teeth, I walked over to glance at the test–AND THERE WERE TWO PINK LINES. No kidding, I started fully choking on my toothpaste. I was shocked, shocked, shocked, shocked, shocked. I began to shake uncontrollably. I thought for sure this was a fluke! There was no way!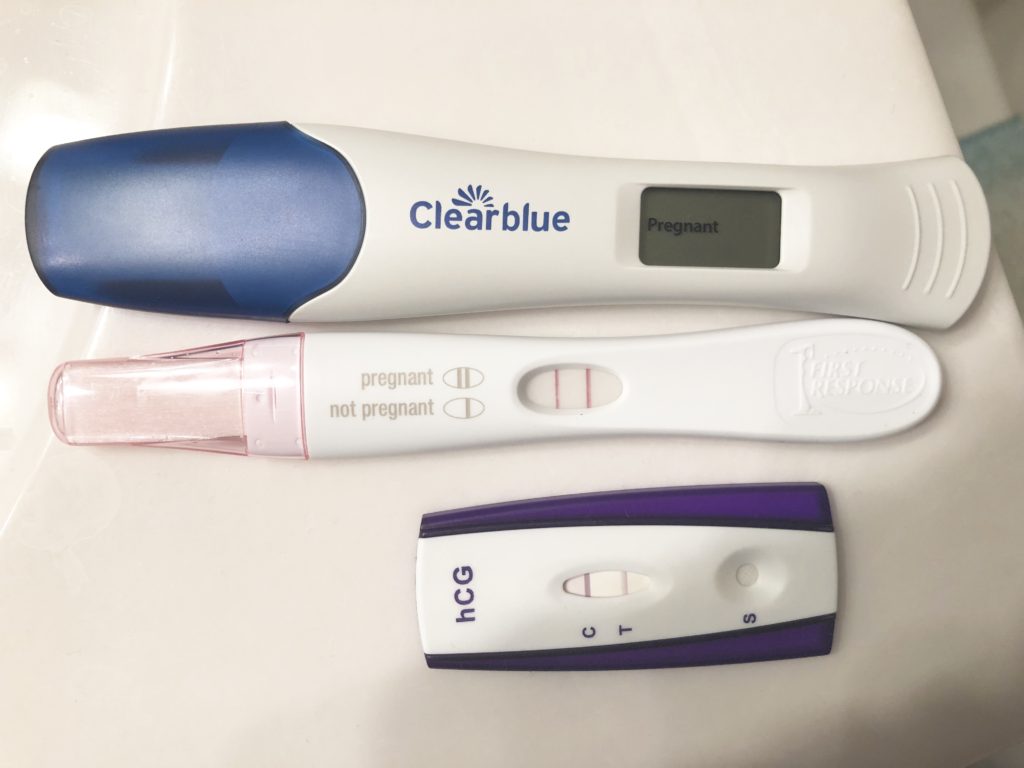 I took two more tests, including a digital one. Once I saw the word "Pregnant" read out, I began to think that maybe I actually was pregnant. I was still in my pajamas, so I threw on leggings and shoes and a winter coat, grabbed the digital test, and immediately drove to Riley's studio.
Telling Riley
Before Riley had left for work that morning, I told him that I would go on a Starbucks coffee run and drop some off at his work for him (I do this a lot). I pulled up to his studio and texted him to come outside. When he walked up to the car, he thought I was dropping off coffee, so his eyes immediately went to the cup holders–which were empty–and then up at me in bewilderment.
"You didn't get coffee?" he wondered. (This question is so hilarious to me now.)
"Get in the car!"
He climbed into the passenger seat, and, still shaking, I pulled out the digital test. I will never, never, never, never, never forget this moment. I will cherish it for the rest of my life. He was thrilled! And shocked! And so excited! It was such a special moment between the two of us. Just us, sitting in the warm car on a cold February morning, shaking and crying and rejoicing because WE WERE EXPECTING A BABY!
We both needed coffee at this point, so we drove to Starbucks together. It was around Valentine's Day, so I got the seasonal cherry mocha (decaf, of course) and Riley got his usual cold brew. We sat in the car absolutely overcome with emotion and joy. What a fun memory; something I will truly never forget.
As it turns out, we had conceived the week before Disney World. Clearly, I had NO idea. When we realized this timing, Riley's reaction was "Our baby's already been to Disney!" Another line I'll never forget. So sweet (and funny!). Imagine us telling our child that we took him/her to Disney when he/she was literally three days old and the size of a poppyseed. Hah!
Telling our family and friends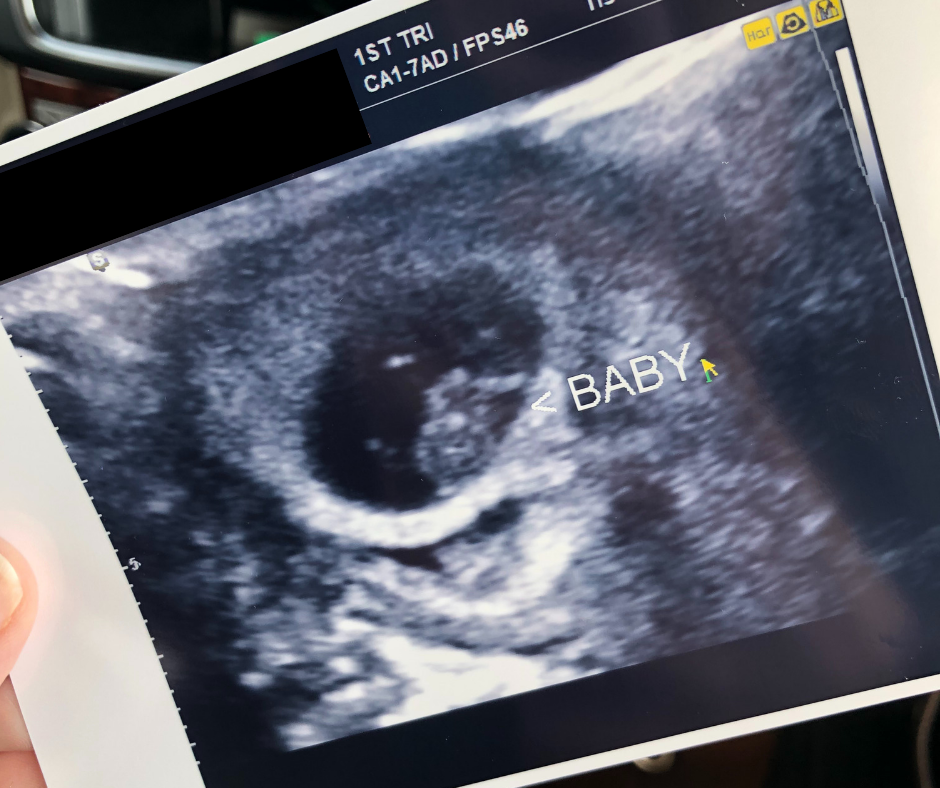 It has been a blast to share our big news and watch people squeal in joy and delight and join in our celebration! The best part is telling the backstory–about how desperately we wanted and prayed for this baby and how amazing our God is to answer our prayers and write this story of redemption and deep, deep joy.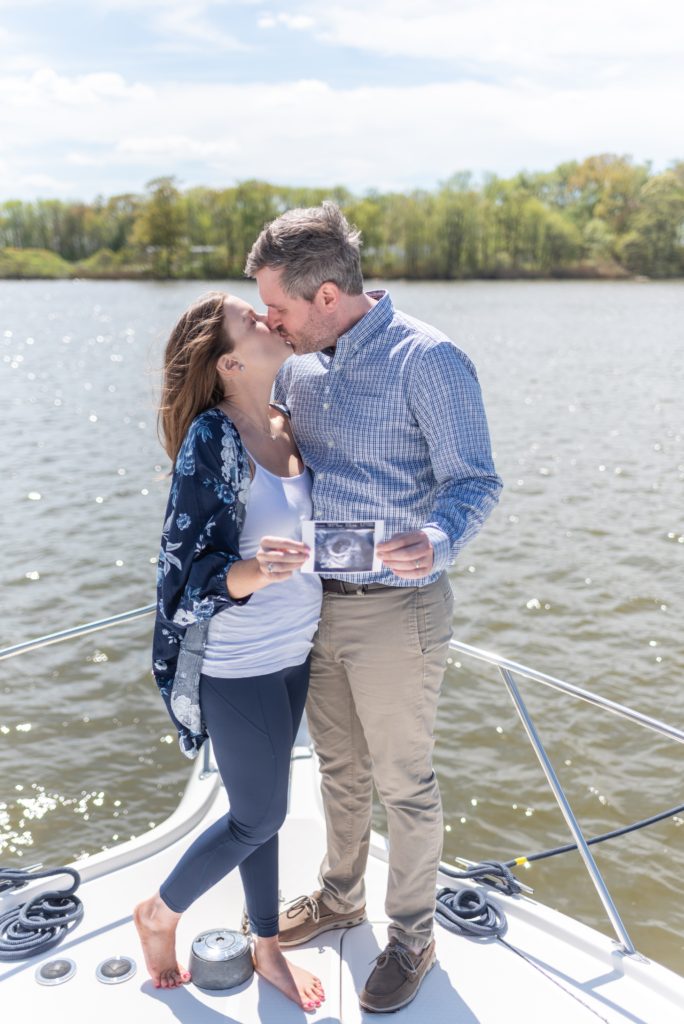 Aside from telling Riley, I was most excited to tell my sister Allie. She had just found out that she was pregnant too! We'd always hoped to be pregnant together, but never thought it would actually work out. Getting to tell her that her baby would have a cousin exactly his age was so special. To say that we are THRILLED to go through pregnancy and motherhood together is the understatement of the century. Our entire family is floating on cloud nine. By Christmas this year, there will be TWO babies in our family!!! What a joy!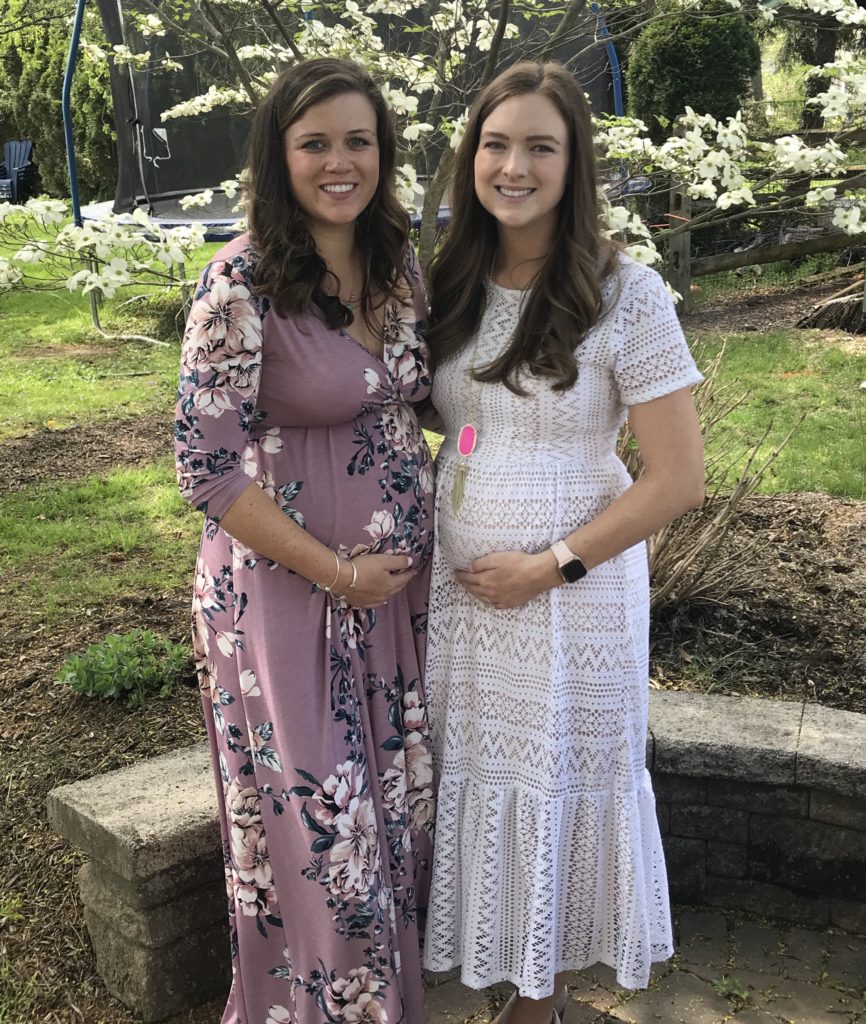 Riley's side of the family is equally excited! His two sisters both burst into tears when they heard the news and his mom is over-the-moon to have a new grand-baby!
Our friends and extended family have been wonderful as well. Everyone has instantly shared in our great joy and celebrated this precious new life with us.
Questions and answers
Whenever I've shared that I'm pregnant, these are the most-asked questions! I'll answer them below in case you're interested.
How are you feeling?
Now that I'm in the second trimester, I'm starting to feel a little more like myself each day (I am 15 weeks along when this post is published). However, I felt awful during the first trimester. My heart was so happy but my body was so very sick. I struggled with constant nausea and vomiting, extreme fatigue, intense headaches, food aversions, and all kinds of other strange symptoms. I'm hoping that I'll get to experience that much-discussed "second trimester magic" soon!
When are you due?
I'm due in late October! Such a great time to have a baby, don't you think? We would've been thrilled to expect a baby on any day of any year, but we're both thrilled that October will be our baby's birth month!
Do you know if you're having a boy or a girl? Will you find out? Do you have a preference?
No, we don't know yet! Yes, we are finding out. Once we find out and tell our family and friends, we will share publicly! (Side note: I really thought I would have a strong inclination/mother's intuition about the sex of the baby but I have truly NO idea.)
Neither of us has a preference on whether the baby is a boy or a girl. We'd be ecstatic either way! We are so, so, so thrilled to meet whoever this baby turns out to be.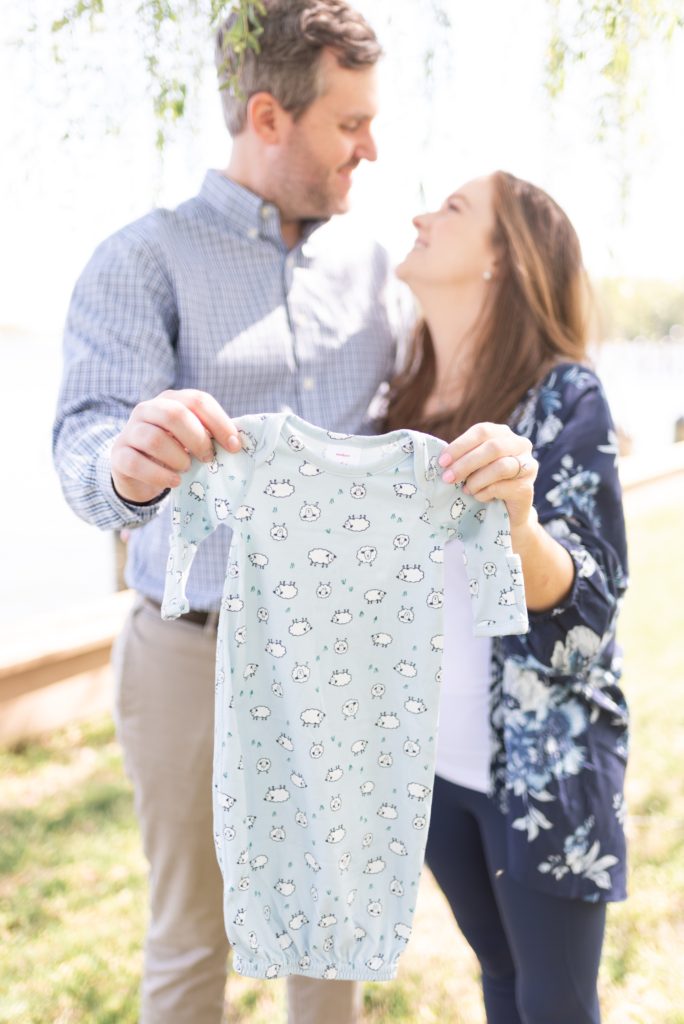 Do you have names picked out? Will you share the baby's name before you give birth?
No, we don't and no, we won't. We have a list of names we like, but we haven't even remotely narrowed it down or settled on a name/names. And at this time, we do not plan on sharing the baby's name with anyone before he/she is born. Too many opinions out there, even/especially in our own families. 😉 Of course, we might change our minds, but that's our plan for now.
Are you showing yet?
I am! I have a little bump that fluctuates in size from day to day. Although some of my pants feel tight/uncomfortable, I'm still wearing my regular, non-maternity clothes (mostly leggings and t-shirts!).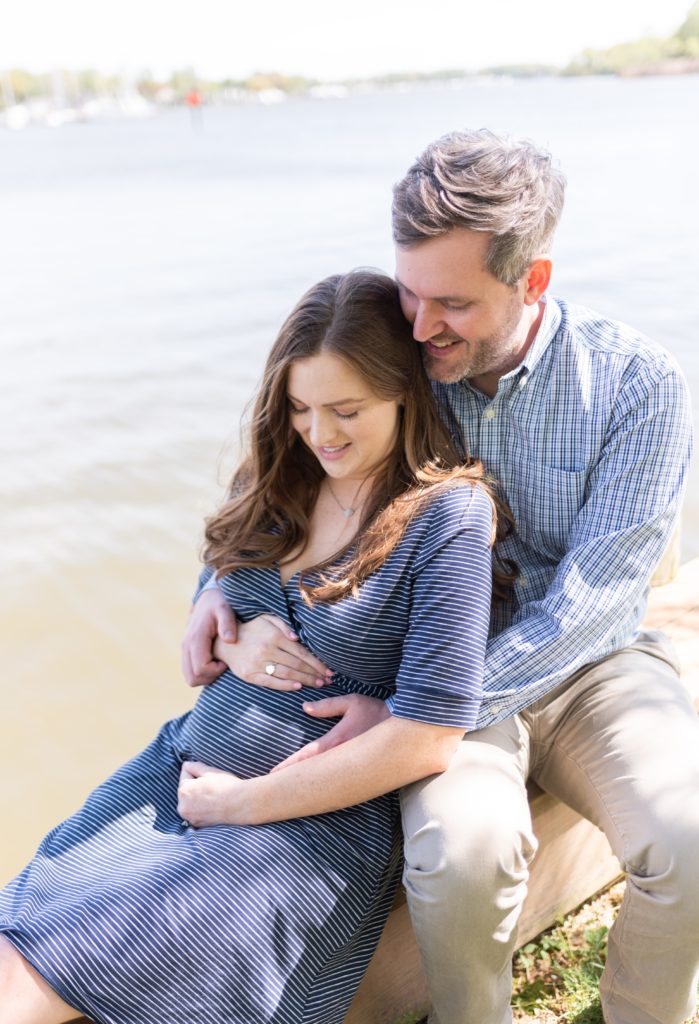 Are you going to document and share your pregnancy online?
To be fair, this isn't a question I've gotten "in real life," but it's one I know I'll get here (and rightfully so!)! 🙂 While I want to document and share my pregnancy journey, I'm also feeling a very intense sense of protection over this pregnancy. What I mean is that after a winding road to get here, I just want to enjoy it. I'm uninterested in answering judgemental questions and/or feeling the need to defend any of our decisions as brand new parents-to-be.
As many of you know, there are literally hundreds of decisions surrounding pregnancy, birth, and parenthood. (Before I even got pregnant people were asking me questions like whether I planned on breastfeeding and whether I planned on cloth diapering! Talk about overwhelming!) And behind all those decisions are very strong opinions on both sides. I'm still discerning how to share my journey while maintaining clear and strong boundaries.
I want to be able to fumble through new parenthood, make mistakes, figure things out, adjust to the needs and personality of our child, and decide what works for our family without feeling like I have an audience watching and critiquing my every misstep (and there will be many missteps, I'm sure). I've seen other blogging/vlogging moms do this well, so I'm taking notes and making plans!
Once your baby arrives, will you share him/her online?
Another online-only question. We're not sure to what degree we'll share our child online. I really want to "introduce" our sweet baby to you all and I'd like to share some milestones here and there, but I'm not sure what sharing will look like beyond that. This is a decision that every parent has to make, and we've just started to discuss it and see where we land and what choices we want to make for our family.
Has Charley (our dog) been acting weird/different?
The night before I found out I was pregnant, Charley came and laid directly on my stomach (he has never done this before). It was so cute and strange that I took a photo (below)!
Since then, he's been more clingy and tends to snuggle up by my belly more. I really do think dogs know!
What cravings and food aversions do you have?
Cravings: Bagels and cream cheese (my #1 craving and the only thing I can stomach some days), Starbucks chocolate croissants, cold and icy desserts like Italian ice, snowballs, slushes, and sweet drinks like Gatorade, soda, lemonade, fruit punch. As you can see, my nutrition has been absolutely top-notch! 😉 In the windows of time when I'm not nauseous, I've made a concerted effort to eat healthy meals–but diet and nutrition has been a massive struggle overall due to nausea.
Food aversions: Almost everything else! So many different foods make me gag/vomit even though I'm on anti-nausea medicine. Some days even water makes me gag! The tricky part has been my food aversions changing daily. One day I'll really want a certain food and the next day, that same food will make me gag uncontrollably. Taking my vitamins and supplements is a comedic nightmare. Even thinking about them now makes me feel sick!
I should note that my food aversions have become more managable the further I get into my second trimester. Here's hoping I'm on the up and up!
Are you guys just so excited?
(This is the sweetest question!) YES!!! We are like little kids waiting for Christmas to come! We talk about the baby and to the baby 24/7. We constantly tell Charley about his "baby brother or sister." We are thrilled! Thank you in advance for sharing in our great joy!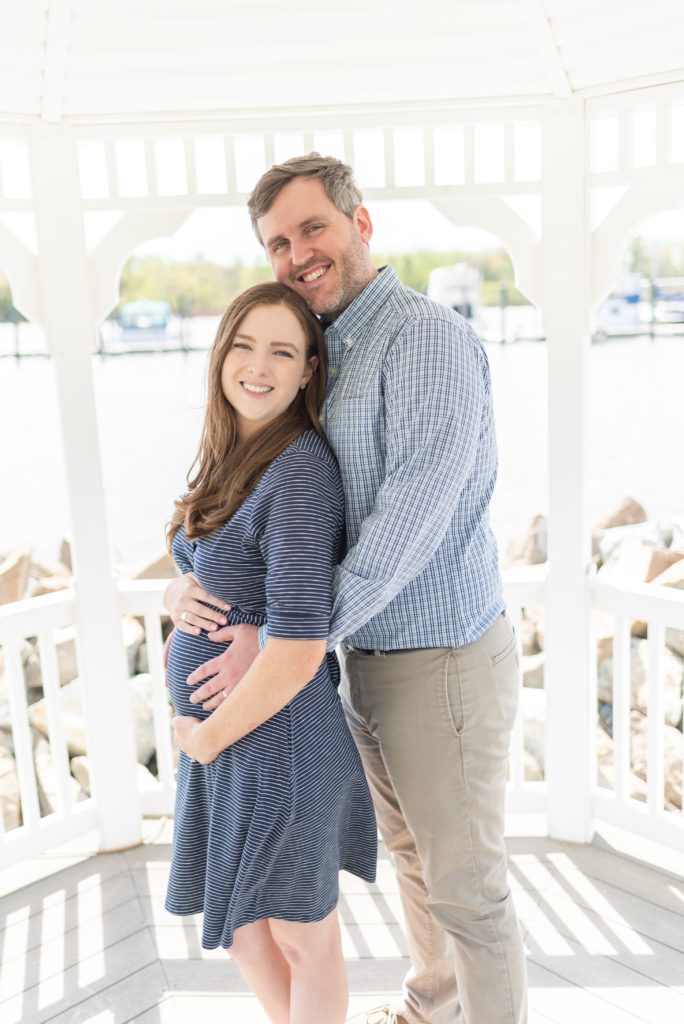 This post is dedicated to every woman, every couple, and every family who is waiting for a baby. My heart is with you.
Thank you for reading! You can find me online on YouTube, Facebook, Instagram, Pinterest, and Twitter. If you'd like to be alerted whenever I publish a new post, you can follow me on Bloglovin' or subscribe via email. Lastly, be sure to check out my Etsy shop!