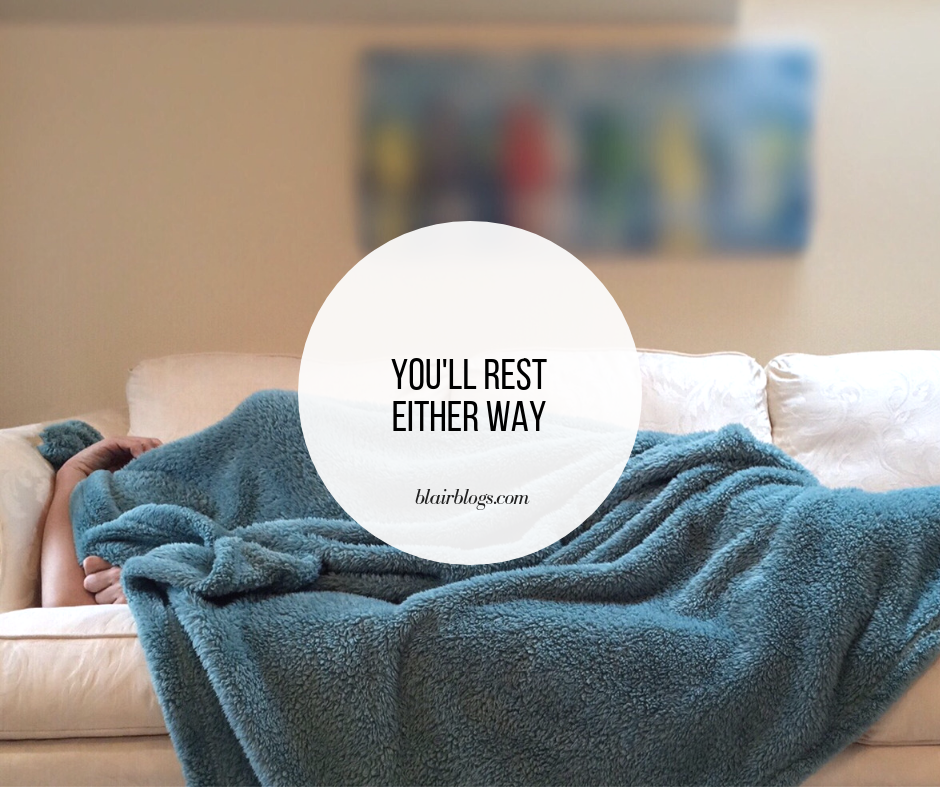 A few months ago, I heard someone say, "You can either choose to rest or you will be forced to rest. You'll rest either way." I have rolled those words around and around in my mind.
It seems silly now, but I had never considered this reality before. Of course it's true: I can choose to take breaks, breathe, and rest–or I will eventually begin to crumble physically, emotionally, mentally, and/or spiritually, and I will be forced to take breaks, breathe, and rest.
The past six weeks have been a little chosen rest and a lot of forced rest for me. The majority of 2018 was overwhelmingly positive, full of growth and lessons learned in every area of my life. However, the end of the year was incredibly difficult for a variety of reasons. October, November, and December wore me out all the way around.
A season of forced rest
Because Riley takes off for the end of December and beginning of January each year, I had planned on closing my Etsy shop and lightening my work load for that period of time as well. As it turned out, I wouldn't make it to my scheduled, chosen rest date. By mid-December, I was a mess.
Anxious, stressed, overwhelmed, and struggling, I just…fell apart. My eye was twitching (a symptom that shows up when I'm overly stressed), my stomach was in knots, I wasn't sleeping, I was battling anxiety every day–you know, an all-out mess. It was then that I realized that I had to take a break because my going-going-going was negatively affecting me so profoundly. And so, I was forced to rest.

Shortly after my period of "forced rest" began, three days before Christmas, I pulled my neck out. The pain was excruciating. Riley had to help me do everything. The forced rest continued.
Christmas came and went. It was relaxing and lovely.
Then, Riley got sick. More forced rest for the two of us. All of our Christmas break plans went out the window, and we lounged on the couch watching movies in front of the fire instead.
On the first day that Riley felt back to himself, I came down with something too. Back to the couch we went. More forced rest.
The gift of rest
There were, of course, a few moments over the past few weeks when I was frustrated by my utter lack of productivity and, when I was hurting and sick, my inability to even choose to be productive.
But I was reminded that, in fact, rest is a gift.
We simply were not created to go nonstop. Like the dailies, the necessity of rest is a precious reminder of our humanity, of our fragility, of the gift of life. People who are alive need to rest sometimes. Doesn't that make you exhale?
I'm grateful for both chosen rest and forced rest. I truly do my best to schedule breaks as a part of my daily, weekly, monthly, and yearly rhythms. I strive to live a life as slow-paced as possible. Sometimes I fail at this, and that's when my internal warning lights begin to signal.
Instead of resenting my occasionally anxious mind and weary body, I'm trying to work on being thankful for both. They are not-so-gentle warnings to take a step back, reminders that I'm alive, and that people who are alive need to rest.
Moving forward
Standing here at the very beginning of the year, assessing all of the months to come, I am both surprised and pleased to say that I am walking into this year with a sound mind and healing body. A month ago I was so overwhelmed and undone that being in this place felt impossible. But, as always, God met me in my mess and guided me back to solid ground.
I genuinely look forward to the days that will comprise 2019. I look forward to the joy and love and laughter, the hard conversations, the honest, shaky moments, the new friendships, the big decisions, the moments of confusion, the growth in my faith journey–all of it. Because it'll all add up to another year of precious life, of learning, of growing, of becoming me.
There will surely be both chosen and forced rest in this new year, just as there has been every year. Although I much prefer chosen rest because it can tuck nearly into my schedule, I welcome the forced rest too. I'm going to rest either way.
// Have you ever walked through a season of "forced rest?" What did you learn through it? How do you choose rest as a part of your life's rhythm?
Thank you for reading! You can find me online on YouTube, Facebook, Instagram, Pinterest, and Twitter. If you'd like to be alerted whenever I publish a new post, you can follow me on Bloglovin' or subscribe via email. Check out my fun tees in my Etsy shop! Are you a blogger too? Check out my Blogger Mentorship Program.